Will A Full-Screen iPhone Be Coming In 2024?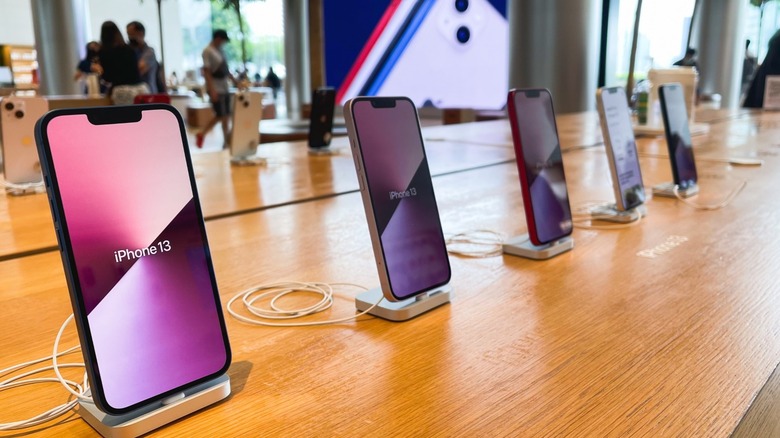 Urbanscape/Shutterstock
Although Apple is not always the most daring company when it comes to smartphone design, it certainly plays a significant role in standardizing newer design elements. But even years after popularizing the notch and thereby radicalizing the design of the standard phone display, Apple has yet to ditch it completely and opt for a smaller cutout for the cameras on the iPhone. The iPhone 14 Pro variants, which launch later this year, will potentially be the first iPhone series to deploy a much smaller cutout instead of the notch. Meanwhile, Apple is now being predicted to do away with display cutouts altogether by 2024 and launch the iPhone 16 with an all-screen front facade with Face ID sensors and a selfie camera hidden underneath.
Renowned Apple supply chain analyst Ming-Chi Kuo says the iPhone 16 will be "the real full-screen iPhone." He also emphasizes that only "high-end iPhones" will adopt an under-display selfie camera and a hidden Face ID fitment. The specifics of this implementation are unclear, but Kuo's prediction aligns with that of noted display analyst Ross Young, who had previously tweeted about the under-display Face ID.
Not a question of capabilities
Kuo's latest prediction adds to his previous note about Apple withdrawing its plans to reintroduce Touch ID on future iPhones. The analyst had said that since Face ID with masks works seamlessly on iPhone 12 and newer devices, Apple might be looking to avoid adding an under-display fingerprint scanner, instead opting to jump straight to an under-display Face ID unit. Notably, the company was reported to have tested Touch ID on the iPhone 13 but later dropped its plans after not being content with the results.
Kuo had previously noted Apple's decision to defer the introduction of the under-display cameras until the iPhone 16 is a marketing-driven decision and "less of a technical issue." Understandably, Apple's leading supplier for iPhone's LTPO displays — Samsung — has yet to introduce an under-display selfie camera on its Galaxy S lineup of flagship smartphones with glass panels over the display. The feature is currently limited to the Galaxy Z Fold 3, which comes with a flexible display. Other smartphones offering an under-display selfie camera include the Xiaomi MIX 4 and the ZTE Axon 30.
A major selfie camera upgrade comes first
Kuo also revealed details about significant improvements coming to the iPhone's selfie camera before any sort of under-display setup. According to him, all iPhone 14 models will feature upgraded front cameras with autofocus as a significant upgrade to the fixed focus cameras on the iPhone 13. This will improve focusing capabilities while taking selfies and during video calls with FaceTime.
He adds that the iPhone 14 models will also likely feature a larger f/1.9 aperture compared to the f/2.2 aperture on several iPhone 13 variants. The larger aperture of the selfie cameras will enable iPhone 14 users to take better selfies with enhanced shallow depths of field and better low-light response.
Notably, the smaller cutouts for the front camera and Face ID on the upcoming iPhone 14 Pro and the iPhone 14 Pro Max were revealed recently through leaked schematics. It would appear that Apple still plans to retain the notch on the more affordable standard iPhone 14.