2022 Mazda CX-9 Review: The Best Seat In Three Rows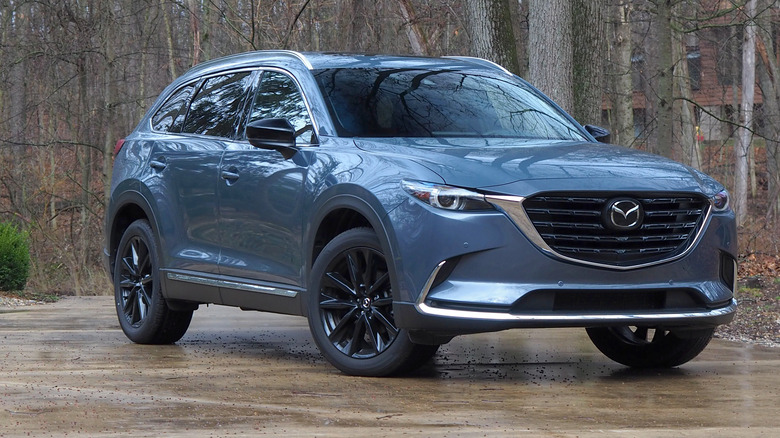 Chris Davies/SlashGear
It's fair to say that Mazda excels with outliers. Steadfastly committed to giving drivers a little something extra, compared to the competition, the automaker may not be on the cutting edge of electrification but its driving dynamics can hardly be faulted. You may think that would be near-impossible on a family-friendly, three-row SUV like the 2022 Mazda CX-9, but you'd be wrong.
There's a risk to straying outside of the status-quo, mind. The CX-9 isn't Mazda's most popular model — its sales are dwarfed by those of the smaller CX-5 and CX-30 — but there's no denying that SUVs are where the market has shifted. That means strong competition, and if you're not trying to compete in on-paper specifications, you need to go over and above in order to stand out.
Still a head-turner
Chris Davies/SlashGear
Mazda knows how to make a good looking SUV, and the CX-9 wears its three row scale well. The rakishly forward-leaning grille, picked out with a sweeping bow of chrome, and paired with slim headlamp clusters leave the fascia purposeful and handsome. There's a little more chrome on the sides and at the rear, too, linking the eye-catching circular taillamps; they're reminiscent of a 60s sci-fi rocket ship, and arguably the best flourish of the whole vehicle.
In Carbon Edition form, the 20-inch alloy wheels are finished in black, as are the side mirrors. The front grille, too, swaps its usual glint for gloss black inserts. The Polymetal Gray Metallic paint job is subtly handsome, though I couldn't help but look longingly at the Mazda configurator: Soul Red is a mere $595 option, and still outclasses similar finishes costing ten-times that amount from rival automakers.
Overall, then, Mazda skirts a fine line between exterior aesthetics and maximizing cabin space. A big box would be most efficient on the latter, of course, but then the auto industry would have to persuade us all to buy minivans again.
One drivetrain, no upsell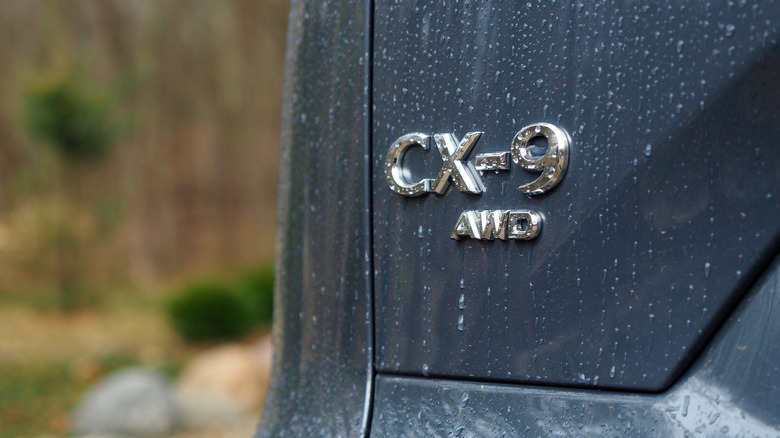 Chris Davies/SlashGear
Unusually, in a category where engine upsell is the status-quo, Mazda has a single drivetrain regardless of CX-9 trim. Similarly unpredictable, it's a 2.5-liter four-cylinder turbo, rather than the V6 many of its rivals offer.
More specifically, it's the SKYACTIV-G, with 250 horsepower and 320 lb-ft of torque. That's assuming you pump at least 93 octane gas, mind: it'll drop to 227 horsepower and 310 lb-ft with regular, 87 octane fuel. A six-speed automatic transmission is standard, too, as is all-wheel drive.
Not having to open your wallet even further to get AWD makes a nice change, with even the base CX-9 Sport — at $35,630 plus $1,225 destination — pushing power to all of its wheels. As for that economy gamble with its 2.5T, the EPA's ratings of 20 mpg in the city, 26 mpg on the highway, and 23 mpg combined put the CX-9 in the upper echelons of its segment, though it's not an entirely clean sweep. It's tough not to assume that a more modern transmission with a few extra gears could help, there.
A driver's three-row SUV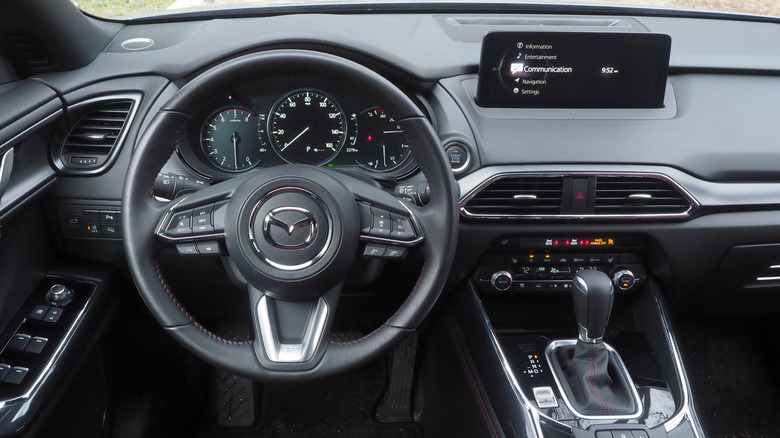 Chris Davies/SlashGear
Still, even without two more cylinders to play with, there's no mistaking how much fun this Mazda is from behind the wheel. Three-row SUVs are not, quite frankly, known for being engaging to drive, and usually we'd consider a drivetrain that comfortably blends into the cosseting background as an ample win. The CX-9, though, seems determined to bring some enthusiasm to bear.
250 horses are far from profligate, but the SUV wields them well. A 0-60 mph somewhere in the mid-7 seconds bracket isn't going to scalp you, but it feels faster than the norm, the CX-9 surging eagerly away from lights as though it confused itself for a Miata.
That urgency — which also demonstrates itself nicely when you're looking to snag a last-minute overtake at highway speeds — holds true through the corners, too. There's MacPherson front suspension and multilink rear suspension, tuned on the firm side for a family hauler, but the upshot is an SUV that can carry an unexpected degree of pace into the turns.
Indeed, it's easy to imagine those onboard getting unsettled before the CX-9 does, which is more than we can say for most rivals. Back to back with a smaller, more lithe CX-30, you'll probably notice the over-assisted steering, but again, in its category it's a pleasant outlier.
High on style, high on specs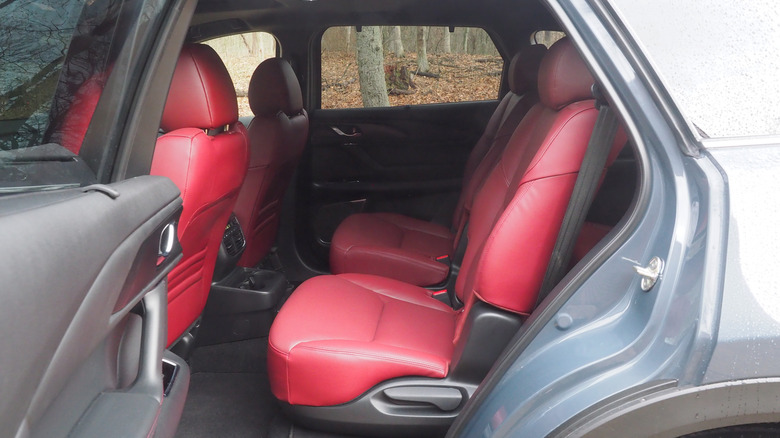 Chris Davies/SlashGear
That's just grand if you're driving alone, but the whole point of a three-row SUV is that it'll accommodate the rest of the family too. The base Sport trim gets seven seats in a 2-3-2 configuration; six-seater Touring and Touring Plus trims are optional, switching the middle row bench for a pair of captain's chairs. They're standard from Carbon Edition up.
As we've seen with other recent Mazda models, there's definitely been attention paid to design, trim, and finishing. Indeed you could pit the CX-9 Carbon Edition against an SUV from Audi or BMW, and find it holding its own.
There are leather seats in everything above Sport trim, along with real metal and sturdy plastics, while the flagship Signature trim adds real wood, too. That's despite it starting at a mere $47,560. Three-zone automatic climate control, adaptive cruise control, keyless entry and push-button start, a power-adjustable driver's seat, and front seat heating are all standard across the board, too.
By the time you reach this CX-9 Carbon Edition, your $43,580 (plus destination) throws in a power front passenger seat, heating and ventilation in the front row, heating for the second row captain's chairs, and a heated steering wheel. Everything from Touring ($37,780) up gets a power liftgate, while the power sliding moonroof is standard from Touring Plus ($40,860).
The inevitable compromise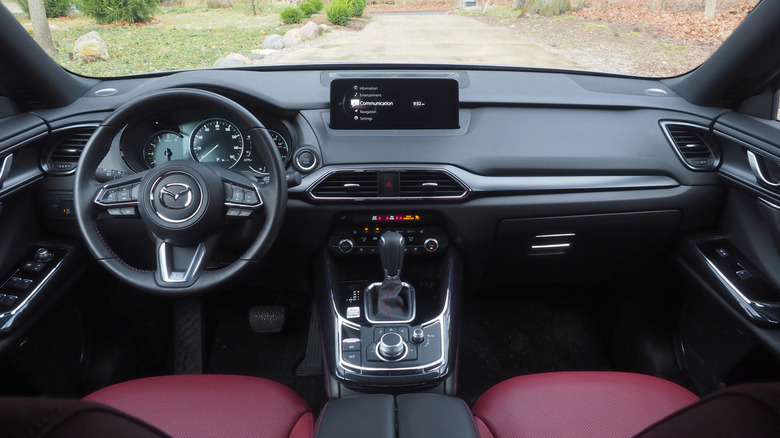 Chris Davies/SlashGear
A10.25-inch infotainment display is standard on all versions, with wired Apple CarPlay and Android Auto. Touring Plus and above gets SiriusXM, plus Bose Centerpoint 2 audio; there's also more USB ports, with two for each row. For the driver, there's a 4.6-inch display in the gauge cluster in trims up to Touring Plus, but the Carbon Edition and above enlarge that to 7-inches. It blends nicely into the analog dials, and Mazda doesn't overload it with information. Indeed, you could argue that it could afford to make a little better use of the bigger panel.
Where things start to show compromise are on sheer space, particularly once you clamber past the second row. The rearmost seats are kid-scale with under 30-inches of legroom, a far cry from the spacious front row and the decent middle. With that third row up, meanwhile, you get 14.4 cu-ft of cargo space: a Ford Explorer may leave you looking like a cop, but there's 18.2 cu-ft behind its last row, while Kia's Telluride totes a full 21 cu-ft there.
Drop the third row in the CX-9, and it expands to 38.2 cu-ft; you get 71.2 cu-ft with the second and third rows folded. That's still almost 17 cu-ft less than the maximum in the Ford, mind. An Explorer will tow up to 5,600 pounds too, engine depending, where the Mazda tops out at 3,500 pounds.
Head versus heart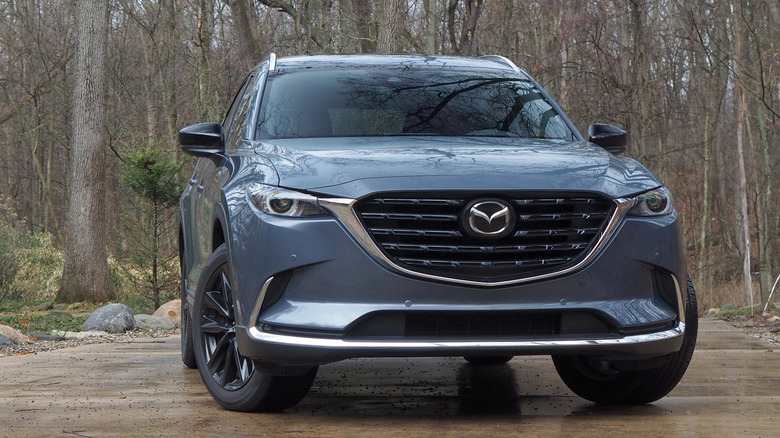 Chris Davies/SlashGear
On paper, then, the 2022 CX-9 is competitive on standard equipment but falls short on practicality versus its rivals. What that fails to take into account, though, is how rewarding things get from behind the wheel. Where competitive three-row SUVs feel earnest and stolid, the Mazda refuses to compromise entirely on engagement.
No, it's not going to be as fun to drive as a CX-5, and that's not as rewarding as a CX-30, and in turn that's clearly no MX-5 Miata. Nonetheless, Mazda demands and deserves some credit here for building an family SUV that's neither dowdy nor dull.
The cost of that, more than the sticker price, is a sacrifice in flexibility. Whether that's something you can stomach comes down to just how important the driving experience is to you. It's a decision that won't always be made in the Mazda's favor, but I'm glad that it's an option still on offer in an increasingly crowded segment.