Bugsnax Leads The Charge For Xbox Game Pass In Late April 2022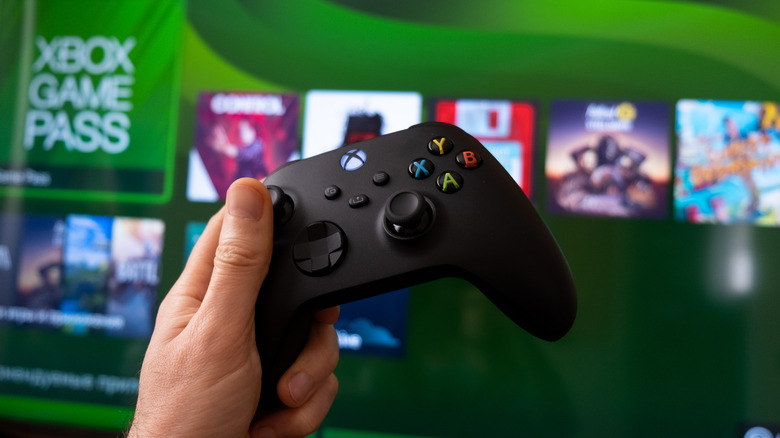 vfhnb12/Shutterstock
On Tuesday, Xbox Game Pass Community Lead Megan Spurr personally delivered a salvo of information about new game releases for Xbox's premium subscription service, Xbox Game Pass, which is set to receive seven titles between now and the end of April. The most notable of the bunch is "Bugsnax," which PlayStation gamers may remember as one of the more esoteric launch titles for the PlayStation 5 back in November 2020. Xbox Game Pass has already amassed quite a name for itself as one of the most accessible platforms for gaming, releasing a ton of new stuff each month that subscribers may download and access starting at $9.99 per month for support on either PC or modern Xbox consoles, or $14.99 for an Ultimate Pass that covers both platforms.
The new Game Pass additions for late April come hot off of the heels of the platform's early April update, which included showstoppers "MLB The Show 2022," "Life is Strange: True Colors," "Chinatown Detective Agency," and five more. Three of the new games included in the late April update are available today: "F1 2021" and "Need for Speed Hot Pursuit Remastered" are now available in conjunction with EA Play, and there's also the comically titled "Turnip Boy Commits Tax Evasion," which is the perfect name for a game releasing just one day after tax day.
What to expect from Xbox Game Pass later this month
Xbox Game Pass will roll out the rest of its new games over the course of the next couple of weeks, until the end of April. The next patch will introduce "7 Days to Die" and "Research and Destroy" to the console and PC versions of Game Pass on April 26. The following update will take place two days later, on April 28, and will include "Unsouled" for PC and Xbox gamers as well as the long-awaited Xbox, PC, and Cloud release of "Bugsnax." 
The latter is an indie adventure game that has you set off across the land to capture over 100 different species of Bugsnaks — yes, Bugsnaks — that each resembles a different half-food, half-insect hybrid. As noted by Metacritic, critics have generally described the title as unique, entertaining, and humorous, albeit a bit shorter in the tooth than they'd hoped. It's good news, then, that the game will be available for free to Xbox Game Pass subscribers, meaning that (hopefully) nobody will feel shortchanged due to length.
If you own a Steam Deck, you might also be able to play "Bugsnax" via the Xbox Cloud Gaming service, which is currently available to Steam Deck users in beta form. As long as you have a stable connection to the Internet that averages at about 10-20 Mbps with a latency below 50 milliseconds, you should be able to enjoy the new game without a significant number of issues.