This New Google App Helps You Easily Move Data From iOS To Android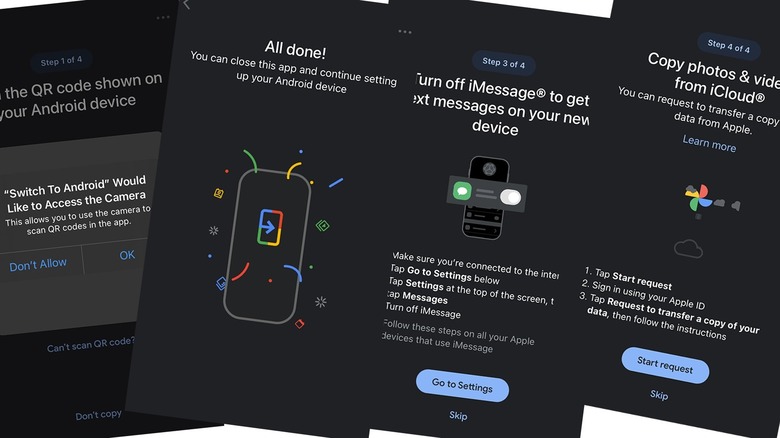 Chris Burns/SlashGear
Google has quietly launched a new iOS app called Switch to Android that lets users move their data from an iPhone to an Android smartphone. The app is currently in an unlisted stage, which means it can't be discovered using the App Store's search feature, and can instead only be accessed via the direct link to the listing. The app allows users to transfer photos, videos, calendar entries, and contacts from an iPhone to an Android device over a wireless connection. Apple already offers a similar app called Move to iOS that makes it easy for Android users to move their data over to an iPhone. With that said, there's a key difference between the two apps.
The new Switch to Android app doesn't support the migration of messages, while Apple's app supports message transfer. The App Store listing for the new Google app only mentions "turning off iMessage so you don't miss text messages from friends and family." Before the transfer process begins, users will be asked to flick the toggles for the specific types of data (photos, videos, calendar, and contacts) they want to move from their iPhone to an Android handset. However, this stage only facilitates the movement of locally-stored media files. In the subsequent steps, users will be asked to transfer their iCloud files to Google Drive or the Photos app.
The app's promising, but needs more polish
Once users agree to the cloud data transfer, they will be taken to a browser-based permissions page where they need to select the "Transfer a copy of your data" option. It appears that Google's app is still a work in progress, as there are some features that aren't functional at this point in time. As spotted by 9to5Google, when the app is first launched on an iPhone, it shows the prompt to scan a QR code from an Android phone, but that doesn't appear to be working in its current state. The QR code system is likely there for creating a hotspot that connects the two phones wirelessly.
Beyond that, the app is still missing two crucial elements: the ability to transfer messages and apps from an iPhone to an Android phone. The latter makes sense due to platform restrictions, but in the process, users also risk losing all the cached data associated with an app if they have to re-install them on an Android device — and, of course, there's the cumbersome job of signing in for a majority of them. As for the disabling iMessage part, this ensures that if a message arrives during the transfer process, it doesn't get lost. Google hasn't updated its official Switch to Android website to include the app, and there is no information regarding a public launch, which will, presumably, happen after the company irons out all of its shortcomings.