Panera Is The Next Chain To Test Out Automated Food Systems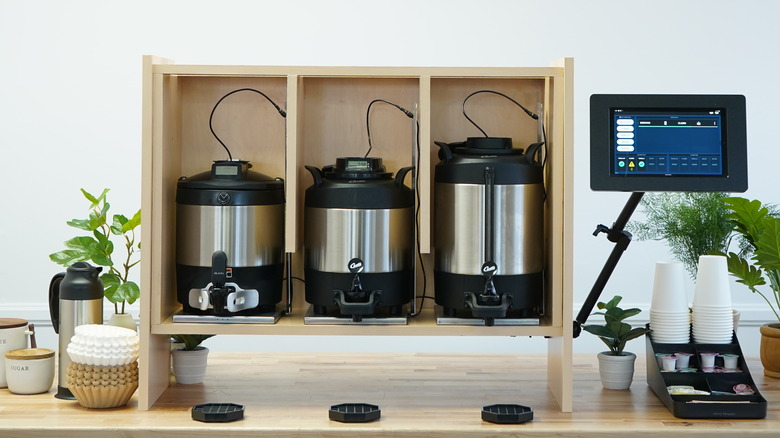 Miso Robotics
Brewing fresh coffee to sell to customers is a highly repeatable, albeit tedious, process, but Miso Robotics believes that it has an AI-powered solution that can relieve overburdened food service workers who might spend too much (or too little) time worrying about the coffee machine rather than preparing other, more complicated entrees.
The robotics company announced on April 12 via a press release that it is now rolling out its proprietary CookRight Coffee monitoring system, which uses AI to monitor the process of brewing hot coffee and can help restaurants serve it at the perfect temperature and at the perfect time. While it doesn't automate the exact process of switching coffee filters or pouring coffee beans, it can theoretically indicate the exact moment a fresh pot of coffee will need to be started. CookRight Coffee systems will first deploy to Panera Bread locations across the United States for additional testing.
CookRight Coffee is a further iteration of Miso's CookRight system, which was already being used to monitor food preparation on a hot surface, such as burger patties cooking on a grill. Recently, Miso Robotics made headlines for its chip-making robot, Chippy, which is currently being tested for use in making tortilla chips at Chipotle restaurants.
Artificial intelligence is finding a home in foodservice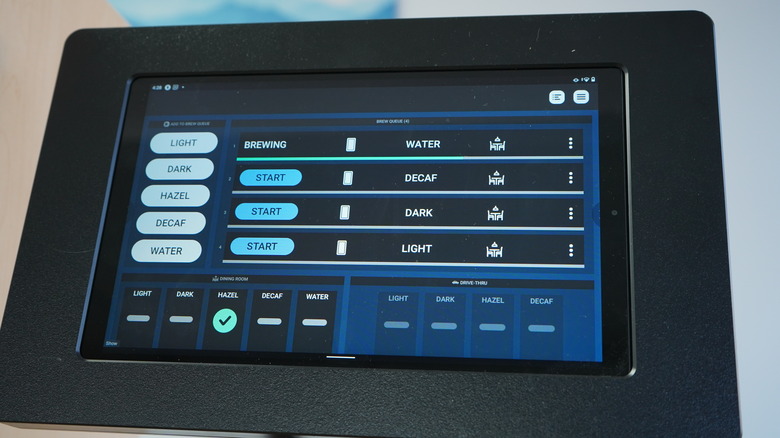 Miso Robotics
According to a survey conducted by Business Insider in February 2022, food service labor shortages are continuing to disrupt the restaurant industry, and things are looking pretty grim going deeper into the year. This coincides with the advent of new AI-powered robots that are able to automate simple and repeatable tasks, or monitor kitchen processes to make things way more efficient. Last week, we reported on an iterative Japanese robot that can unpeel bananas with two giant arms; while not ready for mass adoption, it's currently being tested for use in food processing facilities and kitchens across Japan.
Fast food restaurants across the United States are even replacing their greeters with AI-powered computers. As reported by CNBC in June 2021, more than 10 McDonald's locations in Chicago had already begun using a voice order system, though with only 85% order accuracy at the time. That means a human will still need to take one out of five customer orders, even with the AI system in place. McDonald's CEO Chris Kempczinski commented, explaining, "There's a big leap from going to 10 restaurants in Chicago to 14,000 restaurants across the U.S." That said, the CEO did add that he expects the technology will be fully ready to implement within only a couple of years.