How VinFast's Electric Vehicle Is Hoping To Challenge Tesla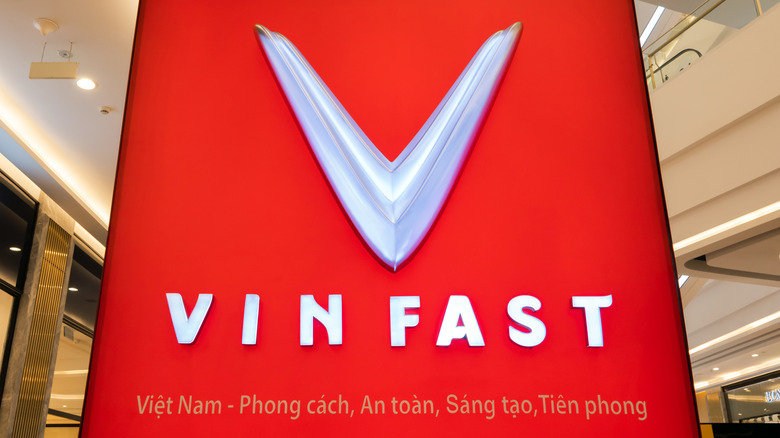 Zapp2Photo/Shutterstock
The Tesla name is a pioneering force in the global electric vehicle industry, and the California-based EV maker has come a long way since its inception in 2003. After getting its most significant order of 100,000 vehicles from legacy rental car company Hertz last year, Tesla's market value has soared to $1 trillion, more than Toyota, VW, Daimler, Ford, and GM combined. However, a particular electric automaker from Vietnam wants to challenge Tesla –- not to mention other EV startups like Rivian and Lucid –- on its home soil.
We're talking about VinFast, a Vietnamese startup established in 2017. VinFast is the first Vietnamese car brand to reach global markets and the first to produce homegrown electric vehicles. Making cars is big business, but the road to success is long and tumultuous. Take the case of Faraday Future, an EV startup based in California. After years of turmoil, Faraday Future got a fresh start and has finally built its first production EV, the FF 91 all-electric crossover, in February 2022 after unveiling the concept in 2017 at CES.
But then again, the range-topping FF 91 could start at $200,000, so it's hard to see Faraday Future shaking up the automotive industry in the same manner Tesla did. On a different note, VinFast has intentions of carving its niche, and the company's actions speak louder than words.
Greetings, North Carolina!
VinFast made its first deliveries of electric vehicles to Vietnamese customers on Christmas day, 2021, an event that the automaker claims is opening a new era of Vietnamese EVs and making Vietnam among the few countries to master clean-energy vehicles production. And in March 2022, VinFast announced the construction of a brand-spanking-new factory at the Chatham County Triangle Innovation Point megacity in North Carolina, an 800-hectare manufacturing facility with three main areas: electric cars, EV batteries & ancillaries, and bus assemblies.
Yes, VinFast is also building busses for commercial applications, and it's done it before at the startup's Haiphong manufacturing plant in Vietnam. VinBus is the first electric bus made in Vietnam, and it has a 281 kWh battery capable of 137 miles (220 km) of range in a single, two-hour full recharge. VinFast is not challenging Tesla outright with the VinBus, although Tesla CEO Elon Musk once flirted with the idea of a Tesla bus on Twitter in 2020.
VinFast claims construction for phase one of its $2 billion factory will begin later this year after securing the necessary permits and paperwork. "VinFast's transformative project will bring many good jobs to our state and a healthier environment as more electric vehicles take to the road and help us reduce greenhouse gas emissions," said North Carolina Governor Roy Cooper.
Meanwhile, factory one can build 150,000 new electric cars per year, and VinFast wants to start producing its VF 9 seven-seat SUV and VF 8 five-passenger midsize SUV by July 2024. "Having a production facility right in the market will help VinFast proactively manage its supply chain, maintain stabilized prices, and shorten product supply time, making VinFast's EVs more accessible to customers, contributing to the realization of local environmental improvement goals," adds VinGroup Vice-Chair and VinFast Global CEO Le Thi Thu Thuy.
VinFast VF 8 and VF 9 electric SUVs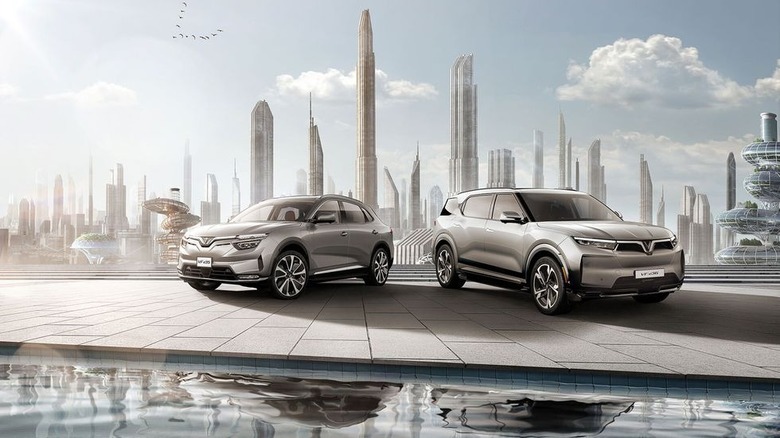 VinFast
VinFast has partnered with legendary Italian design house Pininfarina for its VF 8 and VF 9 all-electric SUVs. The company has also worked with Magna Steyr and BMW before. Still, it has close affinities with Pininfarina to establish the design identity of its cars, particularly the VF 8 and VF 9. Previously called the VF e35 and VF e36 when the SUVs debuted last year at the Los Angeles Auto Show, VinFast said the VF 8 five-seat electric SUV would have base prices of about $41,000 before federal incentives, while the VF 9 seven-seat SUV is around $56,000.
The cheapest Tesla Model 3 single motor RWD variant starts at $48,490, and it offers 267 miles of EPA-rated driving range, a 140 mph top speed, and zero to 60 mph in 5.8-seconds. Out of all the promises made by Elon Musk and Tesla, the premise of an affordable $35,000 electric car remains a pipe dream for now, but VinFast could have something up its sleeves. The budget price tag is a given, but you're also getting some oomph and good range numbers.
According to Car and Driver, the VF 8 has 402 horsepower, 472 pound-feet of torque, goes from zero to 60 mph in 5.5-seconds, and has a WLTP-rated 316.9 miles of range. Meanwhile, the seven-seat VF 9 electric SUV produces the same horsepower and torque but achieves a WLTP-approved 422.5 miles of range. In addition, both SUVs will feature advanced driver assistance systems (ADAS).
The first US deliveries of the VF 8 and VF 9 could begin in fall 2022, and VinFast will manufacture the initial batch in its Haiphong, Vietnam, facility until factory one is completed by 2024. Until then, Tesla better watch its back.