2023 Maserati Grecale First Drive: An Upscale SUV To Give Porsche Nightmares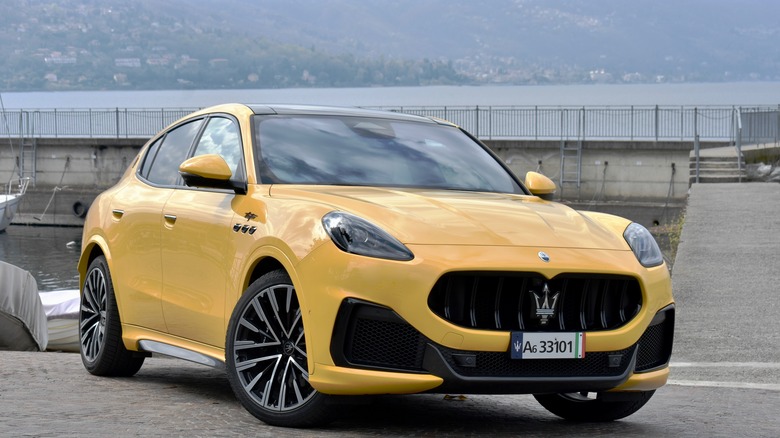 Stephen Edelstein/SlashGear
Maserati is one of the most storied brands in the automotive world. Its trident badge has adorned scores of successful race cars and gorgeous sports cars. But none of that makes Maserati relevant today. With its glory days so far in the past, Maserati needs to rely on more than just heritage.
If you're going to reinvent an iconic car brand, you might as well aim for one of the most popular market segments. That's where the 2023 Maserati Grecale comes in. Sitting below the Levante in Maserati's lineup, this small crossover SUV is the type of vehicle a large number of luxury shoppers are looking for. So while the new MC20 sports car may grab more attention, the Grecale will be the money maker.
Three powertrain choices (with electric on the way)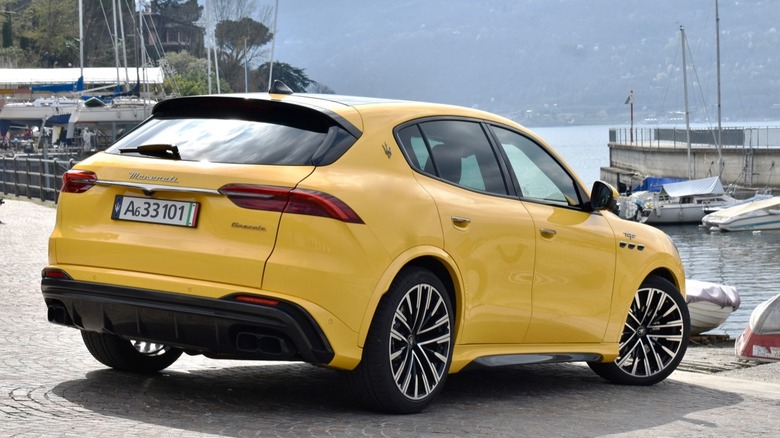 Stephen Edelstein/SlashGear
Pronounced "gre-CAH-leh," the newest Maserati takes its name from a north-easterly Mediterranean wind. Naming cars after winds is a Maserati tradition that started in 1963 with the Mistral, and continued with iconic models like the Ghibli, Bora, Merak, and Khamsin through to the modern day Levante. It adds to the romance that makes up so much of Maserati's appeal, as long as you ignore the fact that a similar tradition gave us the Volkswagen Passat.
The Grecale is sized similar to numerous other small luxury crossovers but, with its emphasis on sporty driving dynamics and sports-car heritage, it's aimed more specifically at the Porsche Macan. Like the Macan, the Grecale has a streamlined shape that's more jacked-up station wagon than true SUV. We found it attractive for the most part, although the small headlights and puckered oval grille give it a somewhat fish-like appearance from certain angles. The best view might actually be the rear three-quarter, which emphasizes the slim taillights inspired by the Maserati 3200 GT coupe of the late 1990s.
Borrowing a sports car engine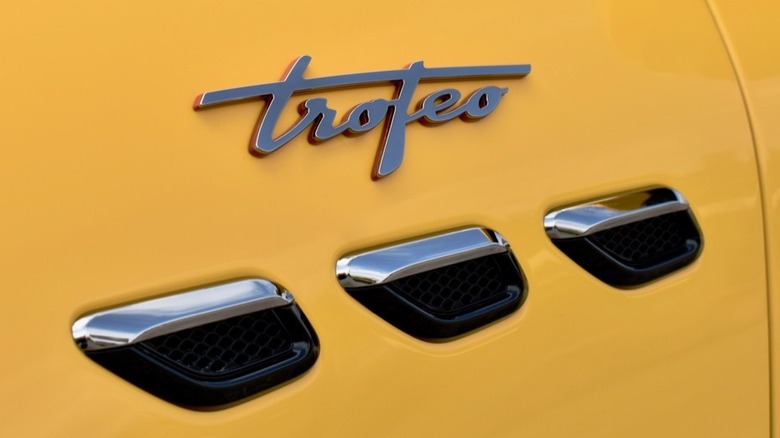 Stephen Edelstein/SlashGear
Like Porsche, Maserati also offers customers several choices of models and powertrains. At launch, the Grecale will be available in GT, Modena, and Trofeo configurations, with an all-electric Folgore version following about a year after these gasoline models.
The base Grecale GT gets a 2.0-liter turbocharged four-cylinder mild-hybrid powertrain producing 296 horsepower and 331 pound-feet of torque, with an eight-speed automatic transmission and standard all-wheel drive. Expected to be the volume trim level, the Grecale Modena gets a higher-strength version of this powertrain, with 325 hp and an identical torque output. Maserati quotes zero to 62 mph times of 5.6 seconds for the GT and 5.3 seconds for the Modena, with a top speed of 140 mph for both versions.
Those are respectable numbers, but the Grecale Trofeo dials things up a bit. It keeps the lower trims' eight-speed automatic transmission and all-wheel drive system, but uses a version of the Nettuno 3.0-liter twin-turbocharged V6 from the MC20, identical to the sports car's engine except for different turbos, a wet-sump oiling system in place of the MC20's dry-sump system, and the addition of cylinder deactivation to save fuel, while retaining the Formula One-style pre-chamber combustion system to more efficiently turn hydrocarbons into horsepower.
The Grace Trofeo produces 530 hp and 457 lb-ft of torque, down from the MC20's 621 hp and 538 lb-ft, but Maserati claims it will still do zero to 62 mph in 3.8 seconds and reach a 177-mph top speed. Both figures beat the Porsche Macan GTS.
Standout powertrain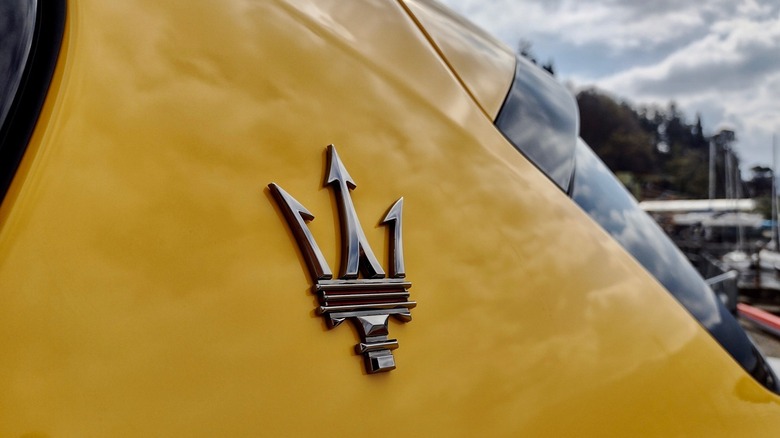 Stephen Edelstein/SlashGear
This delightful engine is housed in a modified version of the Giorgio platform that originated with the Alfa Romeo Giulia sedan and Stelvio crossover—both known for their handling prowess. Maserati made some modifications, including stretching the wheelbase, to achieve what it claims is more rear-seat legroom and cargo space than competitors. The automaker hasn't published complete interior measurements, however, so we can't verify that claim yet. The back seats did feel roomy, at least, and we appreciate that Maserati placed the seats flush with the door openings, easing ingress and egress.
We spent an afternoon driving the Trofeo model and, while a route consisting mostly of speed camera-infested motorways and narrow village streets limited spirited driving somewhat, we can say that the engine overshadowed the rest of the car.
The Grecale Trofeo felt as quick as the numbers indicate, and that acceleration was accompanied by a wonderful exhaust note worthy of an engine with more cylinders. The engine was also eager to rev, giving it an effervescent feel not common among turbocharged engines, while the transmission kept pace with quick shifts. High-horsepower turbo engines are a dime a dozen these days, especially in performance SUVs, but the Trofeo engine provided a distinctive experience rather than just a set of impressive numbers.
However, you really only get this experience in the Sport and (Trofeo-only) Corsa drive modes, which offer more aggressive throttle and shift mapping, as well as more exhaust noise. The Comfort and GT modes were too buttoned down for our taste. Acceleration felt severely blunted in these modes, with no discernible benefit. Maserati also included an Off-Road mode that raises the ride height by 1.18 inches, but the Grecale likely won't be giving Land Rover any trouble in the off-road department.
An unexpected approach to performance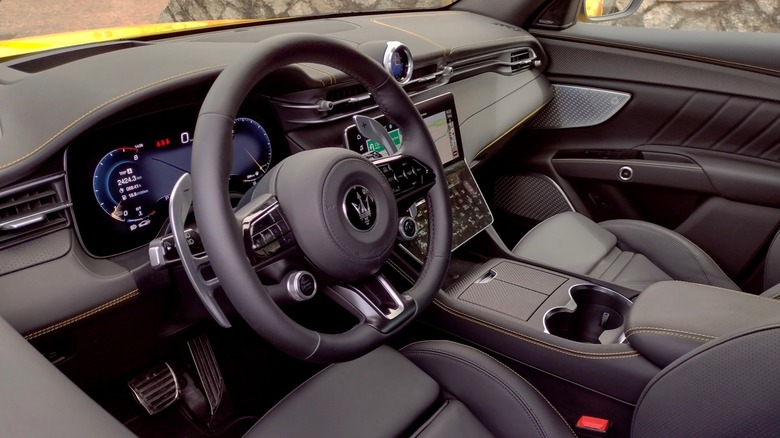 Stephen Edelstein/SlashGear
Even in Sport or Corsa mode, though, the chassis couldn't keep up with the engine. Excessive body roll and squirming were the order of the day, making it difficult to set up for corners with confidence. The Trofeo also seemed prone to understeer, although that was likely due in part to our test car's winter tires. The brakes inspired plenty of confidence, at least, with lots of stopping power and consistent pedal feel.
It seems like Maserati designed the rest of the Grecale Trofeo for a different type of driving than the engine might suggest. While it lacks the sharpest handling, it is quite comfortable for a performance SUV. The cabin filtered out the noises we didn't want to hear (i.e. those not coming from the exhaust), and thanks to our test car's optional air suspension, the ride quality was great even in the more aggressive driving modes. Maserati also lets drivers select suspension firmness separate from the drive modes, so you can get that more-aggressive engine response without breaking your back.
The Grecale Trofeo is the grand tourer of performance SUVs, trading the intensity of the sportiest Macan variants or othered hot rodded SUVs like the BMW X3 M for a more laid back character. While other performance SUVs shout and beat their chests in a struggle to be taken seriously, the Grecale simply exists. That seems like a worthy approach that could set the Maserati apart from its competitors. It's also in keeping with the more luxurious take on performance seen in the Maserati Quattroporte and Ghibli sedans, and the now discontinued GranTurismo coupe.
High tech interior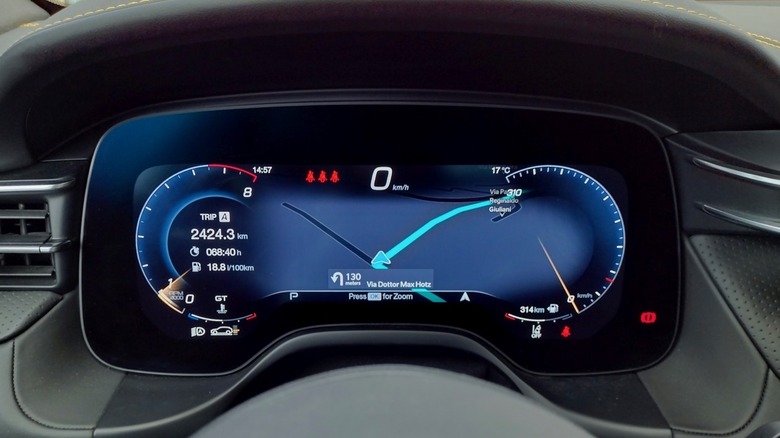 Stephen Edelstein/SlashGear
The interior also meets the standards of the Grecale's market segment. We didn't find the design particularly imaginative, but aside from some cheap looking shiny black plastic, material quality and fit and finish in our Trofeo test car was impressive. The interior was also free of switchgear and trim pieces from other Stellantis brands, so the Grecale won't be confused with a Jeep, or its Alfa Romeo Stelvio cousin.
Large paddle shifters, a nicely sized steering wheel with a handy drive mode/suspension setting knob, and comfortable but firmly bolstered seats were well suited to the Trofeo model's performance aspirations. And unlike the rest of Maserati's aging SUV and sedan lineup, the Grecale offers up to date tech.
The Grecale gets a dual-screen infotainment system, with 12.3 inch upper and 8.8-inch lower screens, wireless Apple CarPlay and Android Auto, a built-in WiFi hotspot (with 3 gigabytes of free data), and Amazon Alexa compatibility. It also includes a voice recognition system that responds to the prompt "Hey Maserati," so owners who have witnessed their friends shout "Hey Mercedes" or "Hey BMW" at their cars won't feel left out.
No buttons, no problem
Maserati
The screens conform to the shape of the dashboard, with shift buttons for the transmission dividing the two. It's a novel and functional design that divides up information and functions nicely. For example, the navigation display sits at the top while climate controls sit below, so you can adjust the temperature without blocking the map view.
Maserati didn't provide analog backups for those climate controls, and audio volume is control by a touchscreen slider. Deletion of physical buttons and knobs is usually a bad idea, but we didn't have any issues with this touchscreen-heavy approach. Aside from the copious fingerprint smudges left behind after each use, that is.
Maserati also included a 12.3-inch reconfigurable digital instrument cluster, but it's not one of the best we've experienced. None of the layouts was particularly creative, and none made good use of the space available, cramming an excess amount of information into small areas of the display. The dashboard's digital clock also seemed unnecessary. Maserati noted that it's reconfigurable, with different available themes, but in the end you're just looking at a digital facsimile of an analog clock.
Aiming for exclusivity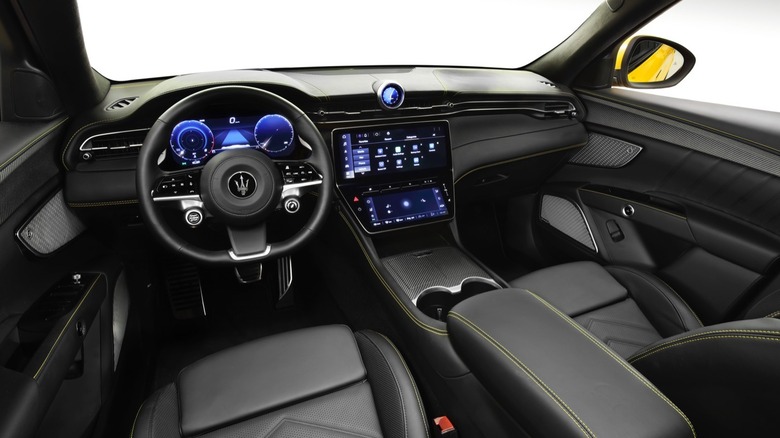 Maserati
The base Grecale GT has a $64,995 base MSRP (including destination), but Maserati hasn't released full pricing for the Modena and Trofeo versions yet. The base price is a big step up from a Porsche Macan, but the Grecale offers more power in entry-level form, and Maserati Americas CEO Bill Peffer stressed that it plans to emphasize exclusivity going forward. The Grecale will be built in Italy, which should keep brand purists happy.
Most models also aren't available to order yet. Maserati is running its first-ever reservation scheme with the Grecale, but only for a special Modena Limited Edition model, which adds 21-inch wheels, adaptive air suspension, a 14-speaker Sonus Faber audio system, and dual-pane panoramic sunroof to the Modena trim level. A $500 refundable deposit reserves one, while the retail price is $78,895.
A solid alternative to established luxury SUVs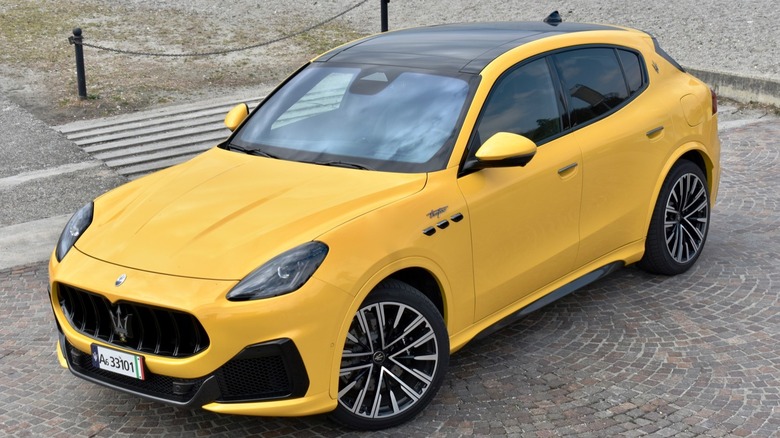 Stephen Edelstein/SlashGear
Other gasoline models will be available once United States deliveries start in fall 2022, with the electric Grecale Folgore arriving a year after that. If you're willing to wait for that one, Maserati is promising over 500 hp and more than 300 miles of range, albeit with a 400-volt electrical system that may limit charging speeds.
The Grecale arrives just as Maserati begins an ambitious electrification push that, executives believe, will see the automaker go all-electric by 2030. For now, the Grecale should serve as a good bridge between the past and future of Maserati. It's the fresh entry in a competitive market segment the automaker needs to keep itself going until those EVs arrive and, if all goes to plan, supplant their gasoline counterparts. New car shoppers, meanwhile, get something a bit different from the default German luxury brands to consider.