Maserati EV Roadmap Revealed: Goodbye Gasoline By 2030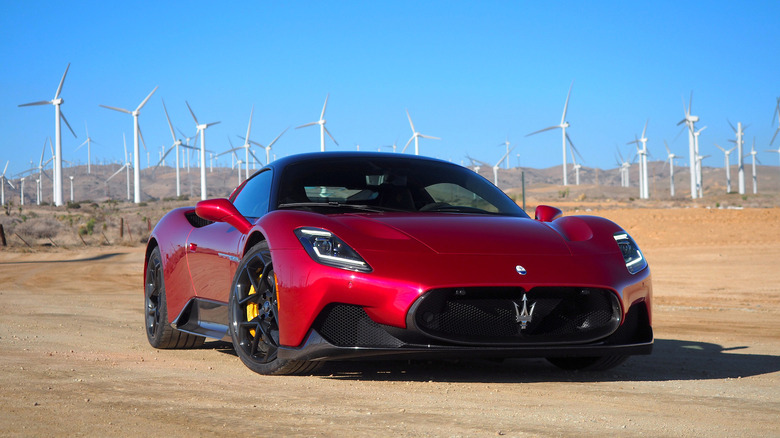 Chris Davies/SlashGear
Maserati may not have a single EV in its line-up today, but the automaker announced aggressive plans to beat its luxury rivals to an all-electric option across its range by 2025. Detailed in a new Maserati roadmap today, the flagship of the Stellantis group, it'll also mean the retirement of every internal combustion model by 2030.
It's an ambitious target, not least because Maserati has been well-known for its love of ICE (internal combustion engines) in the past. Until recently, it sourced its engines from Ferrari, in fact, though parted ways on later models such as the new MC20 sports car.
Still, while the initial version of the MC20 does still use a gas engine — albeit a high-performing V6 of Maserati's own design — the halo coupe is already on track for an EV variant. In fact, the automaker says, it was designed with an all-electric version from the outset. That has the potential to live alongside its ICE counterpart, as Maserati tests the market to see which has most demand.
First up, a Folgore GranTurismo EV coupe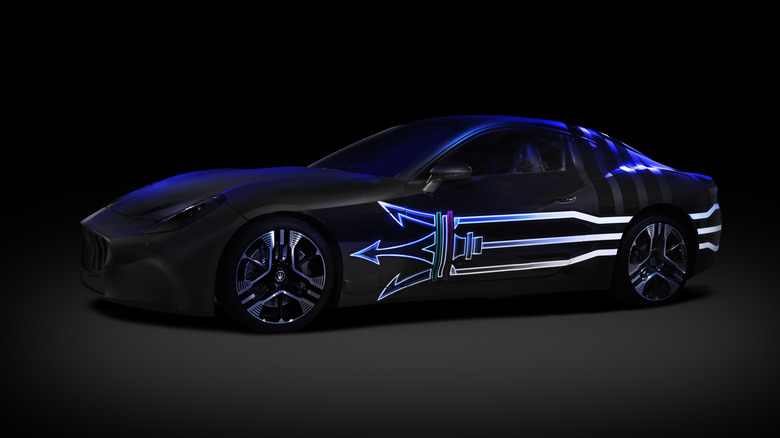 Maserati
Elsewhere in the line-up, though, there'll be a more aggressive push into electrification. The new Maserati EVs will be launched under the Folgore branding, and the first should be the Maserati GranTurismo Folgore coupe. Expected to go on sale in 2023, it'll pack three electric motors, the automaker teases.
They'll be sufficient for in excess of 1,200 horsepower, it's suggested, and a top speed of over 186 mph. A sub-3-second 0-60 mph time is being targeted. Maserati says it has tapped Formula E technology for the coupe — and its eventual Spyder convertible iteration — not least to help with faster recharging for the 800 volt architecture.
That first EV will be followed by an all-electric Grescale SUV, the new model that we're expecting to see for the first time later in March 2022. We'll have to wait until 2023 for the Grescale Folgore, mind, with a gas version of the SUV set to release initially.
Folgore is a whole range, not just one model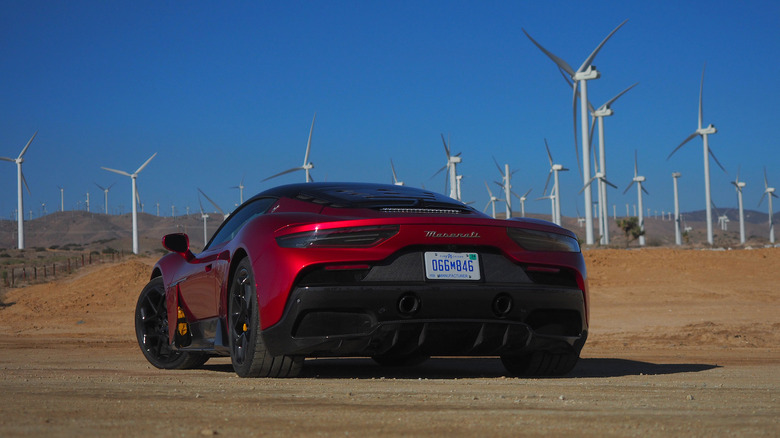 Chris Davies/SlashGear
The MC20 EV will also bear the Folgore branding, Maserati confirmed. There'll be an electric Levante SUV, and finally an electric Quattroporte, the automaker's full-size electric sedan.
Of course, Maserati isn't alone in looking to combine electric, luxury, and performance. Rivals in both the sports car and the luxury car segments are all embracing the benefits of EV technology, which include both far quieter drivetrains for lavish limos, and lashings of instantaneous torque for performance models. We've seen Porsche's Taycan do particularly well in that regard, while Mercedes-AMG has all-electric sedans with serious speed, too.
What this won't be, however, is a single, fell-swoop approach to shifting from gas to electric. Maserati will be taking it on a market-by-market approach, as it balances what it sees as the future of drivetrain tech with consumer comfort levels. It's part of a broader strategy for the automaker which attempts to put more of a focus on the rarity and exclusivity of cars bearing the trident badge, and which has seen US dealers increasingly shifting to a build-to-order approach with an emphasis on customization.