2023 Maserati Grecale Crossover Revealed With Trofeo And Electric Flavors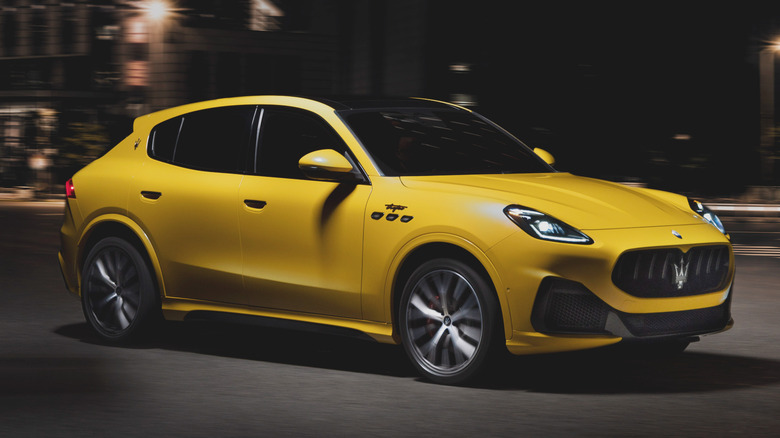 Maserati
Crossovers are big business, and Maserati knows that as much as any luxury car company. The 2023 Maserati Grecale makes perfect sense for the Italian automaker as it considers its electric reinvention, and though the BEV version of the new model won't arrive quite as rapidly as its gas-powered siblings, it's clear that there's a whole lot resting on it either way.
After all, while halo cars like the MC20 may secure Maserati its supercar credentials — and rightly so, given our experience with the striking coupe on the track already — it's crossovers and SUVs that bring in the big sales, particularly in the U.S. Maserati has so far counted on the Levante to satisfy that demand, but the Grecale will give the automaker a smaller and more affordable option to help extend sales. Helping there will be the fact that, as Maserati puts it, the Grecale being "a range within the range." Initially there'll be regular internal-combustion and hybrid models; an EV will follow in a year's time. From the outside, it grabs the oversized grille and familiar trident logo familiar from the Levante, while the Giugiaro 3200 GT inspires the boomerang tail lights.
A MC20-based Grecale Trofeo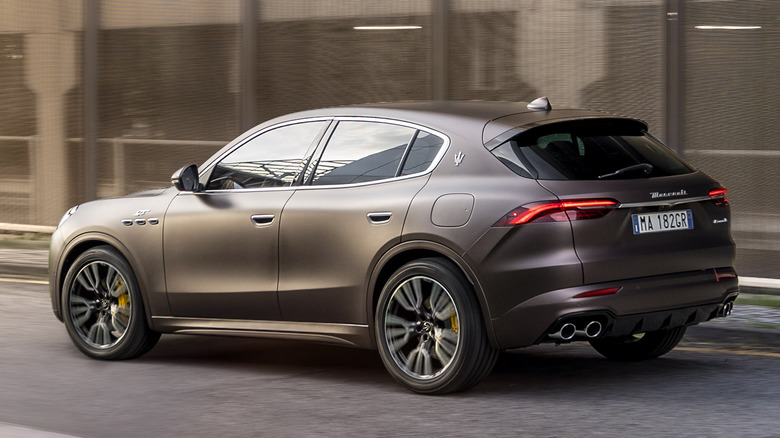 Maserati
It's 191 inches long, with a 114 inch wheelbase; at 66 inches high and 77 inches wide, the Grecale will be lower and wider than many of its crossover competitors. It'll also be considerably faster, depending on trim. To begin with, there'll be a GT, a Modena, and a Trofeo to choose between. The entry-level Grecale GT will have a four-cylinder turbocharged mild hybrid with 296 horsepower, while the Modena will have a four-cylinder mild hybrid with 325 horsepower.
Finally, the 2023 Grecale Trofeo will arrive with a 3.0-liter gas twin-turbo V6 engine, based on the same in-house design that Maserati used for the MC20. It'll pack 523 horsepower, and be capable of 0-60 mph in just 3.6 seconds and a top speed of 177 mph, Maserati says. The GT will do 0-60 in 5.3 seconds, while the Modena will trim that to 5.0 seconds; both will have a 149 mph top speed. Fuel economy numbers will be confirmed closer to release.
The Grecale offers all-wheel drive and optional air springs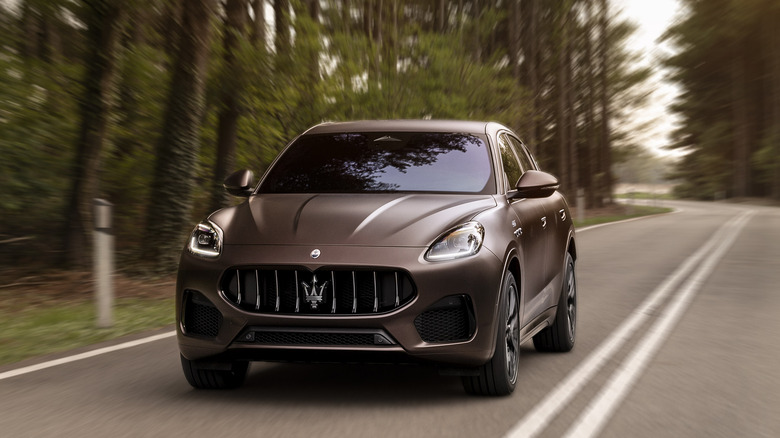 Maserati
The crossover is based on Maserati's own Vehicle Dynamic Control Module (VDCM) system, with a number of driver-selectable modes to choose between. That includes Comfort, GT, Sport, and Off-Road, with the Trofeo adding a Corsa race mode too.
In addition to tweaking engine performance, the different modes will also adjust the Grecale's 8-speed transmission. All-wheel drive is standard, with the GT having an open mechanical rear differential or a limited slip differential as an option. The other two versions get a limited-slip differential as standard, mechanical in the Modena and electronic in the Trofeo.
Air springs are standard on the Trofeo, too, and optional on the other trims. Trofeo and Modena models get active shock absorbers as standard; they're optional on the GT. Six-piston brakes with Brembo fixed calipers are standard on the Trofeo, with 4-piston versions on the other models.
A Grecale Folgore EV to follow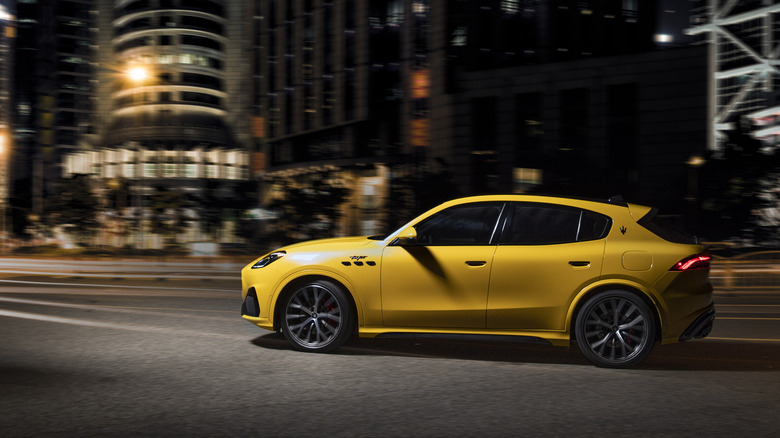 Maserati
Maserati has been upfront about its all-electric future, however. Just last week, in fact, the company committed to having all-electric versions of all of its models by 2025, an aggressive target that — if achieved — will put it ahead of the rest of the luxury pack. By 2030, meanwhile, the automaker should only be offering electric models, it insists, under its Folgore "lightning" branding.
First to sport that new family badge will be the upcoming GranTurismo Folgore coupe, which Maserati expects to go on sale in 2023. It'll have three motors, we already know, for in excess of 1,200 horsepower. Maserati says to expect a sub-3-second 0-60 mph time, not to mention a Spyder convertible version in due course.
The Grecale Folgore won't pack quite that degree of power, of course. It'll have up to 800 Nm of torque (590 lb-ft), Maserati promises, and use a 105 kWh battery and 400V architecture. No word on total range to expect, yet.
High-tech cabin and high-roller price tag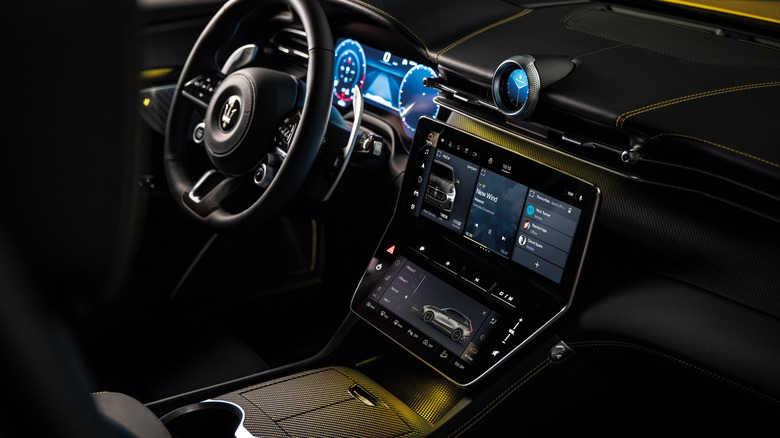 Maserati
Inside, meanwhile, there'll be a 12.3-inch central touchscreen and an 8.8-inch display for further controls. Rear passengers will also get a touchscreen for their adjustments. The Android Auto-based Maserati Intelligent Assistant (MIA) Multimedia System will be standard, with voice control, wireless Apple CarPlay and Android Auto, and dual simultaneous Bluetooth connectivity. Two audio systems by Sonus Faber will be offered, and a heads-up display is optional.
As for pricing, Maserati has shared some of those details today. The 2023 Grecale GT will start at $63,500, while the Modena will start at $77,400. Pricing for the EV will be confirmed closer to release. The first gas-powered versions of the crossover will arrive in Europe in the first half of 2022, the automaker says, and then the U.S. and Canada in the fall.