The Big Problem Reddit Has With Samsung's Exynos S22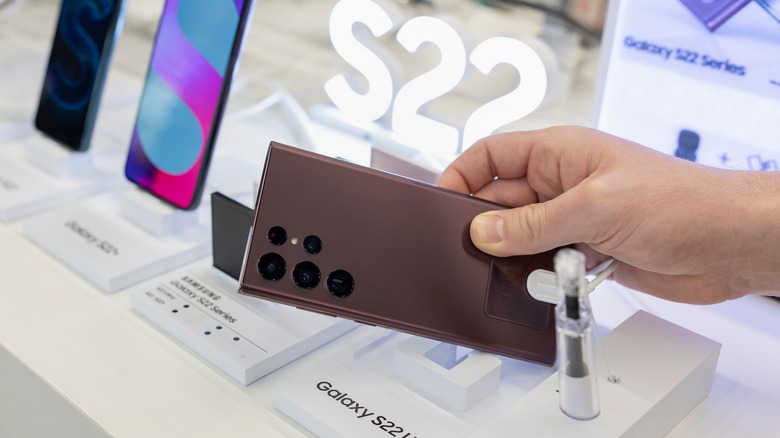 N.Z.Photography/Shutterstock
Samsung's Galaxy S22 series flagships have been in the hands of buyers for a few weeks, with both Exynos and Qualcomm chip variants hitting different markets. But it appears that the version with an Exynos chip inside is giving users a hard time with sub-par battery, performance throttling, and display issues. Reddit already has lengthy posts and ongoing threads in which Galaxy S22 users have complained about varying issues with their Exynos-powered variants. A quick keyword search on Twitter or Samsung's official community forum also pulls up a ton of posts documenting unpleasant user experiences with Exynos-powered Galaxy S22 units.
SamMobile also detailed some worrying performance issues plaguing the Galaxy S22 Ultra's Exynos version, and even called it the "worst Exynos flagship in recent time." Multiple Galaxy S22 Ultra users have also shared display quality issues, with multiple user-submitted videos showing a thick strip of pixels randomly glitching before the screen goes back to normal. It is unclear if that's a hardware defect that warrants a replacement, or some app-specific software glitch.
In a lengthy Reddit post, one user detailed their Exynos-fueled Galaxy S22 gripes and the frustration is totally understandable.
Users say the Exynos Galaxy S22 offers laggy performance, poor battery, and display woes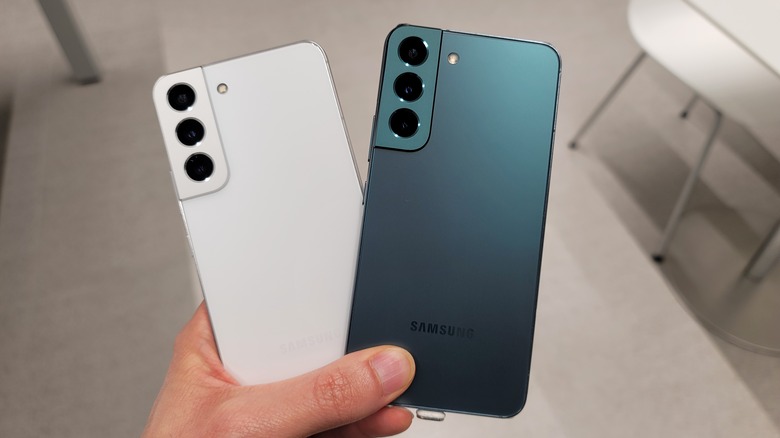 Geewon Jung/Shutterstock
In a lengthy Reddit post on the r/Android subreddit, user getmoneygetpaid detailed how their Exynos-fueled Galaxy S22 struggles to last a full day and guzzles battery power even while sitting idle. They also mentions frame drops that are out of sync with haptic feedback and can be observed even during basic tasks like scrolling the phone's UI. Lags and jitters reportedly happen with barely demanding tasks like scrolling social media, and there is some concern around poor thermal management as well. "I cannot understand how this made it out of QA," user getmoneygetpaid said in summation. "I'm 100% convinced that last year's A series will beat this in framerate / responsiveness tests whilst using less battery. How have Samsung released a flagship that performs worse than their entry-[level] devices?"
Samsung was mired in a Galaxy S22 throttling debacle earlier this year, but the company has already started rolling out corrective updates to let users bypass any system-level throttling and use the chip's full power. As far as battery life goes, the smaller Galaxy S22 model appears to be the worst hit. Per affected users, even running a social media app like Snapchat for a couple of hours ends up consuming the entire tank. Coming to camera-related issues, users have complained about poor video stabilization and lack of details in captured media. The Exynos-driven Galaxy S22 units appear to host a GPS bug, too. But it appears that Samsung has started to fix at least a few of the nagging problems. The company has started rolling out an update that claims to improve performance and solve stability issues, without going into detail about the specific fixes.