SteelSeries Stratus+ Is A Wireless Controller Made For Android And Chrome OS
SteelSeries
The SteelSeries Stratus+, a premium gaming controller catered specifically for Android and ChromeOS device owners, is now available for purchase from the SteelSeries website. This controller is designed to make gaming more accessible on Android phones and tablets, as well as on Chromebooks. It uses the industry-standard button layout (ABXY) but ergonomically, it looks more like an adaptation of the PlayStation's DualShock controller style than of the Xbox Elite Controller, which features its left analog thumbstick above the D-Pad.
Instead, the SteelSeries Stratus+ offers a twin-stick design which some have argued is less ergonomic when playing fast-paced action games. Gamers should be pleased by some of the other features present in the Stratus+, such as its supposed 90-hour battery life with fast-charge that ensures "12 hours of gameplay on a 15-minute charge," high-quality ALPS thumbsticks, high-precision Hall Effect triggers, and a slim-profile phone mount. It also looks sleek with its black matte finish.
SteelSeries Stratus+ makes cloud gaming more accessible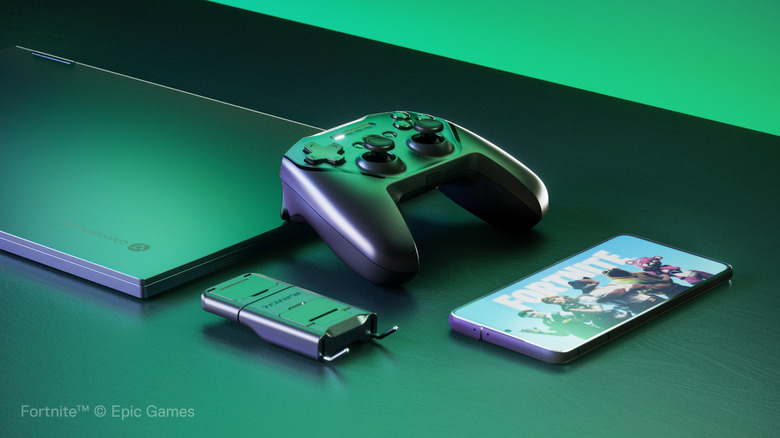 SteelSeries/Epic Games
Normally, gamers might not think of Android phones or Chromebooks as the "go-to" platform for playing the latest and greatest video game, but times, they are a-changin'. The gradual advent of cloud gaming means that, for some, it's now much more feasible to play games on a low-cost Android tablet or Chromebook rather than shell out for a high-price video game console or gaming PC. Xbox Cloud Gaming (Beta) is leading the charge in the cloud gaming scene, especially now that it offers almost its entire catalog of Xbox games over the network, and you can play them from pretty much any device as long as you have a controller, a stable network connection, and a subscription to Xbox Game Pass Ultimate (which costs $15 per month).
While not directly listed on Microsoft's list of supported Xbox Cloud Gaming controllers, some have said that unsupported SteelSeries controllers work just fine when used on the service. Furthermore, the SteelSeries Stratus+ looks like it could be a solid alternative to the Xbox Elite Controller when spending long hours playing any video game, since it features that long-lasting rechargeable battery we mentioned earlier. The SteelSeries Stratus+ costs $60 at MSRP, and it's available now.