Biden's Crypto Executive Order: Here's What You Need To Know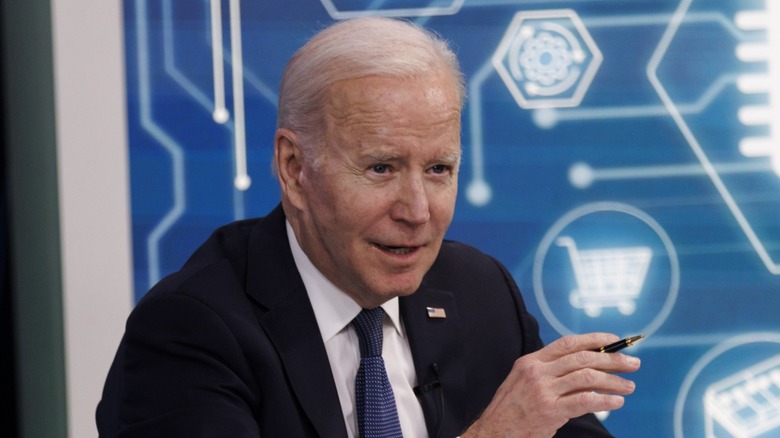 Bloomberg/Getty
President Biden issued a long-awaited executive order on March 9, 2022 directing the federal government to evaluate the risks and benefits of cryptocurrency — or crypto, for the sake of brevity. It's the first executive order of its kind to focus exclusively on the growing popularity of digital assets like Bitcoin and Dogecoin, which put the crypto market on edge because of global regulatory concerns within the digital asset sector in recent years.
The crypto market first learned about the executive order overnight after Treasury Secretary Janet Yellen accidentally published a statement calling it "historic" and released details of the order ahead of time, saying that it would "support responsible innovation that could result in substantial benefits for the nation, consumers, and businesses." The statement has since been deleted. Nevertheless, Yellen's premature publication appeared to have been the reason Bitcoin's price to shot up around 8% later the same day.
According to the White House fact sheet, the order directs federal agencies to take a unified approach and communicate their reports on the regulations and oversight of the crypto market, but as CoinDesk points out, it didn't specify the positions the administration wants them to adopt — nor did it mention any new regulations for cryptocurrency companies to follow. However, it did direct the Treasury Department to create a report on "the future of money," which would include findings on how the current financial system doesn't meet consumer demand.
What Biden's crypto executive order entails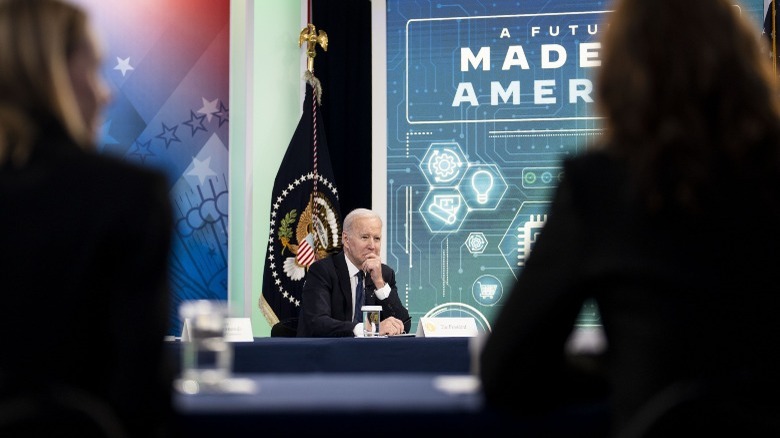 Pool/Getty
Biden's executive order defines "six key priorities" in regulating crypto. Those measures include the following:
Protecting US consumer and investor interests
Protecting global financial stability
Preventing illicit uses of crypto
US competitiveness on the world stage
Financial inclusion
Promoting responsible innovation
When it comes to crypto, consumer and investor protection is priority number one. In November 2021, the FBI reported scammers were using crypto ATMs and QR codes to steal money from people who unwittingly sent crypto to their wallets. Because of scams like this, the order wants federal agencies to "ensure sufficient oversight and safeguard against any systemic financial risks posed by digital assets."
Protecting global financial stability involves the Financial Stability Oversight Council identifying and mitigating systemic risks of crypto. The executive order asked that federal agencies submit reports with "additional views on illicit finance risks posed by digital assets, including cryptocurrencies, stablecoins, CBDCs, and trends in the use of digital assets by illicit actors."
As for rooting out illicit activities involving crypto, authorities are concerned about Russia using crypto to eschew economic sanctions imposed on the country due to its ongoing invasion of Ukraine, which experts pointed out is extremely difficult to do because those transactions are kept public on blockchain.
The order also encourages the US to amp up the competition with other countries in terms of developing crypto, innovate ways crypto can be used without leaving a negative impact on the environment, and explore a digital version of the dollar. China has already leaned on central bank digital currencies (CBDCs) because of people making payments via smartphones, so Biden is pushing for research on the possibility of such currency. 
This is likely only the beginning of this government administration's dealings with crypto – we'll be hearing a whole lot more in the months and years to come. For now, if you'd like to read the full executive order, you can do so at the White House website.