Volkswagen ID. Buzz Officially Revealed: Microbus Reborn Electric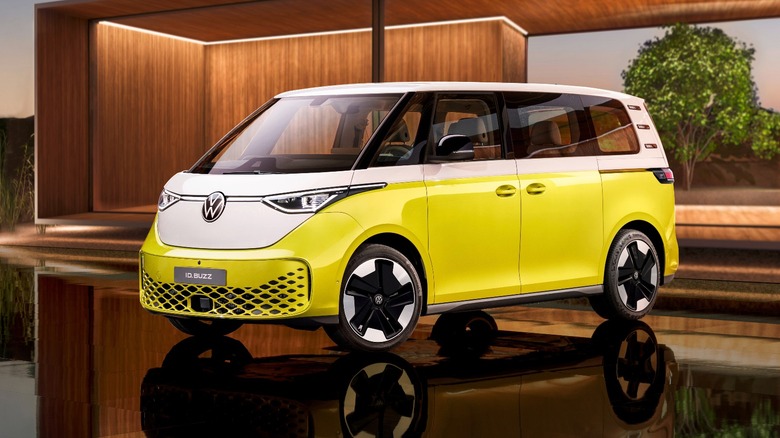 Volkswagen
Volkswagen has finally pushed the production ID. Buzz into the spotlight, and fans of the original VW Microbus will likely find plenty here to enjoy from its 21st century electric reboot. Aiming to combine design personality, sustainability, and plenty of practicality, the ID. Buzz — and its ID. Buzz Cargo van sibling — looks like little else in the EV space right now.
It's fair to say the VW Microbus is an icon of the auto world. Officially known as the Volkswagen Type 2, it launched in 1950 and was actually the automaker's second car, following the Beetle. Although designed as a light commercial van, its flexible cabin lent itself to both multi-row passenger transportation and conversions into a tiny RV. They also found fans in the 1960s, as an affordable go-to for the counterculture movement.
With that history to call upon, it was perhaps no surprise that Volkswagen's electric concept — the ID. BUZZ — was met with generally glowing response when it was unveiled in January 2017. Initially intended to show off the flexibility of the then-new MEB architecture for all-electric vehicles, VW capitalized on that reception with the promise of a production version of the ID. BUZZ. Five years on, we're finally seeing the fruits of that commitment.
One Microbus EV, two target audiences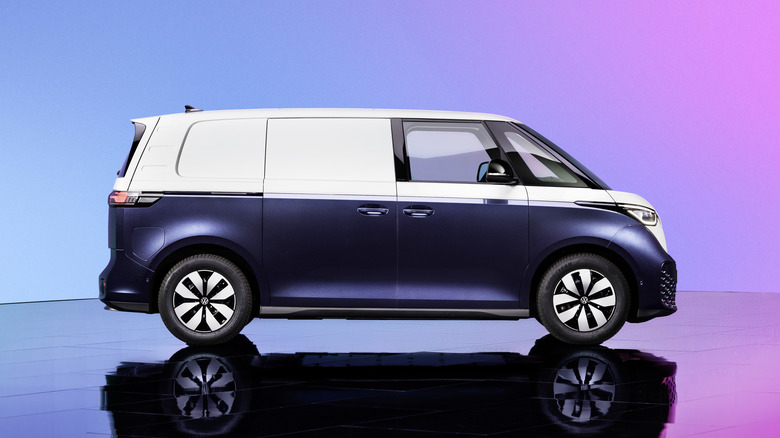 Volkswagen
For the electric Microbus, Volkswagen will start with two different versions. Consumers will get the regular ID. Buzz, initially with a five seat configuration; commercial customers will have the ID. Buzz Cargo, a van with up to three seats separated by a divider from a capacious rear. With the simple lines of the concept, it's no surprise that the production Microbus EV has stuck pretty closely to what we first saw previewed at the Detroit Auto Show.
Short overhangs, plenty of glasshouse, and a general focus on practicality are key. The front gets LED headlights, daytime running lights, and a fascia-spanning lightbar; at the rear, there's a similar lightbar to link the taillights. Eighteen-inch wheels will be standard; VW will offer wheels up to 21 inches on the passenger model.
Fittingly, in addition to seven single-color finishes — Candy White, Mono Silver, Lime Yellow, Starlight Blue, Energetic Orange, Bay Leaf Green, and Deep Black — there'll also be optional two-tone paint jobs. They'll pair a Candy White roof and hood-V with a choice of four colors below the character line: Lime Yellow, Starlight Blue, Energetic Orange, or Bay Leaf Green, with matching side mirrors and handles.
Both passenger and cargo vans will be based on a short wheelbase version of the platform. That's 185.5 inches long and just over 78 inches wide, with a 117.6 inch wheelbase. They'll have a surprisingly small 36.4 foot turning circle, VW promises. An extended wheelbase version will follow in 2023, with exact dimensions to be confirmed.
Inside, the ID. Buzz offers plenty of space and flexibility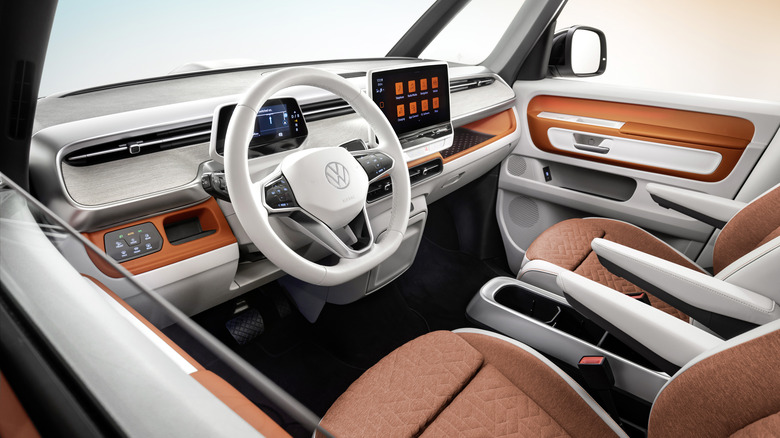 Volkswagen
Inside is where the biggest differences are found, unsurprisingly. For passengers, the standard length ID. Buzz will have two regular front seats — that can slide 9.6 inches fore and aft — and a three-seat, second-row bench that slides 5.9 inches and can fold with a 60/40 split, accessed by twin sliding doors. The 39.6 cu-ft trunk has an optional height-adjustable floor.
Down the line, VW says, there'll be a six-seat standard wheelbase ID. Buzz, with three rows of two individual seats each; the extended wheelbase ID. Buzz will offer a 2/3/2 seven-seat configuration. For the ID. Buzz Cargo, meanwhile, there'll be three seats as standard — a separate driver's seat and a double bench — with two individual seats an option. The rear will hold up to 137.7 cu-ft, with bars on the side walls and tie-down loops on the floor; it'll be accessed via the tailgate and a single sliding door as standard, with a second sliding door optional.
Another option will be a moveable, removable center console with storage bins in the upper section, a 1.5 quart flip-lid compartment, and then a 1.3 gallon drawer underneath that can hold laptops or tablets. It'll fit between the driver's seat and the front passenger seat in the two-seat Cargo and five-seat ID. Buzz models, or between the second row seats in the six-seat ID. Buzz; it can also be taken out altogether.
As for color scheme, the base trim will be Soul and there'll be 10-color ambient lighting as standard. Thirty-color lighting is optional, as are four two-tone schemes that match the exterior finishes for the passenger ID. Buzz. There's no leather, or indeed any other animal-sourced fabric: instead, VW has looked primarily to recycled alternatives, including a Seaqual yarn that combines collected ocean plastic and plastic from PET bottles.
Retro looks, but modern-day tech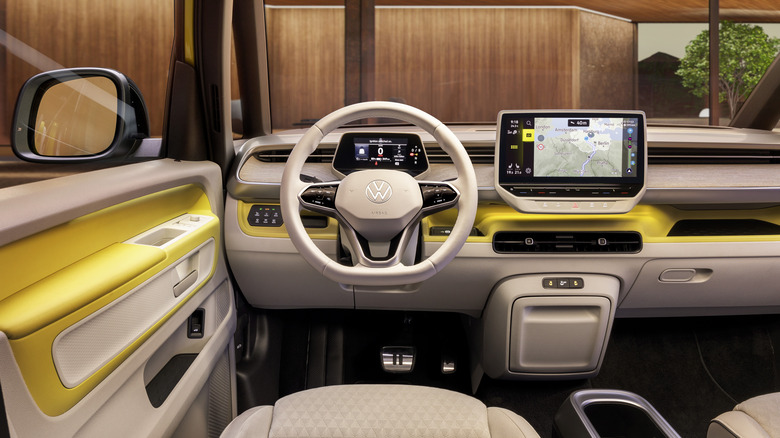 Volkswagen
The dashboard has a pair of 10-inch displays as standard, one for the driver's instrumentation and one for the infotainment. A 12-inch upgrade for the latter is available, with baked-in navigation. Underneath the center screen is a row of touch-sensitive buttons and sliders for temperature, volume, and summoning menus for the dual-zone HVAC, driver assist tech, driver profiles, and parking functions.
As we've seen on other MEB-based VW EVs like the Volkswagen ID.4, there's a column stalk which rotates for selecting neutral, drive, and reverse. Digital controls for lights and glass defrost are to the left of the steering wheel; two USB-C ports and a wireless charging tray are to the left. The ID. Buzz can have up to two more USB-C ports in the center console, another in the front passenger door, two more for the second row — on each sliding door — and finally one up by the rearview mirror for powering a dash cam.
Spanning the windshield is an ID. Light bar, which illuminates in different places and colors depending on things like instructions from the navigation or potential hazards. Euro-spec ID. Buzz models will get front assist, lane assist, and dynamic road sign display as standard. Options will include adaptive cruise control, side assist, travel assist, emergency assist, lark assist, light assist, and an Area View 360-degree camera.
ID. Buzz will start with single drivetrain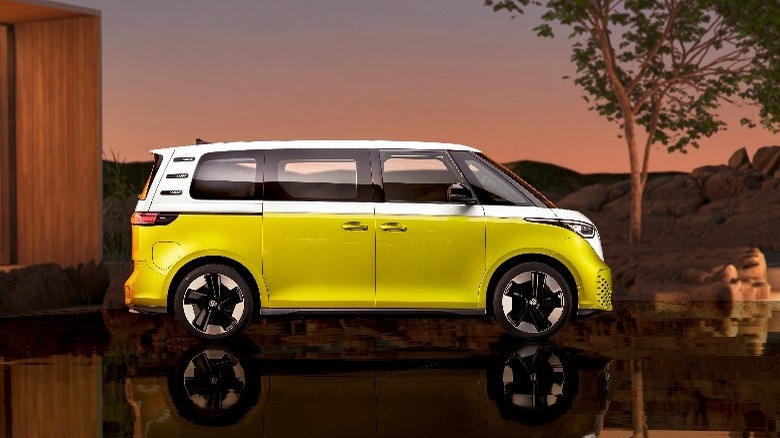 Volkswagen
To begin with, ID. Buzz will offer a single drivetrain option: rear-wheel drive, with a 150 kW (201 horsepower) motor good for 310 Nm (229 lb-ft) of torque. There'll be an electronically-limited 90 mph top speed. More configurations with different power output levels will follow from 2023, and Volkswagen says it will detail range estimates from the initial 82 kWh battery (of which 77 kWh is usable) closer to the ID. Buzz's release. For topping that battery up, there'll be up to 170 kW DC fast charging support. Find a suitable charger, and that should take the ID. Buzz from 5-80% in about 30 minutes.
There'll be Plug & Charge, eventually, doing away with needing to authenticate separately at compatible chargers. Bidirectional charging will also be an option, when used with a special home charger, allowing the ID. Buzz to power a home in an outage, something we've seen Ford promise with the F-150 Lightning. Eventually, VW says, it expects that to open up to pushing power from the EV's batteries back into the grid, during times when demand outstrips capacity.
Some big questions and a big disappointment remain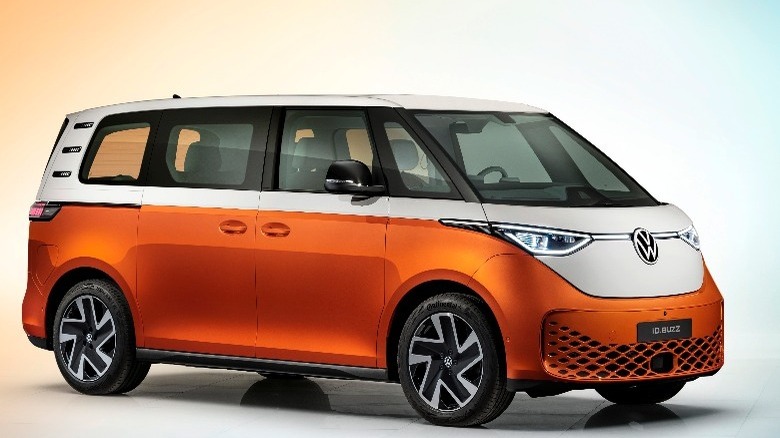 Volkswagen
What Volkswagen isn't saying, quite yet, is how much all this will cost. We'll have to wait until closer to the ID. Buzz's arrival in the first markets for that, alongside the range estimates. The worst news, though, is that would-be owners in North America are going to have to be very patient. While the European version of the ID. Buzz is set to go on sale from Q3 2022, we won't see the US and Canadian-spec version until 2023. Even then, the EV won't actually arrive at dealerships until 2024.
The US-spec ID. Buzz will be based off the long wheelbase passenger model, VW says, and could well differ in its other configurations from what Europe is offered. Previously, it's been reported that the North American ID. Buzz will be a dual-motor version, and it's not hard to imagine VW positioning it as a more premium option than in Europe. Exactly how premium, only time will tell.