VW's ID. Buzz Cabin Tease Has Us Extra-Excited For The EV Microbus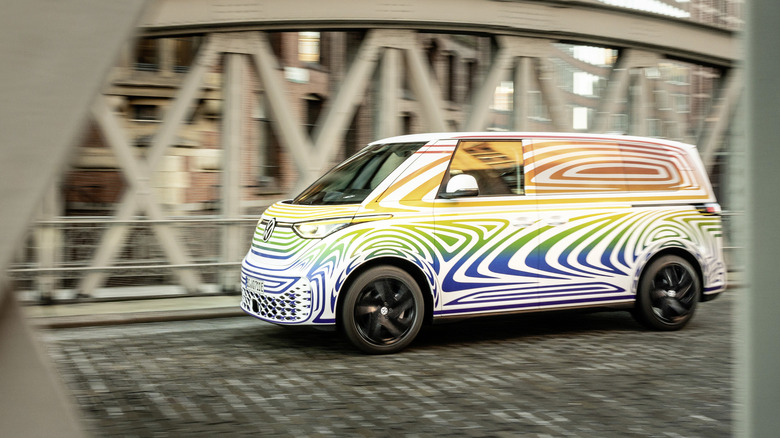 Volkswagen
Volkswagen's ID. Buzz all-electric Microbus is close at hand, and the automaker is dropping some last-minute teases to convince us the most striking of its EVs could also be the most charming. Dragging details from the original VW T1 camper van into the 21st century, the ID. Buzz may be zero-emissions but the hope its that it's also maximum fun.
You'd be forgiven for thinking that the electric Microbus has been a long time coming. The original ID. BUZZ concept was among the first of Volkswagen's MEB platform previews, aiming to underscore just how flexible its all-electric architecture could be. Given the positive reception it came as arguably little surprise that the automaker gave the EV the green light for production, but that early preview didn't translate to a similarly rapid release.
Instead, we've seen more traditional vehicles mark VW's push into full electrification. The US missed out on the ID.3, a Golf-sized electric hatchback that went on sale in Europe, with Volkswagen of America opting instead to make MEB's debut on its side of the Atlantic with the ID.4 crossover. A crossover-coupe, the VW ID.5, is also in the pipeline, while a larger ID.6 SUV has also been confirmed with three rows of seating.
Two versions of the electric Microbus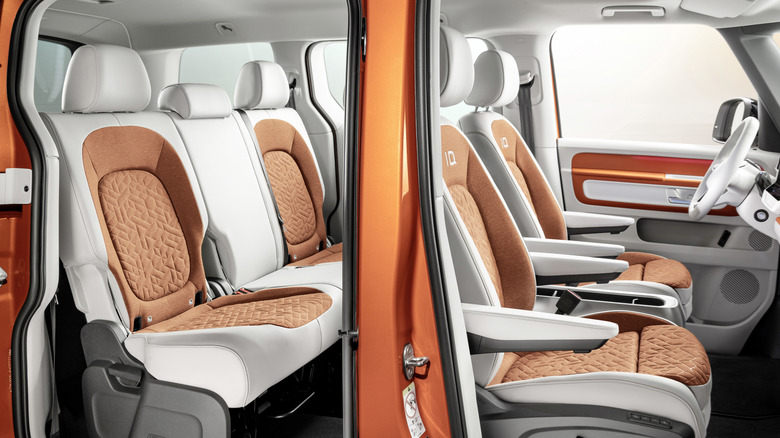 Volkswagen
The big question for the ID. Buzz, then, was just how many of the concept's far-fetched features could be successfully brought over to a production vehicle, and without blowing the price tag out of the realm of sales success in the process. The original concept, after all, was pitched as an at-times-autonomous, highly flexible activity vehicle, with moving seating and a heavily reconfigurable cabin. That's not something which particularly lends itself to mass production with mass-market pricing.
What we know now is that Volkswagen will have two versions of the ID. Buzz, initially. One will be for consumers, a five-seater bus for passenger use. The other, the ID. Buzz Cargo, will oust most of the seats in favor of electric deliveries. It'll have a partition behind the first row, and more than 138 cubic feet of space to play with.
Just as the original Microbus found favor with its charming detailing and flexibility, so VW is hoping to position the ID. Buzz as an EV with personality. The consumer model will be available in both seven single-color options, the automaker said today, and four two-tone color schemes. Inside, the colors will reflect exterior finishes, with a two-tone white and color layout.
That'll optionally be reflected in the seat cushion fabrics, VW says, along with the dash panels and door trim. There'll also be ambient lighting, including the option of color-changing across 30 different hues.
The joy is in the details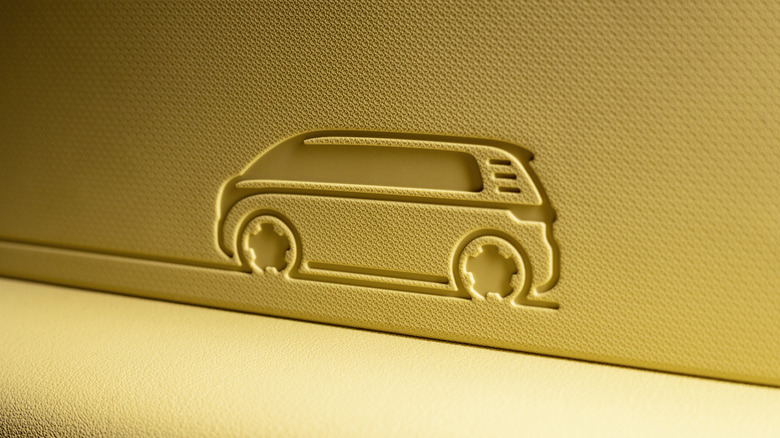 Volkswagen
It's the more whimsical detailing which we're most excited about, however. "The attention to detail in the new model is also evident in a number of individual ID. Buzz motifs that decorate the interior in various places," VW promises. "Most of them are only discovered at second glance – even functional and intelligent features such as a bottle opener and an ice scraper can be found here."
Of course, clever moldings and accessories aren't the priority here: that's making a greener vehicle overall. In addition to the as-yet-unspecified EV drivetrain – expected to be a dual-motor configuration for the US market – VW is also talking about some of its sustainability decisions for materials and fabrics.
Gone is leather and other animal-origin materials, with artificial replacements used in their stead. That includes materials made from recycled products for the seat covers, floor coverings, and headliner: SEAQUAL yarn, for example, which uses a blend of roughly 10% marine plastic and 90% recycled PET bottles. VW says that means a 32% saving in carbon emissions, compared to more traditional fabrics. ArtVelours ECO upholstery, meanwhile, makes its Volkswagen Group debut on the ID. Buzz; though it's not entirely recycled in origin, it's still 71% made from recycled products.
We still have plenty of questions, mind. Range, performance, and of course pricing are the big factors, not to mention how flexible that charming ID. Buzz interior will turn out to be. In an ideal world, for example, ID. Buzz owners would be able to remove all the seats bar the front row completely, bumping the cargo space from around 40 cu-ft to something considerably greater. We'll find out more later this week, with the official production EV debut expected on March 9, 2022.