This 1,000 Hp Mopar Hellephant V8 Is Glorious Old-School Excess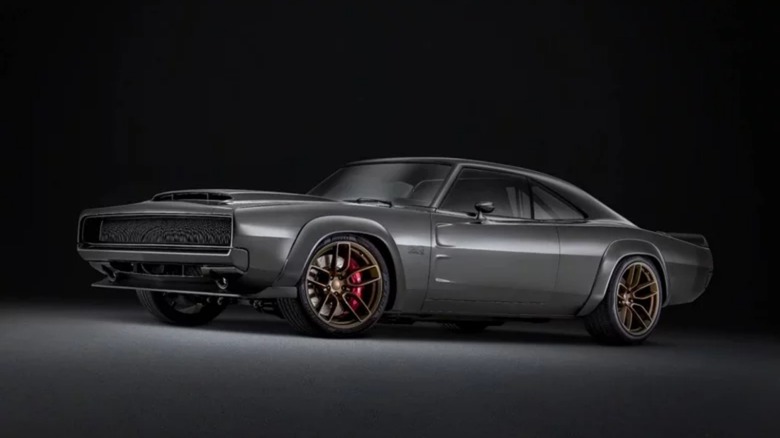 Images via Fiat Chrysler
If you've always wanted to drop 1,000 horsepower-worth of supercharged V8 into your daily-driver, great news: Mopar's Hellephant crate engine is almost here. The latest madness from Fiat Chrysler Automobile's performance parts arm, it's an astonishingly affordable way to get some serious American muscle under your hood.
Mopar – named after the contraction of MOtor and PARts – previewed the "Hellephant" 426 Supercharged Crate HEMI Engine and Kit last year, at SEMA 2018. The company has offered high-horsepower crate engines before, of course, but even then the Hellephant stood out.
For a start, 1,000 horsepower is the sort of figure that even modern supercars fall well short of. The supercharged V8's 950 lb-ft of torque, too, is legitimately astonishing. In the process, it makes 2017's Hellcrate engine, with its 707 horsepower, look almost pedestrian.
To get to 1,000 hp, Mopar had some work to do. For a start the displacement is up, and there's now a 4-inch stroke and 4.125-inch bore. The supercharger sits atop the all-aluminum block, and gets a high-efficiency rotor set. Aluminum might not be the material traditionally used for all-American muscle cars, but it has the advantage of keeping the Hellephant relatively light.
The crate itself comes with the HEMI V8 along with the water pump, flywheel, front sump oil pan, supercharger with throttle body, fuel injectors, and coil packs. While adding horsepower to your car can be an exercise in obsession, Mopar promises that installing the Hellephant can actually be fairly straightforward. That's courtesy of the Hellephant engine kit.
The kit includes the necessary powertrain control module (PCM), power distribution center, engine wiring harness, chassis harness, accelerator pedal, ground jumper, oxygen sensors, charge air temperature sensors, fuel pump control module, and CAN bus interface device. Mopar designed it to fit pre-1976 street and off-road vehicles.
Pre-orders are open now, with the Hellephant clocking in at $29,995. That may sound a lot – you can get a whole new Charger for less, albeit with a fraction of the horsepower – but for the power levels we're talking about here, it's astonishingly affordable. The engine kit is a further $2,265.
Now, for the bad news. Mopar says that the Hellephant 426 Supercharged HEMI V8 crate engine isn't legal on pollution-controlled vehicles, or on vehicles registered for highway use. That means track days or off-road adventures only: if you want something with silly horsepower that's street-legal, you should probably "settle" for a 797 hp Challenger Hellcat Redeye.