Why The Space Force Logo Looks Like Star Trek, And Star Trek Looks Like NASA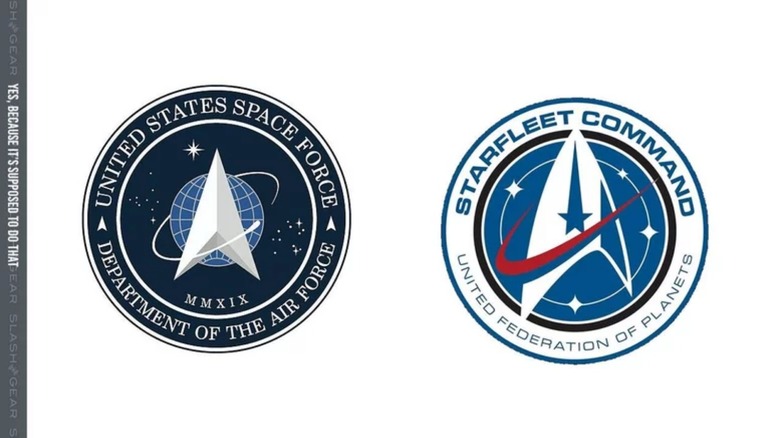 Today the newest incarnation of the United States Space Force logo was revealed by Donald Trump. This logo should look familiar. It would very much appear to be a reincarnation of its former self – not to mention a clear reminder of the origins and controversy over the original. And yes, that does very much look like the Star Trek Starfleet Command insignia, largely because all of these symbols are designed to mimic one another – for real.
The Air Force Space Command logo you see here – the one that looks like a badge, with the arrow, and the planet, and the stars, has been around and in official use for at least the past 13 years. There's a version that's even older – slightly darker, but essentially the same, that's been in use since 2004 – the original dates back to 1982.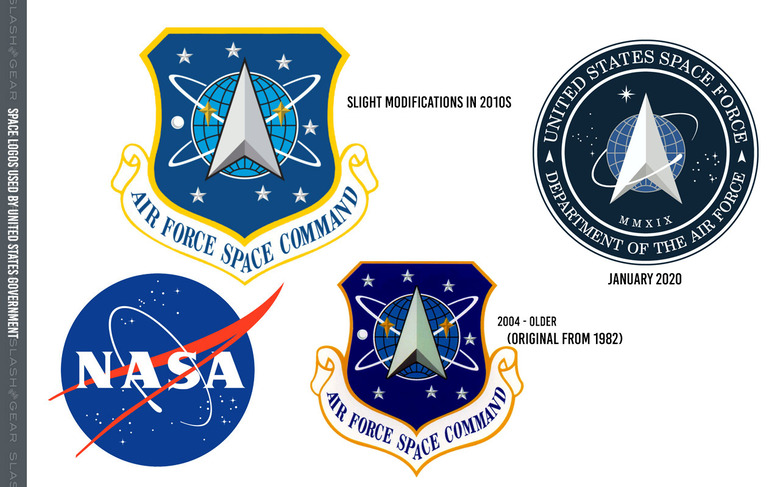 On December 20th, 2019, Air Force Space Command transitioned to the U.S. Space Force. The U.S. Space Force is now the 6th branch of the United States military. We've also explored previous incarnations of the Space Force logo revealed in 2019.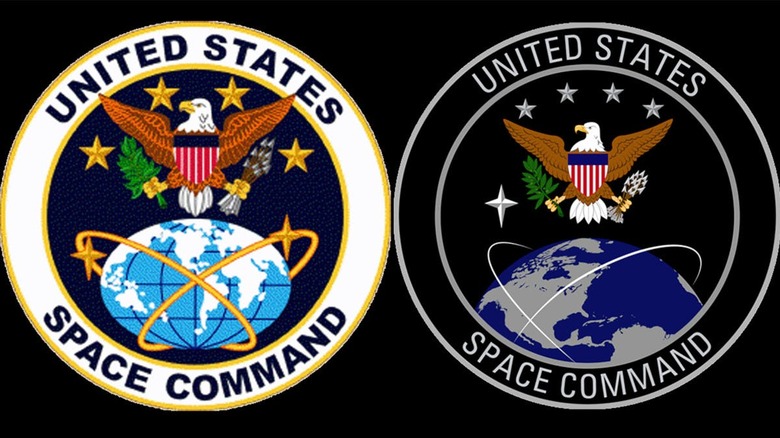 Above you'll see the United States Space Command logo (flag) as it existed from the year 1985 until 2002. On the right you'll see the "new" Space Command flag as revealed in December of 2019, as captured in the Getty Image below. These have a little less to do with Star Trek, and more to do with a peaceful transition of workforce.
Per Ex Astris Scientia, Michael Okuda, graphic designer and lead designer for Star Trek for many, many years, commented on his design for the Starfleet Command seal – as seen in one incarnation at the head of this article. "The Starfleet Command seal was first seen 'Homefront' (DS9) and later in 'In the Flesh' (VGR), although the agency itself, of course, dates back to the original Star Trek series. The symbol was intended to be somewhat reminiscent of the NASA emblem."
More recently, Okuda's also been working with NASA for symbols like the 2017 NASA Flight Operations Emblem. We're still seeking the designer of the Space Force logo to ask exactly how this newest mark was made – and what inspired its design.