Motorola Edge Plus Has Flagship Specs (And Pricing) But Commitment Issues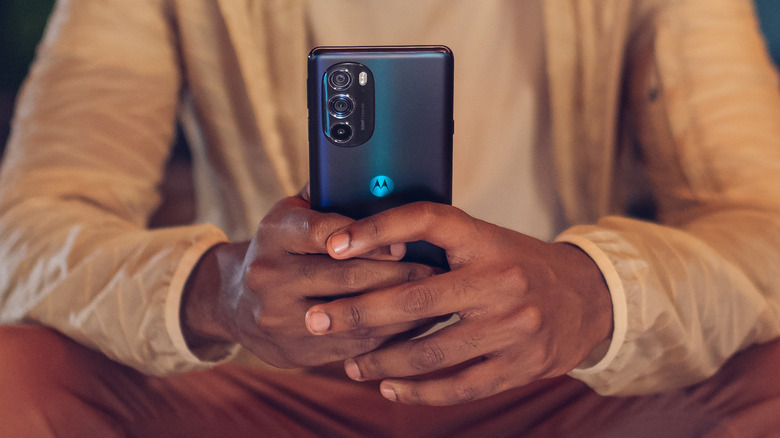 Motorola
Motorola has ambitions to re-enter the flagship Android smartphone space, and it's with the Motorola Edge Plus (2022) that it hopes to do that. A sharp departure from the phone-maker's recent, more affordable devices, the Edge Plus – which will also be known as the Motorola Edge 30 Pro outside of North America – steps up its specifications, and its price tag.
In fact, it'll be $999.99 unlocked, though Motorola is trying to take a little of the sting off that with a limited time $100 discount. You'll be able to find it at Amazon, Best Buy, and Motorola's own store; Verizon, Boost Mobile, and Republic Wireless will also offer the phone in the coming months. Still, it's a far cry from the sub-$500 Motorolas we've seen in recent years.
To justify that, Motorola has cranked up the specifications. There's a 6.7-inch OLED screen, for example, with Full HD+ resolution, HDR10+ and DCI-P3 support, and a maximum 144 Hz refresh. Motorola is using adaptive refresh, too, so that it can slow down the rate for apps that don't benefit, saving on power consumption in the process.
Android 12 and a new Smart Stylus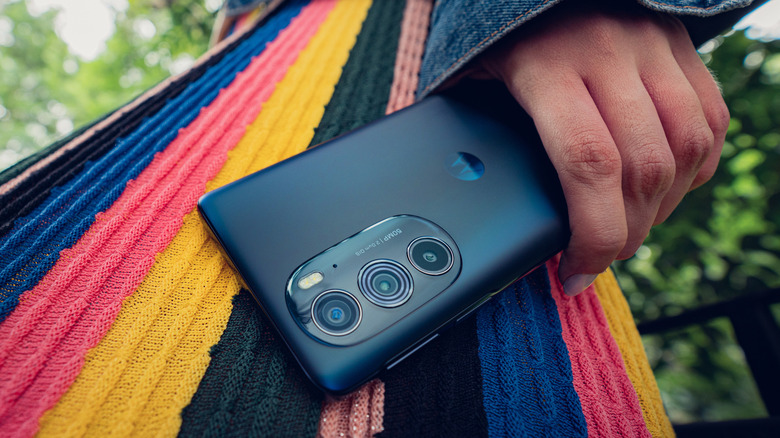 Motorola
Inside, meanwhile, there's Qualcomm's latest Snapdragon 8 Gen 1, with 8GB of RAM and 512GB of storage. That's a big step up from the midrange Snapdragon chipsets Motorola has typically been opting for, and of course it also means you get 5G. That'll be Sub-6 and C-band support for the unlocked Edge Plus, with the Verizon model adding mmWave support too.
It's running Android 12, with Motorola's own My UX interface. That doesn't stray too far from Google's own Material Design, but does include things like ThinkShield for Mobile security, a new camera UI that promises to emphasize the modes and settings users actually turn to first, and enhancements for a new Smart Stylus.
Sold separately, the Smart Stylus is Motorola's take on Samsung's S-Pen. It supports over 4,000 levels of pressure, and can be used to add handwriting to any text, in any field, on the phone. There's also a button on the side, and the Smart Stylus can be used as a remote control – for right/left click, moving an onscreen cursor, and as a remote shutter in the camera, for example – by waving it around.
Motorola opted not to include a stylus slot on the Edge Plus – unlike Samsung's S-Pen silo on the Galaxy S22 Ultra – having decided that it's not worth the extra bulk that would be involved for the phone itself. There is, though, a new folio case, which has a pocket on the back for the Smart Stylus and can prop the phone up for easier video watching. While the pen is tucked away it'll recharge using the Edge Plus' reverse wireless power-share feature, though since it's just using Qi you could also recharge the Smart Stylus on any regular wireless charging pad.
Two main cameras and a new focus system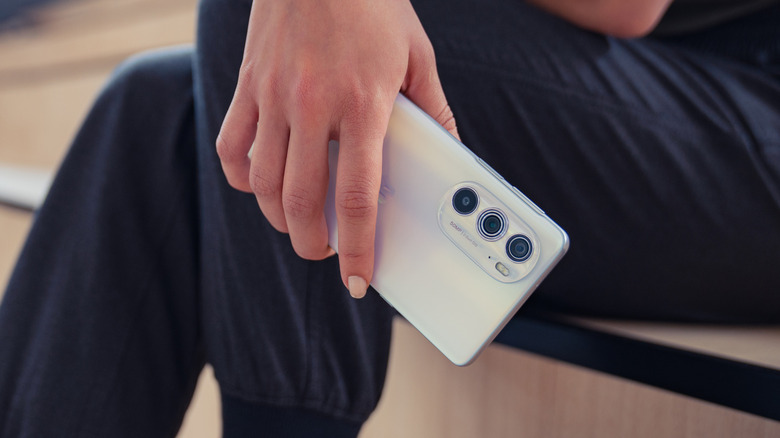 Motorola
The Edge Plus' own battery is 4,800 mAh, and supports 30W wired charging and 15W wireless charging. They're fairly low numbers, for the flagship category. There's up to 5W of wireless power sharing.
As for photography, there are two 50-megapixel cameras on the rear. The main, wide-angle camera offers what Motorola is calling Instant All-Pixel Focus: compared to Dual Pixel AF, it uses all of the pixels on the sensor for focusing, should work better in the dark, and works with optical image stabilization (OIS) too. Motorola will offer 10-bit RAW photo capture as well.
The ultra-wide camera, meanwhile, also works as a macro camera, and can focus on items around an inch from the lens. Finally, there's a 60-megapixel front-facing selfie camera, which combines clusters of four pixels into a single pixel in the final image, for more detail and better low-light performance.
Otherwise, there's WiFi 6 and 6E support, Corning Gorilla Glass 3 on the front and Gorilla Glass 5 on the back – with Motorola promising "special reinforcement" to the formulation, to help make up for the fact that this isn't the Victus+ we've seen on other new phones lately – and the latest iteration of Motorola Ready For. That works with Windows 10 and 11 PCs, now both wired and wirelessly, and gives access to both the phone's Android OS and the PC's software and data too. Perhaps even more usefully, there's also now wireless support for using the Edge Plus as a Full HD webcam, and there's subject tracking that crops digitally to keep you centered in the frame.
Great specs, but Motorola lacks commitment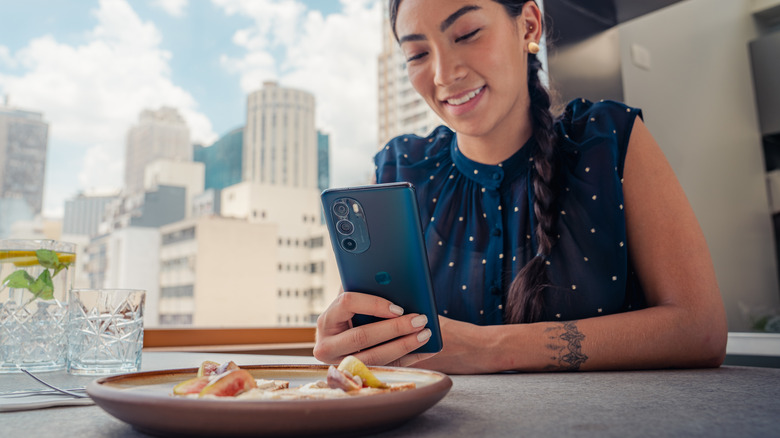 Motorola
Still, while the specifications may impress on paper, Motorola may have some work left to do on the overall flagship experience. The company is only committing to two Android OS upgrades over the lifetime of the Edge Plus, a miserly promise when you consider Samsung is saying Galaxy S22 series buyers will get as many as four.
Motorola's argument is that the complexity of the upgrade process makes it reluctant to commit, and that it will be delivering three years of security updates along with individual app updates through the Google Play store. Nonetheless, it's hard not to see this as budget phone thinking being transplanted to a device with far bigger ambitions, and Motorola's lackluster confidence in its own abilities to support its new flagship should probably give shoppers pause.
There's also only IP52 protection, rather than IP68 as rivals offer, and the phone's frame is plastic rather than metal. If you can live with all that, Motorola will offer the Edge Plus in Cosmos Blue and Stardust White.