General Motors And Michelin Bringing Airless Tires To Next-Gen Electric Vehicles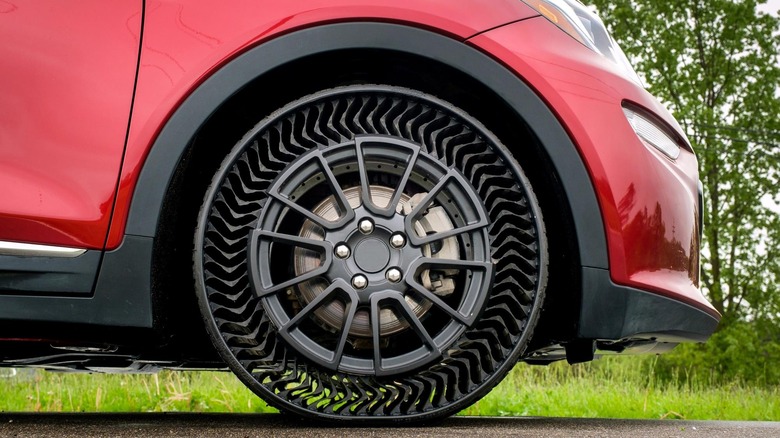 Michelin
In 2019, we reported that General Motors wants to have airless tires in its cars by 2024, specifically Michelin's innovative UPTIS or Unique Puncture-Proof Tire System. Both companies are now working closely to make airless tires a reality, and we could probably see the UPTIS tire debut on the next-generation Chevy Bolt a few years from now, according to a report by CNN.
However, GM has yet to confirm if it's working on a next-gen Chevy Bolt or if an all-new EV nameplate will debut in the next couple of years. Still, the automaker did say it is developing a new array of electric vehicles based on its Ultium all-electric platform, and it's safe to say that an all-new affordable EV like the Bolt is currently in the pipeline.
GM's been on hot water since it temporarily ceased production of the Bolt last year to address fire issues caused by faulty battery packs. The carmaker has since resumed production of the Bolt EV and Bolt EUV less than a month after issuing a recall, and it has given extended warranties for the new battery packs for up to 8-years or 100,000-miles to rectify the problem.
Say Goodbye to Flat Tires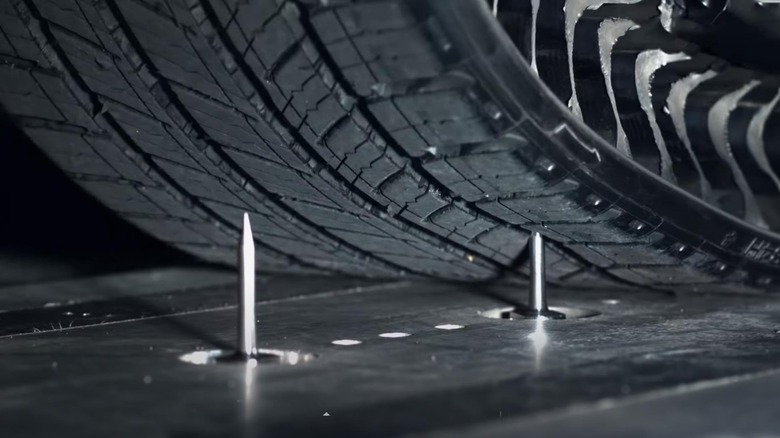 Michelin
General Motors is the first legacy automaker to show interest in fitting the Michelin UPTIS airless tire prototype to its future production vehicles, breaking an almost 130-year tradition of using pneumatic air-filled tires for passenger cars. And while conventional tires have been around since the late 1800s, it's hard to deny that air leaks or punctures are the main inconveniences of regular tires.
Enter the Michelin UPTIS, an airless tire design that utilizes flexible ribs in place of air to support the vehicle's weight. Since it doesn't rely on air to inflate the tire, punctures will become a thing of the past. Of course, some questions remain unanswered at this point, like how the UPTIS tire will affect ride comfort, handling, and vehicle dynamics in general. Still, the thought of never dealing with a flat tire ever again certainly has mass-market appeal.
Michelin is already peddling the X Tweel airless radial tires on its website. It's an airless tire for lawnmowers, ATVs, and other off-road machines, but the tire is fixed to the wheel and starts at around $600. Whether the UPTIS is mountable to any wheel remains in question at this point, but we can't wait to see what GM and Michelin have in store for its next generation of puncture-proof electric vehicles.