With A New Chrome Zero-Day Warning, Here's How To Protect Yourself Automatically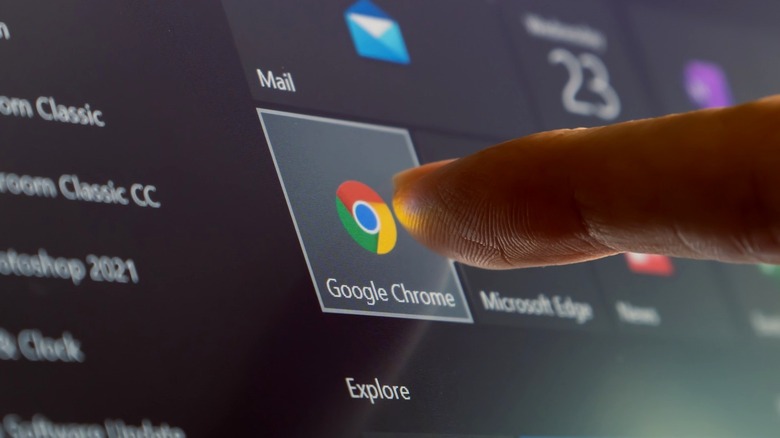 Wachiwit/Shutterstock
It's important to keep an eye on your web browser's update status not only for the safety of your own data, but the data of those around you. When it comes to Google Chrome, attaining the latest update is fairly easy — no more than a few taps and you'll either be downloading an update or finding confirmation that you're already running the latest version of the software. In mid-February, 2022, security researchers revealed a security issue in Google Chrome that was confirmed to have been exploited in the wild. This means it is of extreme importance that all Chrome users make sure they have the latest update to the web browser as soon as possible.
A set of 11 security issues were patched with the latest update to Google Chrome in February of 2022. Google revealed that the most important of these — the in-the-wild (zero-day) exploit was a "use after free" vulnerability that was discovered in Chrome's Animation code. Sometimes "use after free" errors in software result in a software crash. Other times, "use after free" errors have the potential to be part of an attack by a malicious actor who could use the error to corrupt data or, through some extra-fancy footwork, launch their own code and cause all sorts of chaos.
How to update Google Chrome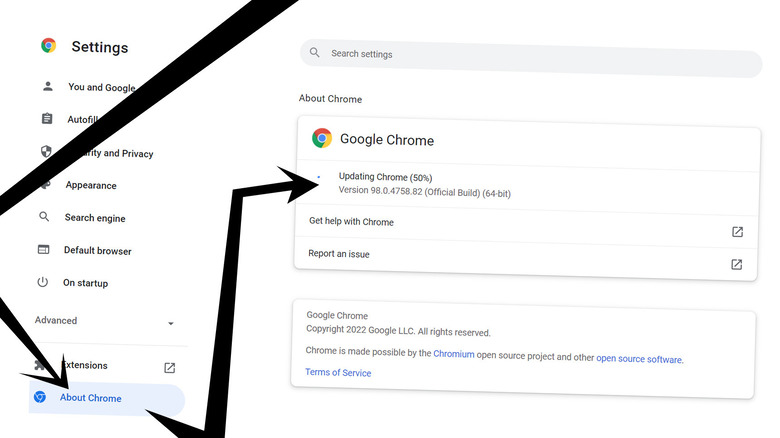 SlashGear
The good news is that Google Chrome is ready for an update to patch the vulnerability (and another 10 vulnerabilities as of mid-February, 2022), with a few simple steps.
The web browser app Google Chrome is automatically set to download updates to your computer when you first download the app. To load the latest version of the app, you'll need to follow a few simple steps:
1. Tap the menu button (AKA the "more" button) in the upper right-hand corner of a Chrome web browser window (three dots aligned vertically).
2. Tap "Settings" in the drop-down menu.
3. Tap "About Chrome."
4. The first item in "About Chrome" should show whether the browser is fully updated or the user needs to relaunch in order to load said update.
If you quit Google Chrome and re-open the app, your latest update should automatically be applied, if you'd rather take the extra-easy route. It is highly unlikely that you do not have automatic updates set for your Chrome browser, but if you do, the process is the same as what's listed above – you'll just need to wait a bit longer for the download. 
If your Google Chrome app has automatic updates active, (as they are by default), and you exit Google Chrome through the more button (and tap Exit) each time you're done browsing the web, you will be protecting yourself automatically against all of the exploits Google's found and patched. Or you might just want to consider stopping using Chrome altogether.