Ford Bronco Everglades Heads To Uncharted Territory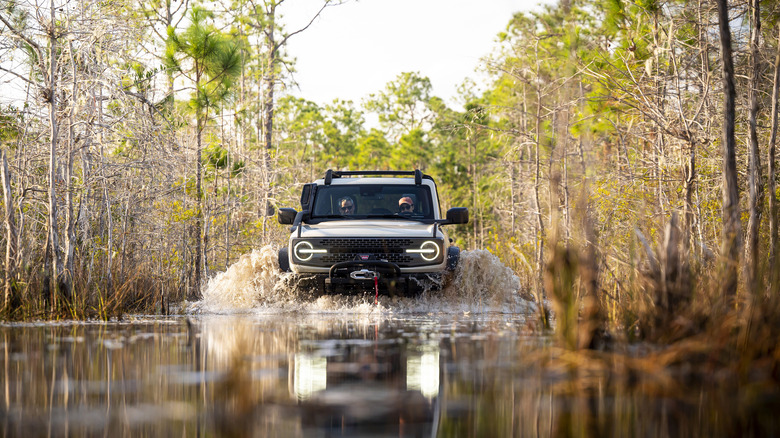 Ford Motor Co.
We all know Bronco's Sasquatch off-road package has all the standard kits to take you further. It has lifted suspension, 17-inch beadlock-capable alloy wheels, and 35-inch mud-terrain tires, to name a few. But Ford is offering more with the Bronco Everglades special edition. It adds more trail-ready equipment on top of the Sasquatch package to squeeze out every ounce of rugged capability from your Bronco SUV.
Like the incoming Bronco Raptor, the Everglades variant is only available in a four-door body style with a hardtop roof. Since it builds upon the Sasquatch package, it has all the goodies mentioned above, including bespoke fender flares and a shorter final drive ratio from the standard electronic locking front and rear axles. On top of those, Bronco Everglades come standard with a custom-designed snorkel fitted along the passenger-side A-pillar. It features two intake plates that allow you to change the direction of the air inlet based on existing weather or trail conditions.
Custom Snorkel Included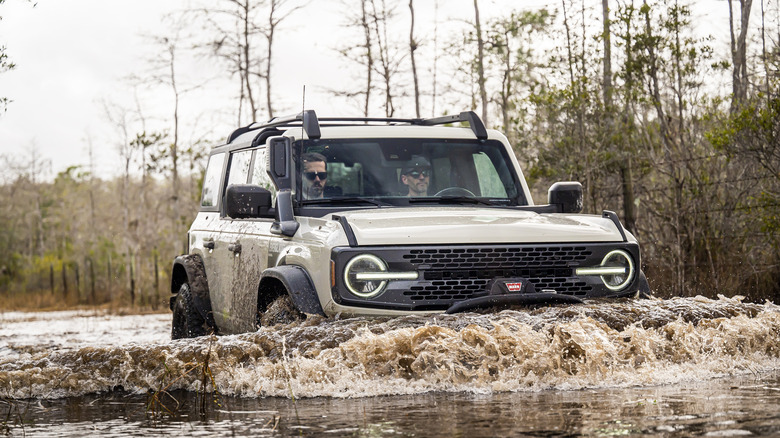 Ford Motor Co.
"Bronco enthusiasts demand style as well as performance, so we challenged ourselves to create a snorkel with high-end function and a look that really suits the vehicle," said Ryan Olsson, Bronco design manager.
Furthermore, the snorkel bodes well with the vehicle's raised vents for the front/rear axles, transmission, and transfer case, allowing Bronco Everglades to conquer swamps, rivers, or water crossings up to 36.4-inches deep, about three inches higher than a standard Bronco Sasquatch.
Standard Recovery Kit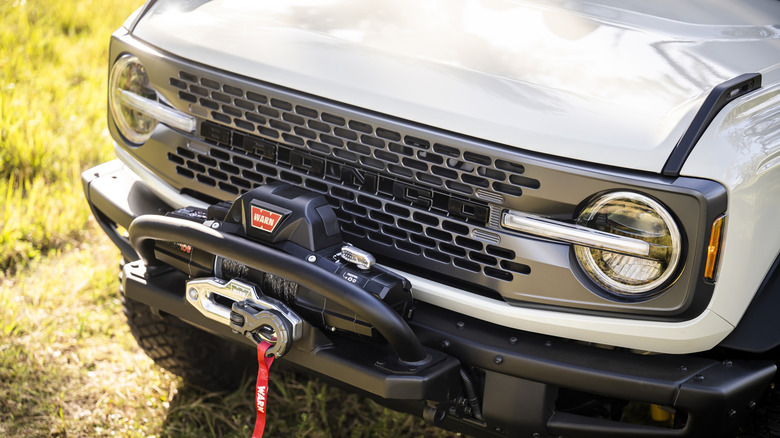 Ford Motor Co.
In addition, Bronco Everglades has a modular heavy-duty Ford Performance front bumper equipped with a 10,000-pound ZEON 10-S WARN winch and a 100-foot synthetic line. It also has rock rails, steel bash plates, and a safari bar from the Bronco Black Diamond and Badlands trim.
Power comes from a 2.3-liter EcoBoost turbocharged four-cylinder gasoline engine with 300 horsepower and 325 pound-feet of torque, sending all that grunt to all four wheels using a 10-speed automatic gearbox. Unfortunately, the Everglades edition is not available with the more potent 2.7-liter EcoBoost V6, and nor can you have the seven-speed manual transmission from other Bronco models.
Exclusive Paint Color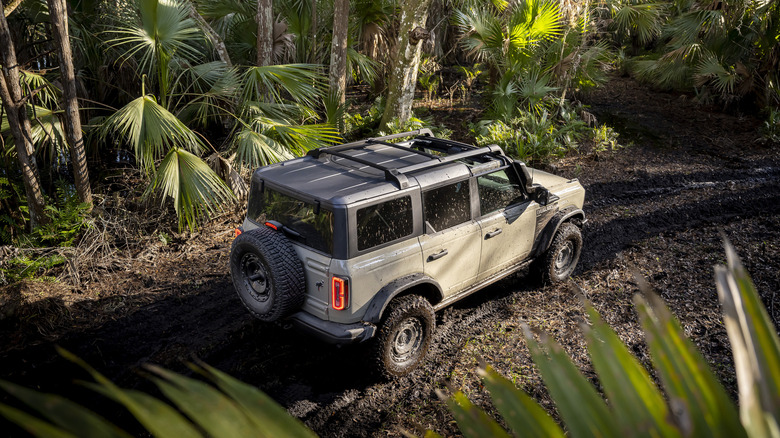 Ford Motor Co.
Exclusive to Bronco Everglades is a model-specific Desert Sand paint option, but other colors like Cactus Gray, Shadow Black, Area 51, and Eruption Green are also available. Standard across the board are gloss-black Bronco letterings, a carbonized gray front grille, and an Everglades stamping on the front fenders. Meanwhile, the interior is resplendent in marine-grade vinyl seats, rubberized flooring, and contrasting green stitching. Ford's 12-inch infotainment touchscreen with SYNC 4 is standard, too.
The 2022 Ford Bronco Everglades will arrive at dealerships this summer, around the same time as the all-conquering Bronco Raptor. The Everglades special edition model has base prices at $54,495 (including $1,495 destination fees) and is exclusively available for existing Bronco reservation holders.