This Casio Watch Is Made With Bioplastic Made From Castor Seeds And Corn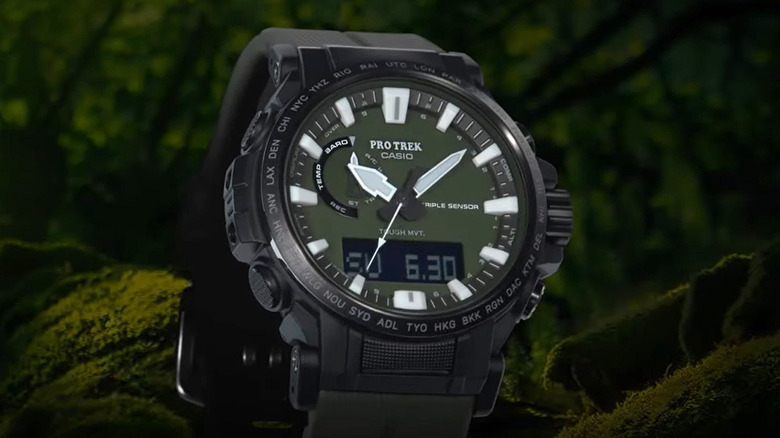 Casio
Casio has announced the PRO TREK PRW-61Y series, the latest in its venerable PRO TREK series. What sets this model apart from previous PRO TREK models, and indeed any previous Casio watch, is its use of biomass plastics. The company says that the PWR-61 uses biomass plastics in its ruggedized case, band and the case back, which is undoubtedly a positive step forward for sustainability. The company sees the use of biomass plastics in its PRO TREK line as the ideal product in its line up as the device is targeted at lovers of nature and the outdoors.
In all other ways, the Casio PRO TREK PRW-61Y series has a lot in common with other models from the series. It comes in variants: the PRW-61Y-3 in khaki, the PRW-61Y-1B which features an all-black look, and the PRW-61-1A which changes things up with a silver dial. The watch comes equipped with a digital compass, barometer, altimeter, and thermometer along with support for multi-band 6 radio wave reception all of which come in handy when exploring the outdoors. In keeping with the environmentally friendly theme of its biomass plastics, Casio says it will use recycled paper in its packaging for the new watches as it works towards building a circular economy by using sustainable materials in the design of forthcoming watch designs as well.
Products made from sustainable sources are gaining in popularity
For the uninitiated, biomass plastics (also known as bioplastics), are made from the biomass of plants and other raw materials including castor oil and corn. As a result, Casio says they are carbon neutral, and do not add to the concentration of CO2 in the atmosphere, even when incinerated as waste. In most cases, biomass plastics are also more easily biodegradable than traditional plastics. This contrasts with traditional plastics which are made using crude oil and other materials including coal, gas, cellulose and salt that go through a polymerization process using ethylene and propylene, as Plastics Europe explains. The downsides of these plastics for the environment, wildlife and human life is well-documented.
Casio, of course, is not alone in choosing to use more environmentally friendly materials in its consumer products. Just last week we saw Samsung unveil the new Galaxy S22 smartphone range which is made from materials including discarded fishing nets that have been recycled into plastics. Adidas, in collaboration with Parley for the Oceans, has also made running shoes with materials made from ocean plastics. Reebok has also integrated an organic cotton upper in and a base made from corn as part of its "Cotton + Corn" sustainability initiative. Apple has also been a leader in sustainability with a major recycling initiative using its Daisy robot which can disassemble 1.2 million iPhones with many of the recovered materials recycled into new Apple products. It's a trend we hope to see continue.