The Polestar 2 Super Bowl Commercial Took A Big Jab At Tesla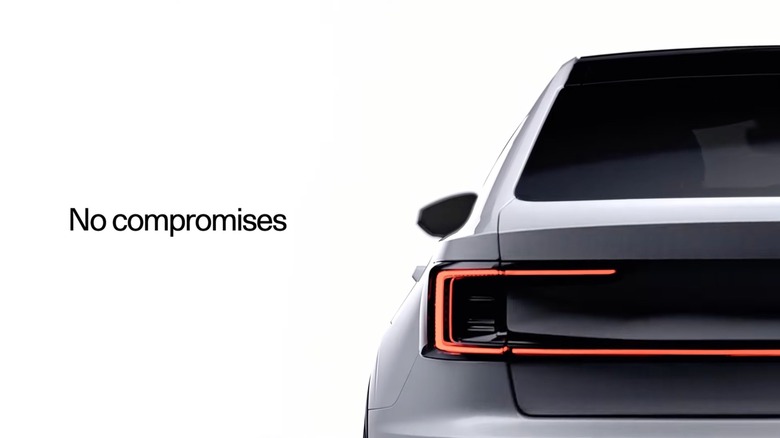 Polestar
Polestar isn't a mass-market name in electric vehicles, but Volvo and Geely's collaboration would sure like to be. For its first Super Bowl spot, the EV-maker skips the melodrama in favor of a distinctly minimalistic flavor. Still, that doesn't mean it can't throw a little snark in Tesla's direction, and some of its other rivals.
Dubbed "No Compromises," the 30-second commercial is all about what Polestar, and specifically the Polestar 2, its first all-electric model, isn't. That means "no dieselgate," as well as "no conquering Mars" – references to Volkswagen's emissions scandal and Elon Musk's SpaceX obsession, respectively – along with "no empty promises" and "no greenwashing."
Polestar has big ambitions in EVs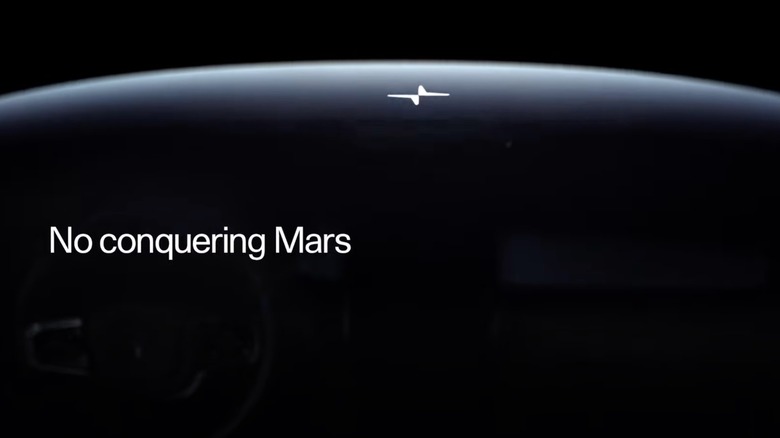 Polestar/YouTube
They're accusations we've seen leveled at a number of automakers recently, as most talk up their ambitions in the EV segment. Though bold targets – often involving a fully-electric new car range by around 2030 – are commonplace, the strategy to actually deliver that is often a little more tenuous.
As for what Polestar is about, right now that's one model on sale but plenty promised. The Polestar 2, which recently became available in an even more affordable, single-motor version, will be followed soon by the Polestar 3, an SUV. We'll see that unveiled later in 2022, and Polestar has already committed to building it in the US rather than in China. Meanwhile, the Polestar 4 is expected to be a premium crossover of the "SUV coupe" style, which the automaker is hoping will take on big-sellers like Porsche's Macan.
It's the Polestar 5 that we're arguably most intrigued by, though. Based on the shapely Precept concept, the company has promised to carry over the vast majority of those alluring styling cues, along with the innovative palette of non-traditional luxury materials. That could make it the EV to watch in the high-end segment when the Polestar 5 arrives in 2024.
Today, Polestar has a range of 1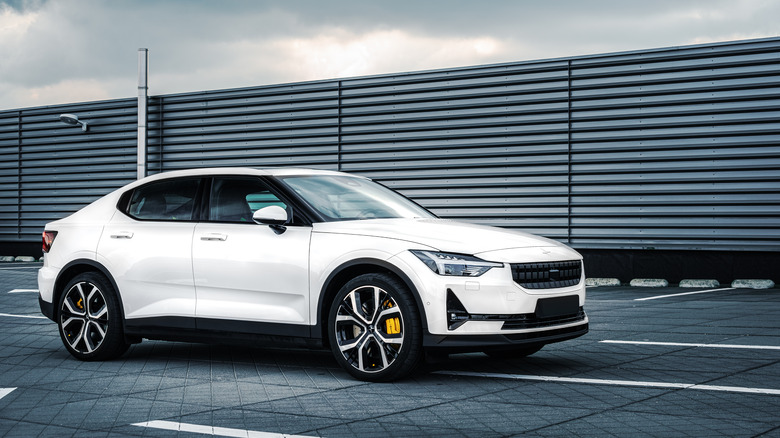 Arjan Kemeling/Shutterstock
For the moment, though, what's actually on offer is the Polestar 2 alone, the Polestar 1 – a luxury plug-in hybrid based on a Volvo concept – having only been built in vanishingly-small numbers up until 2021. On a range-for-range basis, the Polestar 2 can't quite hold up to what Tesla's Model 3 offers. However, that's not to say the EV falls short across the board.
In the cabin, for example, it's a lot more Volvo than you might expect. A shared parts-bin means the Polestar 2 interior definitely feels more like a traditional vehicle than the love-it-or-hate-it aesthetic in the Model 3. It was the first vehicle to debut Android Automotive OS, too, Google's vision of a dashboard OS, complete with embedded Google Assistant and Google Maps.
For all Polestar's ambition, however, the reality is that it still has a long way to go if it wants to catch up with Tesla. Total sales in 2021 hit 29,000 cars worldwide: not bad for an EV upstart, but still leaving Polestar a niche player. To bolster those numbers in the year ahead, the automaker plans to launch in a number of new markets – including Spain, Portugal, the UAE, Kuwait, and Israel in 2022 alone – as it targets at least 30 global markets in total by the end of 2023.
Is snark the best strategy?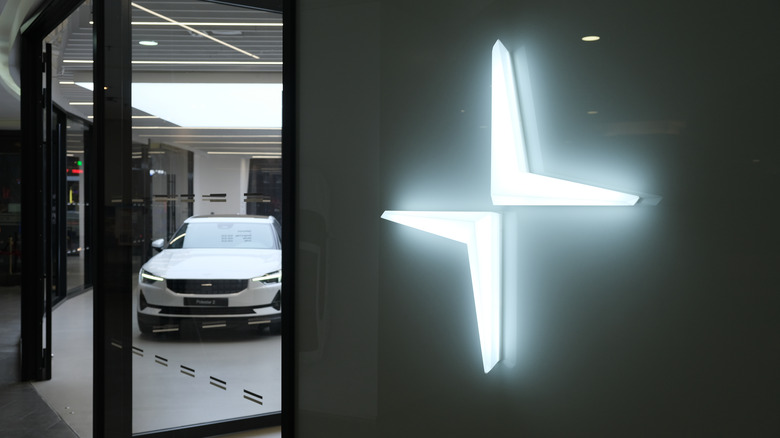 Robert Way/Shutterstock
The big question is whether commercials like this will actually push the Polestar brand in the way that the company is hoping. While those in the know about the state of EVs – and the big names and bigger personalities all that encompasses – will catch the Elon Musk snark and other references, everyday drivers may find themselves left bemused by Polestar's strategy.
That's a shame, because even if the range numbers don't put the Polestar 2 at the top of the EV chart, there's one conspicuous advantage right now: availability. At a time when most automakers are struggling to meet demand, and an order for a new Tesla Model 3 or Model Y won't be delivered for months yet, Polestar has new vehicles in stock around the US, and a no-haggle pricing policy that bypasses the excruciating "market adjustments" we've seen rival dealers use to add thousands of dollars to the sticker price of new cars. That message may have had a broader appeal to the Super Bowl audience, even if it wasn't quite so clever as what Polestar actually aired.