7.9mm thick iPhone 5 in Q3 tips analyst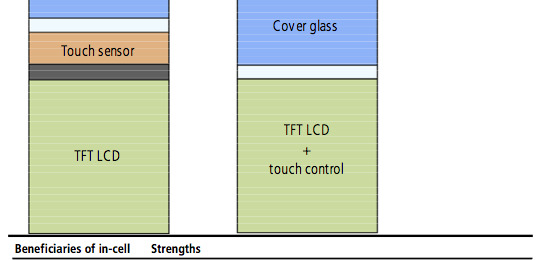 Apple could shave 0.44mm from the thickness of the iPhone if it switches to in-cell touch panel technology, analysts suggest, part of the company's relentless quest to trim down and simply its products. Rumored last week, with talk of several display manufacturers convincing Apple to switch to panels that integrate the touch sensor along with the TFT LCD itself, rather than stacking them, now KGI Securities analyst Ming-Chi Kuo predicts the Cupertino firm has a sub-8mm target for the iPhone 5.
In fact, he's pegging the next-gen iPhone at just 7.9mm thick. That's not all down to the slimmer display, however; the KGI analyst also expects Apple to use a trimmer battery and switch from a glass back panel to a metal one. Those two changes could knock off an extra 0.96mm, Kuo believes.
In-panel touch technology basically combines capacitive touch sensors into the color filters of the TFT LCD, rather than stacking them one on top of the other. As well as meaning no separate touch sensor need be accommodated, it also removes a layer of adhesive and a step in the production process to combine what were previously two separate components.
That's not only more efficient but less potentially wasteful, Kuo argues. Currently, the bonding process takes place relatively late in the manufacturing cycle; if something goes wrong, the wasted components can result in "significant losses." The new approach would take place earlier in the cycle, and so be less costly if errors occur. Kuo also calculates a significant cut in production time, down from 12-16 days to just 3-5.
As reportedly earlier, Toshiba Mobile Display (TMD) and Sharp are tipped to be key beneficiaries of such a switch, with LG Display also expected to profit. Sony Chemical also gets a name-check, providing a new Optical Clear Resin (OCR) to bond layers together.
[via Apple Insider]