5 reasons you should care about Thunderbolt 3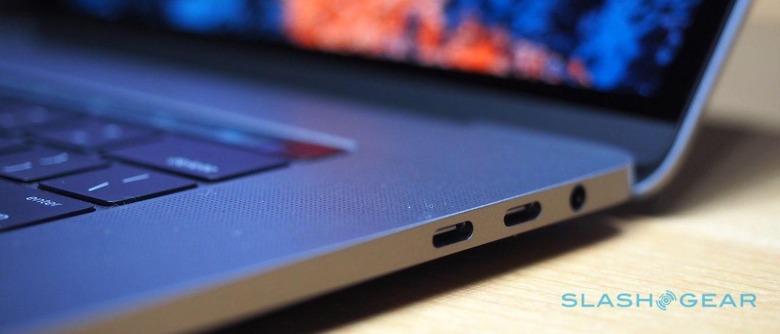 Big news in Apple land this week is the arrival of Thunderbolt 3 on the new MacBook Pro, but there's more reason to be interested in the high-speed, highly-flexible port than simply because you're an Apple fan. While Apple may have been first to the Thunderbolt party back in 2011, the technology itself was actually a collaboration between the Cupertino firm and Intel's, and we've seen it appear on numerous Windows computers as well as third-party accessories too. Even after five years, though, you could be excused for not realizing why Thunderbolt is such a game-changer.
As the name suggests, Thunderbolt 3 is the third-generation of the interconnect technology. Initially, Intel expected it to use optical fiber – in fact, it was originally called Light Peak – but switched to more conventional copper cables before launch. Apple and Intel co-developed it, and indeed Apple originally held the Thunderbolt trademark, though transferred it to its partner in 2011.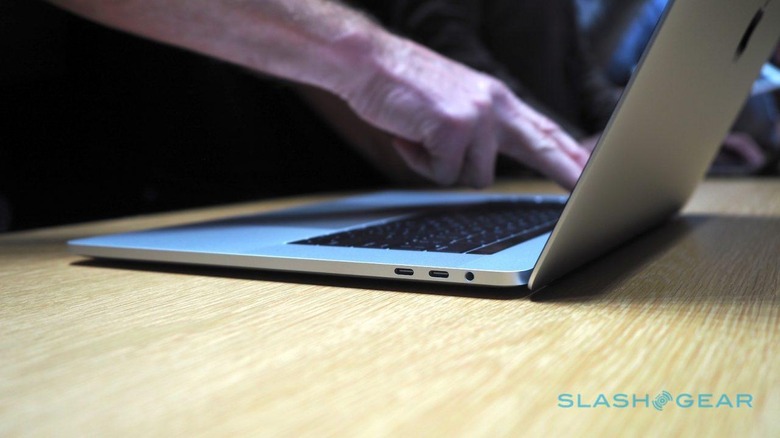 The original Thunderbolt standard supported up to 10 Gbit/sec per channel. In late 2013, Thunderbolt 2 arrived: it could pair two such channels together into a single data pipe – otherwise known as "channel aggregation" – with a maximum bandwidth of 20 Gbit/s. It was also backward compatible with Thunderbolt devices, and used the same Mini DisplayPort connector.
With the arrival of the new MacBook Pro this week, macOS users will have as many as four Thunderbolt 3 ports to play with. It's not been entirely welcomed with open arms, however, given Apple's decision also marked the retirement of existing connectors like USB 3.1, HDMI, and MagSafe 2. Still, there are some significant reasons why you should welcome Thunderbolt 3 with open arms – and some reasons to be wary.
1. Thunderbolt 3 gets the ergonomics right
While the first- and second-generations of Thunderbolt used the Mini DisplayPort connector, Thunderbolt 3 switches over to USB Type-C. That's smaller than the old style of plug, not to mention being narrower than USB 3.1 and HDMI. It's that which helps Apple slim the new MacBook Pro down to as little as 15mm.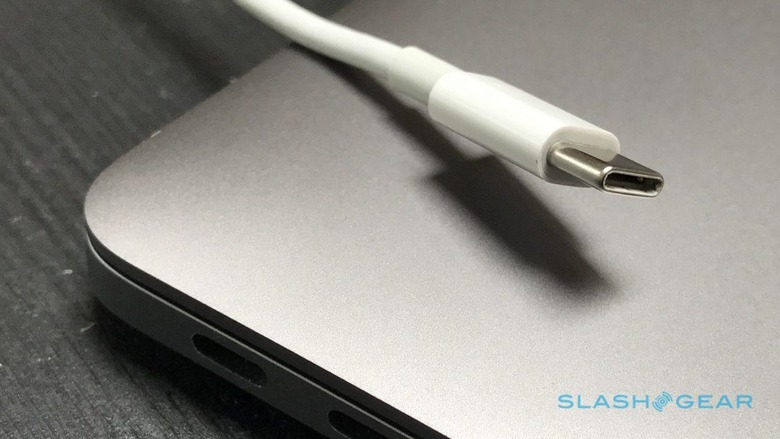 As we saw with the USB Type-C port on the 12-inch MacBook – which, though it may look like it, doesn't actually support Thunderbolt 3 – the design also means the Thunderbolt 3 cable is reversible. Just like a Lightning plug, it doesn't matter which orientation you plug it into your MacBook Pro at: it'll work either way. If you've ever spent a few frustrating seconds jabbing a cable at the side of your laptop, you'll probably appreciate this particular change.
2. Thunderbolt 3 is fast
When you're abandoning all other ports for one type of connector, it needs to be a capable one. Thankfully, Thunderbolt 3 doubles the bandwidth from what Thunderbolt 2 offered. It's now up to 40 Gbit/s, or 5 GB/s – if you're comparing to USB 3, it's a whole eight times faster.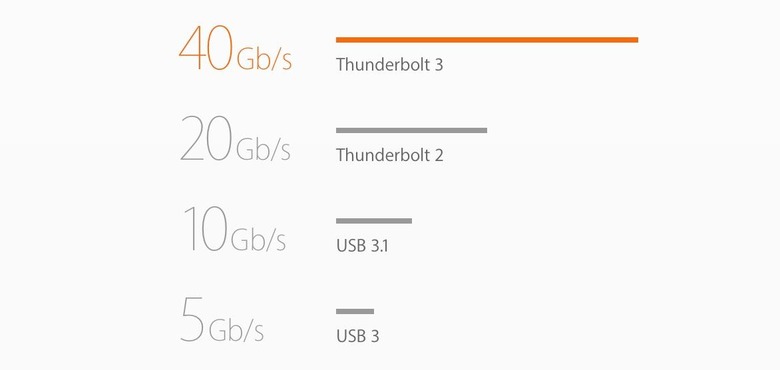 How fast is that in practice? If you're using a Thunderbolt 3 equipped external drive and your shiny new MacBook Pro to transfer high-definition video, for instance, you could copy over a full day's worth of footage in less than two minutes. 25,000 photos at the iPhone 7 Plus' 12-megapixel resolution would take less than a minute to transfer.
Obviously you'll need a fairly cutting-edge peripheral to get the most from that 5 GB/s pipe. Happily there are already a number of Thunderbolt 3 external drives, often using two or more solid-state disks set up in RAID arrays for maximum read/write performance. LaCie, OWC, and other big names in external storage have options that head as high as 120 TB.
3. Thunderbolt 3 is flexible
If you're wondering how manufacturers like Apple can do away with everything but Thunderbolt 3 ports and still have a functional laptop, that's because it's flexible as well as being fast. In fact, one single Thunderbolt 3 cable can deliver power, a data connection, and video, all simultaneously. It opens the door to a lot of interesting possibilities on your typical desktop.
Because Thunderbolt 3 provides power – up to 100 watts of it, in fact – you can charge your MacBook Pro or another notebook with the port through peripherals which at the same time getting data from them. The power can be delivered in both directions, too, so the computer can provide juice to, say, an external drive or to charge your smartphone. In the case of the new MacBook Pro, you get up to 15W from a Thunderbolt 3 port for external devices.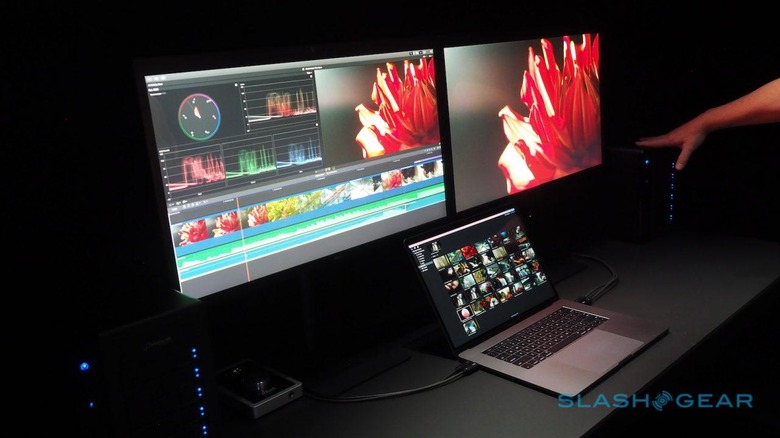 It doesn't end there, though: there's video support, too. A single Thunderbolt 3 port is capable of driving a 5K display – that's 5120 x 2880 resolution – or two 4K displays. If, like the new 15-inch MacBook Pro, the computer has two Thunderbolt controllers that means it can in fact drive two 5K displays.
At the same time, a display can provide power back to the laptop, charging it up. If the display's manufacturer has included data ports – as LG has done with its new UltraFine 5K Monitor – you can have peripherals plugged in too, all linked back via a single cable. With the right cord you can plug straight into a DisplayPort or Mini DisplayPort monitor from a Thunderbolt 3 port; there are adapters for HDMI and VGA.
4. Thunderbolt 3 adapters are a way of life
Spend much time on the cutting-edge and you're likely to get, well, cut. In the case of Thunderbolt 3, that means making sure you have backward compatibility with your existing devices and peripherals. After all, Apple isn't just throwing out older, slower ports: it's also potentially making your existing cables obsolete.
If you want to use a USB 3.1 or earlier device, with the familiar rectangular USB-A plug, you'll need an adapter for it. The same goes for VGA or HDMI. Thunderbolt 3 is compatible with USB Type-C, but you'll need an adapter to connect to Thunderbolt 2 or the original Thunderbolt.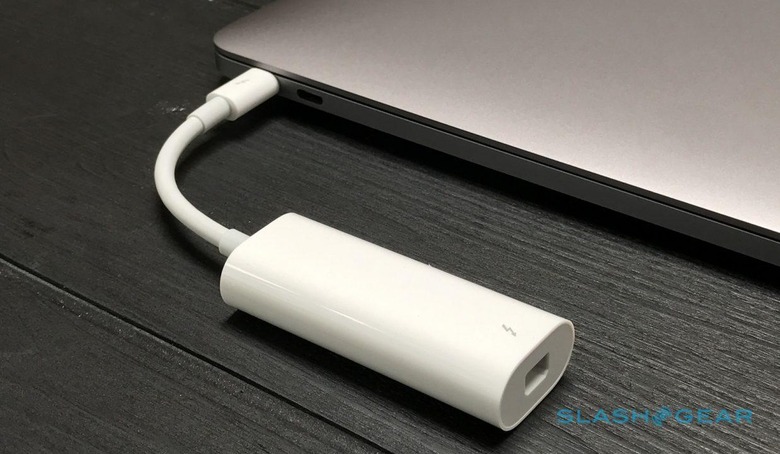 Those with an iPhone 7 or other iOS device that has a Lightning port, meanwhile, will need one of Apple's USB-C to Lightning cables. There are also USB-C to micro and mini USB cables, and USB-C to ethernet adapters. Prices for your new dongles range from around $19 to $49 or more, depending on complexity.
Even if you have a new MacBook Pro, though, you don't need to go straight to your Apple store to get your adapter fix. Since Thunderbolt 3 is a broader industry standard, various third-party companies like Belkin, SanDisk, and others are making dongles, docks, and cables with the USB Type-C connector. Eventually, just as was the case with USB Type-A, that should help drive the price down across the board.
5. Thunderbolt 3 isn't going anywhere
All the signs point to Thunderbolt 4 being some way off in the future. The next big step for the interconnect would be support for UHD 8K displays, or 7680 x 4320 resolution, and that's a huge step up from what Thunderbolt 3 can handle today. Figure on another doubling of the bandwidth being required from the 40 Gbit/s of the current standard.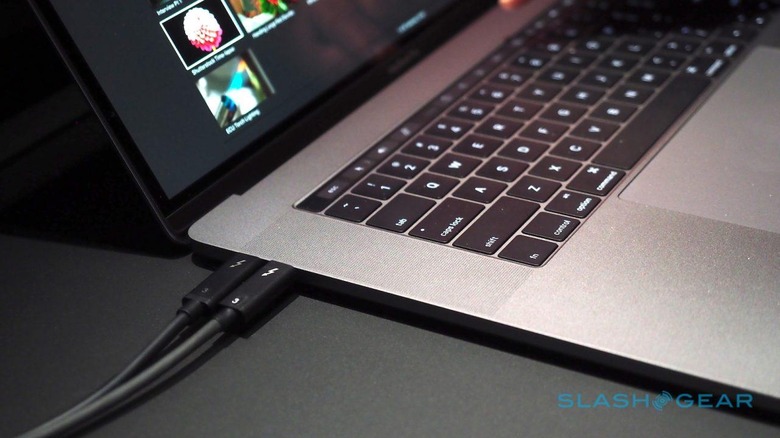 For the moment, then, it seems like the buck stops at Thunderbolt 3. As well as the new MacBook Pro, we've seen the port show up on HP's Spectre 13.3 and other models in the PC maker's range, while Dell has added the connector to some of its own Windows notebooks. Both companies have made their own docks, too, which act as breakout boxes for traditional USB, display, ethernet, and other devices.
Wrap-Up
Big changes don't come easy. Apple ripped the sticking plaster off the port upgrade problem with the new MacBook Pro, and the result has been no shortage of outcry from professional users wondering where they're supposed to plug their existing drives, SD cards, and other devices into the new notebook. Had Apple opted to more gradually introduce Thunderbolt 3 – perhaps by including it alongside, rather than instead of, those legacy ports – it might've made for a less stressful process.
NOW READ: Late-2016 MacBook Pro hands-on
Problem is, it would also have led to a slower switchover, and it's in Apple's best interest – not to mention the best interest of the computing industry as a whole – to get people up and running with Thunderbolt 3 as soon as possible. As we've seen with other such changes in the past, it can be a chicken-and-egg problem when it comes to upgrades of this sort. Peripheral makers don't want to invest in new standards until there's a sizable enough cohort of users to make it financially worthwhile, and users don't want to adopt the standards until there's sufficient third-party support.
The upside is, of course, that Thunderbolt 3 has many big advantages over the ports and cables you've been using so far. It might be a headache today, but the desktop of tomorrow could be a lot more streamlined and a lot more productive.