40MP Pentax 645D camera gets video demo, one step closer to release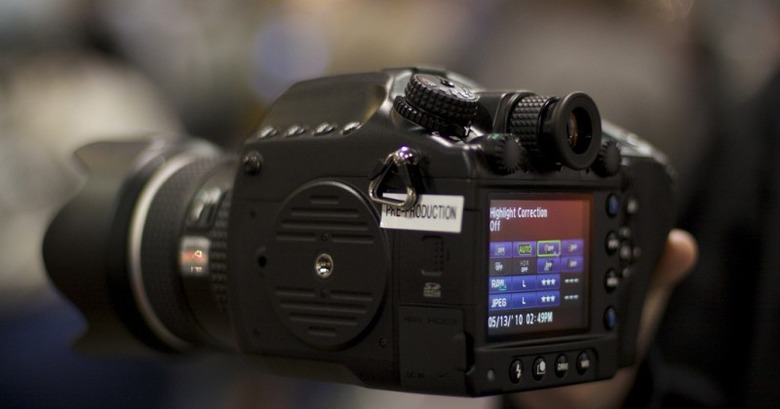 Pentax's huge medium-format 645D digital camera has had a public outing in Toronto this past weekend, demonstrating its updated Kodak 44 x 33 mm sensor – that has climbed from 30- to 40-mexapixels since we first saw the concept back in early 2009 – and general all-round awesomeness.  Shooting a single frame per second, the Pentax 645D is apparently intended for scenery and other still-life photography, rather than anything faster moving.  Scolirk grabbed some hands-on time and a demo video you can see after the cut.
Video demo after the cut
The reason for the massive bulk – aside from the huge sensor, which is apparently 1.7x the size of a regular DSLR CCD – is that the 645D can use film lenses.  That opens up plenty of interesting possibilities for still-life photographers.
As for the 645D itself, Pentax have used roughly the same control layout as the K-7, together with that DSLR's integrated HDR creation functions, and there's a 3-inch LCD preview display with 170-degree viewing angles.  Storage is via twin SDHC card slots, and there's a new dust removal system.  Expect it to arrive – and be expensive – by the end of 2010.
[via Engadget]