3rd Gen Moto X Specs Leaks Out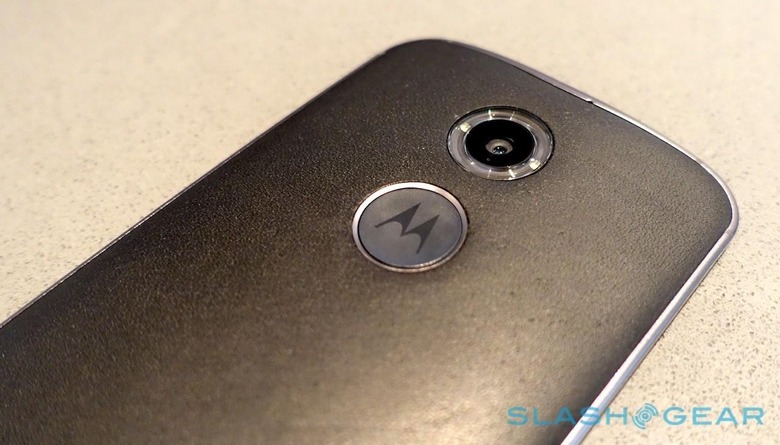 It's hard to believe that it has already been seven months since the 2014 Moto X was unveiled, which means there just 5 months left until the next generation. Unless Lenovo/Motorola decides on an August date just like the first Moto X. Naturally, we're beginning to hear of supposed insider info on what the 2015 Moto X will be like, which does sound a bit too good to be true at times. However, it could very well be a litmus test of whether Motorola can keep up with the fame it built back when it was still under Google's care.
The original Moto X is definitely a tough act to follow. Announced in 2013, the smartphone catapulted Motorola back into the mobile scene after its glory days have long faded away together with the RAZR. An affordable smartphone that could stand proud against other flagships, but without the bloated additions of OEMs, the Moto X offered a sanctuary amidst the Samsungs and iPhones of the tech world.
The 2nd gen Moto X played it rather safe, as if somewhat scared to venture far from the proven formula. It upgraded the hardware specs just a wee bit. Motorola, ironically, did go the distance with the Nexus 6 and the DROID Turbo/Moto Maxx, but as far as the nominal flagship was concerned, the Moto X was pretty much an incremental upgrade. But as HTC's financials now show, playing it ssafe doesn't cut it anymore.
To that extent, the next Moto X seems to really take things further. According to this insider leak, the flagship will finally come with a QHD resolution display but, and it's a big but, it won't be bigger, with the same 5.2-inch diagonal size. That's only slightly larger than the Galaxy S6 but still within the same handy-ness ballpark. The Moto X ventures into 64-bit territory, but not yet into octa-core ground. Like the LG G4, it is said to run on the hexa-core beast that is the Snapdragon 808 instead. What is interesting, however, is that it is indicated to hold 4 GB of RAM, making it the first major brand (unless you count ASUS and Lenovo) to sport that memory size.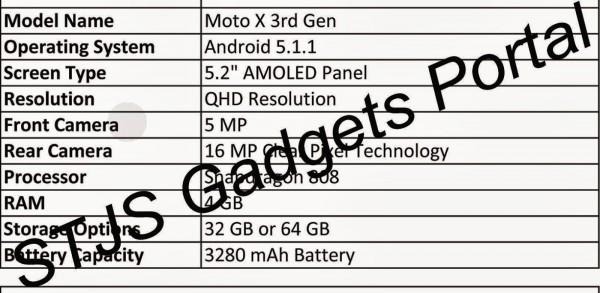 No rumored date on when the 2015 Moto X would be announced, though August or September would be a safe guess. If the latter, it could end up competing for space with the likes of Samsung, when the latter makes its customary IFA announcement of the next Galaxy Note.
VIA: STJS Gadgets