This Is The New Moto X For 2014: Hands-On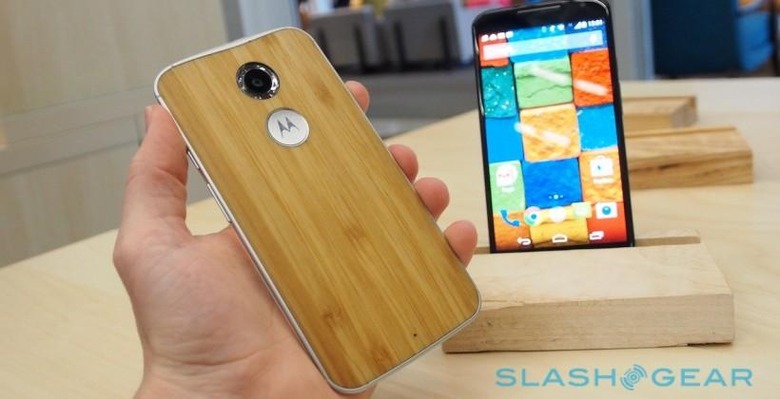 As recipes for success go, the new 2014 Moto X has a good one: take the wildly popular concept of a keenly priced flagship smartphone that punches well above its weight, and then refine the heck out of the design, construction, and materials until it can comfortably stand alongside rivals with no shame whatsoever. If you thought the original Moto X was competitive, then its update for 2014 is nothing less than fighting talk from Motorola.
A recap, for those who've been dwelling under a smartphone-free rock for a while. Motorola launched the Moto X in August 2013, consciously stepping off the specification treadmill and instead looking at what could be intelligently done with well-honed components, near-untampered Android, and the goal of a more affordable price tag.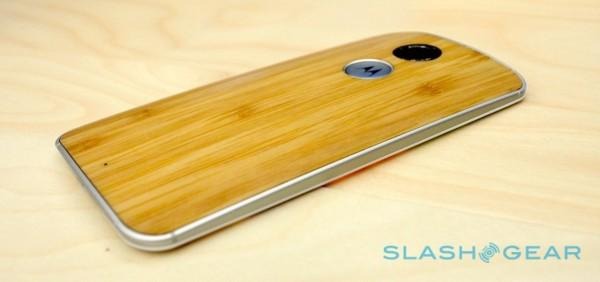 The resulting handset may not have had the cutting-edge processor of its rivals on paper, but it managed to deliver an equally compelling experience thanks to its frugality, clever always-listening Google Now system, and a $499 unlocked and SIM-free price that neatly undercut the competition.
It was potent, but it wasn't perfect. Motorola's plastic construction was solid and serviceable, but it lacked the premium feel of, say, an HTC One or an iPhone. Custom options through Moto Maker helped things, but the Moto X always felt more colorful than it did classy.
That's all changing in 2014.
The new Moto X has the same basic shape, but the frame is now brushed aluminum. The Gorilla Glass 3 fascia remains, now protecting a larger, 5.2-inch AMOLED display that has stepped up to 1080p Full HD resolution. As a result, the phone is longer and wider – 140.8 x 72.4 mm – but it's also thinner, 9.9mm at its thickest versus 10.4 of the old design, and the edges taper more, down to 3.8mm.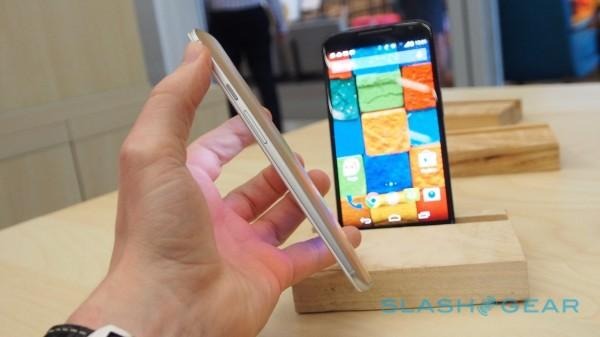 It feels thinner in the hand, then, and disguises the extra bulk. There's no arguing that the screen upgrade is worth it, too: 423ppi and incredibly bright and well-balanced, it has natural colors and deep blacks. Minimal bezels on the left and right help, as does the contrasting aluminum frame which pulls the eye. It's a little like the HTC One M8 from some angles, no bad thing in itself.
The buttons are now sleek metal nuggets, more in keeping with the flagship positioning, and metal reappears on the speaker grills and Motorola logo. First-gen Moto X users loved the dimpled "M" on the back – for one thing, it helps you figure out if you're holding it the right way up without having to actually look at it first – and it's now bolder and emphasized.
As standard, there are seventeen different colors of plastic back panel to choose between, but they're joined by four real woods – bamboo, teak, walnut, and ebony – and four leathers – natural, cognac, black, and navy – sourced from The Horween Leather Company in Chicago. More customizable accent trims have been added, too.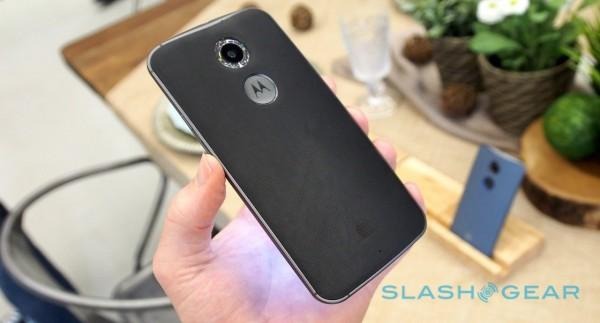 It's impressive how much the different finishes change the overall feel of the phone. As standard it's a relatively sober, discrete device, with a black or white fascia, matching black or silver frame, and black or white back panel.
Pick a light wood and the brushed silver frame, however, and it's suddenly almost Scandinavian in feel. Opt for the black leather, and the rear panel becomes particularly tactile, an unusual sensation for the fingertips for a case-free phone, and combining nicely with the smooth metal.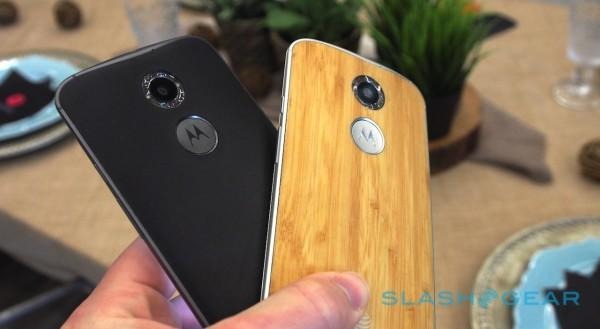 Aesthetics aren't the only difference, though. There's now a Snapdragon 801 processor, a 2.5GHz quad core with Adreno 330 graphics and 2GB of memory, while the camera is now 13-megapixels with an f/2.25 lens and 4K Ultra HD video capture. The battery, though still non-removable, has grown 100 mAh to 2,300 mAh, but throws in Turbo Charging to add a quoted eight hours of power in just 15 minutes.
As before, there's LTE – the antenna is integrated into the frame, and Motorola claims it's twice as powerful as that of rivals – and it's joined by WiFi a/b/g/n/ac (2.4/5GHz), Bluetooth 4.0, NFC, and GPS/GLONASS. 16GB or 32GB of storage are your choices, but there's no microSD slot, unfortunately, to add to them. Similarly missing is wireless charging.
The Moto X was always more about what Motorola didn't do than what it did. Restraint in the trend of modifying or reskinning Android meant that it was a near-pure Google experience, as well as practically first in line for software upgrades; sure enough, Motorola is promising an Android L update for the new Moto X, once Google finalizes and releases it.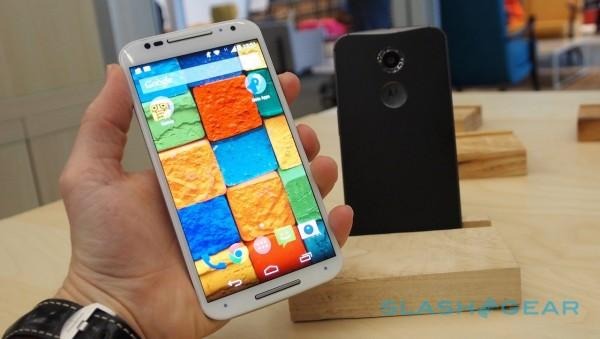 Its differentiators, then, were its contextual sensors, and that approach is carried over to 2014's model. The new Moto X is still always-listening, but now you can customize the trigger command rather than just use "OK Google..."; you can opt to give your phone a name, or pick a more challenging trigger like "Listen up, Moto X!"
Moto Voice also gains integration with third-party services, as well as being able to control native features of phone. You can post status updates to Facebook, respond to WhatsApp messages, or search through YouTube content, all by voice; unfortunately there's no open SDK for third-party developers, since Motorola needs to make sure the low-power processes are being adhered to, but the company tells me there are more supported apps in the pipeline.
Four infrared sensors in the fascia – a pair at the top and another pair at the bottom, for redundancy no matter how you're holding it – track hand movements: you can wave your palm across to preview the notification icons on the lock screen, or use a similar gesture to reject incoming calls or snooze an alarm.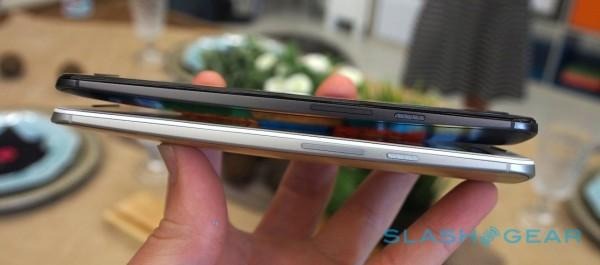 Press your finger on the lock screen and the current notifications open up into previews; it's a small tweak, but it's already an incredibly useful one, saving you from needlessly unlocking your phone for every text and spam email.
Meanwhile, Moto Assist has become smarter, now able to tell whether you're in a car – by your GPS movement and the ambient noise of the cabin – and thus switch to voice recognition, reading out incoming messages and allowing you to respond to them and use other features without needing to look at the screen.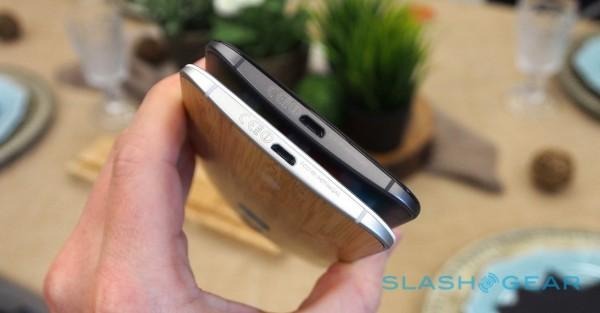 Tell the new Moto X where you live, meanwhile, and it will automatically switch into home mode when you get there; optionally, you can have it read out texts and announce callers, in case you've left it on the coffee table. Sleep mode silences everything aside from incoming calls from favorites, though allows through anybody who calls multiple times in a row.
Grant access to your Google Calendar, and Meeting mode will automatically stop any notification sounds from disturbing you. There's an auto-reply option, too, to send a preconfigured message to any silenced callers.
The 13-megapixel camera keeps the Quick Capture "shake to wake" launch gesture, but now the sensor is active from the get-go. That way, if the new Moto X thinks it spied a better frame just before or after the one you captured, it can flag that up as a possibility. A new "Take a selfie" voice command automatically opens up the front-facing 2-megapixel camera and starts a three second countdown.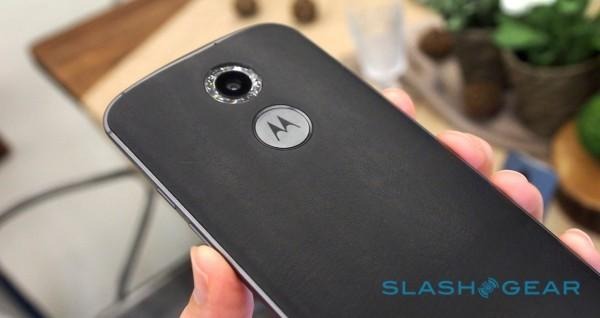 Running around the main camera lens there's a ring flash, with two LEDs. That was originally going to be frosted, the Moto X's camera designer told me, but while it created a diffused light it also reduced the brightness too greatly. Instead, the two light sources attempt to cut down the odd, lopsided shadows that LED flashes can sometimes create. It works, but the flash is very strong – arguably too strong for close-up portraits – and I'd rather have seen a more diffuse, frosted effect.
The physical similarities with the HTC One M8 aren't the only place Motorola seems to have glanced at its Android compatriot's playbook. A feature called Highlight Reel takes photos and stills captured from each day on the new Moto X, and automatically cuts them together into a summary video complete with music and transitions.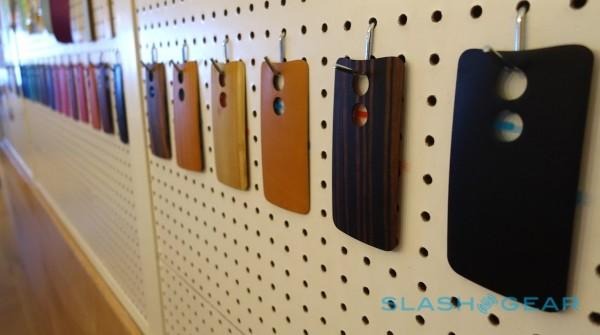 It's almost exactly the same as HTC Zoe, and in fact even the layout of the app is very similar, with a preview video atop panes to control which stills and clips are included, and what the soundtrack is. You can then export it, though only at up to 720p HD resolution, even if the original content is higher resolution.
I can forgive a little feature borrowing, though, for the overall 2014 Moto X package. There are numerous little improvements – a waterproof nano coating applied to the level of the circuitboards, for instance, and a quad microphone array for directional sound recording using beam-forming – while features like Trusted Devices (which can keep the phone unlocked if it's near a paired Moto 360, Moto Hint, or some other Bluetooth device) are useful every day.
The rise in overall quality might make you wonder if Motorola had forgotten its affordability ambitions. Happily, that's not the case – it'll be priced from $99.99 with a two-year agreement (AT&T and Verizon are already confirmed carriers for the US) when it goes on sale this month, or $499.99 unlocked and SIM-free from Motorola direct. That's the version which will get Android L first, too, and of course you get to customize it using Moto Maker, which is also launching for the first time in the UK and France.
We'll have a full review of the new Moto X for 2014 soon, seeing if all the changes add up to an even better device of if some of the original's simplicity has been lost in the process.