3D printer used to create functional metal firearm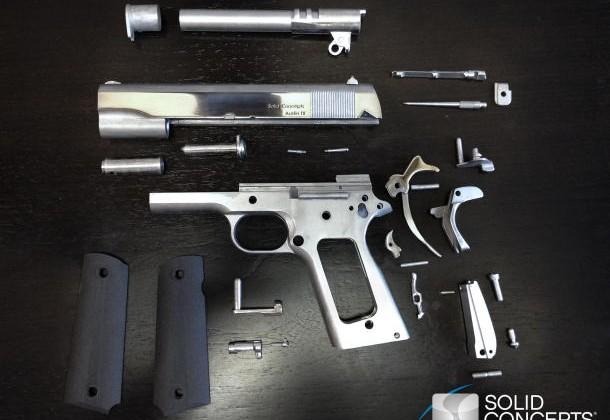 The world is familiar with 3D-printed guns at this point, with the Internet being full of blueprints — some that work better than others — and government scuffles having happened on more than one occasion. A new world's first has taken place, however, and it takes the 3D-printed firearm concept to the next level: a 3D printed metal fully-functional gun.
The metal gun was printed by Solid Concepts, a 3D printing service located in Texas. The gun is a 1911-based firearm, and was constructed using both Inconel components and 33 varieties of stainless steel — with the exception of the handgrip, which was made of carbon-fiber and nylon. Perhaps the most noteable feature of the gun, however, is that it works.
Says Solid Concepts, the 3D printed gun has successfully fired 50 rounds of ammo, something that is particularly significant given the frequent fateful ends to plastic-based printed firearms. Said the company: "We're proving this is possible, the technology is at a place now where we can manufacture a gun with 3D Metal Printing."
The process for creating the gun was similar to that of common plastic prints, namely that a laser sintering process was utilized with powered metals as the construction material rather than powdered plastics. Another issue of note is that the company is working with the go-ahead of the law, helping to avoid problems that previous printers have run into. "We're doing this legally. In fact, as far as we know, we're the only 3D Printing Service Provider with a Federal Firearms License. Now, if a qualifying customer needs a unique gun part in five days, we can deliver.
SOURCE: CNET