3 UK plan HTC Hero with Spotify Premium preloaded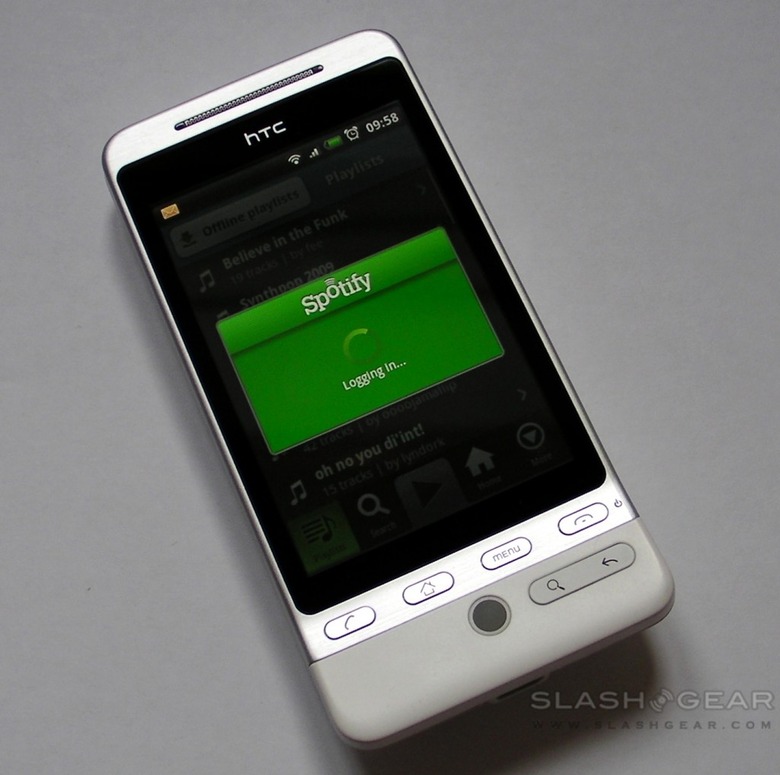 Streaming music looks to be the next step in driving smartphone adoption, with UK carrier 3 to offer the HTC Hero with the Spotify app preloaded and a subscription to the premium service included in the monthly contract.  According to Mobile Entertainment News, the Hero will be priced at £99 ($161) with a 24-month agreement, the £35 ($57) tariff integrating Spotify's £9.99 ($16) subscription fee.
Update: 3 UK have put up a pre-registration page for the deal, though there's no specific availability date.  The Hero will come with a voucher for 24 months Spotify Premium subscription; that does mean that after two years your monthly plan will stay the same price but you'll no longer get inclusive streaming music.
The contract also includes 750 minutes of voice calls, while SMS, Skype-to-Skype calls and – most importantly, perhaps – data are all unlimited.  It's a good thing, too, as the Spotify app certainly has the potential to hammer 3's data network; while users of the mobile app (which is also available to non-3 subscribers with Android or iPhone devices; an S60 version is promised) can choose to store a local copy of playlists, much of their music consumption is streamed over the 3G network.
It's also only the first step for 3 and Spotify.  "As a first step, we've built this service into an attractive, well-priced package with the HTC Hero," Charles Blanchard, director of products and services at 3 revealed, "over time, our deal with Spotify will extend across a range of our products, including Mobile Broadband."