250GB PS3 Slim Bundles Tipped In Norwegian Leak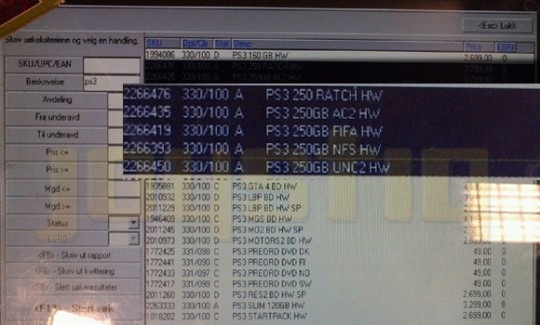 Sony may have denied the existence of any imminent 250GB PS3 Slim bundles, but obviously nobody told retailer GameStop in Norway.  According to an apparent leak from their inventory system, several 250GB SKUs – bundling titles like Need for Speed: Shift, FIFA 10, Uncharted 2 and Assassin's Creed 2 - are incoming to the store.
Other screenshots have shown a fifth SKU, bundling Ratchet & Clank Future: A Crack in Time with the new 250GB console.  Meanwhile an internal email to GameStop employees explains the difference between the existing 120GB PS3 Slim and the new, larger-capacity version, which basically boils down to no real changes aside from the hard-drive.
According to the pricing in the images, the new bundle SKUs will retail for around 3799 kr ($644.16), which puts them around $85 higher than the price of the 120GB PS3 Slim in Norway right now.  No word on when the bundles will appear in stores, though, but if retailers are already alerting staff then it seems likely to be sooner rather than later.