Wii U Hitting NYC In Press Event On September 13th

Next month Nintendo will be bringing on their newest vision for the Wii U, the next-generation console made by the company to compete against the Microsoft and Sony tide. With the Xbox 720 and PlayStation 4 being continuously rumored for release inside the next few years, Nintendo appears to be preparing the Wii U for another preview and perhaps a release date for the press to report. This event comes soon after a UK-based hands-on experience we had earlier this year.
This event has been set for 10AM EST on the 13th of September, just one day after the rumored date for the next Apple press event. Nintendo COO Reggie Fils-Aime will be at the event to present the console once again and hands-on game play and demos will be there as well. The launch line-up for games is a likely candidate for announcement on the event's schedule, as are the launch date and price of the console. Nothing is assured, however, and a simple presentation may be the best thing available.
The event coming here next month also comes right after the Nintendo E3 presentation which was rather devoid of Wii U news. It would seem that Nintendo is hoping that a separate event will take the place of what may have been quickly-lost bits of news during the convention. Here in the summer of 2012, we'll be hoping to see what the Wii U will be in its final release form once and for all.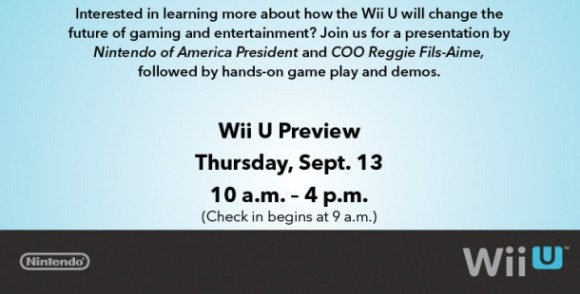 Have a peek at the timeline below to see our hands-on time with the Wii U thus far, and stick around as the next event approaches. Also feel free to hit up our Wii U tag for more Wii U information than you can handle!