2020 Porsche Taycan official: Price, range, power and tech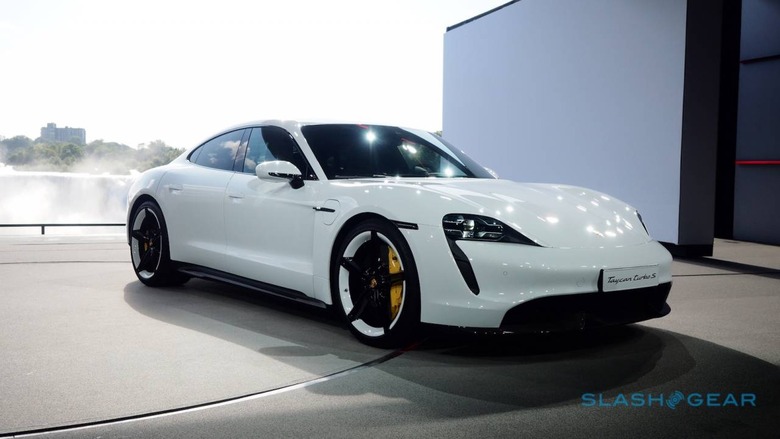 This is it: the 2020 Porsche Taycan. The storied automaker's first all-electric car not only takes on rivals like Tesla, but paves a new path to Porsche's future. In the process it promises the performance and driving dynamics fans of the company are familiar with, albeit with the sort of initial price tag you might expect from any Porsche bearing the "Turbo" badge. Read on for everything you need to know.
Taycan Design
Porsche dropped some heavy hints as to the Taycan's aesthetic with the Mission E concept, and while recent disguised prototypes have leaned heavily on oversized lamps the final result is a whole lot more streamlined. Aerodynamics, unsurprisingly, rule the day, but the automaker has still managed to capture some of that quintessential "Porschiness" that has distinguished cars like the 911 for so long.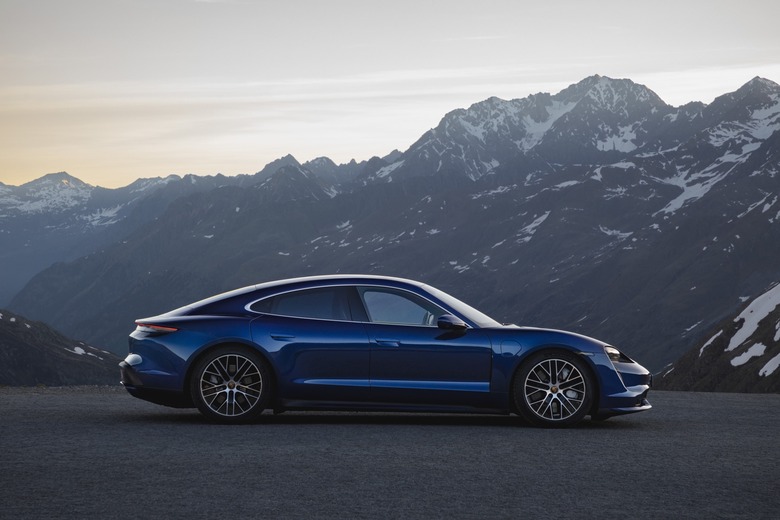 It's longer than the 911, of course, but shorter and lower than the Panamera. At the front, LED headlamps with four-point daytime running lights squint out between highly-pronounced fenders, themselves slashed by the intakes for the Taycan's air curtains. The body itself is a combination of aluminum and steel, blended together for its mixture of strength and light weight.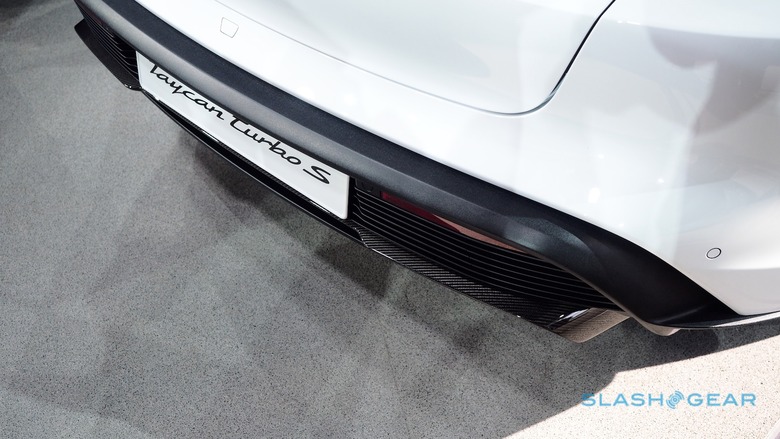 The sides get pop-out door handles, that are usually flush to the bodywork in the name of slipperiness through the air. At the back, Porsche's favored light strip runs uninterrupted across the trunk, under a retractable spoiler. The Porsche logo is finished in glass-look material, further distinguishing the Taycan from the rest of the automaker's range.
There'll be two Taycan models at launch
Porsche may be using a new drivetrain but it's sticking with tried and tested nomenclature for its first pure-EV. There'll be a Taycan Turbo and a Taycan Turbo S – yes, despite the fact that neither actually has a turbocharger – differentiated by their power, performance, and range.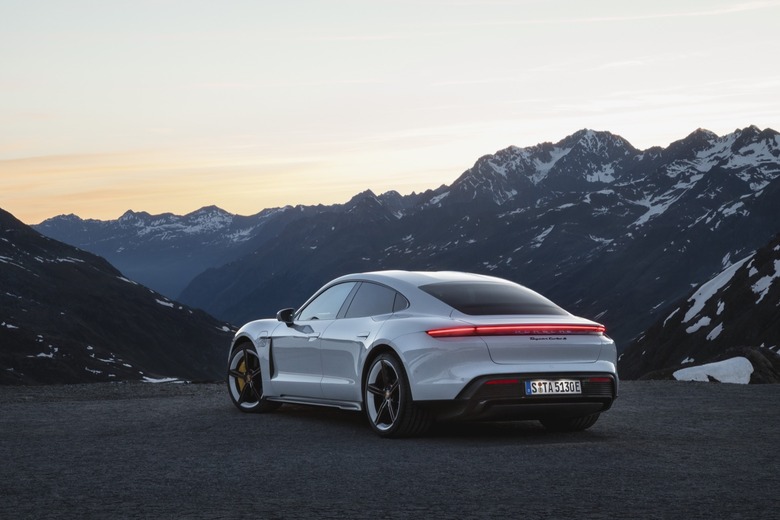 Both versions will have an electric motor for both the front and rear axle, for all-wheel drive. They'll also each have adaptive air suspension with three-chamber air springs, and Porsche Active Suspension Management (PASM). Rear-wheel steering will be optional on the Taycan Turbo, and standard on the Turbo S.
Standard power output is rated at up to 460 kW, or 616 horsepower. However each car will have an overboost mode, used in Launch Control, for the fastest acceleration. The Taycan Turbo will muster up to 500 kW (670 hp) in that case, while the Taycan Turbo S will get up to 560 kW (750 hp). Maximum torque for Launch Control will be 850 Nm (626 lb-ft) for the Taycan Turbo, and 1,050 Nm (774 lb-ft) for the Turbo S.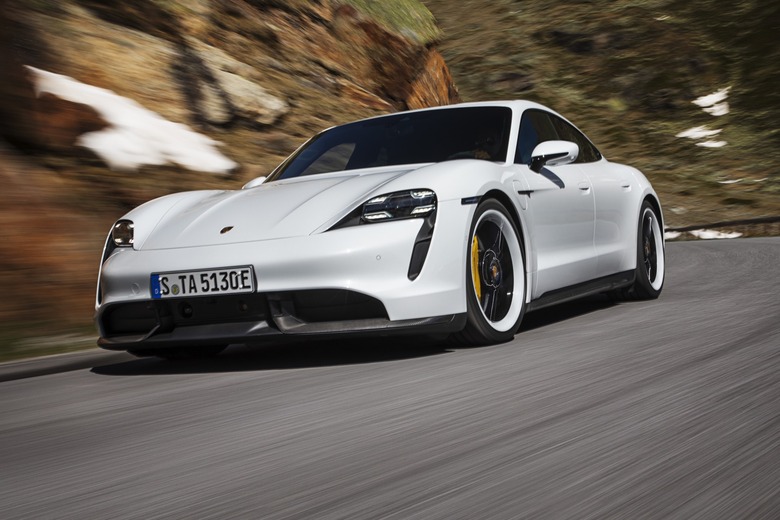 Top speed is 161 mph, with the Taycan Turbo doing 0-60 mph in 3.0 seconds. 0-124 mph takes 10.6 seconds. The Taycan Turbo S, meanwhile, will do 0-60 mph in 2.6 seconds, and 0-124 mph in 9.8 seconds.
Porsche Taycan range
The big number we've been waiting for from Porsche is the Taycan's range. VW Group hasn't been shy in promising aggressive numbers from its growing range of EVs, but with rivals like the Tesla Model S already offering 370 miles the stakes are clearly high.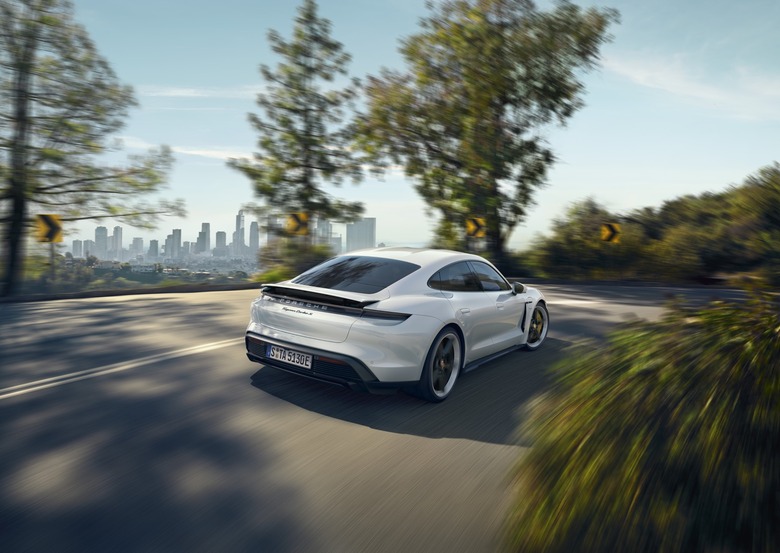 The Taycan gets a 93.4 kWh battery, made up of 33 modules comprised of 396 cells in total, and attached to the sedan's structure with 28 screws. For the most part it fills the wheelbase of the car, with only a "foot garage" left empty to make sure rear passengers have sufficient legroom.
Porsche is giving two sets of range numbers, one for each Taycan variant, and even then they're a bracket not a single figure. It's also worth noting that it's currently quoting the WLTP estimate, not the US EPA numbers: typically, US testing is less generous on range than the European tests. We'll have to wait until a little closer to US availability to find out those EPA figures.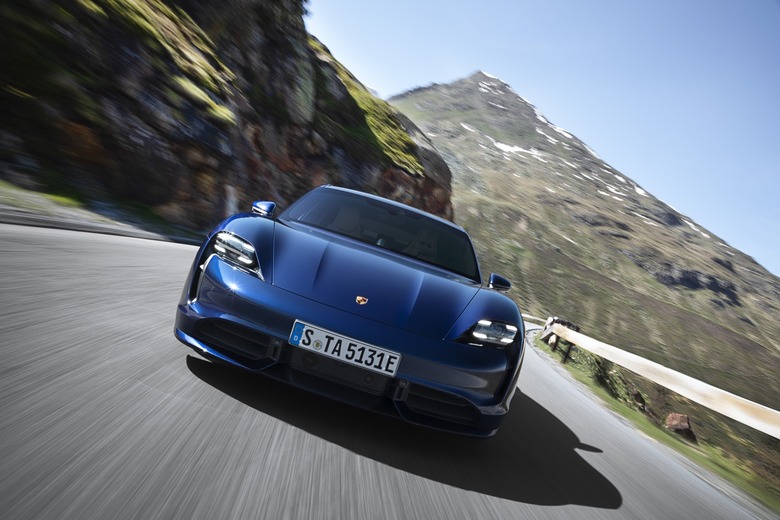 According to Porsche, the Taycan Turbo will do between 237 and 280 miles on a charge. The Taycan Turbo S comes in at between 241 and 256 miles. Those are, clearly, lower numbers than the Model S, falling somewhere in-between Audi's e-tron SUV and Jaguar's I-PACE crossover. The key, Porsche says, is how rapidly the Taycan can charge.
Porsche Taycan charging
First, you need to get to the charge port. In fact, the Taycan will have two, one on each front fender. The charge port door is electrically operated and, unlike with most EVs, disappears inside the car's wing when triggered with either a button inside or a gesture sensor outside. That, Porsche says, means there's less chance of it getting damaged either intentionally or accidentally.
Depending on which geography the Taycan is bought in, it will have different ports behind those doors. In the US, for example, it'll have an AC Type 1 port on the driver's side, and a CCS Type 1 on the passenger side.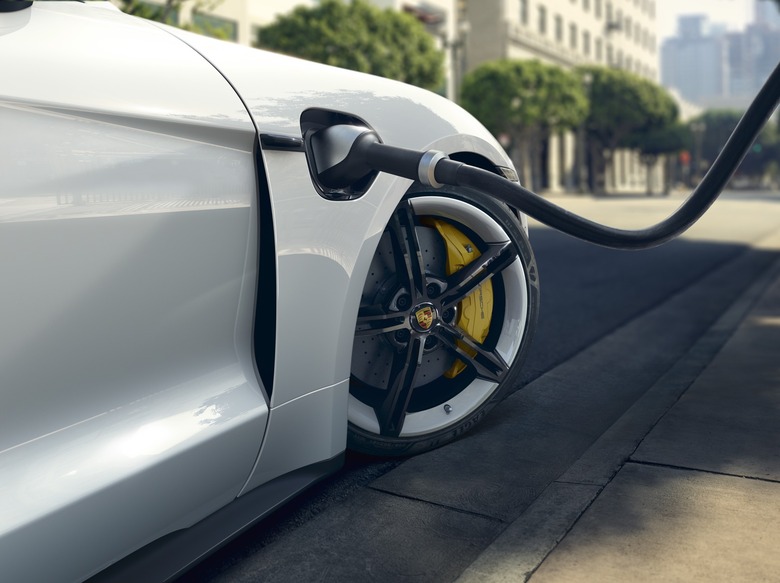 At launch, the Taycan's 800V architecture will support up to 270 kW DC charging. Down the line, Porsche says, it envisages that rising to 400-500 kW. There'll also be 400V DC charging support; the Taycan will come with a 50 kW onboard charger as standard, but a 150 kW version will be optional.
Whether you can take advantage of those rates will depend on the type of charger you find. At home, on up to an 11 kW charger, expect a full charge to take 6-8 hours. Porsche will be offering a Home Check service and full installation for a compatible charging system.
The key to 800V, though, is rapid charging on the move. Find a 50kW DC fast charger, for example, and the Taycan will take around 93 minutes to go from 5-percent to 80-percent charge. On a 270 kW DC fast charger, meanwhile, that same 5-80 bump will take a mere 22.5 minutes. Just five minutes on such a charger and you're looking at 62 miles (WLTP) of range, Porsche says.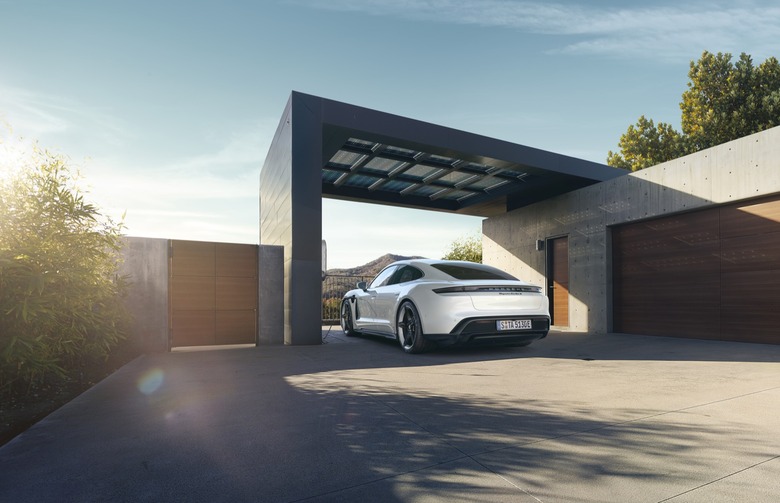 Clearly, the success of Porsche's range/charging strategy – and how happy you as an owner and driver are with it – will depend on how often you can find one of those higher-powered chargers. The solution there is the Porsche Charging Service, three years subscription to which will be included with each new Taycan. That'll include access to over 200,000 charging points worldwide – the majority of which are in Europe and China, with the US focusing on providers like VW-backed Electrify America and the 191 US dealerships that will be installing DC fast chargers – organized by potency, availability, and price.
The Taycan needs to drive like a proper Porsche
Porsche couldn't just build a Leaf in a Panamera's body and call it a day: if the Taycan didn't drive like enthusiasts expected, no combination of range and style would save it. We'll have to wait until we get a chance behind the wheel to see how well the Germans have handled that challenge, but the recipe at least looks solid.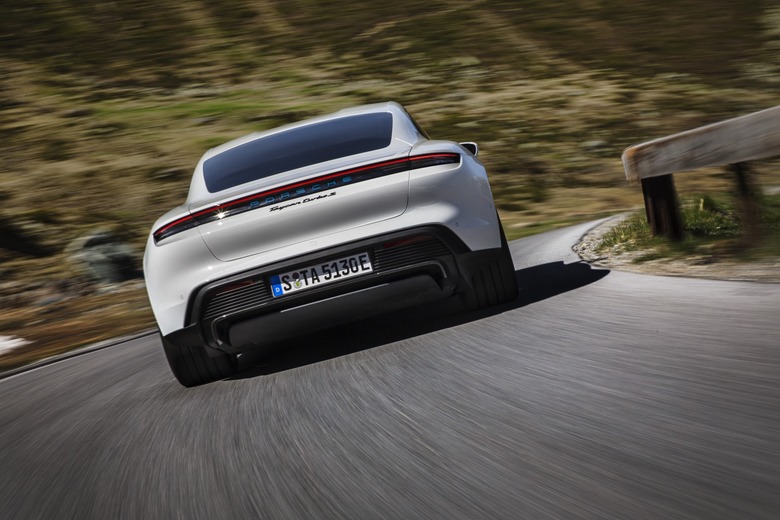 The all-wheel drive is a good start, and Porsche combines it with an electronically controlled limited slip differential and an unusual two-speed rear axle transmission. That uses its first gear for maximum acceleration, while its second gear is more efficient at higher speeds. How they're used depends on which drive mode – Range, Normal, Sport, Sport Plus, or Individual – the car is set to.
Range mode, for example, exclusively uses the second gear – aside from in low-speed maneuvering – to squeeze as much driving out of a charge as possible. It also drops the Taycan down into its lower, more aerodynamically-efficient suspension position. Normal mode, meanwhile, prioritizes second gear unless maximum torque is requested. It has a higher ride height by default, too.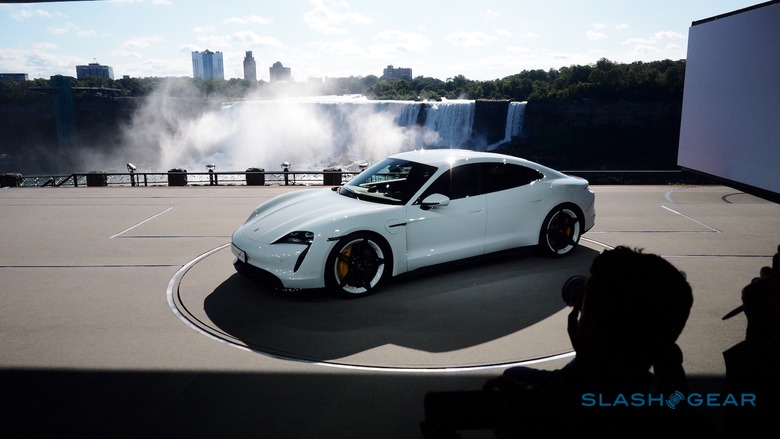 Sport and Sport Plus start out in first gear for maximum performance. The Taycan will upshift to second early if you're driving it frugally, but hold off if you're more aggressive. Launch Mode is only available in the two Sport modes, which also set the Porsche to its lower position. Drive mode also controls the extension of the rear spoiler and whether the cooling air flaps are open or closed.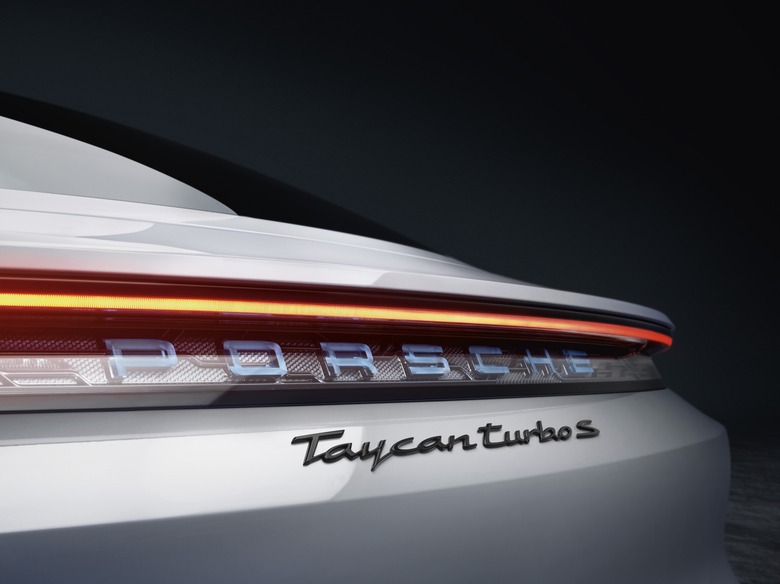 As for slowing, there are ten piston monoblock fixed calipers at the front, and four-piston fixed calipers at the rear. On the Taycan Turbo, they clamp down on Porsche Surface Coated Brakes (PSCB), internally ventilated cast-iron disks that are tungsten-carbide coated. They measure in at 415/40 mm at the front and 365/28 mm at the rear, and lurk behind 20-inch wheels as standard.
For the Taycan Turbo S, the Porsche Ceramic Composite Brake (PCCB) system is used. That has ceramic brake disks, also internally ventilated, measuring at 420/40 mm at the front and 410/32 mm at the rear. The Turbo S gets 21-inch wheels, too.
Porsche Taycan interior
Porsche has already given us a good look at the screen-filled dashboard of the Taycan, and now it's fleshing out some of the details. Clearly related to the cockpit of the 911 and Panamera, only further retiring physical buttons in favor of digital displays, you can have a full four LCD panels on the dashboard alone. That's before you start adding more in the rear.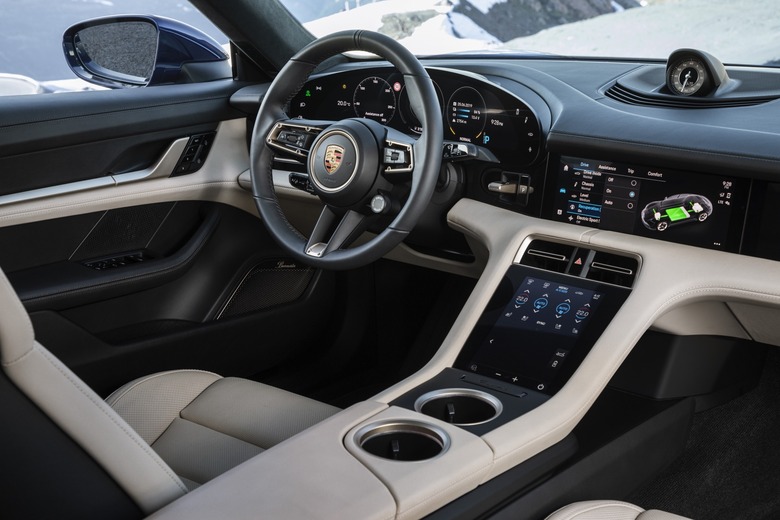 There's a 16.8-inch display for the driver's instrumentation, with customizable configuration supported. A 10.9-inch central touchscreen handles navigation and multimedia, above an 8.4-inch center console interface that handles HVAC, seat settings, and navigation entry. A 10.9-inch passenger display optionally gives access to the audio, navigation, and driving metrics. Alternatively, there's a natural language voice assistant – triggered with a "Hey Porsche" wake-phrase – that can control everything from media through vehicle settings, programing destinations, finding chargers, and even adjusting the ambient lighting.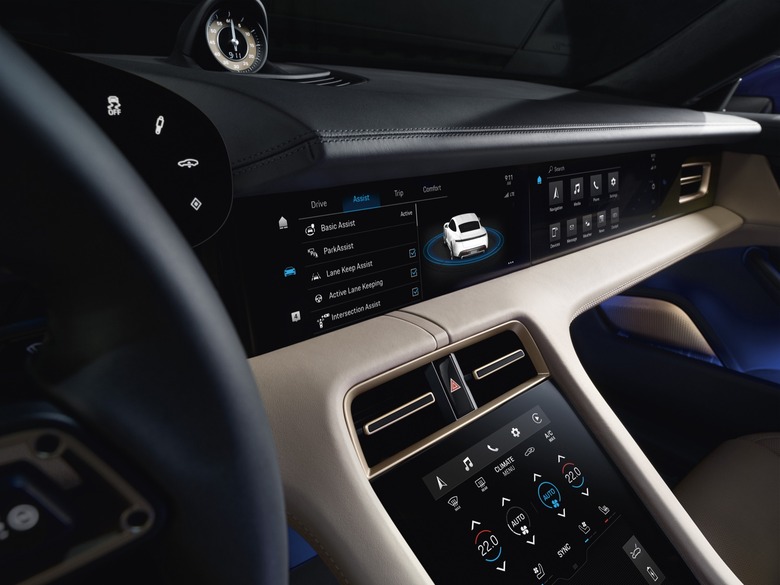 Customization is key. Along with a choice of single- and bi-color leather, as well as various wood and metal trim, there'll be a fully leather-free trim option using leatherette and woven fabric. Porsche will have two steering wheels – standard and sport, the latter with beefier grips, a 12 o'clock marker, and the drive mode dial – and three seats to choose from: standard, comfort, and sport.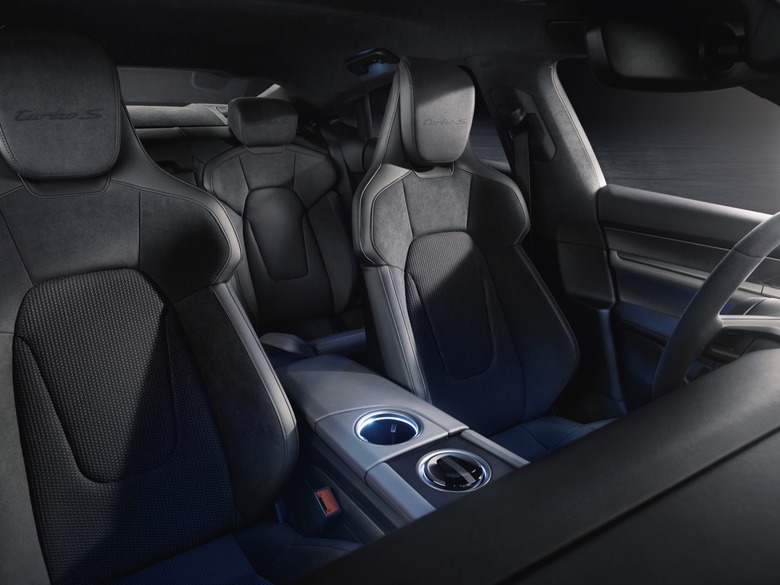 Porsche's next-generation glass roof boasts no cross-member between the B-pillars, and the automaker claims it can do away with a roller sun-screen thanks to its 100-percent UV protection from five layers of glass and film. There's also either two or four zone climate control, with special vents that can either deliver focused or diffused cooling.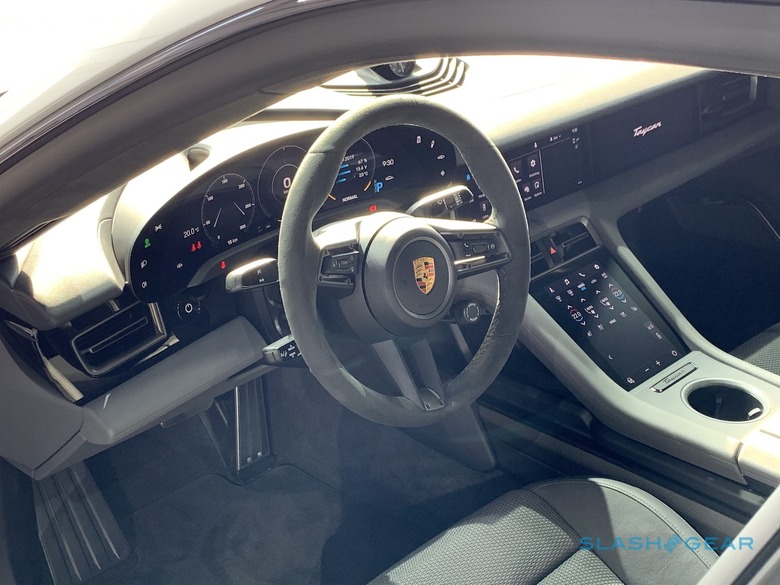 As for practicality, there'll be two cargo spaces: a regular trunk accommodating 12.9 cubic feet, and a front trunk with a further 2.8 cubic feet to play with.
Porsche Taycan price
If there's going to be one controversy about the 2020 Taycan, it's the price. Despite rumors suggesting a sub-$100k price tag, you'll be digging deep for the first models of Porsche's first EV. That's because Porsche is starting at the top.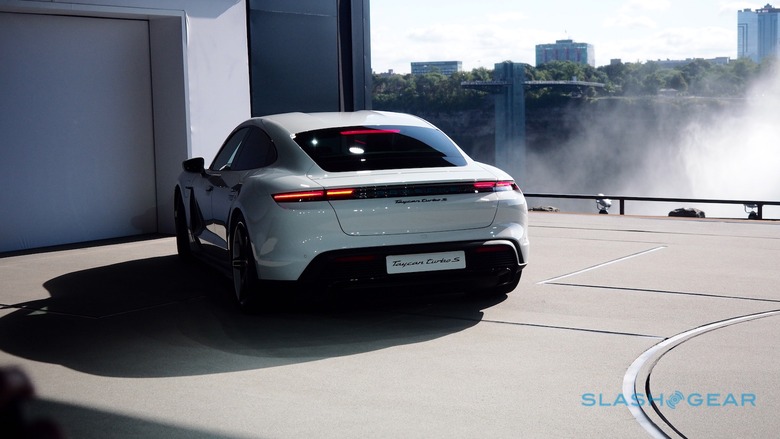 The 2020 Taycan Turbo will start at $150,900 plus destination, while the 2020 Taycan Turbo S will start at $185,000. That reflects the fact that the pair of EVs are among the most powerful models the automaker has in its current line-up, though the Taycan Turbo S does undercut the $189,050 Panamera Turbo S E-Hybrid despite having more horsepower and a faster 0-60 time.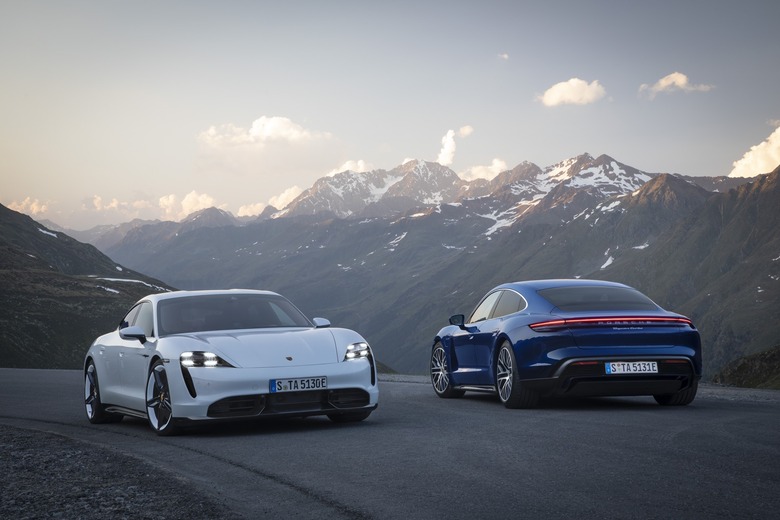 The good news is that more affordable models are in the pipeline. "Less powerful variants of these all-wheel drive vehicles will follow this year," Porsche points out, hinting that if the automaker's nomenclature holds true, we can probably expect a Taycan and Taycan S with more attainable price tags. By the end of 2020, meanwhile, the Taycan Cross Turiosmo will have arrived, offering a crossover variant based on the Mission E Cross Turismo Concept.
Orders of the 2020 Taycan begin in Porsche dealerships in the US now, with deliveries expected later this year.