Porsche Mission E Cross Turismo teases EV crossover to rival Tesla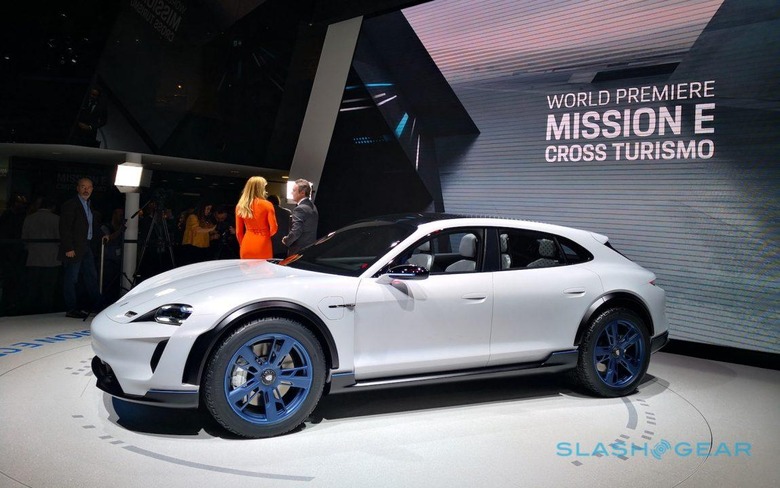 Porsche wasn't expected to bring a new EV to the Geneva Motor Show 2018, so imagine our surprise at seeing the new Porsche Mission E Cross Turismo Concept. A crossover sibling for the Mission E sedan which Porsche plans to launch commercially in 2019, the Mission E Cross Turismo is effectively an electric Macan, or at least a preview of what such a car might resemble.
All-wheel drive is standard, while inside there are four seats. The concept is just over sixteen feet long, and uses the same 800 volt electric architecture as the Mission E sedan. It'll also use the same chargers, though Porsche has added wireless charging for the Mission E Cross Turismo too.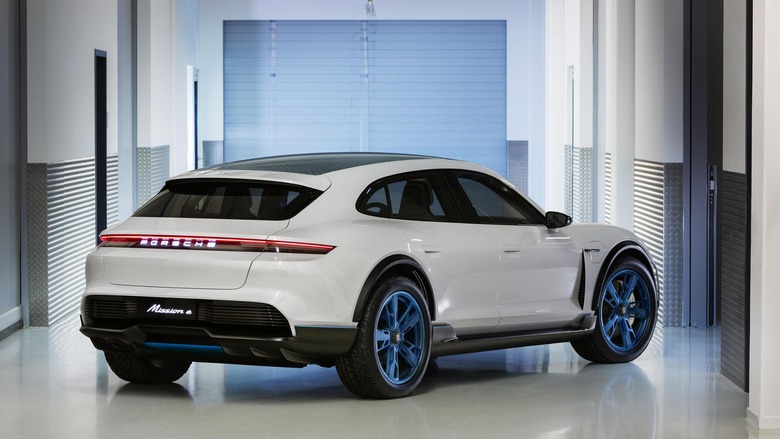 From the outside, it's a blend of Mission E and Macan. The hood is low-cut, dropping deeply between the heavily curved wings. It gets vertical air intakes, too, which act as air curtains for aerodynamic reasons. Matrix LED headlights give the current Porsche daytime running lights an upgrade, with the four-point design used today evolving into narrower, three-dimensional glass elements. Porsche X-Sight high-performance full beams are included, too.
The roofline tapers more significantly than you'd expect from the typical crossover, and is more akin to the Panamera Sport Turismo in fact. 20-inch wheels get bulked-up wheel arch protection, matching the beefier door sills.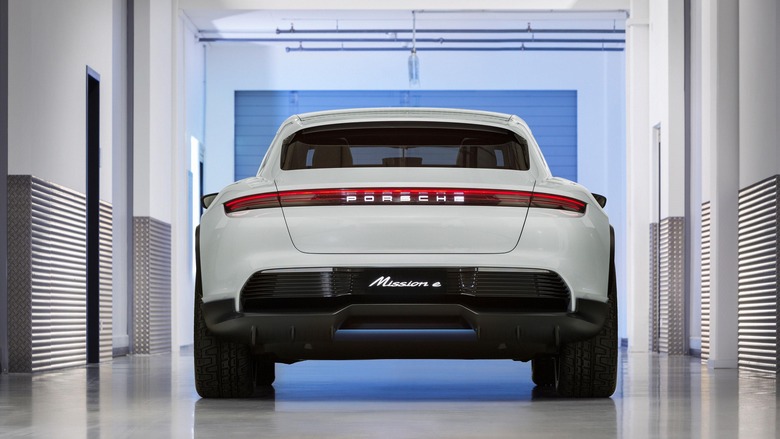 The body-spanning rear light strip runs across the whole width of the 6 foot 6 wide concept, and there's a roof spoiler for extra downforce. The white Porsche logo is actually made of glass, embedded in a three-dimensional cover with a design intended to resemble a circuit board, and lights up. It's not the only LED fun Porsche's designers have had, mind. When the car is charging, for example, the "E" in the Porsche logo pulses, while the circuit board design is illuminated.
Inside, there's a panoramic glass roof and four seats. Porsche has put particular emphasis on flexibility of the cabin, envisaging the Mission E Cross Turismo being of interest to outdoor sports fans. So, the rear seats each have a load-through backrest for fitting skis or other long equipment. Alternatively they fold down altogether, expanding the trunk with its rail system and removable straps.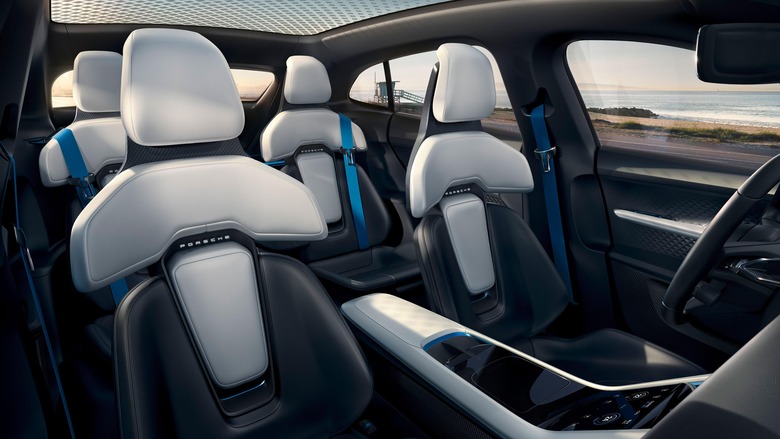 The dashboard gets an extra-wide central display and is topped with a freestanding instrument cluster with digital dials. Porsche has used anodized Nordic Blue trim on the air vents and window lift modules, contrasting with the aniline leather in black and light grey. A head-up display is used, and there's eye-tracking built into the rear-view mirror that can automatically highlight and enlarge whichever virtual gage the driver is currently looking at.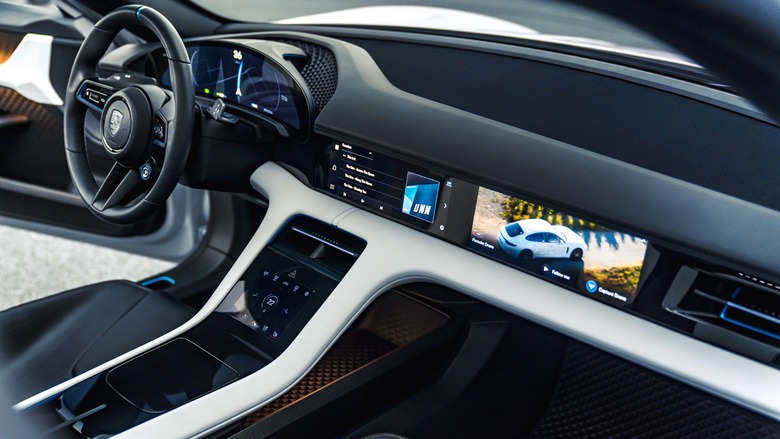 Further touchscreens are in the doors and in the vent modules, for controlling things like the HVAC system. However, Porsche envisages the car's own AI taking charge of much of that.
As for the drivetrain, that uses two motors for more than 600 horsepower. Porsche says the Mission E Cross Turismo could do 0-62 mph in under 3.5 seconds as a result, and hit 124 mph in under 12 seconds. All-wheel drive with Porsche Torque Vectoring is also included, along with adaptive air suspension that can lift the car by up to 50 mm for extra clearance, and Porsche Dynamic Chassis Control (PDCC).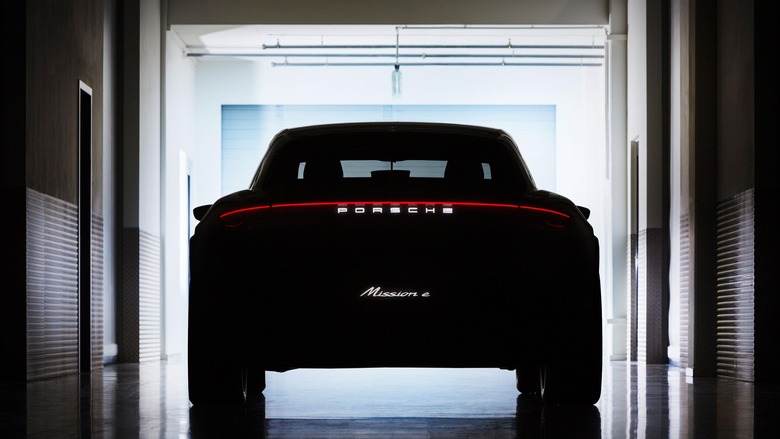 With an 800V-compatible charger, Porsche says the Mission E Cross Turismo could add 250 miles of range in just over 15 minutes. Porsche is also working on its own inductive charger, along with a home energy storage system that, like Tesla's Powerwall, could work with domestic solar panels.
According to Porsche, production is very likely for the new concept. That could happen sooner than you expect, too, the automaker teases, though 2020 at the earliest seems most probable.