2020 Corvette: The price, performance, tech and trim facts you need to know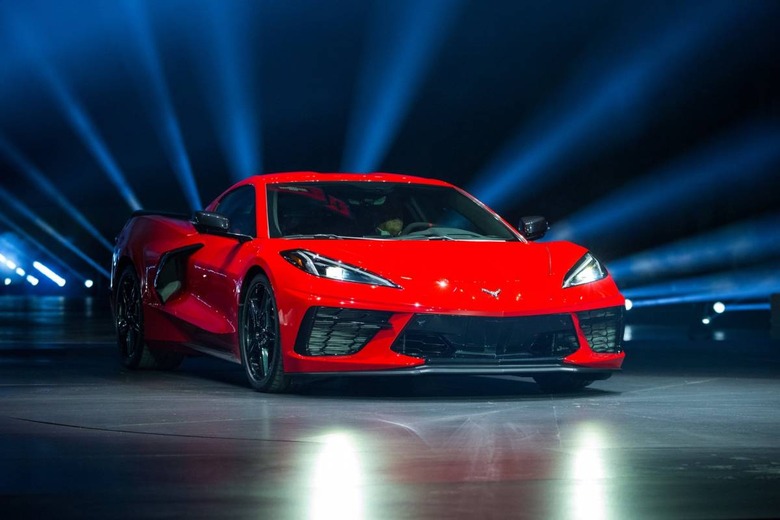 For all we knew about the 2020 Corvette C8, the car Chevrolet unveiled this week still managed to surprise. The latest-generation of Chevy's sports-car-for-the-everyman promises more performance, more striking style, more tech, and more refinement, but without blowing out the price. That's an equation many automakers struggle to get anywhere close to – read on for what you need to know.
The 2020 Corvette's engine may be familiar, but it's a gem
Chevrolet didn't throw out everything from the old Corvette when it designed the C8. The engine is still a 6.2-liter naturally-aspirated V8, now dubbed the LT2, and positioned just behind the cabin under a glass panel so that you can see it. Chevy even made sure the tubes, hoses, bolts, and wires were aesthetically-pleasing, on the assumption that you're going to want to show the LT2 off.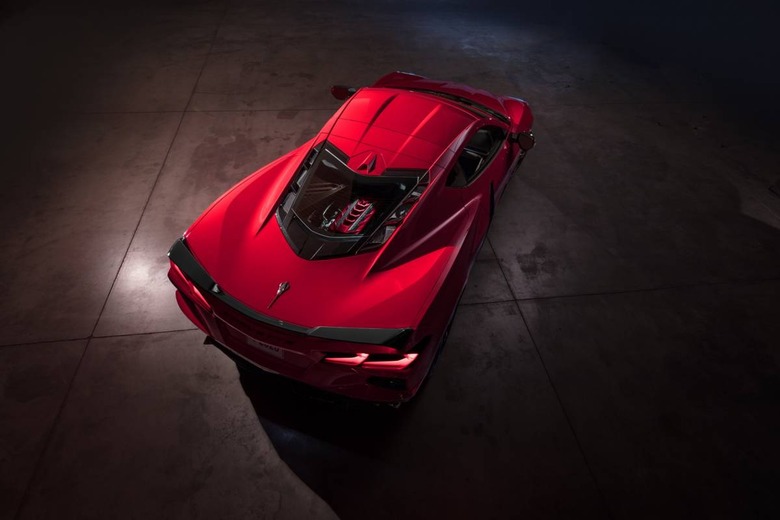 Most of the time, though, the 2020 Corvette will be going too fast to admire its engine. 495 horsepower and 470 lb-ft of torque – when fitted with the Z51 Performance Package's exhaust – are nothing to be ashamed of. While you can certainly find more of each in rival sports cars, it's important to remember that this is Chevrolet's entry-level 2020 Corvette Stingray.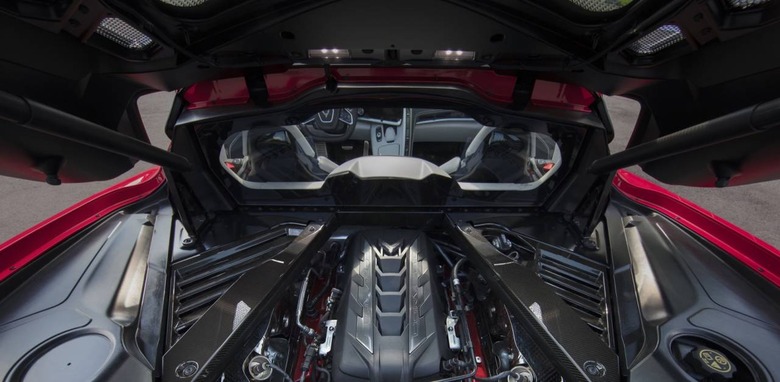 In fact, with the sub-three-second 0-60 mph time that the automaker is promising, you're getting impressively close to the 2.8 second 0-60 dash that an outgoing Corvette ZR1 promised. Considering that car came with 755 horsepower, it's a big vote of confidence for the 2020 model.
Hopefully it's enough to calm you down from the absence of a manual gearbox. The 2020 Corvette is, for the moment at least, only going to offer an 8-speed dual clutch transmission, a first for Chevrolet. There's a very low first gear for getting off the line fast, along with Launch Control, while the top two ratios are taller for better highway cruising.
Metal paddle-shifters allow you to take control yourself, and you can even hold them both in to de-clutch the transmission altogether. Even in auto mode, though, Chevrolet seems confident you won't miss the stick. Its shifting algorithms promise to automatically react to more aggressive driving, doing things like avoiding upshifts when you're pushing the Corvette hard.
The 2020 Corvette is a convertible
So far, Chevrolet has shown off a single body-style for the new Corvette, but it's a flexible one. Like the outgoing coupe, the 2020 C8 has a removable roof panel, which can be detached for open-air motoring. You'll need to pull over and stop in order to actually do it – no on-the-move retraction here – but it's a popular feature among owners and so we're glad to see it carried over for the 2020 model year.
Better still, despite the engine moving from the front to the middle of the car, there's still storage for the roof panel. Chevrolet made sure it could still fit into the rear trunk, which on its own is capacious enough to hold a couple of golf bags.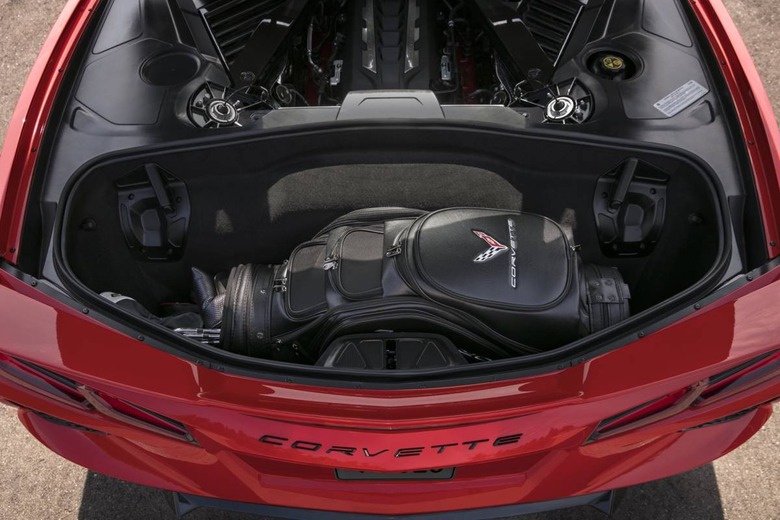 What's particularly neat is that, even if the rear trunk is occupied by the roof panels, there's still readily-accessible space at the front. Pop the hood and you'll find room for a laptop bag and a carry-on sized case, Chevy says. Total cargo volume clocks in at 12.6 cubic feet, almost three times what you could fit in a Porsche 911's frunk.
Keyless entry for not only the doors but the front and rear cargo spaces is standard, which is impressive. The two keys Chevy provides, meanwhile, can be linked to individual driver programs. That way, depending on which key fob is used, the seats and mirror positions will automatically move to your favorite place as soon as the car unlocks.
Down the line, Chevrolet has said, there'll be a "proper" convertible Corvette. That will have a full folding-type roof, rather than the pop-out panels of this first car.
Tech takes center stage in the 2020 Corvette
It's fair to say that previous generations of Corvette haven't exactly been technologically progressive. That all changes with the C8. Whether it's under the skin or inside the cabin, there's a whole lot of gadgetry to play with, if you so wish.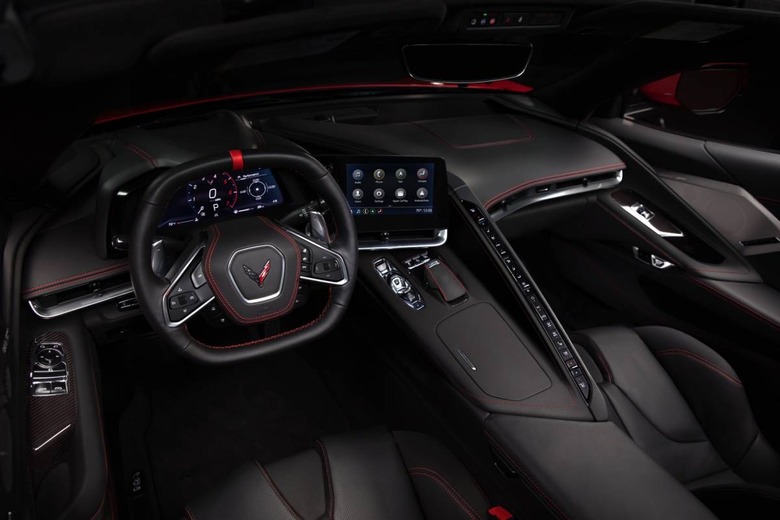 The driver sits in front of a 12-inch customizable cluster display, replacing the analog/digital combo of the outgoing car. There's a second, 8-inch display cantilevered atop the center console, a touchscreen to interact with Chevrolet's latest infotainment system as well as Android Auto and Apple CarPlay. Along with the standard 10-speaker Bose audio system, there's also a 14-speaker premium upgrade available.
The cabin, with its distinctive pod-shaped seating bays and bold center tunnel, has plenty of toys. There's wireless charging for your phone, and one-touch Bluetooth pairing via NFC. Natural language voice recognition should be more flexible than the old system, and there's a tire fill alert that can warn not only if you have a leak, but if a wheel reaches maximum pressure.
Chevrolet's Performance Data Recorder has been upgraded for the 2020 Corvette, too. There's still an HD camera mounted for a front-facing view of the car, and the ability to record track telemetry and overlay that on top of a map of the course. However the PDR is also designed to operate as a dashcam for everyday security, optionally starting recording whenever the Corvette is running, or alternatively only when running in the restricted Valet mode.
One of the best-received new features by Corvette fans at Chevy's big reveal event was the new, optional front lift for the C8. That can raise the nose of the car by approximately 1.57 inches, at speeds up to 24 mph, making it easier to maneuver along steep driveways or over curbs. It's GPS-connected, too: when you trigger the lift manually, the Corvette will ask if you want to save that location and have the car automatically raise next time you're there. Up to 1,000 locations can be stored.
Behind the scenes, that touchscreen opens the door to more configuration and customization for drivers. As before, there are Weather, Tour, Sport, and Track drive modes to choose between. However Chevy has added two new ones for the C8.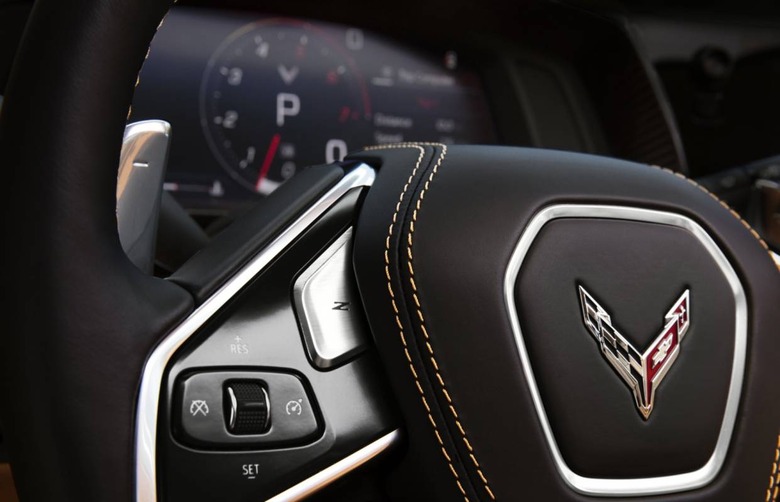 First is MyMode, which allows for configuration of the core settings that remains saved between key cycles. Z mode, meanwhile, gets a dedicated "Z" button on the steering wheel. It allows for deep tweaking of settings, including engine and transmission performance. The idea is that you have your perfect setup stored there, ready to recall when road or track conditions allow.
Promisingly, Chevrolet says that it has designed the Corvette's systems with upgrades in mind. There's now support for over-the-air updates, for example, though it's unclear if that's just for the infotainment package or whether Chevy will be able to install new features and firmware for the car overall without drivers having to take their 'Vette to a dealership.
2020 Corvette customization is king
Its predecessors being some of the most enduring favorites for modifications, the Corvette C8 is getting some attention there right out of the gate from Chevy itself. There'll be a total of 12 exterior colors on offer, including perennial favorites like Torch Red and three new hues – Rapid Blue, Zeus Bronze, and Accelerate Yellow – together with six interior color themes. You can go sober, with Jet Black or Sky Cool Gray, or add more drama with Adrenaline Red, Natural/ Natural Dipped, Two-Tone Blue, or Morello Red.
It doesn't stop there, either. There are a total of six seat belt colors – Black, Blue, Natural, Torch Red, Yellow, and Orange – and two optional stitch packages, Yellow and Red, in place of the standard Sky Cool Gray stitching. You can have either real aluminum or real carbon fiber in the console and door trim plates.
Then there are the seats. The 2020 Corvette gets three options here, spanning all the car's potential applications. At one extreme there's GT1, with Mulan leather trim, optional two-way lumbar support and wing adjustment, and a more comfort-focused design. At the other end of the scale there are the Competition Sport seats, with aggressive bolsters, full Napa seating surfaces and carbon fiber trim on the headrest, heating and ventilation, and an all-new durable performance textile which Chevy says is inspired by Kevlar vests.
In the middle are the GT2 seats. They're Mulan leather with Napa leather inserts and carbon fiber trim, and are intended to offer both a racing-inspired aesthetic with road-trip comfort. They also get two-way lumbar support and wing adjustment, plus heating and ventilation.
The 2020 Corvette is priced to sell
Let's face it, one of our biggest fears wasn't that the new Corvette would be slow, or ugly, but that it would drop Chevrolet's most enduring advantage: aggressive pricing. The rumor machine quickly cranked up into high gear, with suggestions that entry-level Corvette C8 models could end up spiraling up as high as $100,000. Even a sub-$70k price tag seemed unbelievable given the architectural change.
Leave it to Chevrolet to surprise us. Final pricing hasn't been announced yet – that will come later in 2019, closer to the car's on-sale date – but the automaker has confirmed that the 2020 Corvette will start under $60,000. That is, frankly, pretty astonishing.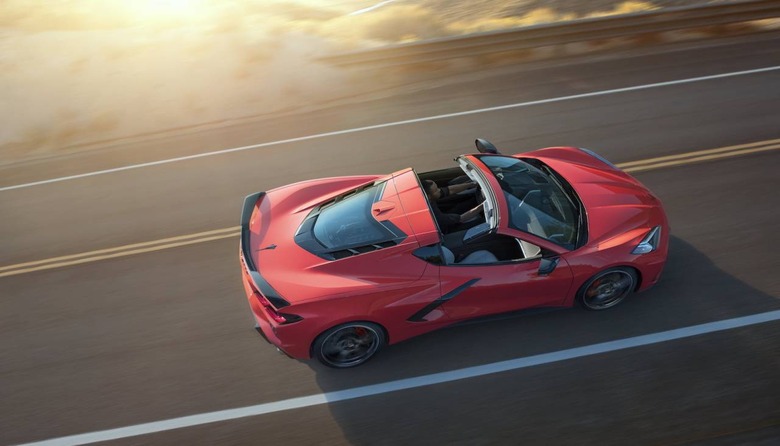 Now, we're under no illusions that a well-specified 2020 Corvette will quickly get expensive. If you want anything other than the base trim, want to change up the wheels, go for the sportier seats, or add things like Magnetic Ride Control 4.0, you're obviously looking at a pricier vehicle. All the same, be sparing with what options boxes you check off and you're looking at supercar-matching performance from something that's still a fraction of the price.
While sales won't start until later in the year, you can already check out Chevrolet's configurator and build your perfect 2020 Stingray. Reservations are also being taken to stake a place in line.