This is the top-of-the-range 2020 Silverado HD High Country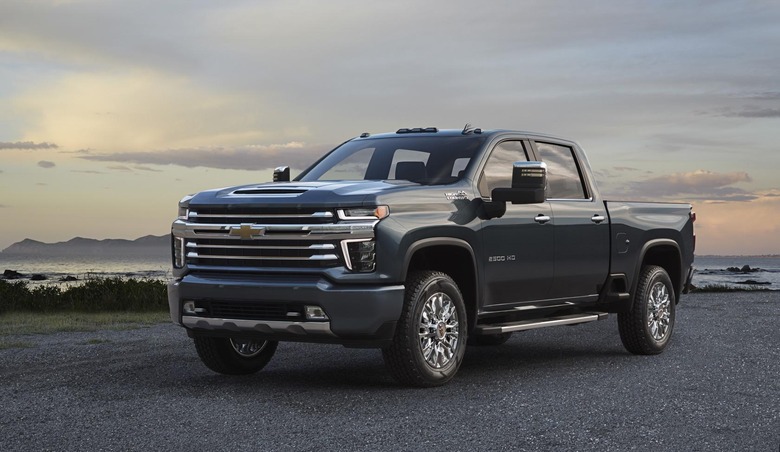 Chevrolet gave you a chance to get used to the 2020 Silverado HD's imposing visage, and now it's showing you how many expressions the heavy-duty truck can make. The five different trim levels for the upcoming pickup have been revealed, and they run the gamut from sober through to glitzy.
The line-up will include the Silverware HD Work Truck, Custom, LT, LTZ, and High Country. While that might sound like a lot, it's actually fairly restrained in comparison to the array of trims Chevy offers on the smaller Silverado 1500. That comes in no fewer than eight different trims.
Top of the range will be the 2020 Silverado HD High Country. That will have a two-tone metallic trim, among other exterior details like lashings to chrome. High Country branding will be punched into the distinctive grille bar which spans the front of the truck.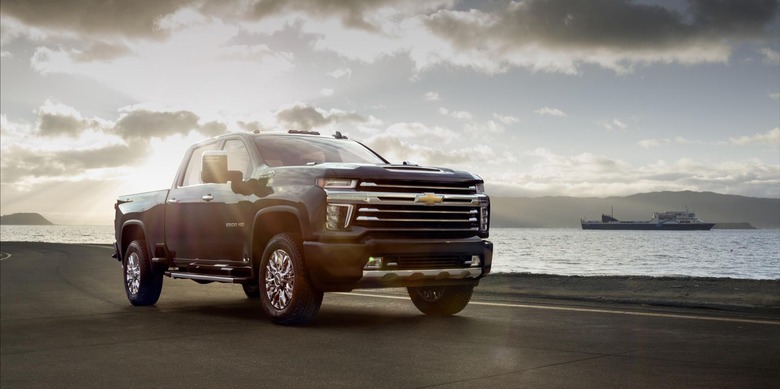 Other models will be more focused on work rather than fashion. The Work Truck, for instance, will be the most focused of the range, while the remaining three will slot in-between with different tech and styling. Some grilles will have the Chevrolet stamped bar on the grille, while others will have automaker's bowtie. Trims will be finished in either black, body color, or chrome.
Exactly how well those combinations will work, we'll have to wait to find out. So far, Chevy has only shown images of the High Country and the 2020 Silverado HD LT. The former is as shiny and eye-catching as you'd expect from a flagship truck, while the latter is more restrained, though still not short on brightwork.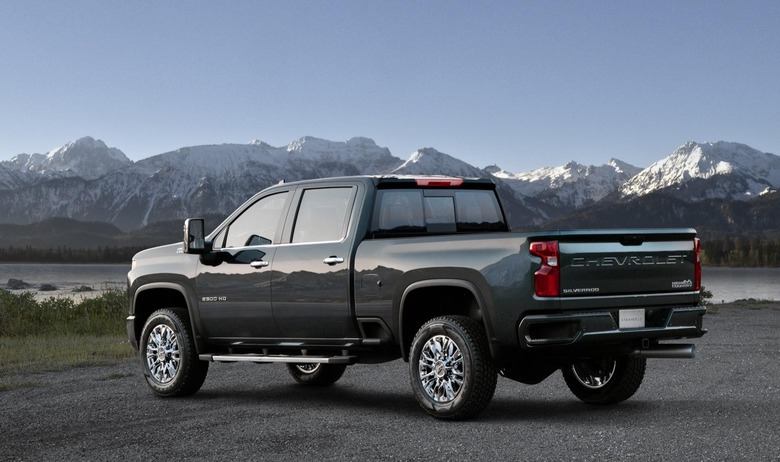 What we do know is the engine options. The 2020 Silverado HD will launch with choice of an all-new direct injection gas engine, with a six speed transmission, or a Durmax Turbo-Diesel V8 with an Allison 10 speed transmission. We only currently have torque numbers for the diesel, but they don't disappoint with its 910 lb-ft. on tap.
Inside there'll be more legroom in the crew cab models, and a boost in technology, too. We're expecting features like Android Auto and Apple CarPlay, which Chevrolet already offered in the Silverado 1500, together with easier to use controls and probably a 4G LTE embedded connection with WiFi hotspot support.
Full spec details – and images of the other three trims – will come closer to the 2020 Silverado HD's launch. That's expected to take place in mid-2019.