2020 Bentley Flying Spur First Drive - Speed and Obsession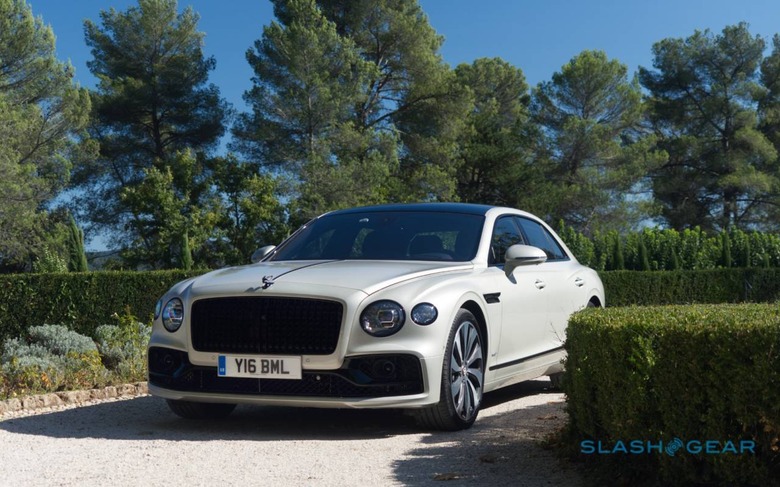 Little more than two minutes behind the wheel of the 2020 Bentley Flying Spur, an opportunity to test its 626 horsepower presents itself. The narrow, twisting streets of Monaco are filled with tourists, rich residents, and buzzing scooters, and few seem motivated to allow the driver of a six-figure luxury sports sedan out from the shadow of the storied Hôtel de Paris and into the hectic traffic.
The playground of the super-rich where Bentley hosted us to drive its newest model is known for its billion dollar harbor, a bobbing bordello of yachts above which the hills of Monte Carlo loom. Even on roads where the lanes are a little more generous, the Flying Spur's 7+ foot width can be a anxious thing to pilot. Here, a city where space is at an expensive premium, my heart is permanently lodged in my mouth.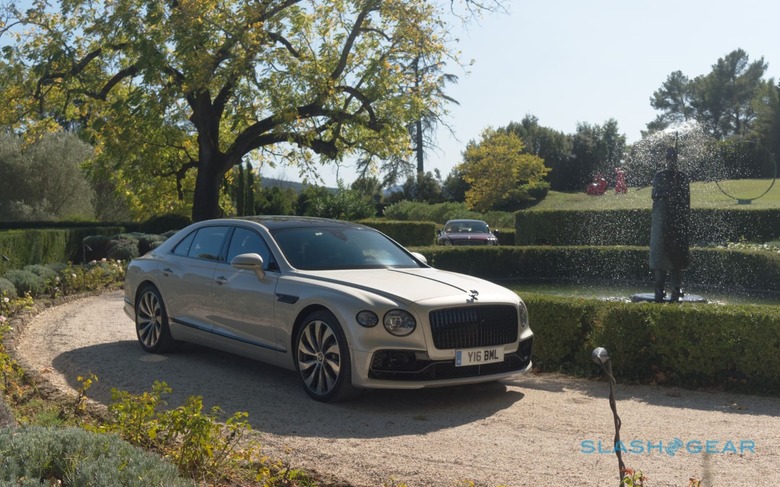 There is a lot of car to damage after all. This third-generation Flying Spur is 17 feet 5 inches in length, the now-familiar grille first seen on the Continental GT gracing the prow of a supple, elegant sedan. The body is now aluminum rather than the steel of before, both stiffer and lighter, while Bentley's homegrown manufacturing processes like "Superforming" allow it to craft hitherto-impossible curves alongside crisp feature lines.
It is bold and deliberate and so, I realize, must I be. A true Bentley Boy acts first and makes his apologies later, of course. You can either wait for a gap in traffic, or you can create your own with sheer heft and intent: all that's needed is to hit the accelerator.
The power available is astonishing. Bentley's 6.0-liter twin-turbocharged W12 engine delivers torque like a waterfall, 664 lb-ft arriving at a mere 1,350 rpm. Horsepower, too, is at supercar levels.
0 to 60 mph arrives in 3.7 seconds. Top speed is a heady 207 mph. But neither figure quite prepares you for the experience of going fast in the Flying Spur.
Graze the gas pedal and the car surges forward with an urgency quite at odds with the Bentley's size and weight. Press more eagerly, and we're talking rollercoaster, steam train, rocket-ship levels of thrust. The eight-speed dual-clutch gearbox is presumably swapping cogs and shuffling through its ratios in the background, but it's done so smoothly and with such nonchalance that it's easy to forget it's there at all. Think of it like a swan, all grace on the surface as its little flippers flail away under the water, only somebody has attached a solid-stage booster rocket to its plumage.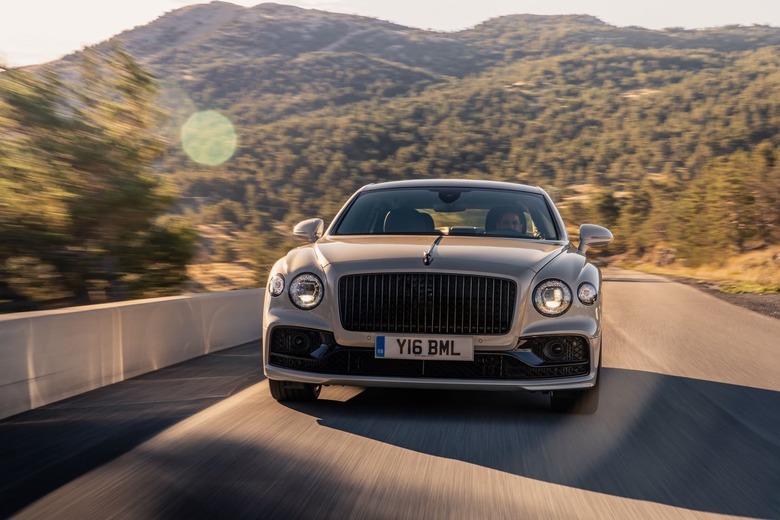 Unlike ballistic wildlife, though, there's an expectation that the Flying Spur will eventually reach a corner. I'll confess, with its curb weight just shy of 5,400 pounds, I was a little concerned that Bentley's fight with physics wouldn't prove to be the car's undoing. That I'm not still in a ditch now is the result of both fiendishly clever engineering and brute force.
The latter comes from some frankly massive brakes. 16.54 inch ventilated iron discs at the front, with 10-piston calipers; 14.96 inch versions at the rear, with four-pistons. Carbon ceramic brakes will eventually be an option, but unless you're taking the Flying Spur to track days – and if you are, please, please invite me along with you – I struggle to imagine the standard slowing force on tap being deemed insufficient.
Like the Continental GT before it, though, Bentley has given the Flying Spur a far more interesting chassis and suspension system, so that you might not need to be quite so heavy on those brakes. The old car was permanently all-wheel drive, with a fixed power split front to rear. This 2020 Flying Spur is all-wheel drive as standard too, but it can adjust the flow of power depending on the drive mode and road conditions.
Normally, it's rear-wheel drive. In Comfort and Bentley modes – the latter the automaker's default blend of performance and plush – up to around 53-percent of the total torque can be pushed to the front wheels, situation depending. In Sport mode, up to around 31-percent can be shifted to the front.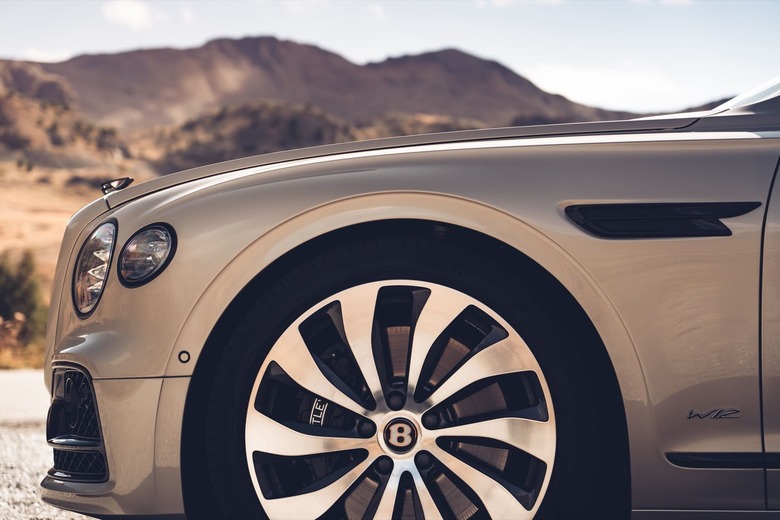 Through judicious application of the brakes, Bentley can offer torque vectoring: adjusting the balance of power between the left and right wheels. The new three-chamber suspension springs have 60-percent more air capacity, allowing for a greater range of responsiveness, while 48V active anti-roll bars front and rear allow the Flying Spur to rapidly stiffen or disconnect what's happening at each wheel.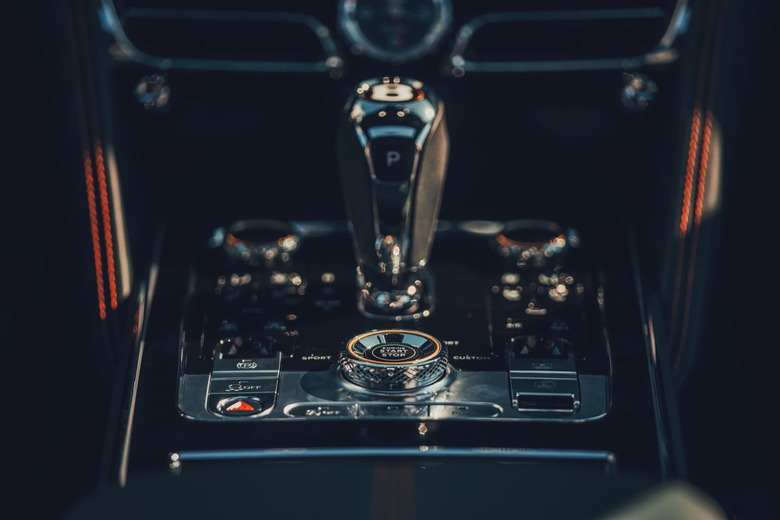 Snicking the drive mode knob between modes corrals all those settings and adjustments automatically, Bentley's systems doing the heavy-lifting in the background. The same could be said of the all-wheel steering, a first for the automaker, which – by turning the rear wheels either counter to, or in tandem with, those at the front, vehicle speed depending – the Flying Spur can effectively shrink its wheelbase a little, or gain greater stability at high speed maneuvering.
Few cars represent such beguiling excess at both ends of the spectrum. There's little out there are smooth, as cosseting, as supple as a Flying Spur driven with measured restraint. Sprawled out in the back seat, my head resting on a tiny pillow stuffed, I suspect, with naught but clouds, I questioned why anybody would opt for another form of transport, even for cross-country jaunts.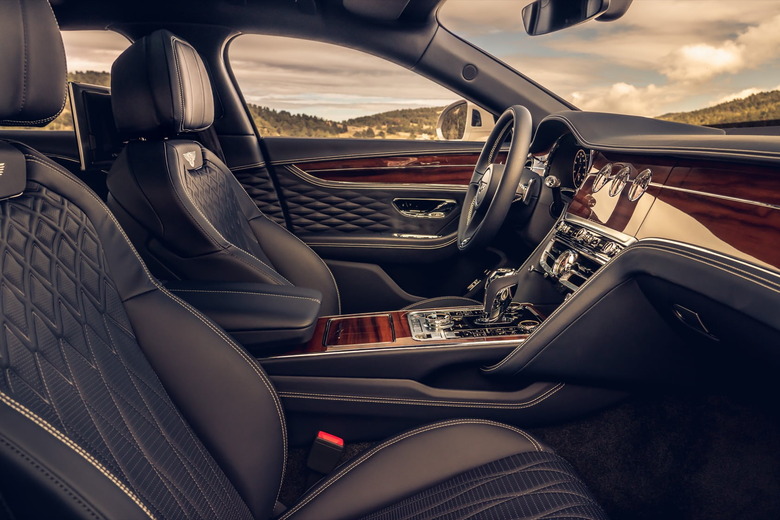 At the wheel, though, the Flying Spur is a legitimate sports sedan. I'm unlikely to be alone in wondering what will happen when – as seems inevitable – Bentley's V8 engine finds its way under the shapely hood. As we saw in the Continental GT and Bentayga before it, that V8 may be down on power versus the profligate W12, but it makes up for that with eagerness and fury. It should sound a little more ebullient, too; the muted growl of this six-liter and its twelve cylinders is on the restrained side, even when you're pushing hard. Bentley has also committed to making electrified versions of its range, too, by 2023.
When the new Continental GT launched, its speed and its style weren't the only criteria worth noting. Third of the improvement trifecta was the quality of its cabin, and that's something carried over to this four-door sedan, too.
It's subjective, but I think Bentley is at the top of the game when it comes to car interiors right now, at least from a craftsmanship perspective. The combination of VW Group technology and Crewe's legion of artisans – variously skilled in working leather, wood, metal, and other materials into achingly beautiful trim and upholstery – leaves the Flying Spur's cabin a stupendously sumptuous place to spend time. Not to mention one with a huge scope for personalization.
As with the exterior paint, the list of cabin treatments is really just a jumping-off point. You could go old-school, with two-tone leather and swathes of perfectly bookended wood veneer, or create a visual distinction between front and rear by having a dark front compartment, say, but light finishes in the rear. Or, reflecting Bentley's growing appeal among comparatively younger drivers, you could eschew the heydays even further and opt for a new breed of more technical finishes that combine modern style with hand-made artistry.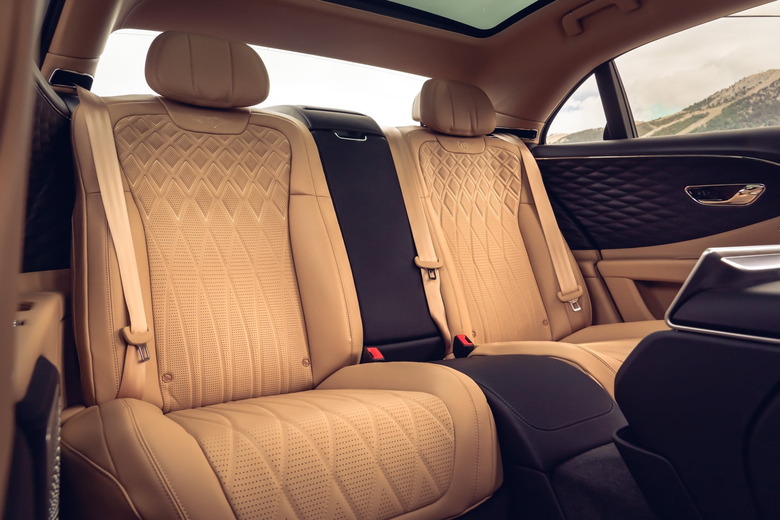 A good example is the 3D diamond-quilted leather, which is now available on the Flying Spur's door panels. Traditionally, if you need to quilt a material, you stitch it. Bentley, though, wanted to do away with the seams and deliver a cleaner, more geometric look. Its homegrown process for that involves soaking sheets of hide until they're pliable, and then shaping them over a form until crisp, mesmeric pyramids are created. Come 2020, you'll be able to specify 3D wood panels too, another sidelong reinterpretation of what luxury in the modern vehicle looks and feels like.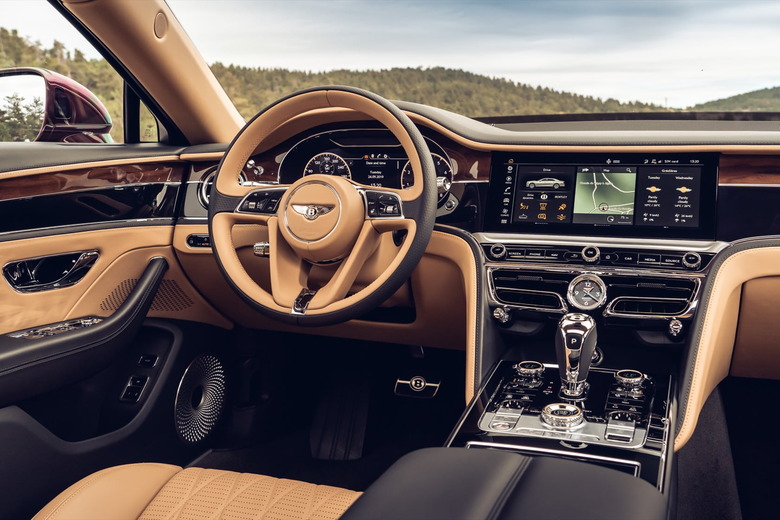 Those in the front get a 12.3-inch central touchscreen with navigation, Apple CarPlay, and a choice of three audio systems. The standard, 650W option with its 10 speakers can be upgraded to a 16-speaker, 1,500W Bang & Olufsen version which sounds, frankly, stupendous. More excessive still is the 2,200W Naim system, which for $8,800 brings a whole 19 speakers to the party. Only the foolish would skip the $6,365 Bentley Rotating Display option, which sends the touchscreen tumbling around to reveal either a clean sheet of veneer or a trio of analog gages.
All of the driver's instrumentation is digital, and Bentley's switchgear is a tactile mixture of brushed aluminum and piano black. Only the odd inclusion of what look like borrowed Audi steering wheel buttons jar the eye. In the rear, there's a new touchscreen remote which slides out to offer control over the multimedia, HVAC, seat positions and massage, remotely program the navigation, and even control the pop-out Bentley flying "B" on the hood.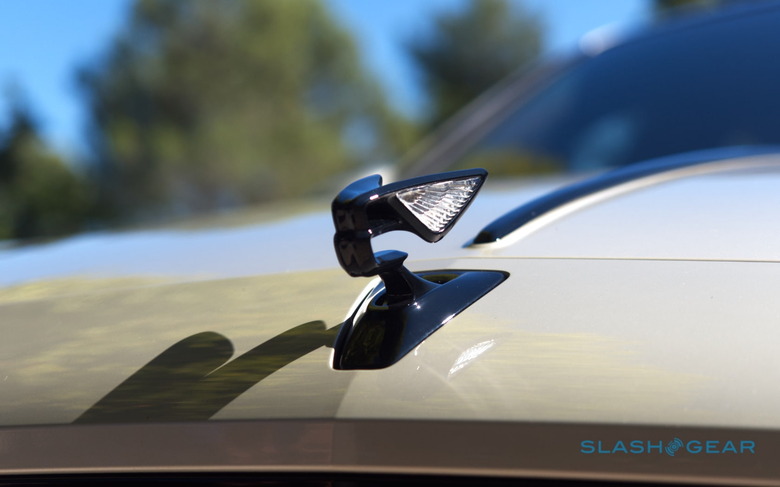 If your first reaction was to ask "why would the person in the back need to control the hood mascot?" then, frankly, you're not yet in the Flying Spur frame of mind. A suspense of skepticism is required here, more so than with most luxury or performance cars, simply because the gulf between those alternatives and what Bentley offers is so vast.
Yes, the $214,600 starting price is considerable, and yes the $14,680 you'll spend on the Mulliner Driving Specification, or $8,385 on the Touring Specification, are hardly small change. Take advantage of those artisans in leather and wood, and you could easily spend a whole lot more.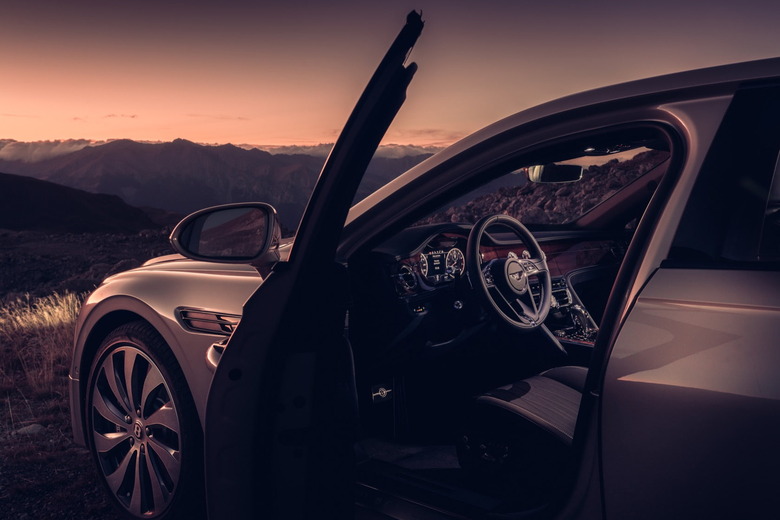 At 4:30am on a crisp Wednesday morning in Monaco, even before the sun has cast its first long light across the yachts in the harbor, there are still tourists in the main plaza. I may be a nobody in jeans and a t-shirt, but smartphone cameras still point in my direction as I step sleepily down from the gilded lobby of the Hôtel de Paris and into the oxblood cabin of a waiting Flying Spur. They might not recognize what, exactly, it is, but my dawn audience knows enough to see that Bentley's sports sedan is as much occasion as it is automobile.
Perhaps you'd get some of that in a Rolls-Royce Ghost: a little more serious and, while powerful, a lot less rakish than the Flying Spur. No other modern four-door really comes close. Perfection is, as ever, a target and not a destination, but as ways to try to get there go, the 2020 Flying Spur has no equal.