Aston Martin DBS Superleggera Volante sees luxe GT go open-air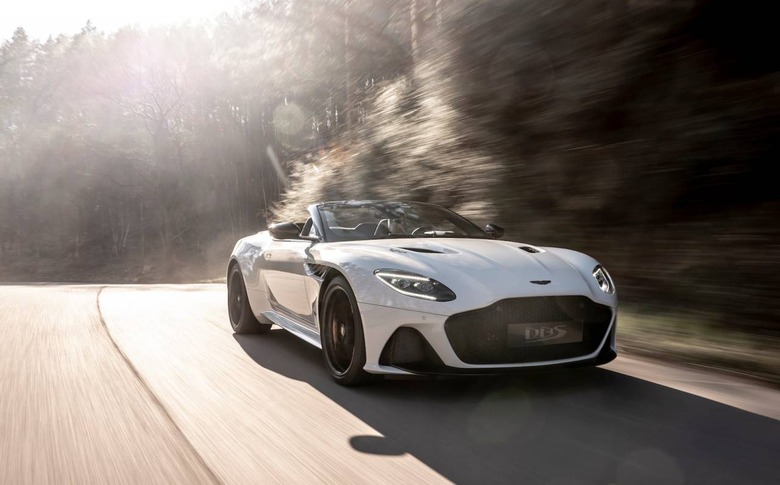 Aston Martin has sliced the top off its beautiful GT, with the new DBS Superleggera Volante removing the roof to make hearing the 715 horsepower V12 even easier. The convertible version of the 2019 DBS Superleggera, this new car is in fact the fastest drop-top in Aston Martin's history, so the company claims.
Its 5.2-liter V12 delivers not only those 715 horses – with peak power arriving at 6,500 rpm – but 664 lb-ft of torque from 1,800 rpm. It's enough for a top speed of 211 mph, Aston Martin says.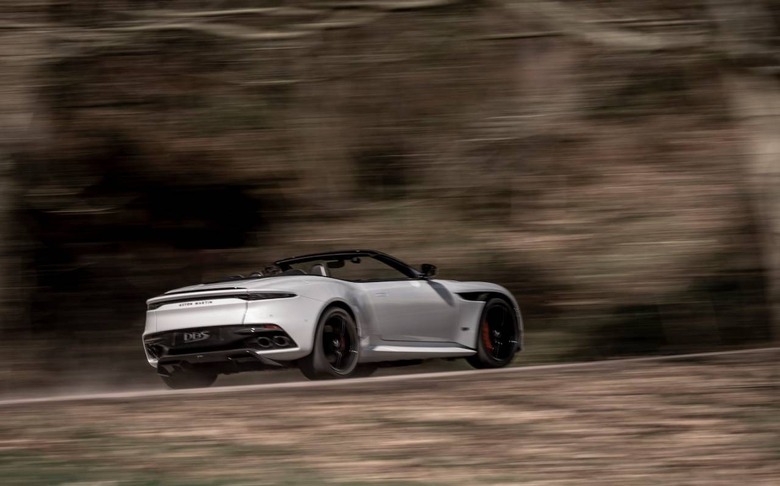 0-62 mph comes in just 3.6 seconds, while 0-100 mph takes 6.7 seconds. The car uses a new ZF 8-speed automatic transmission, which Aston Martin says has been specially beefed-up to deal with all the torque from the V12. A shorter final drive ratio delivers speedier in-gear acceleration, too.
The big difference, of course, is the soft-top roof. In the case of this particular Volante, it's an eight-layer sandwich of insulation and acoustic enhancement, and will be available in eight colors. They'll include Bordeaux Red, Atlantic Blue, and Titan Grey. Inside, there'll be a choice of six different headliners.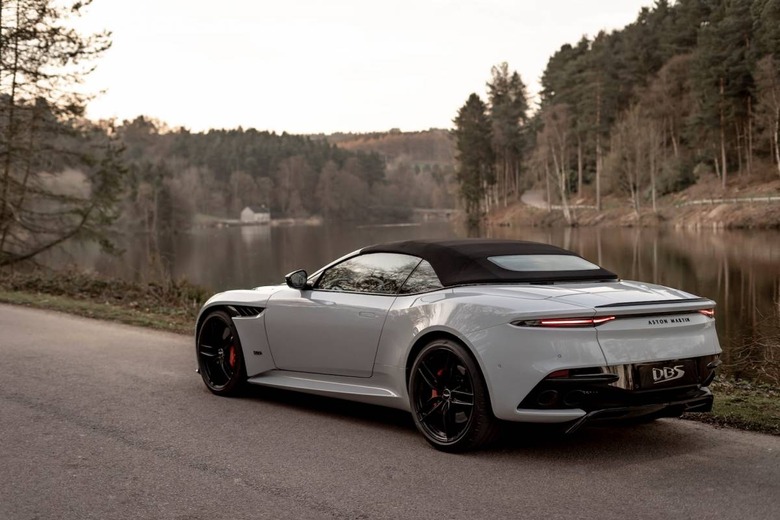 Aston Martin is also offering a 2x2 twill carbon fiber finish to the window screen surround, and even the option to expand that to the tonneau cover and rear waterfall. The roof opens in 14 seconds and closes in 16 seconds, and can be controlled either from within the car or from the DBS Superleggera Volante's key. The automaker said it tested the mechanism through more than 100,000 cycles, effectively condensing a decade of use into a month.
Despite the change in top, aerodynamics remain impressive. The DBS Superleggera Volante delivers up to 390 pounds of downforce, Aston Martin says, under 7 pounds less than the coupe. The front splitter and air dam work together to accelerate airflow under the car for more downforce. A deeper side strake helps remove lift and add high-speed stability, by drawing more air from the front wheel arch.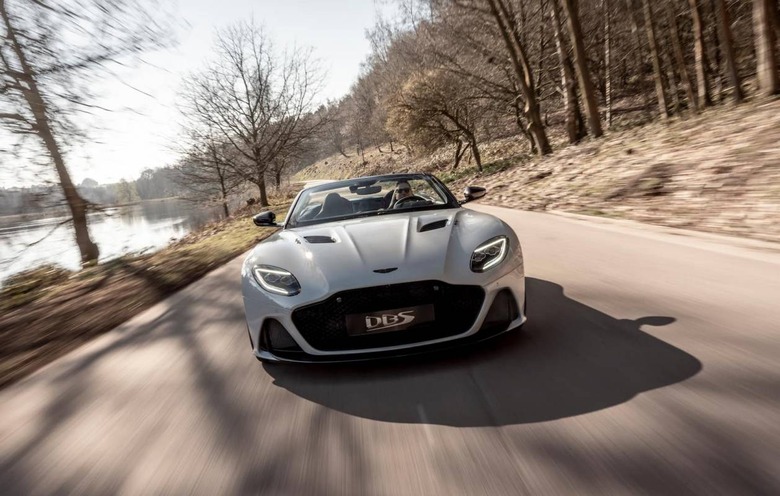 As for the rear, there's a double diffuser and a new version of the Aeroblade II system, specially designed for the convertible. Aston Martin then adds carbon ceramic brakes all-round – 410mm at the front, and 360mm at the rear – and 21-inch ten-spoke silver wheels with Pirelli P Zero rubber. Like the coupe, there's front independent double wishbone suspension and rear multi-link, with adaptive damping.
Aston Martin offers multiple drive modes, each affecting engine responsiveness and sound, along with suspension, transmission, and other settings. Things kick off at GT, and then escalate through Sport and finally Sport Plus. A "quiet start" option makes the Volante less vocal when it's too early to wake the neighbors.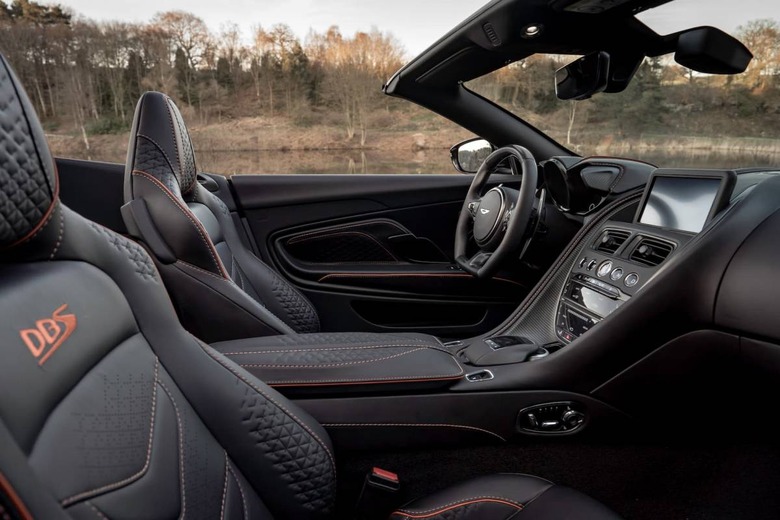 Inside, there's Aston Martin's audio system and an 8-inch display as standard, along with a 360-degree camera system. Options include a Bang & Olufsen audio upgrade, ventilated seats, full leather trim, and various different combinations of carbon fiber in a variety of finishes. The automaker has various different wheels, caliper colors, louver finishes, and more.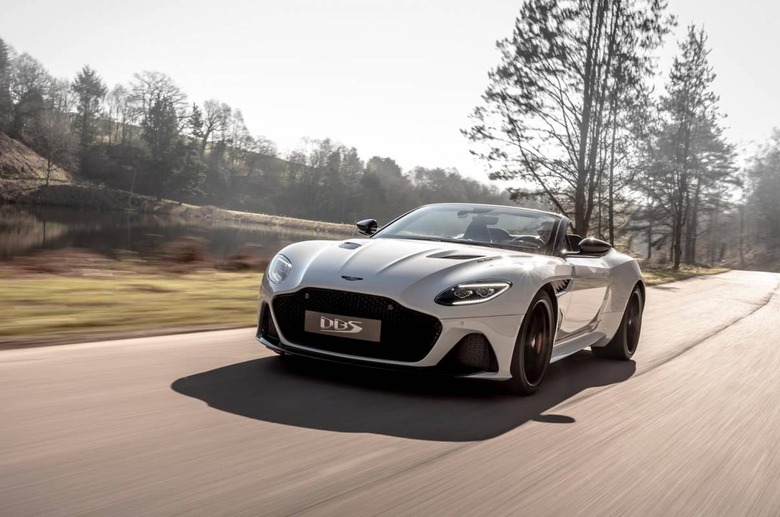 Even as standard, though, it'll arrive with a premium price tag. Aston Martin says the DBS Superleggera Volante will start at $329,100 in the US – or roughly a $24k premium over the coupe – with deliveries expected to begin from Q3 of this year.