2020 Alpina B7 gives new BMW 7 Series the M7 it deserves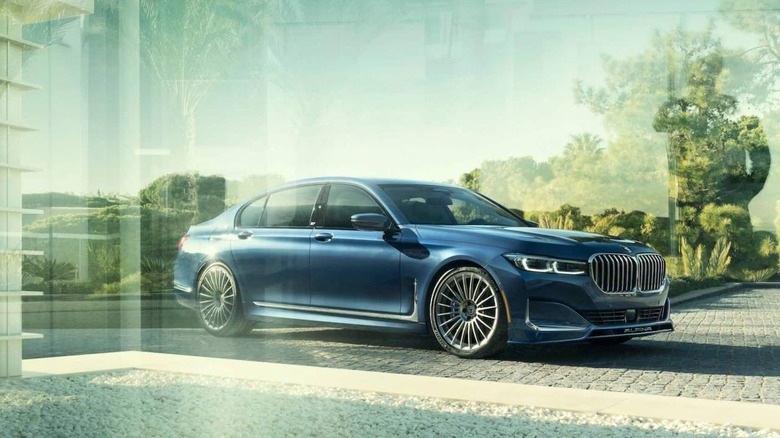 Few would turn their noses up at a BMW 7 Series, but for those in the know it's the new 2020 Alpina B7 that has heads turning. Alpina may not be a household name, but the company's handiwork turning mainstream BMW cars into sports-focused specials means the new 2020 B7 is worth paying attention to.
As you'd expect, it's based on the 2020 BMW 7 Series, which the automaker revealed last month. That's already shaping up to be a seriously fast luxury sedan. The 2020 M760i xDrive, for example, packs a 6.6-liter V12 with 600 horsepower and 627 lb-ft of torque, with BMW promising 0-60 mph in just 3.6 seconds.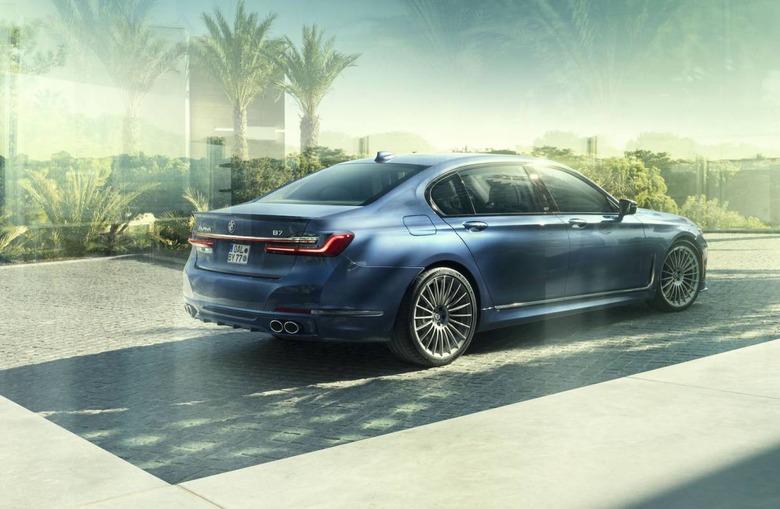 The 2020 Alpina B7, however, takes a different route to its top speed. Like the previous B7, this 6th generation car uses a 4.4-liter twin-turbocharged V8; that matches the M760i's 600 horsepower, though – at 590 lb-ft – not quite its torque. However there's more to going fast than just raw power.
Alpina has updated its turbochargers, along with interconnecting the engine's intercoolers. That allows peak torque to arrive at 2,000 rpm, rather than 3,000 rpm. The outcome, the tuners claim, is "significantly improved throttle response" and a noticeable performance gain where you'll actually see it.
The result is 0-60 mph in 3.5 seconds, shaving a tenth of a second off both the new 2020 M760i and, indeed, the old B7. Top speed is now 205 mph, up from the 194 mph of the old car. BMW electronically limits the M760i to 155 mph.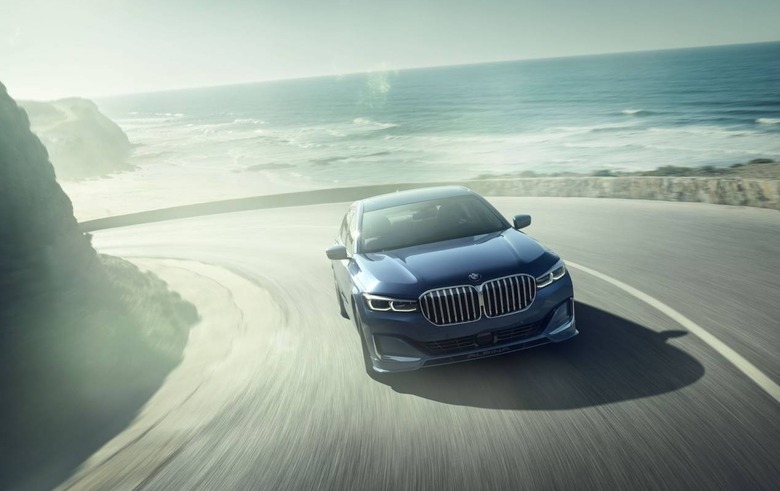 The V8 is paired with an 8-speed sport automatic transmission from ZF, with Alpina Switch-Tronic and a full software makeover. Switch into Sport Mode and the shift times have been cut over the old B7; extra reinforcement inside the gearbox, meanwhile, allows for upshifts with no cut in torque.
Two-axle air suspension with dynamic damper control and active comfort drive with road preview are standard, as is active roll stabilization. Rear axle steering has been included, and the 2020 B7 will use navigation data, a forward-facing stereo camera, and past driving style information to pre-emptively adjust the chassis settings to suit the road ahead. In Sport+ Mode – or when the car is driving above 140 mph – it drops 0.6-inches to improve handling.
Conversely, the 2020 B7 can be raised by up to 0.8-inches over its usual ride height, for better ground clearance at low speeds. Alpina's drive modes range from Comfort+ through to Sport+, so that none of the 7 Series' luxury credentials are lost along the way.
20-inch Alpina Classic wheels with Michelin rubber are standard, as are 4-piston fixed calipers on the front wheels with 15.55-inch discs, and floating calipers at the rear with 15.67-inch discs. 21-inch Alpina Classic wheels – which cut more than 20-percent of unsprung mass per wheel – are optional. All-wheel drive is standard.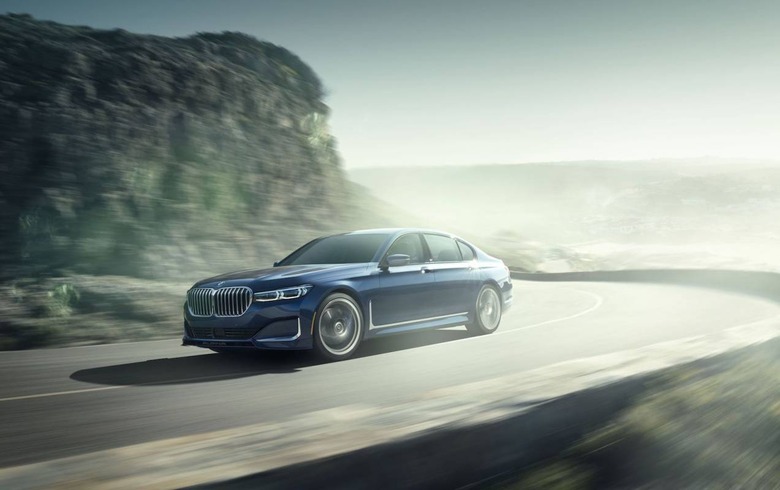 As for styling, Alpina isn't of the school of excessive design changes for their own sake. For the 2020 B7, then, there's a new front bumper with functional air intakes and new horizontal character lines, to offset the new 7 Series' oversized kidney grille. A compact rear spoiler helps cut lift to almost zero, Alpina says, and there are twin elliptical tailpipes which are integrated into the rear bumper. Alpina Blue Metallic and Alpina Green Metallic paint are exclusive to the car, though buyers can also choose from BMW's other finishes.
Inside, Nappa leather, multifunction comfort search, ceramic inserts on key controls, and soft-close doors are standard. The steering wheel gets hand-finished leather with blue and green Alpina stitching, and there's a choice of Piano lacquer or Myrtle Luxury Wood trim. The digital instrumentation has Alpina-specific graphics.
MORE 2017 BMW Alpina B7 Review
BMW's active safety tech is either included or available, with the Active Driving Assistant package fitted as standard. The has lane departure warning blind spot detection, cross traffic alerts, adaptive cruise control with auto-lane keeping and auto-lane change, and more. Extended Traffic Jam Assist allows for hands-free automatic driving in divided highway traffic at up to 37mph, using a driver-attention camera system.
All in all, the 2020 Alpina B7 is the 7 Series for the driver who wants a niche within a niche. Certainly, you're unlikely to see many others on the road: in 2017, for example, Alpina produced a total of just 1,650 cars.
Sales of the 2020 B7 will kick off in Q3 2019. In the US, it'll be available through BMW dealers and priced from $141,700 (plus $995 destination).