2020 BMW 7 Series gets a huge grille, tech and hybrid update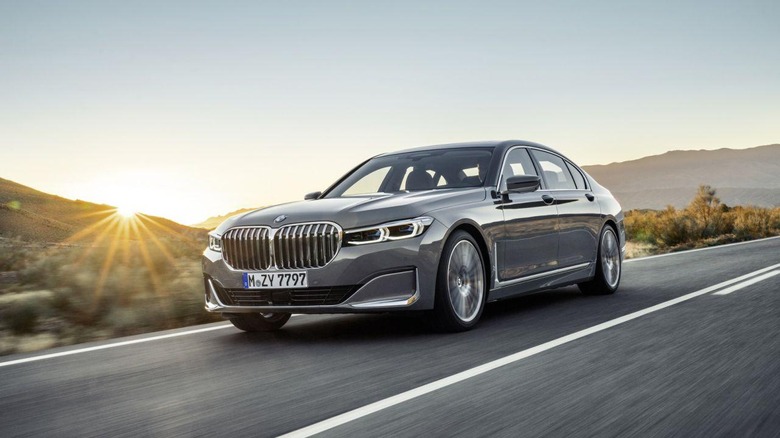 The 2020 BMW 7 Series has been revealed, and anybody who predicted SUVs and crossovers would be the death of big luxury sedans might want to think again. An update to the sixth generation car, the new 2020 7 Series heaps on more technology and more aggressive styling, in addition to welcoming a new 6-cylinder plug-in hybrid version to the range.
The 6th-gen 7 Series has, BMW says, been its most successful of the series yet. Still, time waits for no automaker, particularly when it comes to luxury flagships. Buyers expect the cutting-edge, and when rivals are all too willing to give it to them in the hope of coaxing out a six-figure sale, not keeping your sedan fresh is the kiss of death.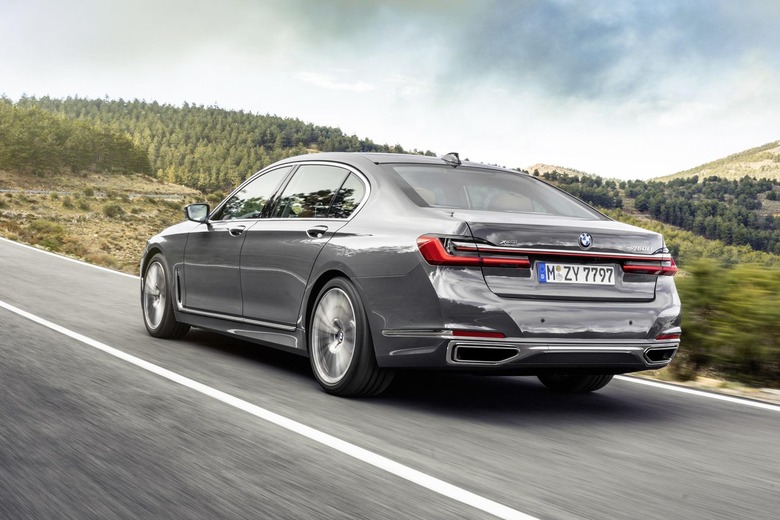 2020 BMW 7 Series style
Outside, the 2020 7 Series picks up styling cues from other recent BMW models. The oversized kidney grille is probably the most obvious change, now with a single-piece surround. It's a full 40-percent larger in surface area than the old grille, BMW says, and now features aluminum satin vanes as standard.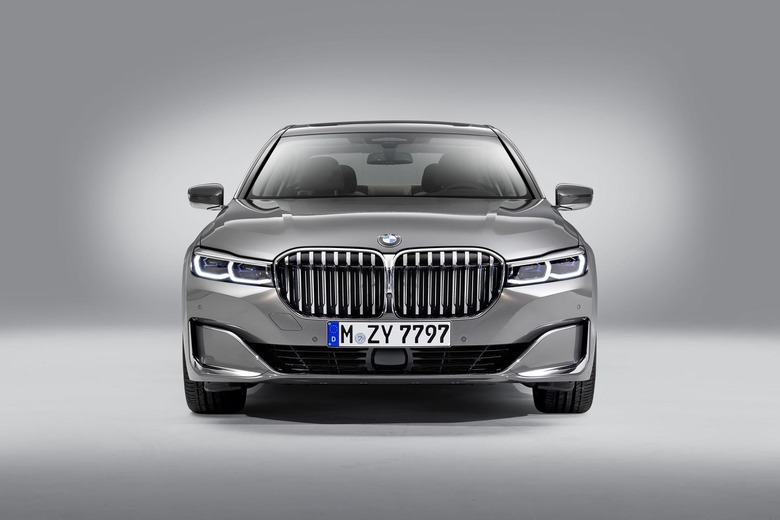 2020 7 Series M Sport cars will get high-gloss chrome or black vanes, meanwhile, while the new BMW M760Li xDrive Sedan will have a grille surround and Cerium Grey bars. Whatever the finish, the new maw sits on a fascia now two inches taller at its highest point than before.
Contrasting with the expanded grille, meanwhile, are slimmer headlamps. Adaptive Full LED lights are standard, but BMW will offer its Laserlight headlamps as an option. Below them are new fenders and bumpers, while the hood is more sculpted.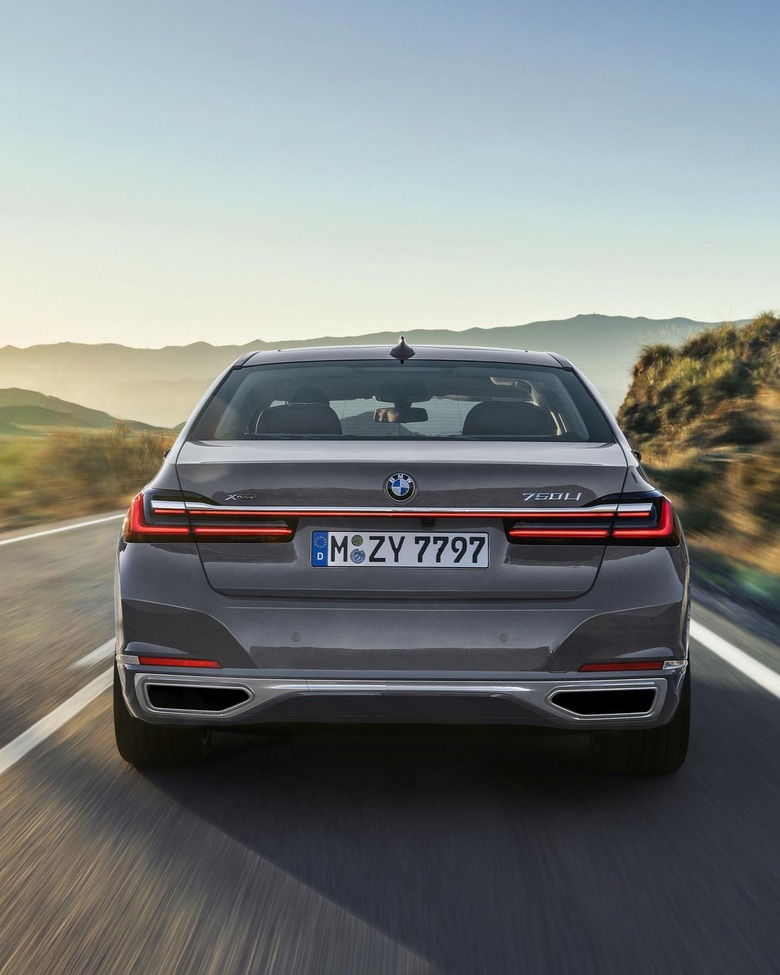 At the back, the exhaust system surrounds are wider, and will be chrome finished on regular cars and Cerium Grey on M Sport models. LED three-dimensional taillamps are now 1.4-inches slimmer than before, and are joined together by a 0.2-inch wide light strip that spans the tailgate. In-between, there are new side mirrors with a more slender mount.
For the 2020 BMW 740i, 2020 740i xDrive, and 2020 745e xDrive sedans, 18-inch light-alloy wheels and all-season run-flat rubber are standard. The 2020 750i xDrive steps up to 19-inch wheels with all-season run-flat tires; the 2020 M760i xDrive sedan goes for 20-inch wheels and performance run-flat tires. Up to 20-inch wheels are optional on the other cars, apart from the new 745e xDrive sedan, which tops out at 19-inch wheels.
2020 BMW 7 Series hybrid, V12, V8 and six-cylinder engines
Under its hood, the 2020 745e xDrive gets a new hybrid drivetrain based on a six-cylinder, inline engine. That contributes 280 horsepower to an electric motor with 113 horsepower, for a total in Sport mode of 389 hp and up to 442 lb-ft of torque. 0-60 mph arrives in 4.9 seconds. A larger 12 kWh li-ion battery has been fitted under the rear seats, but BMW isn't saying what electric-only range will be yet.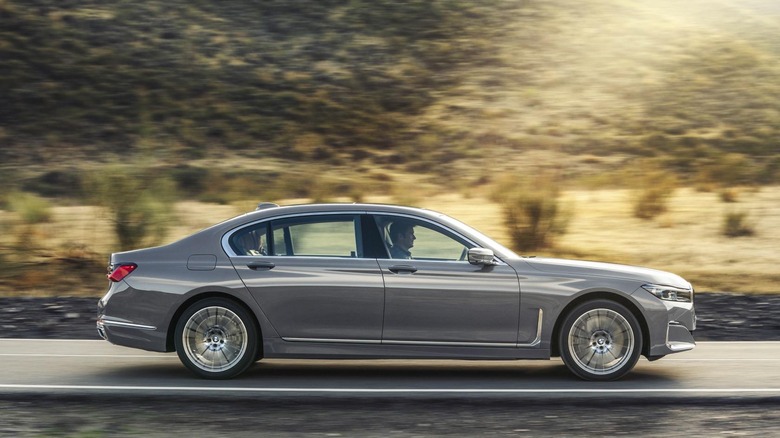 Then there's the 3.0-liter six-cylinder inline engine in the 2020 BMW 740i and 740i xDrive. That gets a twin-scroll turbocharger and delivers 335hp and 330 lb-ft of torque. In the 740i that adds up to a 5.3 second 0-60 time, while the xDrive model's all-wheel drive cuts it to 4.8 seconds.
A new 4.4-liter V8 engine has arrived in the 2020 750i xDrive, now with 523hp and 553 lb-ft of torque. That's 80hp and 74 lb-ft more than the outgoing engine, respectively, and enough for a 0-60 mph time of 3.9 seconds.
Then there's the 2020 BMW M760i xDrive, which continues to offer one of the few remaining V12 engines around. Its 6.6-liters get 600 horsepower, while the 627 lb-ft of torque arrives from as low as 1,550 rpm. 0-60 mph comes in 3.6 seconds, and the top speed is electronically limited to 155mph. Active exhaust flaps can either tame the noise for sedate cruising or let it rip when in sportier modes. Joining the existing Sport mode is a new Sport+ mode with even more extreme settings.
Transmission and Suspension
Whichever engine is picked, there's an eight-speed Sport Steptronic transmission to go with it. Launch Control is standard, and the 7 Series can look ahead using its navigation system as well as using camera and radar sensors to monitor traffic to decide when to use auto stop/start or coasting. The xDrive all-wheel drive, meanwhile – standard on all but the rear-wheel drive 2020 740i – is 100-percent rear-wheel biased in most situations.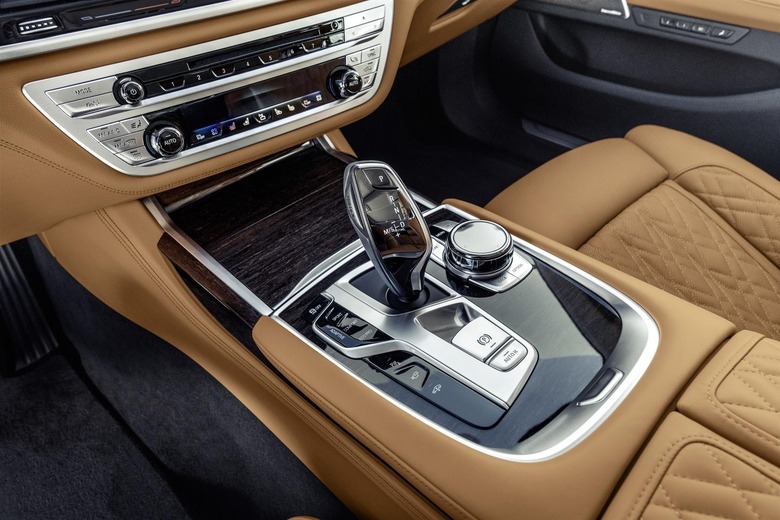 Adaptive suspension – with electronically controlled dampers and two-axle air suspension with automatic self-leveling – is standard across the range. The 7 Series will auto-adjust its right height according to the current drive mode, but can also be adjusted manually. For example, it can be raised by 0.8-inches for navigating steep driveways. Rear wheel steering is optional.
Active Comfort Drive with Road Preview is an option on all but the hybrid, using electric swivel motors to compensate body roll in sharper corners. It also steps in on the straights, to minimize the impact of road imperfections. A stereo camera array, data from the navigation system, and learned data from driving patterns is used to proactively adjust the chassis to the road conditions ahead.
An even more luxurious interior
The 2020 7 Series' wheelbase is unchanged, at 126.4-inches, but BMW has updated it in the front and the back for the new model year. Three different types of leather can be head in multiple colors; a new Nappa leather with extended quilting is part of the Luxury Seating Package. BMW Individual fine-grain Merino full leather trim gets extended quilting, contrast stitching, and piping.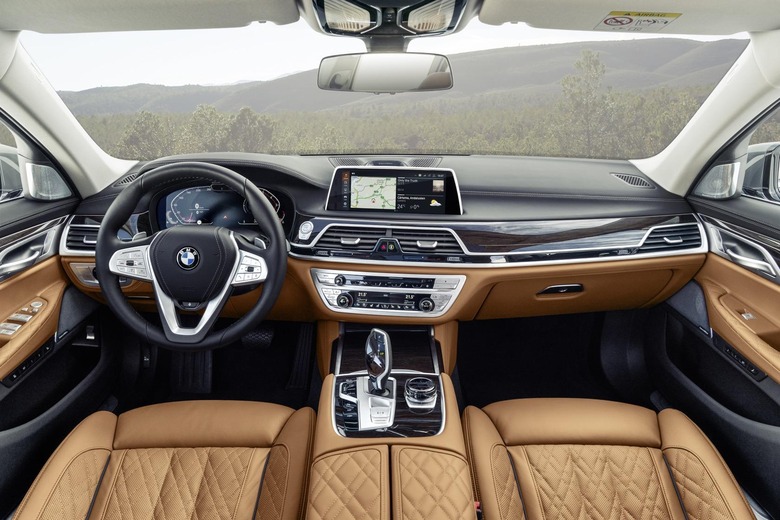 American Oak Dark with metal inlay and Poplar Grain Metallic Grey high-gloss trim have been added for 2020. Meanwhile the M Sport package adds a special steering wheel and pedals, among other things, and a Fineline Black wood interior trim with high-gloss metal. The M760i xDrive gets its own bespoke cabin with extended leather.
Laminated glass – now 0.2-inches thick – is used in the windshield, side, and rear windows, to help reduce cabin noise in the 750i and 760i. BMW has even swapped the window motors for quieter versions. Wireless charging for a phone is standard, as is ambient lighting with six colors.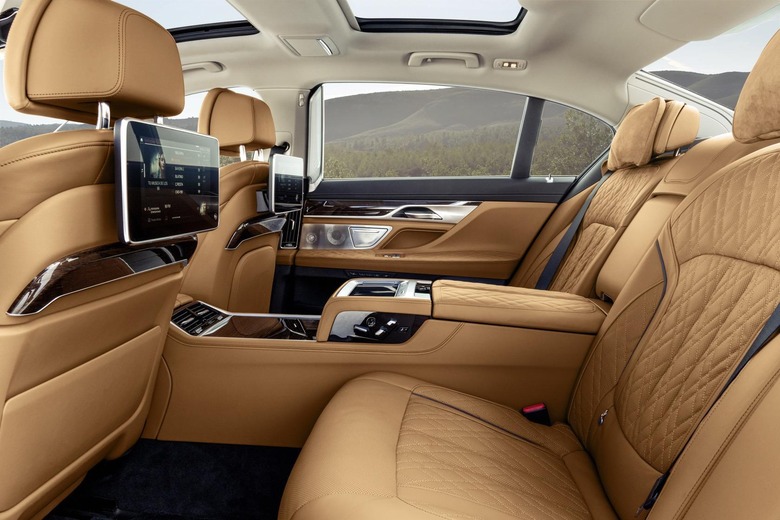 The 750i and M760i can be had with the Rear Executive Lounge Seating package, which adds four-zone automatic climate control, two individually adjustable massage seats, active seat ventilation front and rear, and a rear console with entertainment and a 7-inch removable tablet controller. Two 10-inch Full HD touchscreens are included, plus a Blu-ray player.
BMW iDrive 7, the latest iteration of the automaker's infotainment platform, is standard. A head-up display and night vision are optional, the latter automatically flagging detected objects with the headlamps' marker light function. Parking Assistant Plus and parking sensors are standard, as is Back-Up Assistant, which can automatically reverse the steering motions made during the car's last forward maneuver to exit a space.
A "Hey BMW" assistant is standard, and can be renamed, while the BMW Intelligent Personal Assistant learns preferences like common routes, HVAC and seat heating settings, and more. It'll also be able to answer questions about the various tech features, rather than sending owners scurrying to the manual, and queries like "how much further can I drive before I need to refuel?"
The driver gets the BMW Live Cockpit Professional as standard, with redesigned graphics on the fully-digital instrumentation. Control can be via the iDrive dial, steering wheel controls, the center touchscreen, voice, or gesture. WiFi hotspot, Apple CarPlay, and soft-close automatic doors are all standard.
A safer, smarter 7 Series
With driver assistance systems proliferating even down to affordable cars, the 2020 7 Series has to offer something different to stand out. The car uses radar, ultrasonic, camera, and other sensors, along with navigation data to keep an eye on the surrounding traffic and road conditions.
Standard features include Collision and Pedestrian Warning with City Braking function, now with cyclist spotting, together with Lane Departure Warning Blind Spot Detection systems that can actively guide the car back on track. Speed Limit Info, Rear Collision Preparation, and Cross Traffic Alert are also included.
Optional is the Driving Assistance Professional package. That adds Extended Traffic Jam Assistant for limited access highways, Active Cruise Control with Stop & Go, Active Lane Keeping Assistant with side collision avoidance, Steering & Traffic Jam Assistant, Automatic Lane Change, and Evasion Assistant & Cross Traffic alert. Though the 7 Series isn't autonomous, it does support hands-off driving in divided highway congestion, operating at up to 37 mph.
2020 BMW 7 Series launch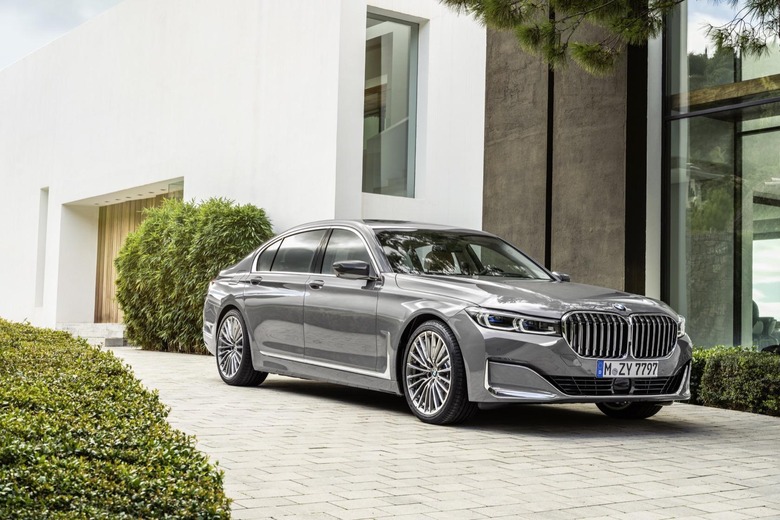 BMW says that the new 7 Series will begin production in March, and should arrive in dealerships in April 2019. Pricing will be announced closer to that point.