2019 Toyota Corolla Hatchback: 5 things you should know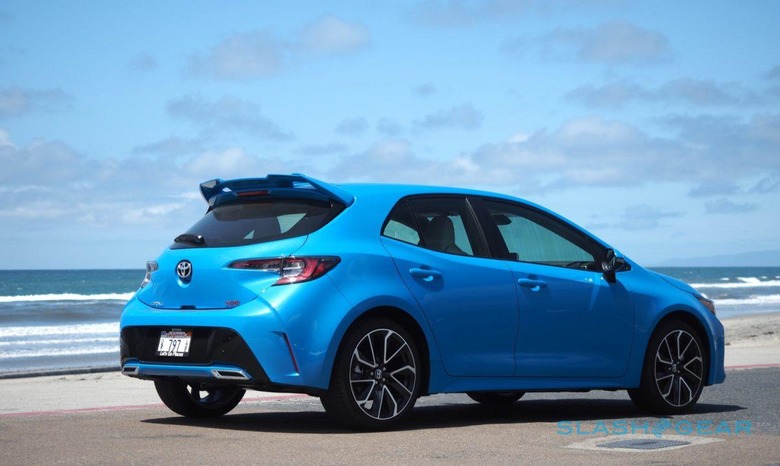 For a car that's so important to Toyota, the Corolla has been oddly low-key, but the 2019 Corolla Hatchback isn't going to fly under the radar. First of the new, TNGA-based twelfth generation of cars, it's more efficient than ever, packs more tech, and promises to be more affordable than rivals. Read on for five things you need to know.
It's significantly more powerful than the old Toyota iM
The 2019 Corolla Hatchback may not look as obviously aggressive as the Toyota iM it replaces, but it's actually a lot more potent where it matters. Although the Corolla iM – which found its way into Toyota's range after the demise of Scion in 2016 – may look more sporty, what with its standard-fit body kit, under the hood the new Corolla has an edge. There's no arguing, after all, with horsepower and torque.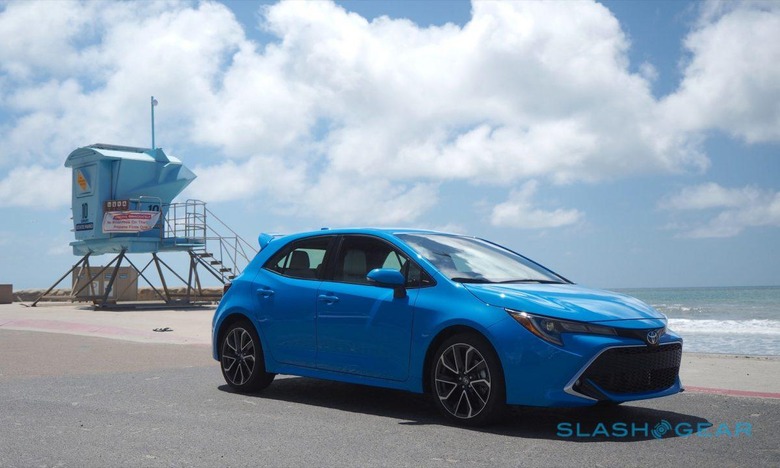 In fact, the new 2.0-liter Dynamic Force four-cylinder gets 168 horsepower and 151 lb-ft. of torque. That's up 31 HP and 25 lb-ft than the old iM. Even with that, however, Toyota is promising a "significant improvement" in economy thanks to its 40-percent thermal efficiency engine technology.
There are two transmissions, and both are fascinating
America loves automatic gearboxes, so we'd not have been surprised to see the 2019 Corolla Hatchback arrive with that and nothing else. Instead, Toyota gave the enthusiasts something to think about. That means both a stick-shift and an auto.
Neither is entirely mainstream, either. The six-speed manual has an iMT, or "Intelligent Manual Transmission" mode which, when activated, offers rev-matching for downshifts, better controls engine speed on upshifts, and promises to help avoid rolling back on hill starts. However the automatic is even more interesting.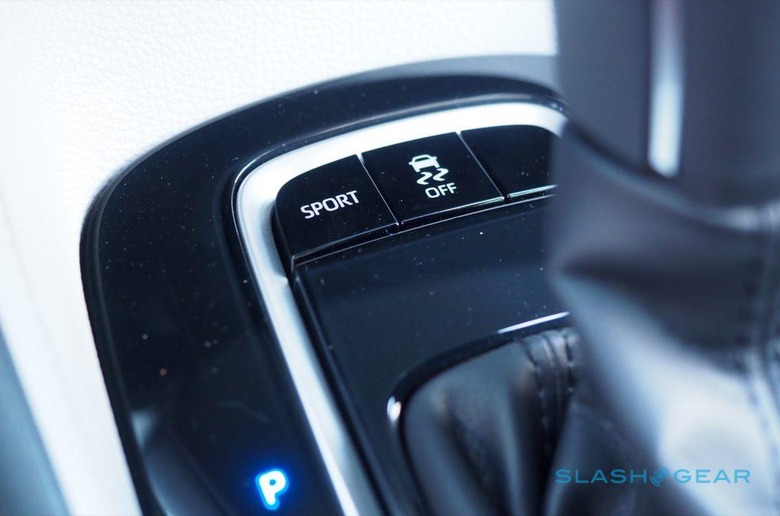 It's a CVT, or Continuously Variable Transmission, but Toyota has combined it with a fixed first gear. It helps avoid the weird, rubber-banding feel you often get with CVTs when pulling away from a standstill: the car pausing even as you hit the gas, but then surging forward a moment later. When you're past the Corolla's first gear, you're into smoothly-shifting regular CVT territory, though keener drivers can reach for the standard paddle-shifters and notch their way through 10 simulated gears.
Toyota Safety Sense 2.0 is standard, and comprehensive
Active safety technology has been gradually filtering down from expensive luxury cars and SUVs through to more mainstream vehicles over the past couple of years, but the 2019 Corolla Hatchback could well mark a tipping point. All trims will get Toyota Safety Sense 2.0, the newest generation of the automaker's protection suite. It'll include some features you're likely to use all the time, and others you'll hope you never need to rely on.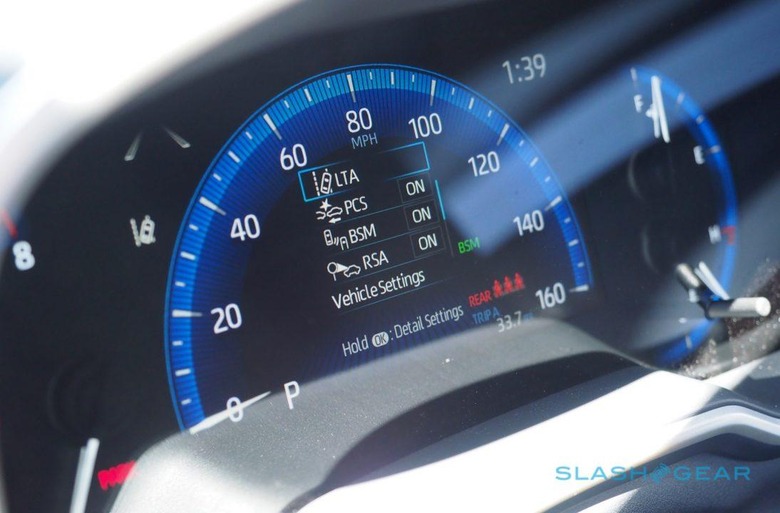 Adaptive cruise control is standard, keeping pace with the car ahead. If you have the CVT, it'll be able to bring the Corolla Hatchback to a complete halt; the 6-speed will be able to follow down to speeds of around 15 mph. The CVT also gets Lane Tracing Assist, which uses cameras to track the road markings and the preceding car, and keep the Corolla dead-center in the lane.
The XSE trim gets blind spot warnings as standard, and all trims can identify road signs like "Stop," "Yield," and "Do Not Enter" and flag them on the dashboard. Lane departure alerts are standard, with steering assistance; pre-collision auto-braking; cyclist detection, and low-light pedestrian detection. This second-generation TSS is also better at reducing the car's speed in potential crash situations.
Toyota is finally on the CarPlay train
When it comes to smartphone projection systems, it's fair to say Toyota has been one of the most reluctant to get onboard. Happily that's changing with its 2019 model year cars, and the new Corolla Hatchback is one of the first to get Apple CarPlay support. Now, you don't have to deal with Toyota's Entune infotainment platform if you don't want to: just plug in your iPhone instead, and have that take over the standard 8-inch touchscreen.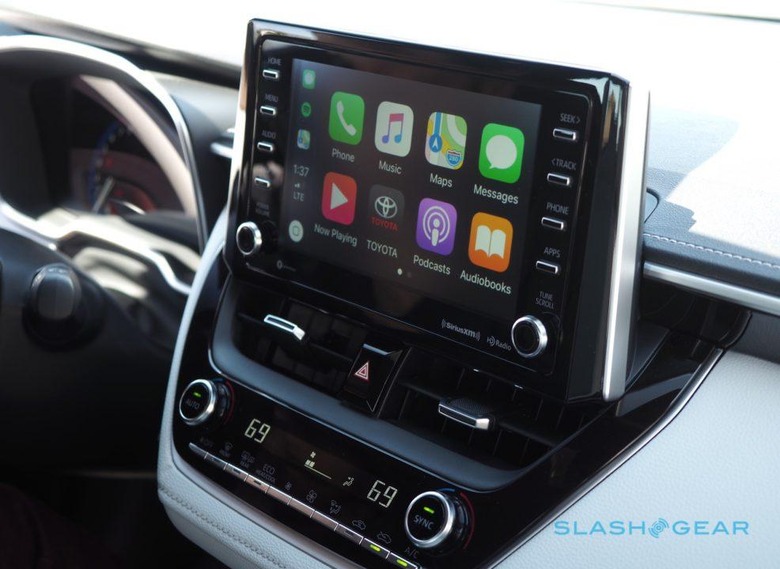 There's also Amazon Alexa support, which is something you won't find in most other cars today. Unfortunately if you're an Android user you're still out of luck. Toyota still hasn't added Android Auto support, and there's no timeline for when – or even if – that might change.
There are two big questions still to answer
We can tell you how the 2019 Corolla Hatchback drives, but Toyota still has two significant questions it needs to deliver answers for. The first is around economy, taking that "significant improvement" and quantifying it with an official EPA number. To give you an idea of that baseline, the 2018 Corolla iM delivered 28 mpg in the city, 36 mpg on the highway, and 31 mpg combined for the CVT version.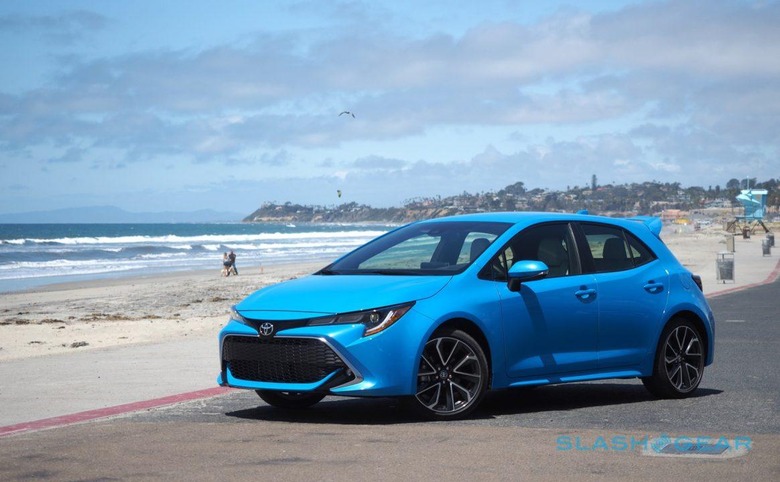 The other big question is price. Again, Toyota hasn't confirmed just how much the 2019 Corolla Hatchback will cost when it arrives in dealerships this summer. The automaker says it expects the new car to undercut its "key" rivals; we'll know more later this year.