2019 Porsche Cayenne E-Hybrid Review: The "E" Is For "Excellent"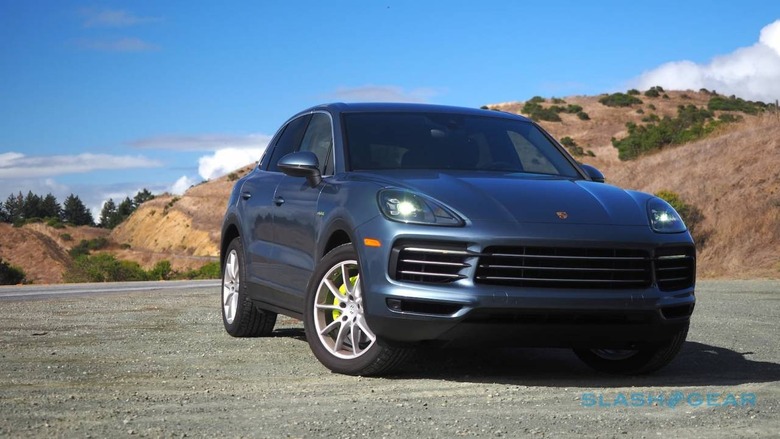 EDITORS' RATING: 9/10
The 2019 Porsche Cayenne E-Hybrid wears its green credentials on its sleeve: quite literally, in fact, with unmistakable lime green badges on the front fenders. Seventeen years after introduction, there's now no doubting that the market was ready to embrace a Porsche SUV. Question is, does a hybrid drivetrain sit at odds with this sporting luxe-truck?
Sleeker and more refined in its detailing in this, third-generation, form the Cayenne is handsomely restrained. The rear light bar, a Porsche hallmark at this point, arguably suits the SUV even more than it does the automaker's two-door models. It emphasizes the Cayenne's width, visually lowering it at the same time.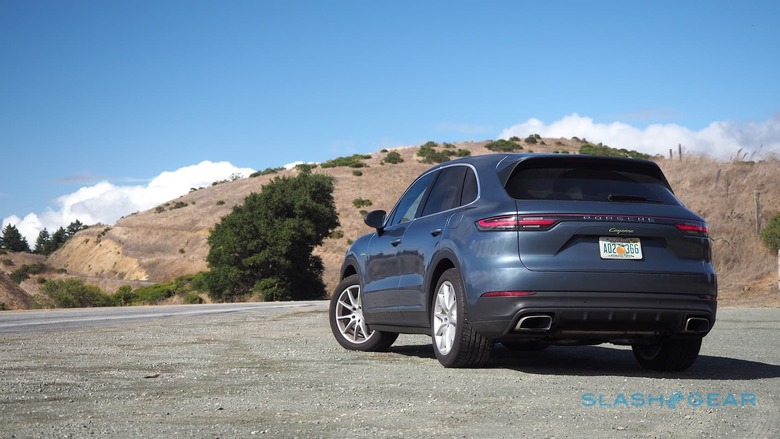 Porsche starts out with its 3.0-liter turbocharged V6 gas engine, good on its own for 335 horsepower and 332 lb-ft of torque. To that, it adds an electric motor, bringing combined power to 455 hp and torque to 516 lb-ft. All-wheel drive is standard, as is an 8-speed Tiptronic S transmission and electromechanical variable-ratio power steering.
My original plan had been to test out a more stealthy version of the Cayenne E-Hybrid. Check the right boxes on the order form, and Porsche will remove the lime green badging and the equally bright brake calipers. Other motorists would have to know what they were looking for in order to spot the charging port door and differentiate the SUV from its gas-only siblings.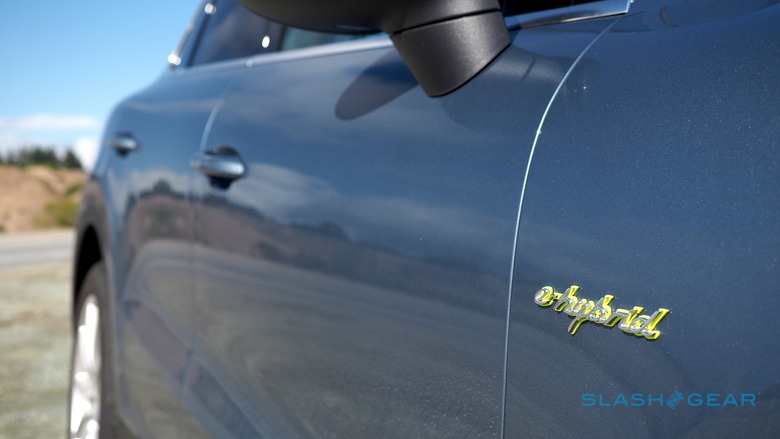 A last-minute switch, however, left a different – and to my mind altogether more interesting – version of the E-Hybrid on my driveway. One with green badging still shown with pride, crisply distinctive against the handsome Biscay Blue Metallic paintwork.
Secretly, I was pleased. Perhaps it's just from living in California, where hybrid pride still reigns; maybe it's from seeing the momentary scowl on the faces of Tesla and Bolt drivers when you park in an EV-only spot... only to then plug in your $93,000 SUV. Most likely, perhaps, it was the fact that Porsche had outfitted this particular Cayenne with the $1,620 Rear Axle Steering.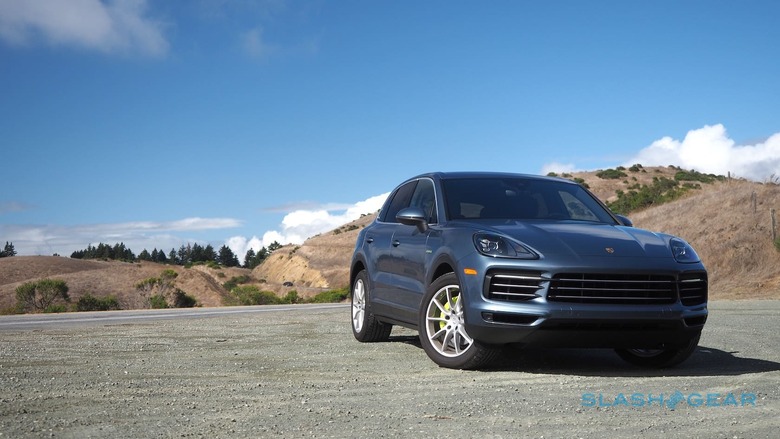 It wasn't the only option. $2,170 had added Adaptive Air Suspension including the PASM system, while $3,590 included Porsche Dynamic Chassis Control (PDCC). $1,720 made sure the 20-inch alloys were in place, clad in Summer rubber. $300 delivered Power Steering Plus.
Altogether – and when combined with the hybrid drivetrain – it gives the 2019 Cayenne E-Hybrid an unexpectedly sporting persona. Some EVs are earnest in their economy and positively puritan in how they encourage frugal driving. The EPA may rate the Porsche at 46 MPGe, but it's really too much fun to focus on hitting that.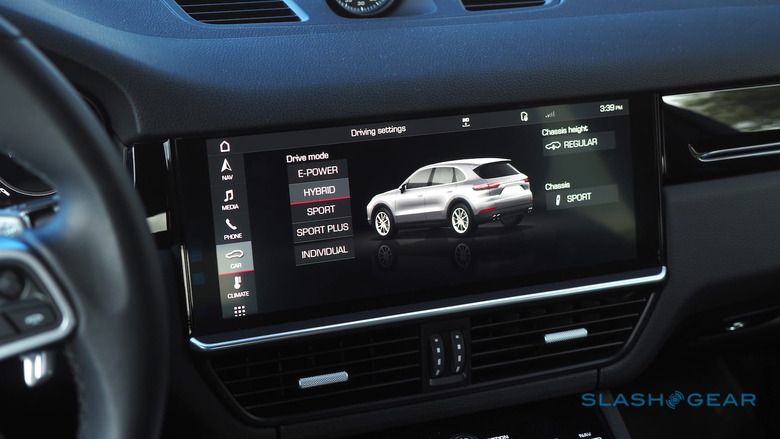 By default it starts up in pure EV mode, but you can switch between the various drive modes either through the large center touchscreen or the knob under the right spoke of the steering wheel. Hybrid Auto leaves the Cayenne to figure out the balance between gas and electric; Sport and Sport Plus focus on maximizing performance. Through the infotainment system, you can optionally hold the current battery level – if, say, you're saving it for urban driving later on – or have the Porsche actively charge it up, using the gas engine as a generator.
As was the case with the Panamera 4 E-Hybrid Sport Turismo I tried last year, it's notable just how rapidly the Cayenne E-Hybrid works to recharge its 14.1 kWh lithium-ion battery. That's only rated for 13 miles of electric-only driving, true, but it's so quickly topped back up that you're rarely without a squirt of EV boost when it's needed.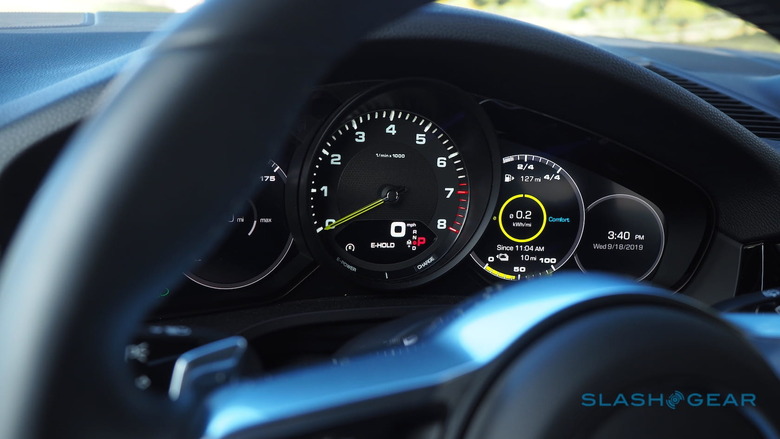 That low-end torque urgency, when combined with the rear-axle steering, adds up to an SUV that really doesn't feel its size. By turning the back wheels – either in the opposite direction to those at the front at low speeds, making for tighter turns, or in parallel with them at higher speeds, for greater stability – it's not inaccurate to say the Cayenne feels scaled more like a Macan.
Factor in the low-slung battery pack helping keep the center of gravity low, and the air suspension, and suddenly testing out the 4.7 second 0-60 mph time doesn't seem so theoretical any more. Stab your thumb against the "sport response" button in the middle of the drive mode dial and you get 20 seconds with all the performance settings set to max. Porsche bills it as great for overtaking; it's also handy for meting out little jolts of fun while you're otherwise trying to be responsible. Over a week of mixed driving with rare thought of frugality, the Cayenne came in at over 23 mpg.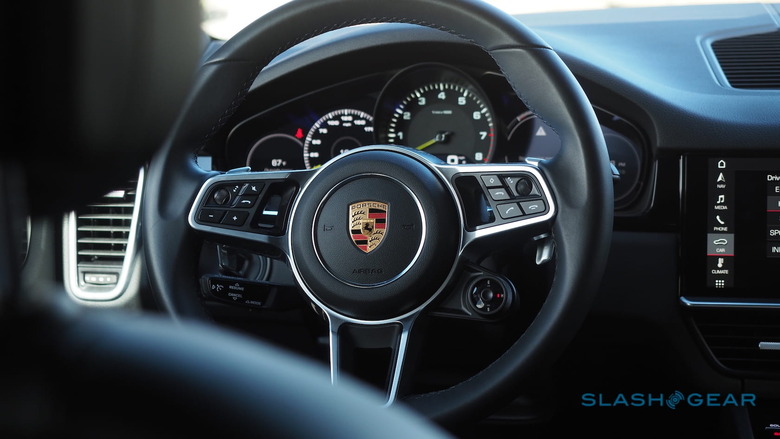 So much for going fast. When it comes to slowing down, Porsche's brakes are more than capable, even if there's some lumpiness in the transition between regenerative braking and the regular, mechanical brakes. Coming to a smooth stop can be tricky, while trying to gently modulate speed can deliver some jerkiness in the cabin.
It's my only real complaint in there. Sure, Porsche's touch-sensitive buttons take a little familiarizing before you can just reach out and stab them, and the fact that the transmission shifter blocks sightlines to controls on the passenger side is an odd ergonomic blip, but the 12.3-inch touchscreen on which the Porsche Communication Management system is presented is a responsive joy. It looks great, hiding secondary features until your hand moves close, and you can customize the homescreen layout to bring what you care about to the fore.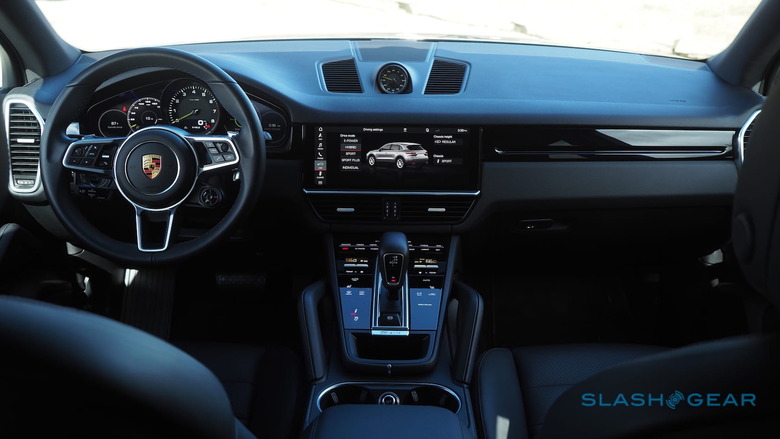 Things get a little more complex with the driver's display. The analog center dial is flanked by two screens that can show everything from cornering forces through maps to the flow of power. It's a little overwhelming when all you want is an easy count of how much battery you have left and how it's contributing to range, and customizing what's shown using the buttons and twin jog-wheels on the steering wheel feels more convoluted than it should be.
Even without the Premium or Premium Plus packages, which throw in fancier dashboard materials and seats among other niceties, the Cayenne's cabin is sturdy and comfortable. The standard front seats have 8-way power adjustment and are nicely bolstered both for your lower back and thighs, while the rear bench shouldn't provoke too many complaints even with three back there. Were it my order, I think I'd go for some of the lighter interior trims: in all-black, the Cayenne's cabin can be a little too sober.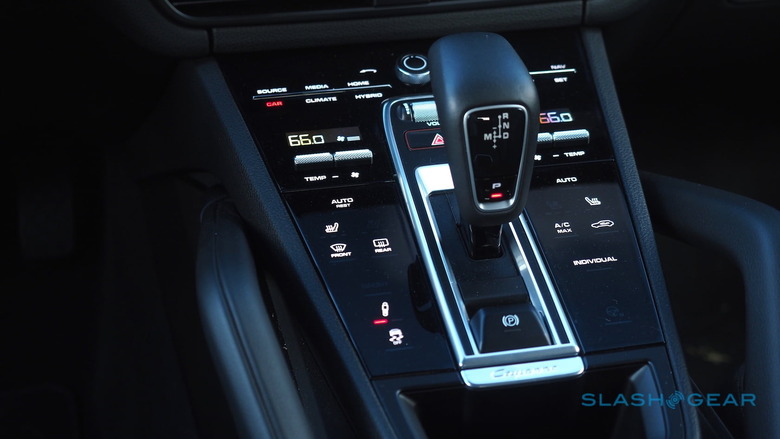 In the trunk, the presence of the battery underneath does chew into load space a little. You get 22.7 cubic feet with the rear seats up, or 56.8 cubic feet with them down. A gas-only Cayenne S offers 27.2 and 60.3 cubic feet, respectively.
It is, of course, ridiculously easy to make the 2019 Cayenne E-Hybrid a very expensive SUV indeed. Check off both the performance and the cabin upgrades, and the $81,100 starting price can quickly spiral into six figures. Personally, I'd show restraint in the interior and opt for the mechanical additions, along with the $840 Porsche wants for the 7.2 kW onboard charger. With a Level 2 hook-up, it'll fill up the Cayenne's battery in under three hours.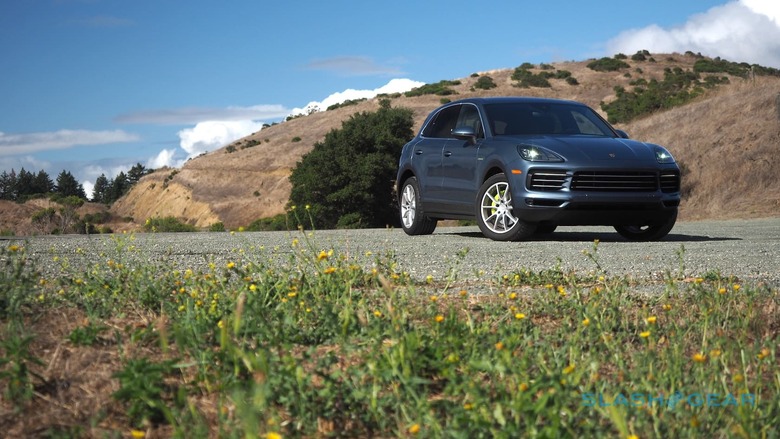 Get that spec right, and it's hard to argue with the idea that the E-Hybrid is the sweet-spot of the Cayenne range. It's cheaper, but more powerful, than the Cayenne S; more luxurious than the regular Cayenne. If you're in the right state you'll get to use the carpool lane, too, while the compromises in trunk space are, to my mind, negligible. If you really want a cargo-toting SUV, you probably shouldn't be in the Porsche dealership.
Sure, there are bragging rights in having a Cayenne Turbo, but there's also a significant jump in price. You could go for a Tesla Model X, too, though I prefer the Porsche's style, its interior feels much nicer, and the reassurance of more motoring being a simple tank of gas away is a nice one to have. All in all, the 2019 Porsche Cayenne E-Hybrid isn't just the sweet-spot of the Cayenne range, it's just plain sweet, period.