The 2018 Porsche Panamera 4 E-Hybrid Sport Turismo is the perfect hybrid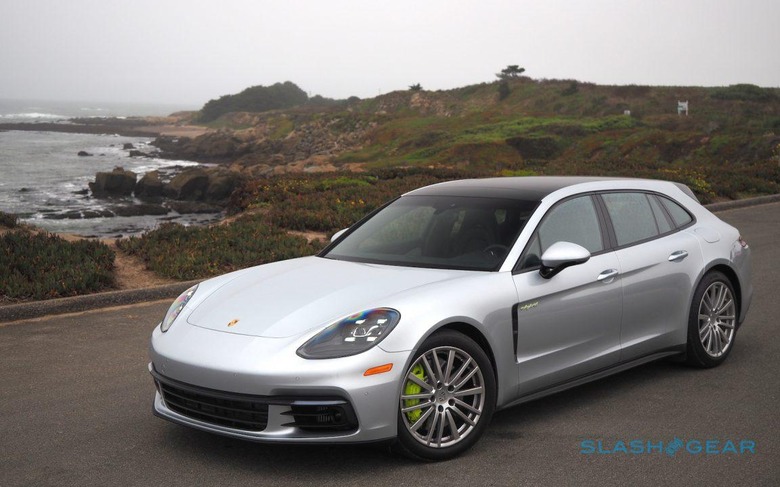 EDITORS' RATING: 9/10
It was pretty clear when Porsche announced the 2018 Panamera 4 E-Hybrid Sport Turismo that it wasn't going to be your normal hybrid. The closest the automaker's cars get to green is usually their paint job, after all, but the shapely Sport Turismo claims to be more eco-conscious than you'd expect. Of course, since this is a Porsche it couldn't just be about saving the planet.
Typically, hybrids seem to top out at a 4-cylinder gas engine at best, but not so the Panamera 4 E-Hybrid Sport Turismo. It packs a full 2.9-liter biturbo V6 under the hood, an engine that by itself offers 330 horsepower and 331 lb-ft of torque. To that, Porsche adds an electric motor contributing a further 136 horsepower and 295 lb-ft of torque.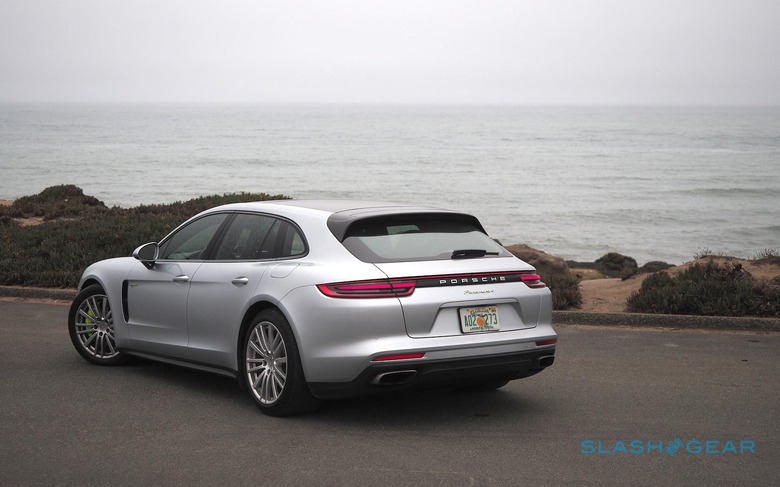 In total, then, you get 462 horsepower peaking at 6,000 rpm, and 516 lb-ft of torque that arrives from a pointedly low 1,100 rpm. They're numbers that wouldn't shame most performance cars, and the same can be said for the 4.4 second 0-60 mph time and 170 mph top speed.
The Panamera Turbo S E-Hybrid is even quicker, but then you lose out on the handsome Sport Turismo styling. Porsche probably doesn't want you to call it a station wagon, but it's about time the world recognized that Wagons Are Sexy and embraced the benefits of a capacious rump.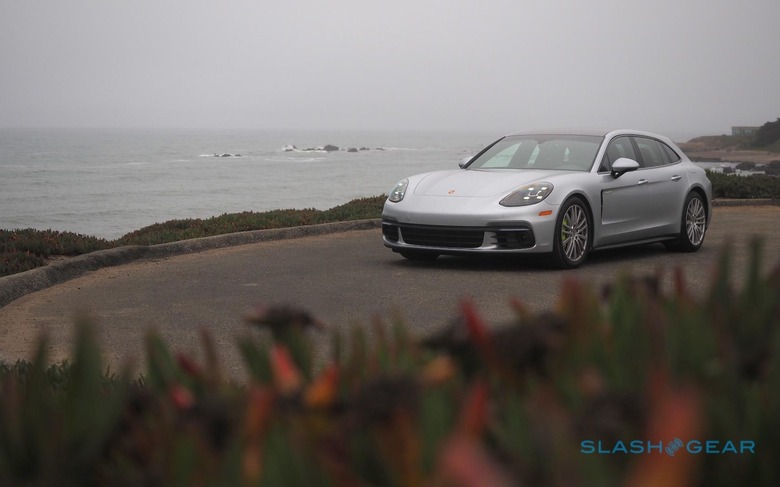 To my eyes, it's the most balanced of the Panamera versions in its proportions, the gracefully tapering trunk countering the beefy front-end. Were it my money I'd go for a darker paint – a metallic charcoal, perhaps – but I'd definitely cough up the $2,180 for the 20-inch Panamera Design Wheels. They look great with the neon green brake calipers peaking through, and matching E-Hybrid badging.
With the 14.1 kWh battery slung under the trunk, it's not a light car. At 4,828 pounds it's the heaviest of the Panamera range, in fact. Courtesy of that shapely rear, though, you still get more than 45 cubic feet of cargo space with the rear seats folded. With them up, you're looking at 15 cubic feet.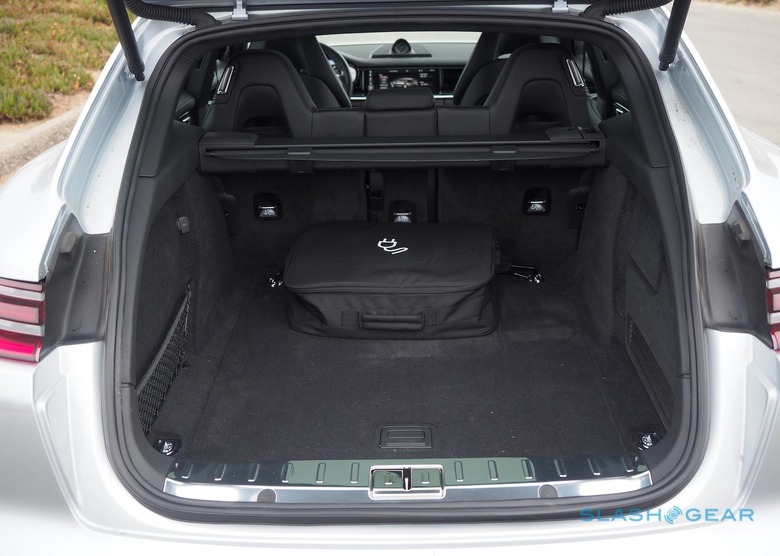 As you'd expect, there are multiple drive modes to choose between. The default is E-Power, which gets you a quoted 30 miles of all-electric range. You'll have to show some restraint for that, mind. Hybrid mode – which the Porsche will flip to by itself if you run the battery down – automatically switches between gas and electric power, depending on battery status and how you're driving; it's a smooth transition, too, with only a faint thrum from the front suggesting the engine has kicked in.
Turn the dial on the steering wheel to Sport or Sport Plus, however, and things get more exciting. The standard-fit air suspension gets stuffer and the throttle more eager. All-wheel drive helps disguise the curb weight in the corners, and while the Sport Turismo is never going to be as nimble as a 911, you'll have to ease off for the sake of your passengers long before the Panamera runs out of grip or power.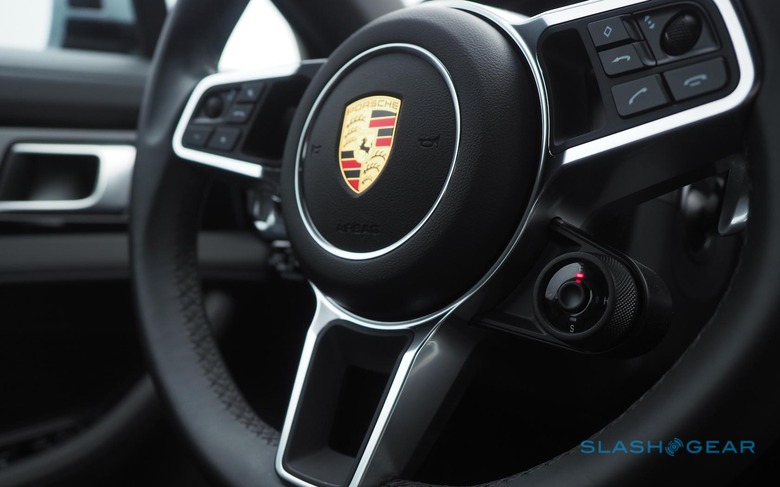 $1,620 for the rear axle steering seems a worthy addition too, in effect shortening the wheelbase by counter-turning the rear wheels. The standard 8-speed dual-clutch transmission is a gem, too, never getting lost despite what complexity is going on under the sheet metal. Stab the center button in the mode dial and, no matter what mode you're currently in, the E-Hybrid will switch up all its settings and give you 20 seconds of maximum potency.
It's one of the fastest hybrids to recharge its battery that I've encountered, particularly in Sport Plus mode. Then, the Panamera seems positively obsessive about making sure it has sufficient charge to cater to whatever profligacy you might intend. When it's not being hammered for speed, the gas engine acts as a generator to pump electrons back into the battery pack.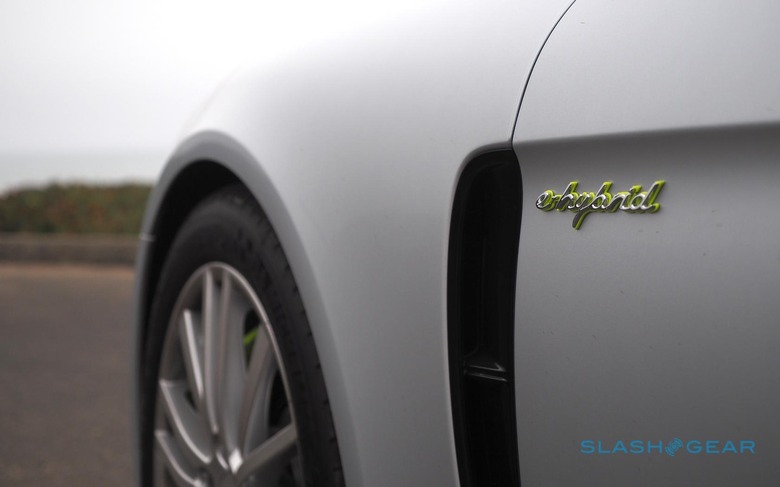 For traditional charging, you're looking at a 3.6 kW onboard charger as standard, or a 7.2 kW version as an $840 upgrade. You should check that box and make sure you have access to a Level 2 charger at home, since they add up to a sub-3-hour recharge.
There are, of course, faster hybrids, more powerful hybrids, and more striking hybrids to look at. What sets the Panamera 4 E-Hybrid Sport Turismo apart, though, is how well balanced it is, across all levels. Clearly, I'm already a huge fan of the styling, but it's also deeply practical too, with space for five – albeit somewhat tight in the middle of the rear bench – and plenty of usable room in the trunk.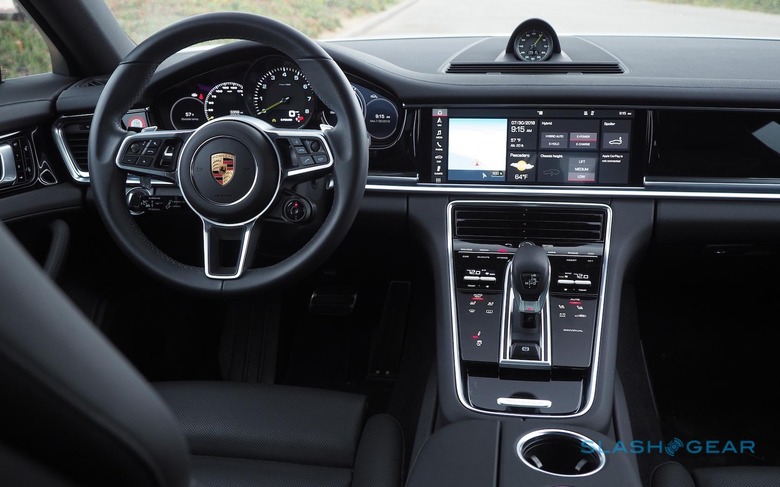 It's as well-appointed as you'd expect from a Porsche, too. Even without the optional front seat ventilation, soft close doors, and 14-way power seats, the leather is all standard and the metal trim feels suitably weighty and authentic. The 12.3-inch Porsche Communication Management touchscreen supports Apple CarPlay though not Android Auto. It's quick and responsive, and fairly easy to navigate even when it's showing a lot of information at once.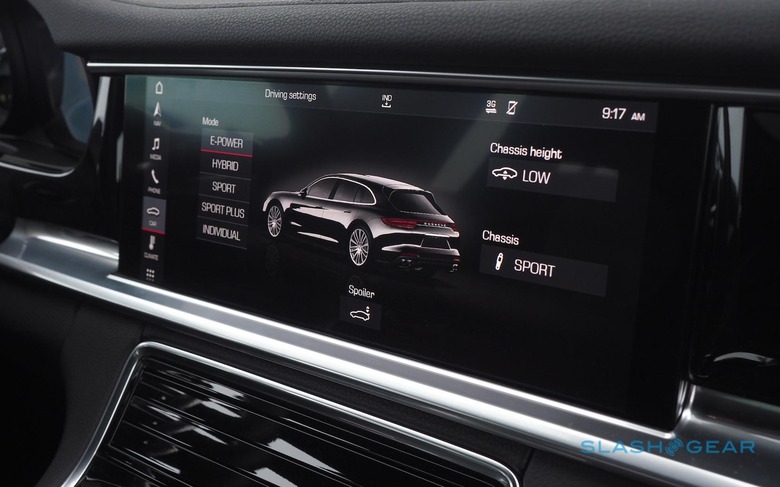 More displays flank the tachometer, capable of showing either virtual dials or map previews. Indeed, there are times when the whole system seemed a little too flexible for its own good. The range of hybrid driving sub-modes and huge array of other options can get overwhelming; I was thankful that Porsche opted to put a selection of buttons and toggles for the essentials in the center console.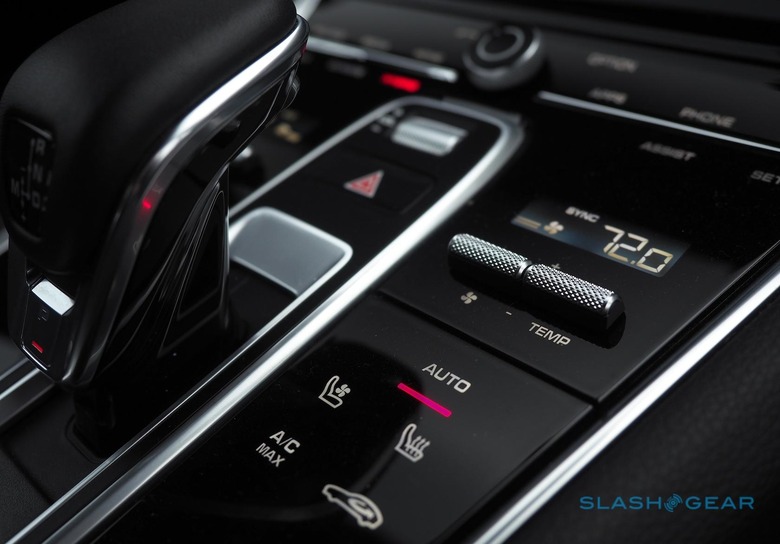 Still, I'd be more than happy to have the time to spend getting to grips with all the Panamera 4 E-Hybrid Sport Turismo's settings. It looks great, it drives incredibly, and it even – in Sport and Sport Plus mode – sounds the part, with an unexpectedly throaty exhaust note when pushed. Flick to E-Power or Hybrid mode, however, and you've a luxury family car that's as restrained as your right foot can be.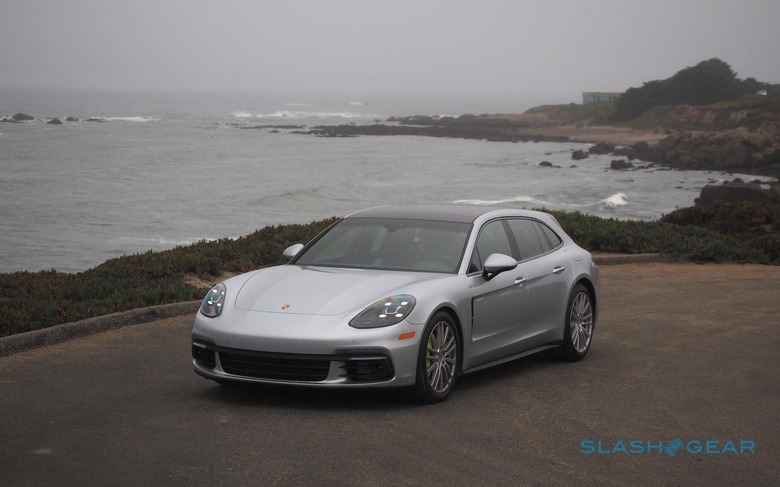 Certainly the $104,000 starting price is easy to send escalating: this particular example, including the $1,050 destination charge, ended up at $118,150. Those looking for maximum electric range, meanwhile, will want to hold off until the Porsche Taycan arrives. As Panamera options go, though, I'd rather have the E-Hybrid to the Panamera 4S, and the $184k+ you'll pay for a Turbo S E-Hybrid makes this car look positively affordable.
Hybrids don't have to be boring, they don't have to look bland, and they don't need to provide the experience equivalent of a hair-shirt behind the wheel. The 2018 Porsche Panamera 4 E-Hybrid Sport Turismo is green in a distinctly entertaining way, and only leaves me more excited for the automaker's first all-electric car next year.