2019 Mercedes-Benz CLS is a 48V hybrid luxury four-door coupe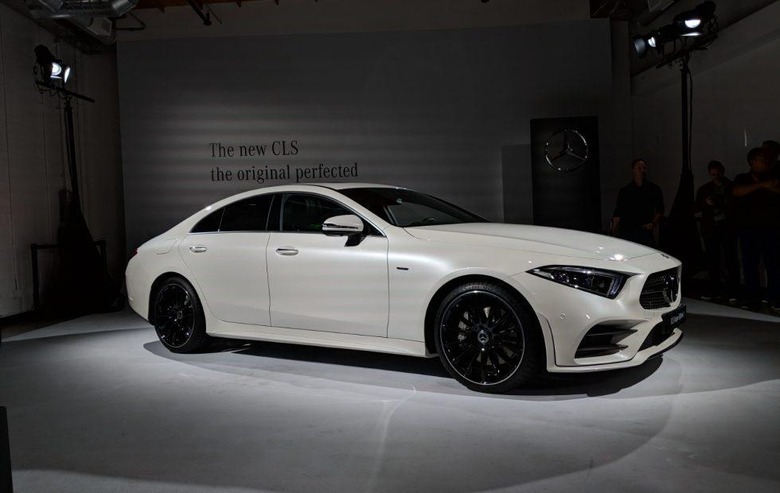 Mercedes arguably started the four-door coupe segment back in 2003, and now the third-generation 2019 Mercedes-Benz CLS is here to bring it right up to date. Still instantly recognizable with its arching roof line, the new CLS was revealed today at the LA Auto Show 2017, and is expected to go on sale in the US next year. It features some high-tech powertrain and cabin gadgetry, too, along with an all-new engine.
On the outside, the distinctive waistline arch, flat side window lines, and minimal side glass are all classic CLS. The grille has been widened at the base and tilted forward, and is flanked by low-set headlamps. However, Mercedes' style movement toward smoothing off sharp edges has been carried over from cars like the latest S-Class and Mercedes-AMG GT.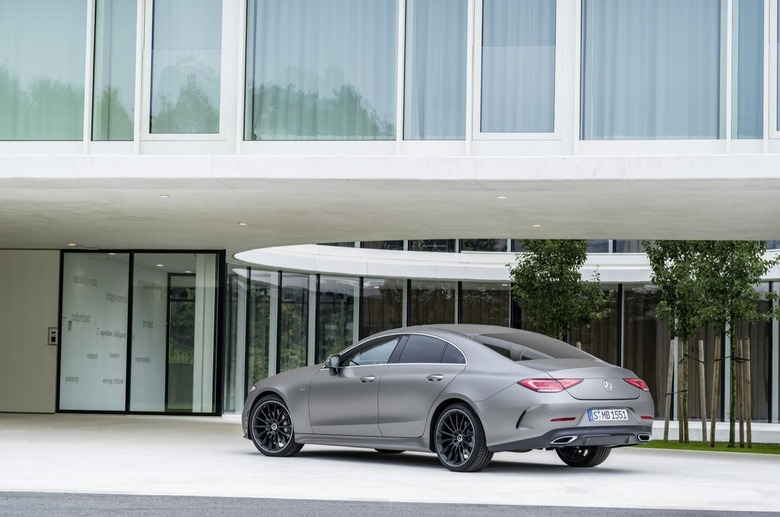 It serves to emphasize the detailing, like the new crystalline taillamps that are now mounted lower on the rear. Inside, too, it's a more simplistic design, again drawing attention to features like the illuminated air vents which Mercedes says are intended to be reminiscent of jet aircraft turbines. For the first time, the CLS now seats five instead of four.
The dashboard has a 12.3-inch center display as standard, but can optionally be spec'd out with twin 12.3-inch displays as in the S-Class and E-Class. Three layouts for the digital instrumentation are offered, and there's 64 color ambient lighting along with Apple CarPlay and Android Auto. The CLS will momentarily blip the vent color red or blue as you adjust the cabin temperature, too. Model-exclusive seats use the same design front and back, with the rear allowing for a 40/20/40 split.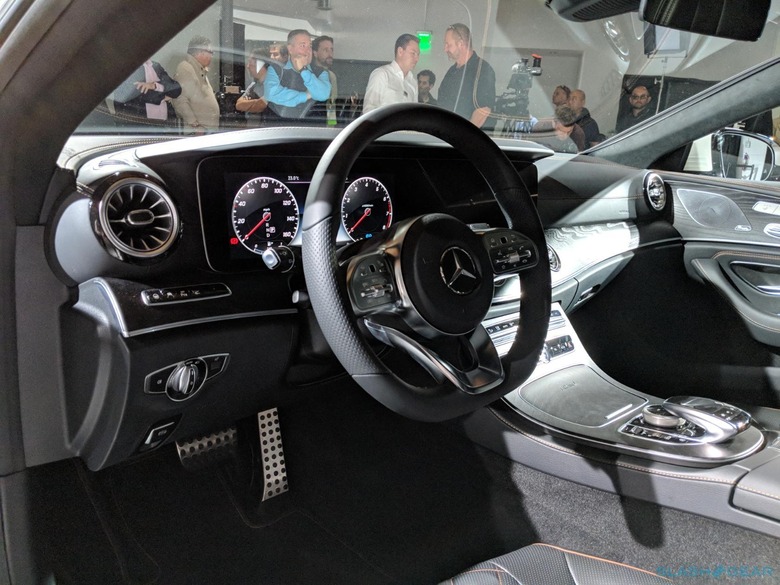 The S-Class' safety and driver assistance tech has trickled down to the 2019 CLS, with active brake assistance, attention assistance, and PRE-SAFE occupant protection. PRE-SAFE Sound, which promises to minimize hearing damage during a crash, is also fitted as standard. The Driver Assistance Package is optional and includes features like adaptive cruise control, steering assistance, brake assist, and more, while the cruise control can now automatically adjust speed ahead of upcoming curves and junctions. Tighter integration into the car's mapping data allows for more intelligent prediction of how surrounding traffic is likely to behave, and there are improved camera and radar sensors.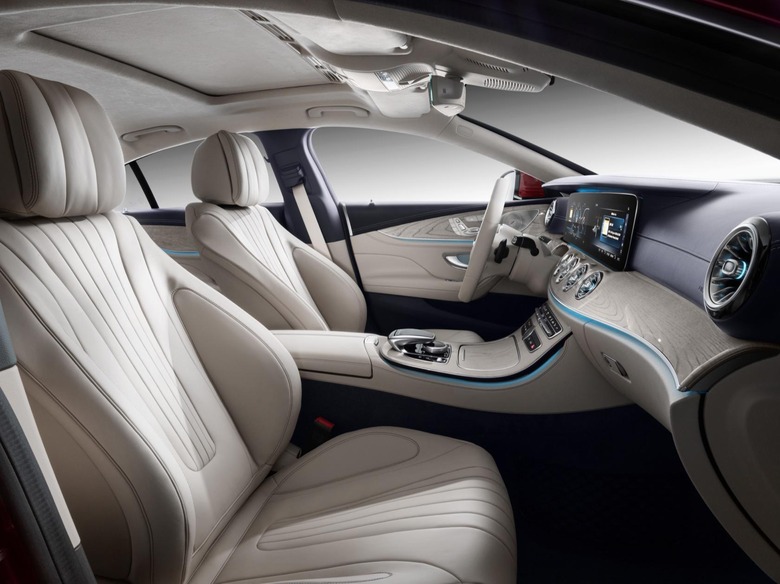 MORE 2018 Mercedes-AMG S63 First Drive
Not all of the S-Class' gadgetry is quite so serious, mind. The new CLS also gets the ENERGIZING Comfort system, which can combine seat heating, ventilation, and massage along with the HVAC and cabin fragrencing systems ,and the lighting, to set different moods. Six programs – including "refresh" and "vitality" – are offered, each with their own custom musical soundtracks.
On the hardware side, there's four-link front suspension and five-link rear suspension, steel as standard. Air suspension is optional, with different drive modes available. Arguably more interesting, however, is the fact that the 2019 CLS will be the first car from Mercedes to use a 48 volt electrical system with an Integrated Starter Generator.
The 48 volt electrical system has some big advantages. Not least is EQ Boost, an electric motor that can assist the gas engine for short periods, throwing in extra horsepower and torque for when you need to unexpectedly overtake, for instance. The same motor can also be used when the gas engine is shut down for "sailing" at speed, not to mention acting as a generator to recharge the CLS' battery.
In the US, there'll be two models on offer initially. The CLS 450 will be offered in both rear-wheel drive and 4MATIC all-wheel drive form, each with an inline 6-cylinder 3.0-liter engine. That'll have 362 HP at 5,500 rpm, together with 369 lb-ft of torque from 1,600 rpm: however, thanks to EQ Boost, for short periods the CLS will be able to increase horsepower by 21 HP and torque by a not-inconsiderable 184 lb-ft. Mercedes says it will announce performance figures closer to the car's arrival.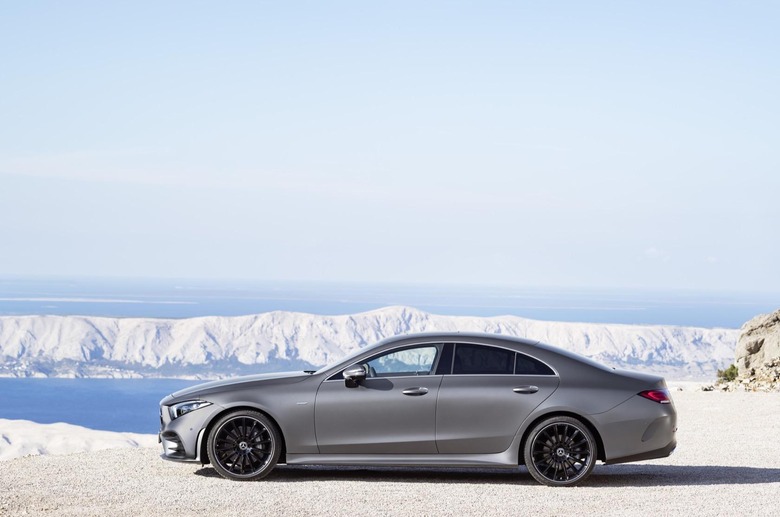 Meanwhile, Mercedes says there'll also be a CLS Edition 1, a launch model of which only a limited number will be offered. That will have the AMG Line's LED Intelligent Light headlamps and 19-inch AMG light-alloy wheels in black with a high-sheen rim flange, a diamond grille with matte chrome pins and louver with a copper-color shimmer, and Edition 1 badging.
On the inside, the 2019 CLS Edition 1 will have Mercedes' COPPER ART interior concept, with black pearl nappa leather seats with copper-color accents, matching contrast stitching, and an IWC analog clock with an exclusive dial face. There'll also be Edition 1 mats with copper-color piping, together with natural grain black ash wood trim on the dashboard.
The 2019 Mercedes-Benz CLS will arrive at US dealerships come Fall 2018. Pricing will be announced closer to launch.