It's tough to stand out on the increasingly crowded forecourt of a Mercedes-Benz dealership, but somehow the 2018 E400 Coupe manages it. Maybe it's not the most aggressive of the German automaker's cars, or the most powerful, or even the most expensive. Yet it's a coupe that draws a direct line back, all the way to 1968, through a rich seam of Mercedes heritage. Go figure, then, that when the company invited me out to British Columbia to try it for myself, this grand tourer turned out to perfectly encapsulate the thoroughly modern Mercedes.
Ironically, for all Mercedes' niche-filling and segment-crossing – there are currently 83 individual models in the automaker's range, with five new products due in 2017 alone, along with 15 variants of existing cars – the E400 Coupe finds itself with not much in the way of direct competition. The midsize luxury coupe segment is oddly empty these days, most automakers preferring to play in either the compact or full-size segments. Mercedes could, you might worry, have phoned things in with the E400 Coupe as a result.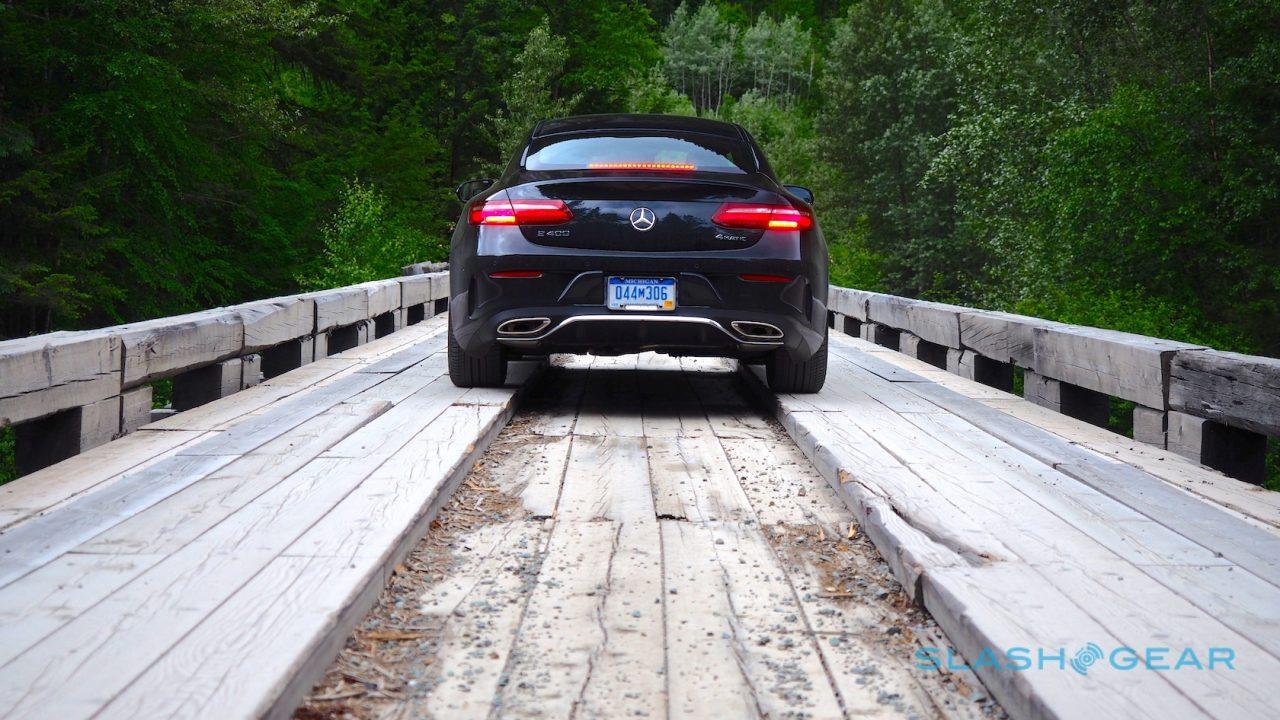 Don't fret, German grand tourer-buyer, they didn't. Instead, they completely rebooted the new E400 Coupe, changing the thinking on platform, styling, and just about everything else. This may be the seventh generation of E-Class Coupe, but it's eons away from the cars that came before it.
Biggest difference is the underlying architecture. The 2018 E400 Coupe is based on the same E-Class platform as the sedan; previously, and despite what the badging might imply, Mercedes had been using the C-Class platform. That means a significant increase in length, most of it in the wheelbase – 4.4-inches of the overall 4.8-inch increase go into stretching the cabin – and that, along with a 3-inch increase in width and roughly an inch greater in height, makes for much more shoulder and head space inside.
The result is no mere 2+2, with rear seats for only the most vestigial of passengers, but true space for four. At 5'8 I had no issues in the back, and watched taller colleagues discover the same. Those rear seats also fold with a 40/20/40 split, opening up the more capacious trunk whether it be for bikes or outdoor equipment.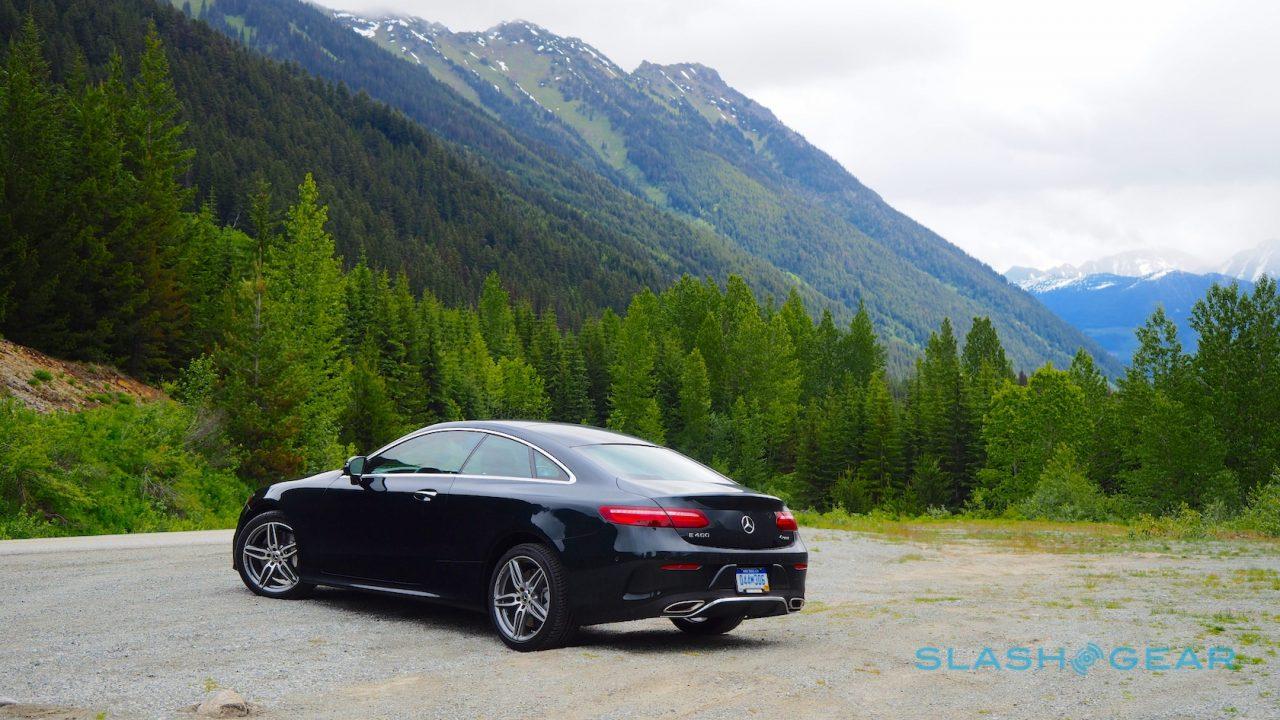 It's an imposing car, but it wears that growth well. "The time of the creases is over," head designer Gorden Wagener says of Mercedes' new "sensual purity" style language, doing away with the sometimes awkward sharp lines of previous models in favor of sleek haunches and fluid power-domes on the hood. AMG-borrowed detailing gives it some sporting edge, while the whole thing is lowered, visually and literally, from the sedan by the horizontal lines spanning the diamond-studded grills and the deeper position of the license plate.
Inside, the already impressive E-Class cabin is elevated even further. Everything tech-wise that's offered on the sedan is also available on the two-door, though the list of standard-fit equipment is comprehensive. A panoramic roof, leather trim, 12.3-inch widescreen COMAND display, and both Android Auto and Apple CarPlay are present on every trim, as is 64 color LED interior lighting and a five year subscription to Mercedes' mbrace cloud-connected service with its remote unlock, start, and locate features.
It's a thoroughly comfortable place to find yourself. Mercedes has fitted new, turbine-inspired vents to the dashboard to better distinguish it from the sedan, but further customization comes down to the depths of your pockets. Nappa leather is a $1,370 option, as is the automaker's even finer Designo leather and wood, $4,200 and $1,300 respectively. Your E400 Coupe cabin can be subtle in open-pore wood, yacht-tastic with a pinstriped gloss finish, or spiral off in more unusual directions with love-it-or-hate-it color schemes like beige and blue.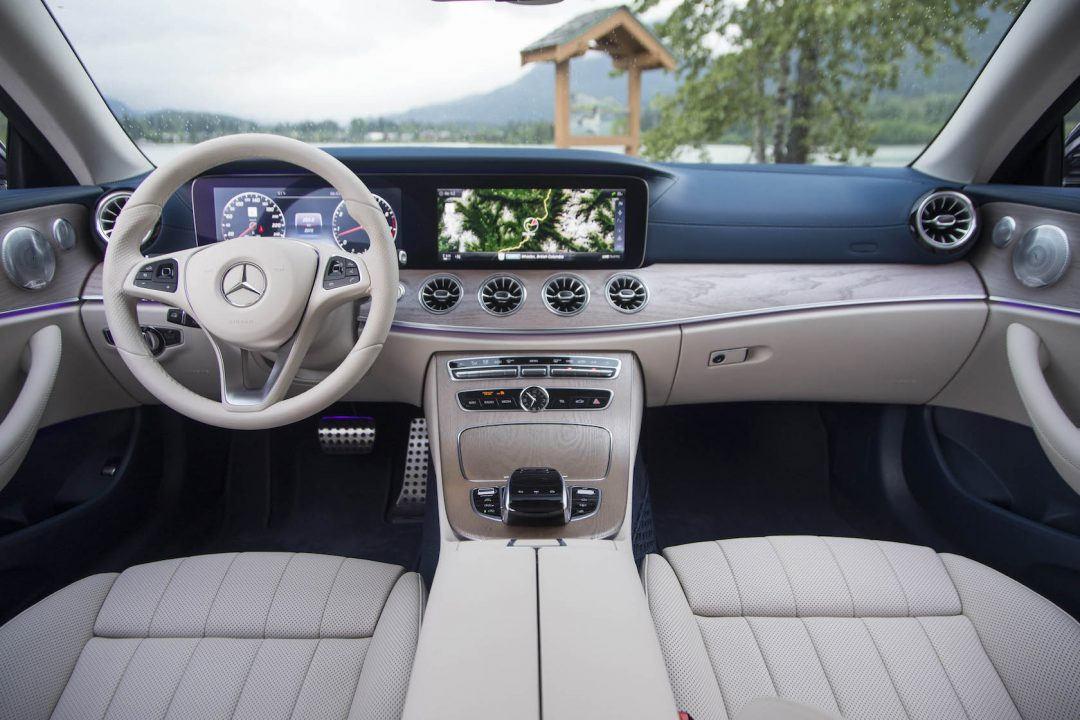 Things really start adding up when you check the tech boxes. You can have a second, huge display for your instrument cluster, together with DISTRONIC semi-autonomous driving with adaptive cruise control, lane-keeping, and auto-lane-changing (part of the $9k+ Package 3 trim). Heated, cooled, and massaging seats are options, as is a fragrance dispenser with a perfume bottle in the glove compartment. Twin touch pads on the steering wheel navigate independently through each dashboard display, though you can also reach down and scroll, swipe, and tap the combined wheel and trackpad in the center console. Luckily there are shortcut buttons for the common features, because the E400 Coupe's menus are legion.
The most important control is probably the physical dial for Dynamic Select, which switches you between Comfort, Eco, Sport, Sport+, and Individual drive modes. Each has an impact on throttle, steering, transmission, and suspension damping, though the extent depends on how you ordered the car in the first place.
The $58,900 entry-level E400 Coupe has rear-wheel drive and steel suspension with selective damping (plus $995 destination). The E400 Coupe 4MATIC, with all-wheel drive, starts at $61,400. Air Body Control, with a trio of air-filled dampers at the rear and two at the front, is a $1,900 upgrade on either model.
No matter which you go for, there's a single engine choice. That's Mercedes' 3.0-liter V6 biturbo, good for 329 horsepower and 354 lb-ft. of torque. It's paired with a 9-speed automatic transmission. Official figures are 5.5 seconds 0-60 mph for the RWD car, and 5.2 seconds for the 4MATIC.
On the road, the coupe feels faster than what's on paper. I tried both the rear-wheel and all-wheel drive versions with air suspension, and it gives the E400 Coupe a poise that matches the near torque-lag free powertrain perfectly. In Comfort mode, it wafts serenely, the epitome of a long-distance tourer. Switch up to Sport mode, meanwhile, and everything firms up, though still in a very usable, everyday way. Maximum torque arrives at a mere 1,900 rpm, and combined with the near-clandestine gear changes there's never that feeling that you're lacking in power.
<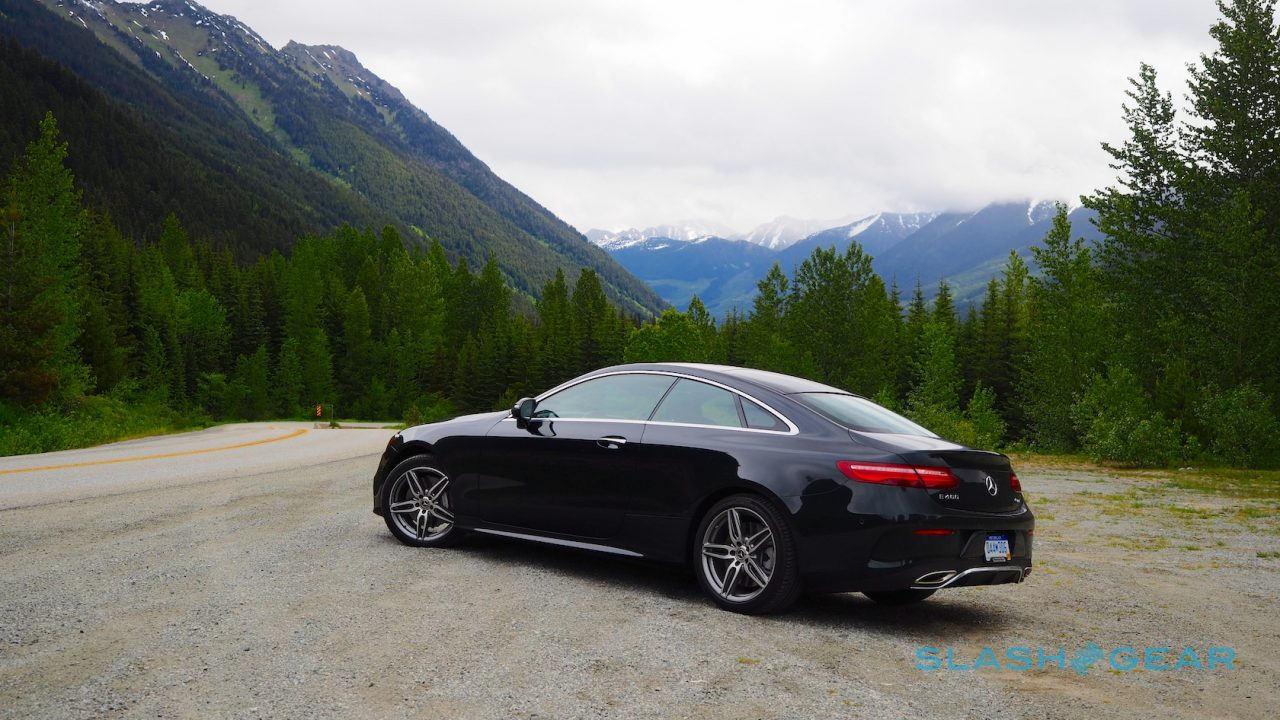 Sport+ is, if anything, arguably overkill for the car. True, it cranks up the aggression to the max, but it also underscores the lingering body roll that betrays this as a big, luxury beast. I suspect it'll be the mode of choice for when Mercedes offers an AMG E43 Coupe – they're not confirming that yet, but it hardly seems unlikely – but for this particular car I quickly turned back to Sport mode. Only some especially rough mountain asphalt lured me into tweaking the Individual configuration, combining the comfort damping with more enthusiastic engine and transmission settings.
Wrap-up
If the E-Class sedan is a technologically advanced but buttoned-up example of Mercedes' cutting-edge, then the E400 Coupe redresses it all in a Gucci tuxedo. At its core it's still the consummate long-distance cruiser, blessed with levels of technology and gadgetry that at one point had us pulling the inch-thick handbook out of the glove compartment, but there's a restrained playfulness that's been added with the removal of two of the doors. To my eyes, it's the best example of Mercedes' new design language so far, too, though those for whom even the vast open roof and side windows aren't sufficiently gaping might want to wait for the E400 Cabriolet due later in the year.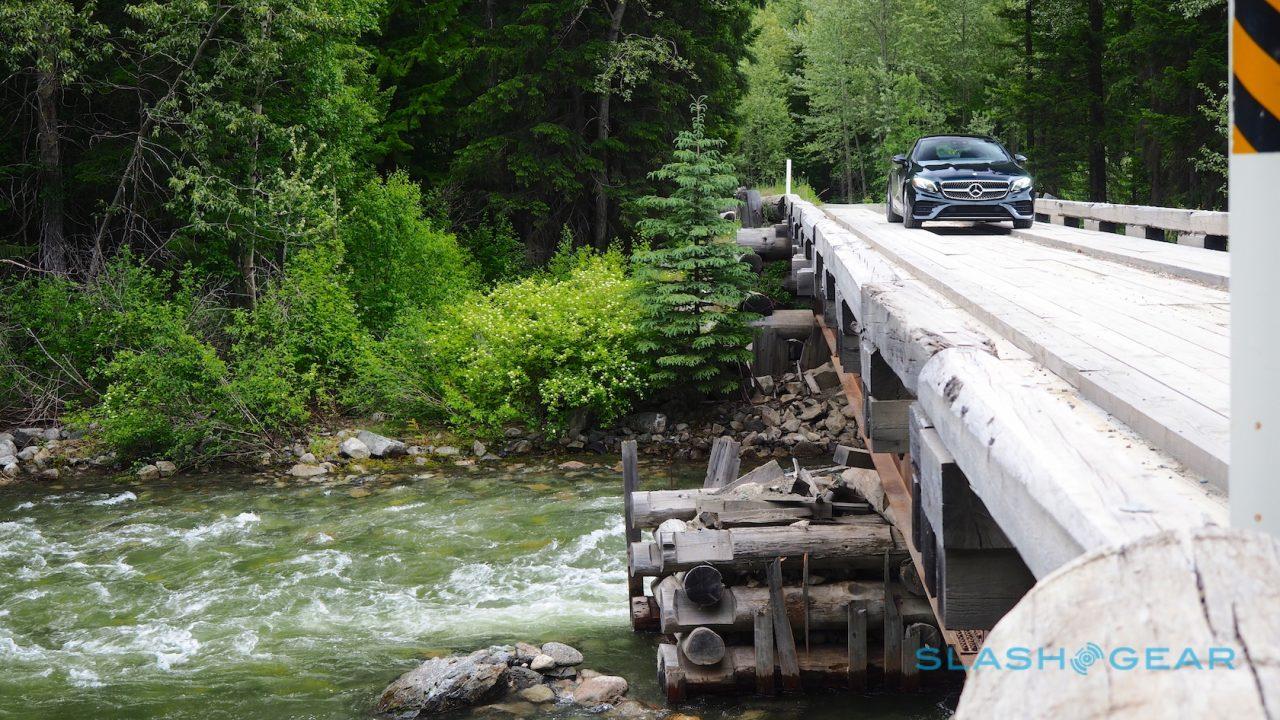 Its flaws are the same shared by the sedan, unsurprisingly, and center on price. Yes, the 2018 E400 Coupe may start out at under $60k, but say yes to the tech that Mercedes is so – rightly – proud of and it's not hard to swell that to north of $90k. By that point you're in some very interesting automotive territory indeed.
Still, with what can sometimes seem like a scattershot approach to its range, filling each and every gap no matter how minuscule, it's heartening to see that Mercedes still understands the core of its identity. The midsize luxury coupe segment may be underpopulated right now, but I'd warn any rival to bring their A-game if they want to compete in it. In both tech and refinement, the 2018 Mercedes-Benz E400 Coupe has set the new benchmark.