2018 Mercedes-AMG S63 First Drive: Fiercely relaxing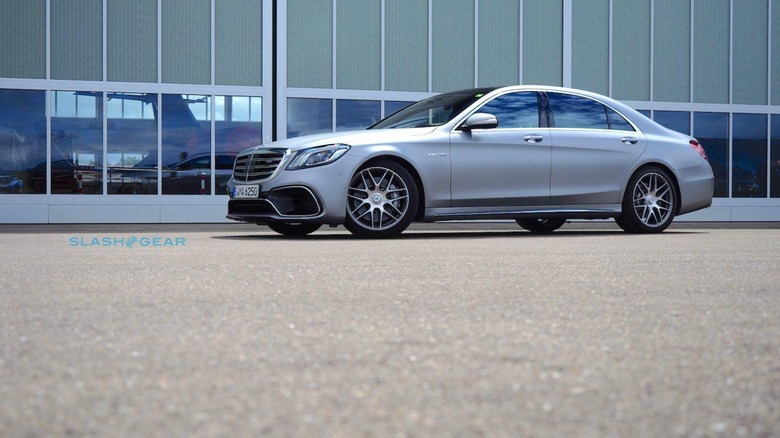 Throbbing red and scented with bespoke perfume, the 2018 Mercedes-AMG S63's cabin made absolutely clear that, even by Stuttgart's standards, this is no ordinary luxury sedan. Still, to describe the 2018 S-Class as an important car for Mercedes-Benz is to damn it with understatement. What's under its handsome sheet metal doesn't just represent the pinnacle of the automaker's engineering efforts, but in effect sets a roadmap for the rest of its vehicles over the next ten years.
Where the S-Class goes, too, the auto industry as a whole often follows. Technologies like standard driver and passenger airbags, and electronic stability control started on various generations of previous S-Class, before being adopted elsewhere. It's both a barometer and a crystal ball of automotive trends.
Stylistically, the 2018 model year hasn't fallen far from its predecessor. Externally, indeed, you'd be forgiven for mistaking the model years. It's a large car, of course, with a well-planted stance and a reassuring solidity. At the same time, Mercedes' design cues have been well spread through the remainder of its range: the rear of the C-Class is strikingly similar, for example.
What that car doesn't get is the AMG S63's 4.0-liter V8 biturbo engine. As you'd hope for a "proper" AMG it's the handiwork of a specific engineer, whose name is on a plate on the V8 itself; despite the popularity of its AMG 43 cars, Mercedes has no current plans for an S43 variant. It offers 603 horsepower from 5,500 rpm, and 664 lb-ft. of torque from 2,750 rpm, with a redline arriving at 7,200 rpm.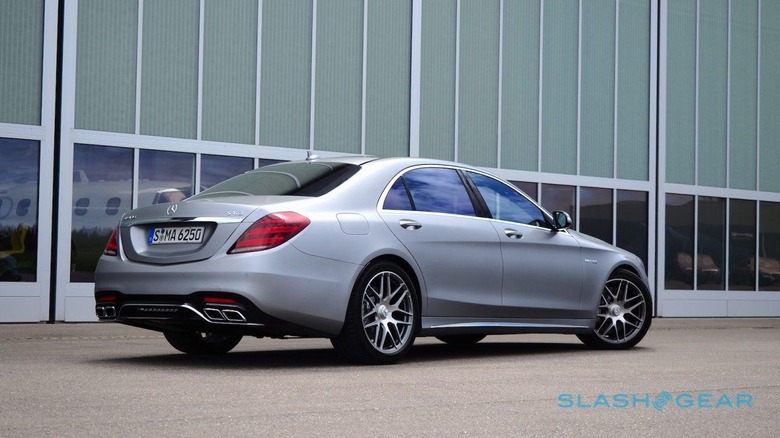 Combined with an AMG 9-speed transmission and sports-tuned 4MATIC+ permanent all-wheel drive, it makes the S63 a missile. 0-60 mph comes in a mere 3.4 seconds; top speed is an electronically-restricted 186 mph. Yet Mercedes is claiming it's more economical than the outgoing car too, even if it's not quite ready to share exact figures.
A little more affordable is the 2018 S560, also a 4.0-liter V8 biturbo. Indeed, it's the same engine, only detuned to make less power: a still-healthy 463 HP and 516 lb-ft. of torque. Again, the 9-speed automatic is standard, as is air suspension, but the automaker will sell you either rear-wheel or all-wheel drive models.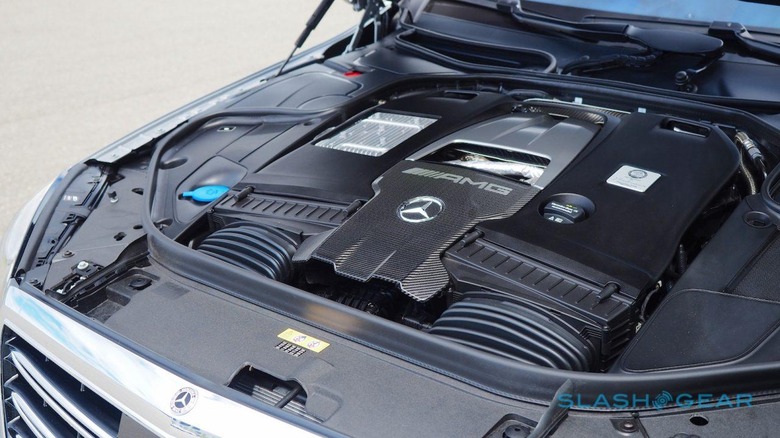 Some markets will get Mercedes' excellent new inline-six cylinder engine, which promises big improvements in refinement and fuel economy. Sadly, that's not coming to the US, at least not in this particular S-Class cycle, the S450 sticking with the existing 3.0-liter V6. What will be offered is a plug-in hybrid, beginning to roll out this fall, which will do around 30 miles on a full charge. Come 2018, Mercedes will offer an optional inductive charging system for the car, effectively a wireless power mat that, when the hybrid is parked on top, will charge it up – albeit at a slower, 3.6 kW rate – without requiring any sort of physical connection.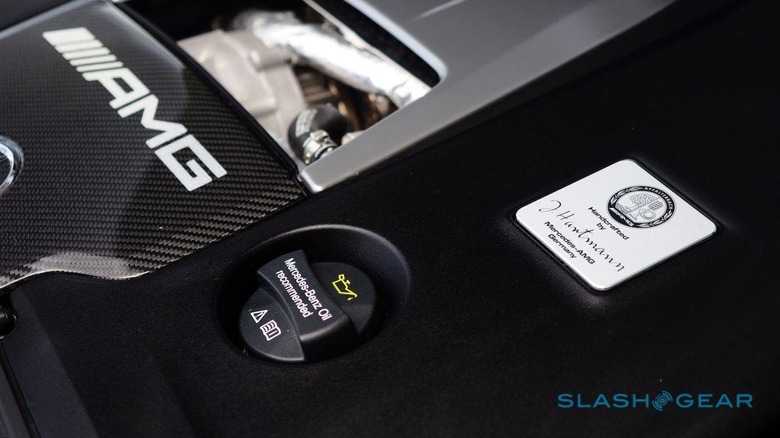 I spent the majority of my time in the AMG S63, and the degree to which Mercedes' cabin insulates you from the realities of the world outside is, frankly, mind-boggling. At north of 150 mph on the derestricted Stuttgart Autobahn, the S63 was rock-solid and road noise was nary a whisper. Comfort mode is every bit as supple and smooth as you'd predict, the big 'Benz gliding over imperfections with its continuously adjustable damping keeping any judder at arm's length.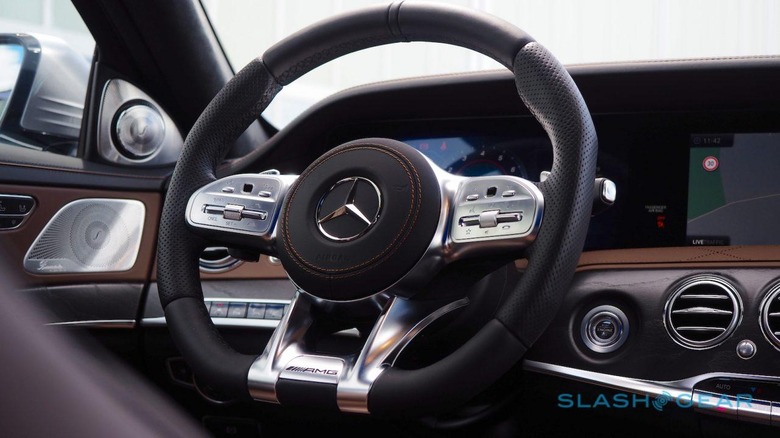 Switching to Sport+ mode – or hitting the active exhaust button – rouses a more entertaining soundtrack, with the tailpipes variously burbling, barking, and backfiring in a way that seems quite at odds with the S-Class' ever-so-sensible image. Cracking a window to get the full effect is advised. It also leaves the car far more capable in the corners, body roll suppressed and the speed-dependent steering more direct. Were I a betting man, I'd still put my money on the slightly tauter setup of BMW's 7 Series, particularly in Alpina B7 form, for an impromptu amateur autocross. The difference is slight, however, and though the S-Class never feels like a small car when things get twisty, neither does it feel intimidated by more aggressive driving.
The S-Class has always been an express train alternative for those who really don't like to share a carriage, mind. The other part of its charm is the technology Mercedes' engineers cram into every inch of the car. The 2018 AMG S63 arguably represents the pinnacle of that.
Behind the scenes is the latest iteration of Mercedes' DISTRONIC assisted driving technology, combining adaptive cruise control, lane-keeping assistance, and various active safety tech to take some of the stress out of distance driving. I found there was less ping-ponging between road markings than in other recent Mercedes I've driven, though unlike rival systems like Cadillac's Super Cruise there are still frequent demands that you return your hands to the wheel. Mercedes tells me it purposefully dials in less-than-perfect lane positioning so as not to lull the driver into believing the system is capable of more than it can actually do, though at the same time insists that, if unhindered by the programing limitations, the new S-Class could easily occupy some middle-ground between Level 2 and Level 3 autonomy.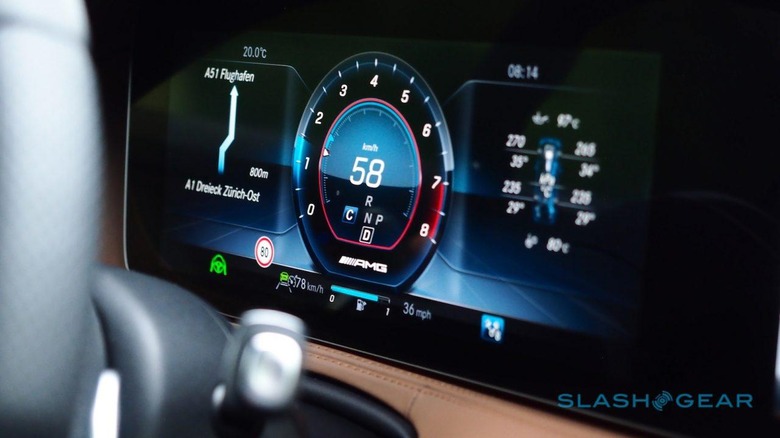 That will have to wait until the regulatory world catches up with automaker's ambitions, something Mercedes says it's in frequent discussions about. There's also a healthy dose of Germanic caution involved. Mercedes wants the technology to be rock-solid before it's willing to put its brand on the line.
Despite the surfeit of horsepower, even in the S63 there's a niggling feeling that, if you've ended up behind the wheel, you've drawn the short straw. As has always been the way, the best seat in the 2018 S-Class is found in the rear, particularly if the full rear seat package has been checked.
The reclining seat that wouldn't be out of place on a private jet is, by this point, de rigueur for the luxury sedan set. Arguably the best thing about it is, bizarrely, the head pillow, a fluffy nugget of cloud-like cradling for your stressed plutocratic skull. Where things spiral into mild insanity is when you turn to the Energizing Comfort programs.
There are the expected set of regular massage programs, of course, available for the front and rear seats. What's new for this 2018 S-Class is how they've been woven into a more holistic relaxation system, that throws in HVAC control, light programs, music, and even scents. In the "Joy" setting, for instance, the multi-zone cabin illumination glows various shades of warm yellow, while an upbeat instrumental song plays, a fragrance is pumped through, and the seat back does an approximation of an eager masseuse on your spine.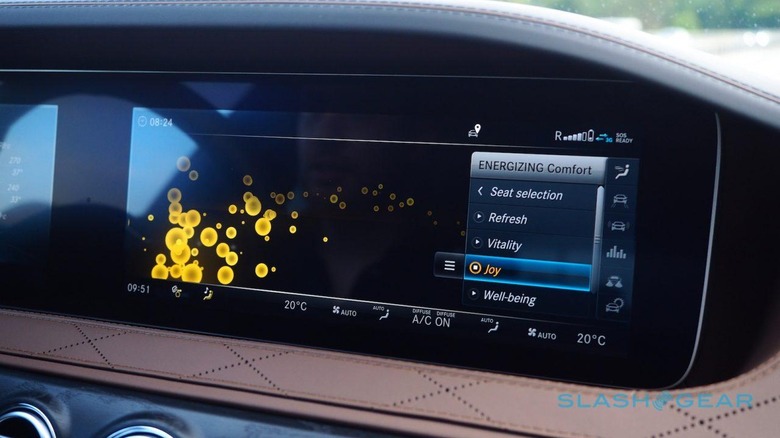 Switch to "Refresh", meanwhile, and the lighting switches to blue-green tones, while there's new music and massage patterns. The car even tries to mimic the sensation of standing on a clifftop overlooking a bay, by turning on the seat ventilation. The only thing missing is the salty spume flecking your face, which Mercedes could probably have done with the windshield washer jets had it been of a mind to.
Throw in some guided training programs, which over the course of several minutes walk you through various muscle and joint exercises you can do while braced against the seat and steering wheel – faintly reminiscent of what airlines recommend on long-haul flights to avoid deep-vein thrombosis – and there's a sense that the S-Class would quite like to be considered as much a German health spa as it is a car. It's easy to dismiss the Energizing Comfort system as a novelty, but Mercedes insists that its programs are grounded in science.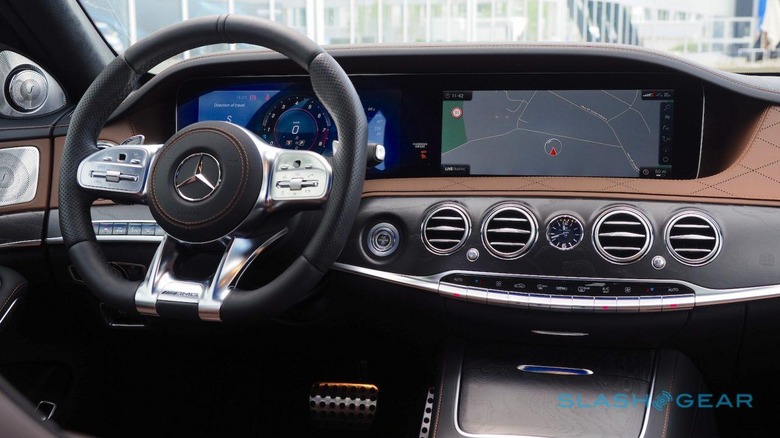 Even if you were to ignore it altogether, there's still plenty to occupy you in the S-Class' cabin. The ambient lighting system now not only has 64 colors to choose between, but allows you to set different hues in different sections. There's Car-to-X communication, which allows nearby cars to share details on hazards and driving conditions for a preview of what's around the next corner. The adaptive cruise control not only automatically adjusts based on changes in speed limit, but by examining the upcoming bends, junctions, toll booths, and more on the maps.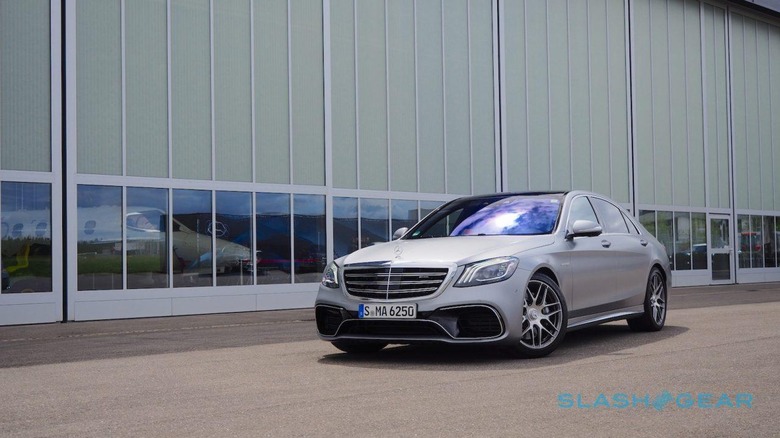 The excess is at times overwhelming. Look beyond the magic and glamour, however, and the 2018 S-Class' core is no frippery or casual luxury. Sure, few will find themselves behind the wheel of the AMG S63, but it paves the way for the next decade of Mercedes-Benz technology.
Cars that close the gap in driver assistance as we wait for full-autonomy; that talk among themselves to improve comfort, safety, and economy; that make deeper and deeper use of increasingly detail-rich mapping data and the potential of the cloud. When the 2018 S-Class arrives at US dealerships by fall 2017, it'll be no mere luxury sedan. It's a blueprint for the future.