2019 Mercedes-AMG G63 is a 577 HP luxe-truck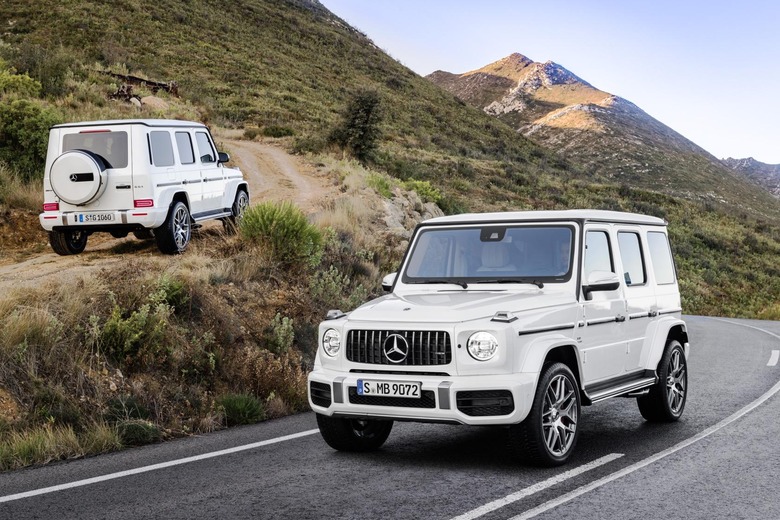 The new G-Class has spawned a performance SUV version, the 2019 Mercedes-AMG G63, and it's shaping up to be the all-wheel drive monster we were not-so-secretly hoping it would. Revealed today, after the "regular" truck
at the Detroit Auto Show 2018 last month, the 2019 G63 takes the boxy off-roader and gives it a 577 horsepower upgrade.
Under the slab-like hood there's a handcrafted AMG engine, a 4.0-liter V8 biturbo, which is apparently good for both 577 HP and 627 lb-ft. of torque. It may be smaller in capacity than the old model's 5.5-liter engine, but it's no less potent. Indeed maximum torque arrives between just 2,500 and 3,500 rpm, and the super-truck will go from 0-60 mph in 4.4 seconds.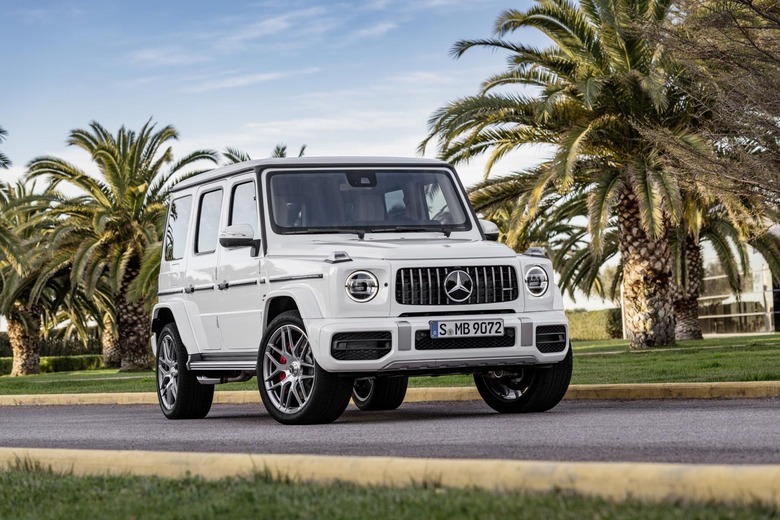 That's almost a full second faster than the outgoing AMG SUV. Maximum speed is 137 mph, though check the AMG Driver's package option box and that gets nudged up to 149 mph. Either way, you get an AMG SPEEDSHIFT TCT 9G transmission, programmed specifically for the 2019 G63 to cut shift times.
It includes double-declutching in Sport and Sport Plus modes, and a Manual mode with a dedicated switch to enable it. Paddle shifters on the steering wheel then take the fore, and the 2019 G63's gearbox won't even shift up if you hit the redline, just like keen drivers prefer.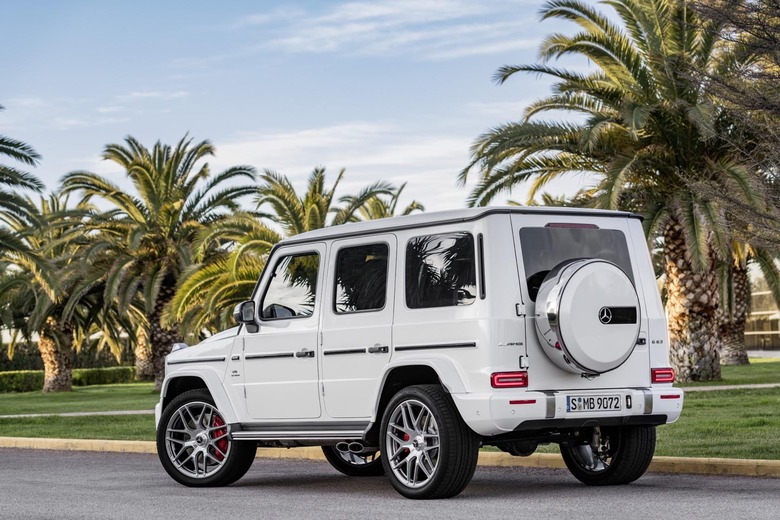 AMG didn't stop there, mind. The AMG Performance 4MATIC all-wheel drive has been given a makeover compared to the regular SUV too, with traction typically biased 40:60 front to rear. That's a change over the old model, which split power fifty-fifty. However, the off-road reduction gear has also been changed, with a new reduction ratio of the transfer case of 2.93:1. It means the new 2019 G63 should pull off much more smoothly even on extreme uphill gradients, versus the 2.1:1 ratio of the old model.
It's triggered with a LOW RANGE switch and can be enabled at up to 25 mph. LOW RANGE to HIGH RANGE, meanwhile, can be switched between at up to 44 mph. A new multiple clutch works much like a locking differential, but can be brought into play on the fly rather than having to be enabled manually. A switch on the center console, though, allows for manual control over the center differential, while the front and rear axle differentials have a dog clutch and a 100-percent locking effect, and they can each be enabled individually.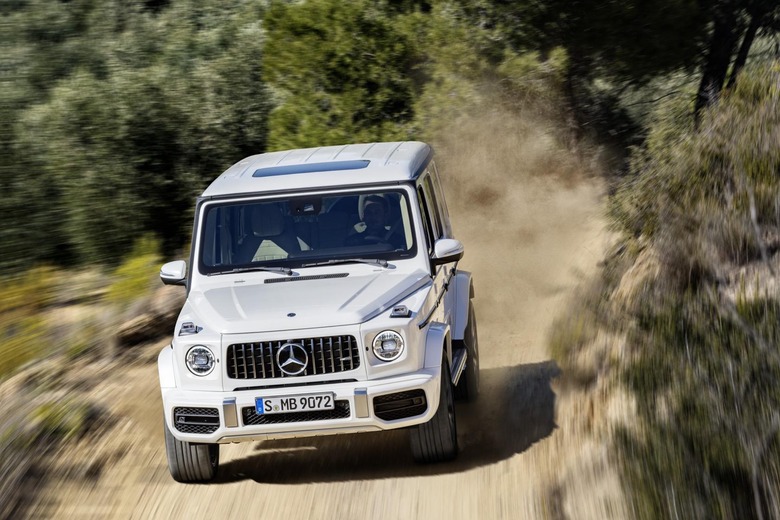 As for the suspension, there's a completely reworked Mercedes-AMG system with coil springs all-round. The front axle has an independent, double wishbone setup, while the rear opts for a rigid axle with five-link suspension. Mercedes is mounting the front suspension directly to the ladder-type frame, too, for better on- and off-road civility.
AMG suspension with adaptive adjustable damping is, as you'd expect, standard-fit. It can control damping for each wheel individually, finessing automatically depending on the road surface. Comfort, Sport, and Sport+ modes are available via a dashboard control, and also affect the AMG speed-sensitive electromechanical steering. AMG throws in Slippery and Individual modes as well, plus a "M" manual mode button for more direct control over the individual settings. Sand, Trail, and Rock modes are opened up during off-road driving.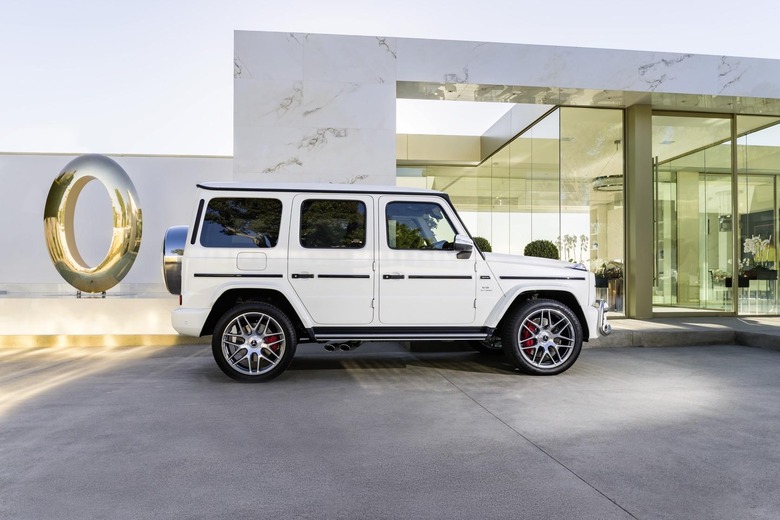 From the outside, there's no mistaking the lineage. The 2019 G63 is unashamedly boxy, but in AMG form gets a special front grille and bumper, larger side air inlets, and matte silver trim. LED high-performance lamps front and rear are standard, while Multibeam LED headlamps – using 84 individually controlled LED modules for directed light – are optional.
Flared front and rear wheel arches are above 21- or 22-inch wheels, optionally finished in matte black if you check the AMG Night package. That also dark-tints the lamps and glass, and gives a black paint job to the mirror housings, spare wheel ring, and bumper trim. As standard, you get more chrome and red brake calipers.
Inside, the G63 shares the regular 2019 G-Wagon's S-Class and E-Class inspired cabin. Twin 12.3-inch widescreen displays are optional; as standard, the driver instrumentation uses analog tubes instead. You get the classic G-Class grab handles, of course, and an AMG Performance steering wheel as standard. Active Multicontour Seats are optional, with massage, climate control, and fast heating, along with adjustable lumbar support that is inflated dynamically according to your cornering.
All in all, you're looking at a truck that's just as happy cruising through Miami and turning heads as it is off-roading in the desert or worse. Mercedes says it will have pricing for the 2019 Mercedes-AMG G63 closer to the SUV's US launch before the end of the year.