2019 Mercedes-Benz G550 official: Iconic luxury SUV goes high-tech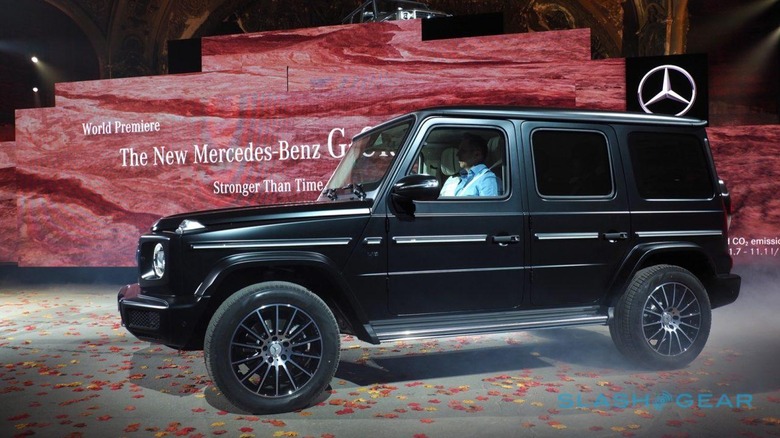 This is it: the 2019 Mercedes-Benz G-Class, the latest reinvention of the G Wagon. One of the most recognizable SUVs – indeed, one of the most recognizable vehicles, period – on the road, it may only now be entering its second generation, but that comes after almost forty years in production. Still, finding yourself custodian of an icon can prove to be a double-edged sword. Mess it up – at least, in the eyes of your most loyal fans – and it can be an expensive, legacy destroying mistake.
Mercedes treads carefully, therefore. The 2019 G-Class takes the unmistakable DNA of its predecessor, and refines, polishes, and generally brings it up to date with luxury and gadgetry borrowed from the latest S-Class and E-Class sedans. The result, so the automaker hopes, is a car that spans tradition and technology.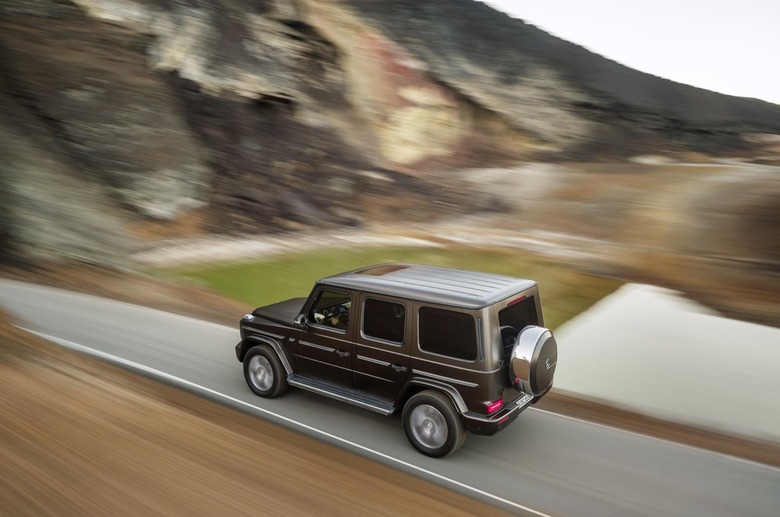 On the outside, there's no mistaking it for any other truck. Key to that is the detailing, like the door handle design – and the noise the doors make when closing – and the exterior protective strip; the exposed spare tire on the back; and the protruding turn signal lights. It's still a squared-off, uncompromising thing, but Mercedes' "Sensual Purity" design language has tightened up the surfaces, narrowed down the panel gaps, and brought in the wheel arches and bumpers so that they're more visually connected to the rest of the vehicle.
It's also 2.1-inches longer than the outgoing G-Class, and 4.8-inches wider. That has a big impact on cabin space, particularly in the rear where legroom is up almost 6-inches. Legroom, shoulder room, and elbow room have grown whether you get a front seat or a back seat, in fact; the latter fold down with a 60/40 split.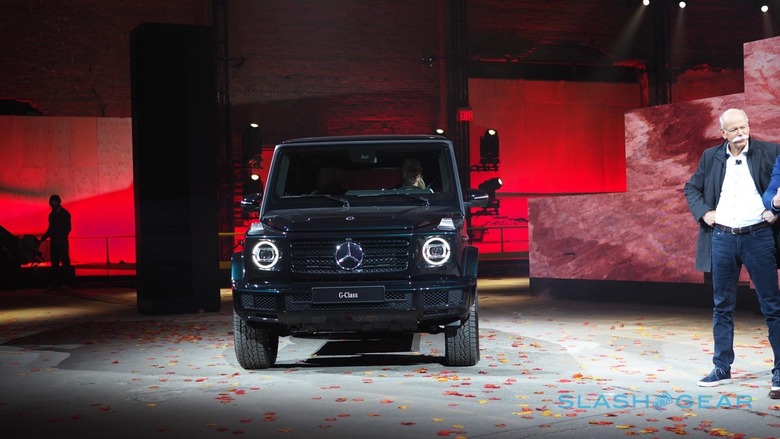 Though this may be a luxury SUV, it still needs to have off-road prowess. That includes new independent suspension with a double-wishbone font axle and a rigid ear axle. They've been raised, too, for greater off-road ground clearance. There are three 100-percent differential locks – center, rear, and front – together with a low-range gear reduction and electromechanical power steering.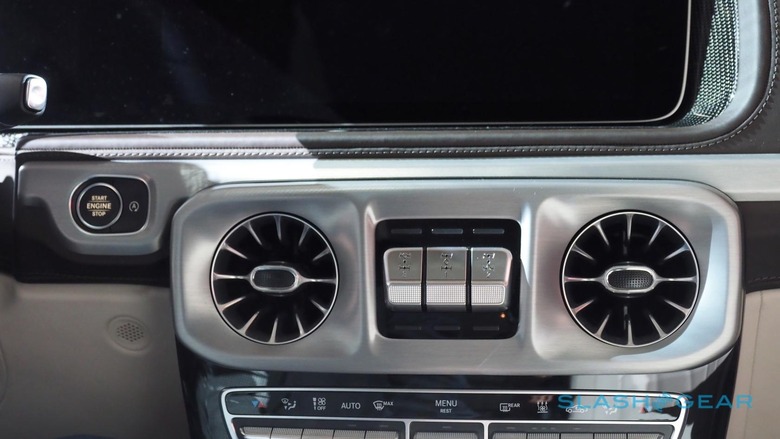 In all, you get 10.6-inches of ground clearance to the front axle gear, while ground clearance between axles is now 9.5-inches. Maximum fording depth has increased almost 4-inches over the outgoing G-Class, to 27.6-inches, and the breakover angle is 26-degrees. Angle of departure is 30-degrees, and angle of approach is 31-degrees. The G-Wagon, Mercedes claims, has a slope climbing ability of up to 100-percent, on suitable surfaces.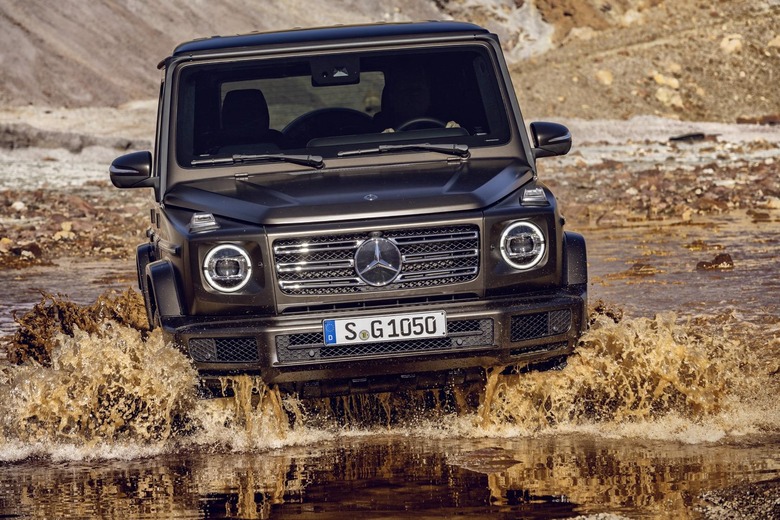 For the US, there'll be one version on offer. The 2019 Mercedes-Benz G550 will have a 4.0-liter V8 biturbo engine, putting out 416 horsepower and 450 lb-ft of torque. It'll be paired with a 9G-TRONIC nine-speed automatic transmission, and 4MATIC all-wheel drive as standard. The latter is fixed to 40/60 torque distribution, though the Dynamic Select drive mode system allows you to adjust the SUV's on- and off-road characteristics.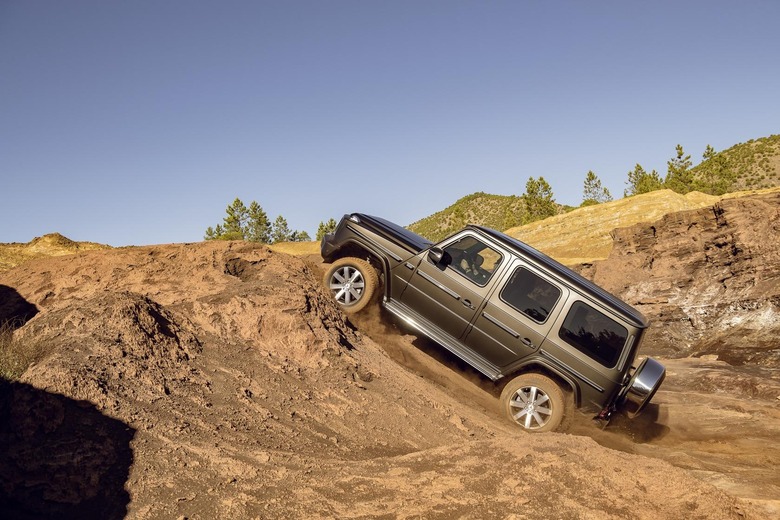 That includes a new "G-mode" which joins the Comfort, Sport, Eco, and Individual modes. Each has settings for engine, transmission, suspension, steering, and assistance systems. The G-mode automatically enables if one of the three differential locks is activated, or if the Low Range of the off-road reduction gear is engaged. It tweaks the adjustable damping of the chassis and steering, in addition to the characteristics of the accelerator, avoiding unnecessary gear changes in the process for maximum off-road capabilities.
Inside, as we've already seen, there'll be plenty of dashboard technology borrowed from Mercedes' high-end sedans. That includes a 12.3-inch COMAND display and optional, second 12.3-inch display for the digital instrument cluster. Tri-zone climate control – with a control panel for the rear – is standard, as is a sunroof and leather seats with memory and heating. A 64 color ambient lighting system is standard too, along with a leather-wrapped upper dashboard, Burmester surround sound audio system, and acoustically laminated side glass.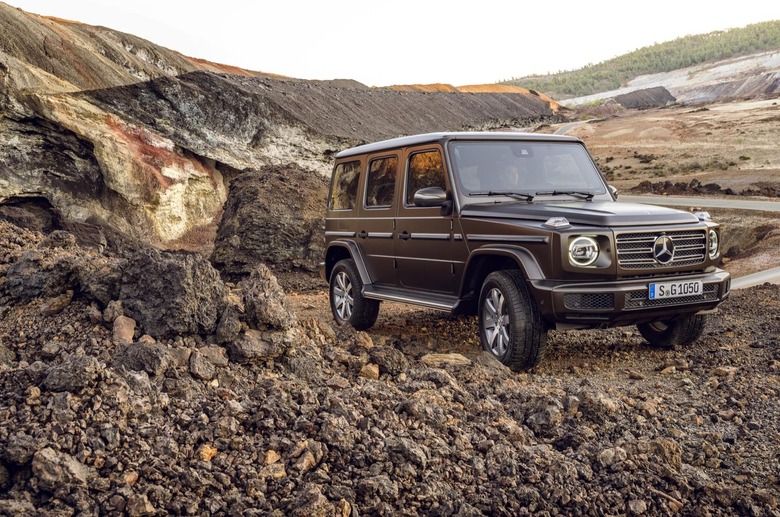 The steering wheel has new touch-control buttons, for navigating the latest iteration of Mercedes' COMAND infotainment system. Options include massage seats and ventilated, rapid-heating seats, adjustable suspension and damping, rear-seat entertainment, a heated steering wheel, and the AMG Line exterior design package.
The 2019 G-Class will go on sale in the US by late 2018, Mercedes-Benz says. Pricing will be confirmed closer to launch. Check out all the live photos from NAIAS 2018 in the gallery below!