2019 Jeep Cherokee gets more mainstream style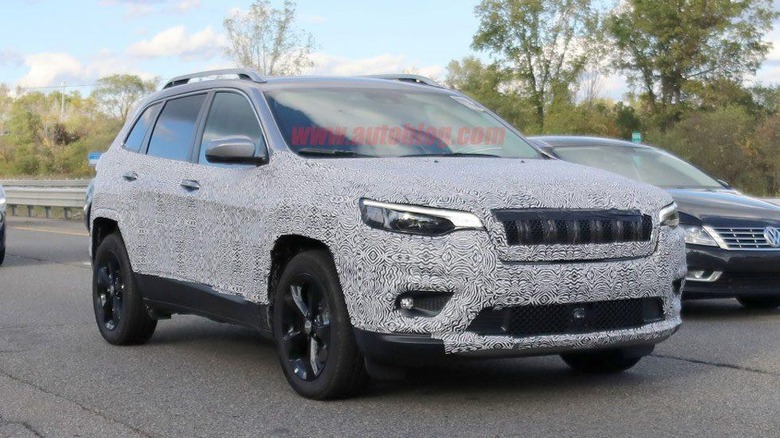 Jeep is steadily updating its models and eliminating some not so popular models (like the Liberty). One of the models that returned to the Jeep line after a hiatus for many years was the Cherokee and many Cherokee purists weren't happy with the model. One thing about that new Cherokee was that it had styling that didn't really go along with the looks of the other models.
That appears to be changing for 2019 with some spy shots turning up that shows a Cherokee with a significantly revised style. The Cherokee is wearing camouflage in these images. It's not so heavily hidden that you can't see the familial resemblance between the Cherokee and the Grand Cherokee or Compass that was heavily revised recently.
The same squinty headlight style carries over and the front end of the Cherokee in these images has lost the pointy design in favor of a flatter design with a familiar style. The vehicle in the images has fog lamps lower on the bumper. Other than the changes in the front, the Cherokee in the images here looks almost exactly like the current model.
Out back there are new tail lights with sections broken up by black lines. Another noticeable change is moving the license plate area from the bumper up to the hatch lid as is common for SUVs. The interior of the vehicle looks mostly the same as the current model.
The revised Cherokee is expected to debut by the end of the year. The big Jeep model debut that fans are looking forward to is the Wrangler. The user guide and owner's manual for the 2018 Wrangler JL leaked earlier this week giving us a glimpse at what we can expect from the revised Wrangler.
SOURCE: Autoblog