2018 Jeep Wrangler JL user guide and owner's manual leaks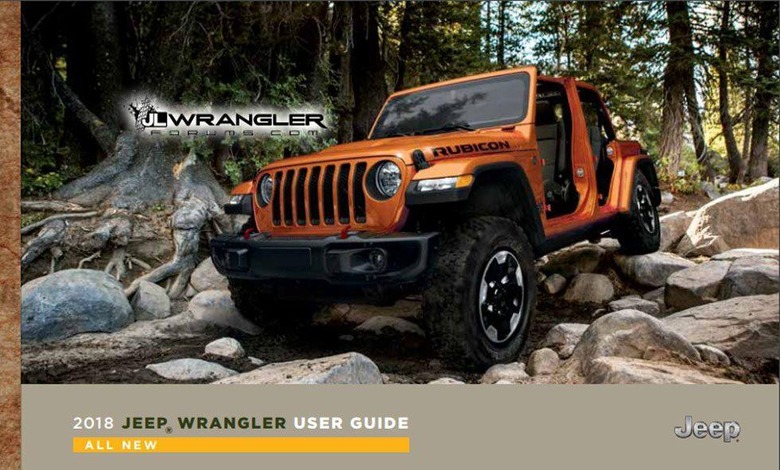 Fans of the Jeep Wrangler have been waiting in anticipation for the official unveiling of the redesigned 2018 Wrangler JL. No one expects Jeep to mess with the formula that has made the Wrangler so successful and if the images and details leaked along with the user's guide and owner's manual are any indications, things are looking pretty good.
The user's guide gives up a few details about the 2018 Wrangler including a look at the dash of the vehicle offering a very clean and attractive environment to drive. One of the tidbits confirmed in these manuals is that a power sliding top will be offered. Rumors have swirled about a power soft top, but that doesn't seem to be mentioned in these manuals.
The power sliding top Wranglers will have removable rear quarter windows, but the top itself is non-removable. The end caps on the front bumper are removable, presumably to help the vehicle clear hazards when driving off-road.The Wrangler will have available keyless push-button start.
There are two motors called out with the base being a 2.0L turbo four and the 3.6L V6. It does appear that door removal has been made easier thanks to more accessible screws. It also appears that there will be some full-time AWD modes for certain models.
It does appear from these manuals that there are no side curtain airbags, but the JL does get knee airbags. The roll cage is also beefed upon the new Wrangler compared to the old one. The windshield will fold down. There is no mention of a diesel engine, but it may turn up later. Back in August, an alleged image of the 2018 Wrangler from the assembly line floor leaked.
SOURCE: JL Wrangler Forums