2017 Jeep Compass First Drive: All-new compact SUV has off-road cred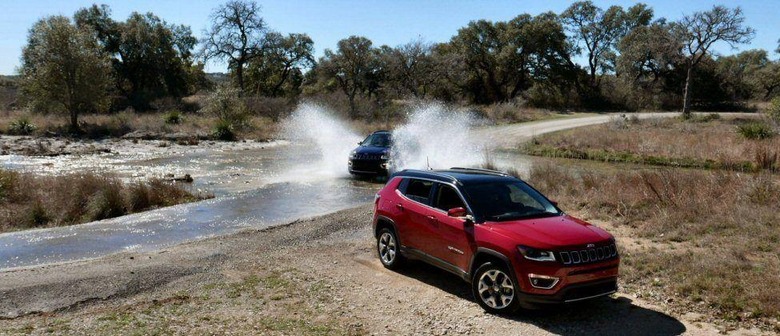 In a world that's gone SUV-crazy, Jeep is one of the brands best poised to reap the rewards. The 2017 Jeep Compass, an all-new design that replaces not just one, but two strong-selling but outdated models – the previous-generation Compass and the soon-to-be-defunct Patriot – is the latest in a line of revamped people movers that have completely transformed the more affordable spectrum of the company's line-up.
The Jeep Compass is the spitting image of the larger and more opulent Grand Cherokee, but more importantly it looks nothing like the somewhat larger Cherokee or the definitely smaller Renegade that sandwich it in the showroom. With less than a foot separating the trio of sport-utility vehicles in terms of overall length, styling becomes that much more important when sorting customers into silos, and the Compass' easily identifiable grille and upright but not boxy silhouette serve to differentiate it from the more polarizing Cherokee and the throwback Renegade.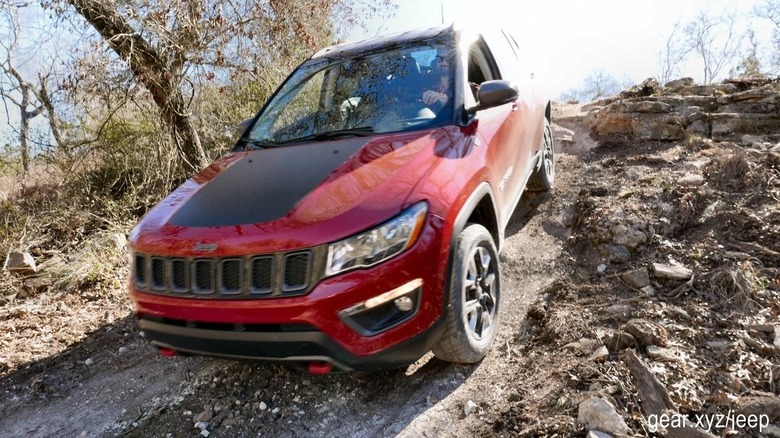 Automotive design is often a game of inches, and even a small boost in wheelbase or minor change in seating position can make a world of difference when it comes to cabin comfort and practicality. So it is with the Compass, whose 59.8 cubic feet of total cargo space rival the room found inside the Cherokee and add 20 percent to the more modest confines of the Renegade, in addition to offering an adult-friendly rear seat that the latter simply can't match.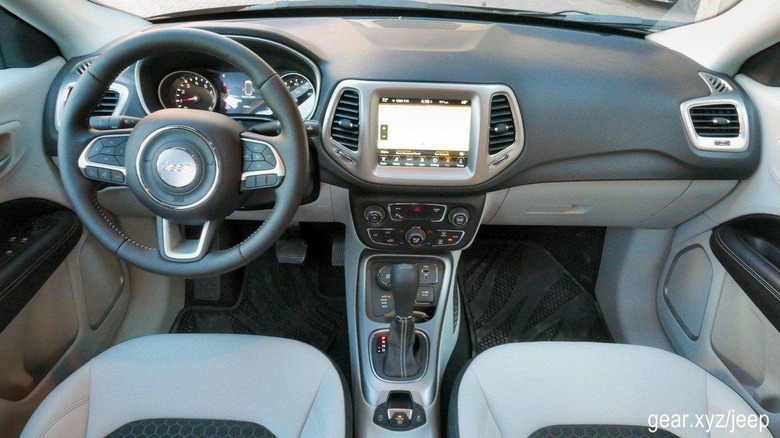 With its territorial boundaries clearly marked, despite riding on a puffed-up version of the Renegade's platform and pulling its drivetrain from essentially the same parts bin, the redesigned Jeep Compass still manages to distinguish itself by offering off-roaders their first taste of FCA's 2.4-liter 'Tigershark' four-cylinder engine paired with a six-speed manual gearbox. The 180 horsepower unit is actually available with three different gearbox options, including six-speed and nine-speed automatics, and which one you'll end up taking home depends on how high you're willing to climb up the Compass' trim ladder and whether you opt for optional four-wheel drive.
Sunny San Antonio, Texas, offered me the chance to stretch all four of the Jeep's wheels thanks to the combination of highways, two-lane, and even narrow farm paths that the region's hilly surroundings served up over the course of the day. Most of my time was spent behind the wheel of a well-optioned Compass Limited 4x4, a vehicle whose $34,260 as-tested price soared nearly $15k over the starting window sticker of an entry-level, two-wheel drive Sport model.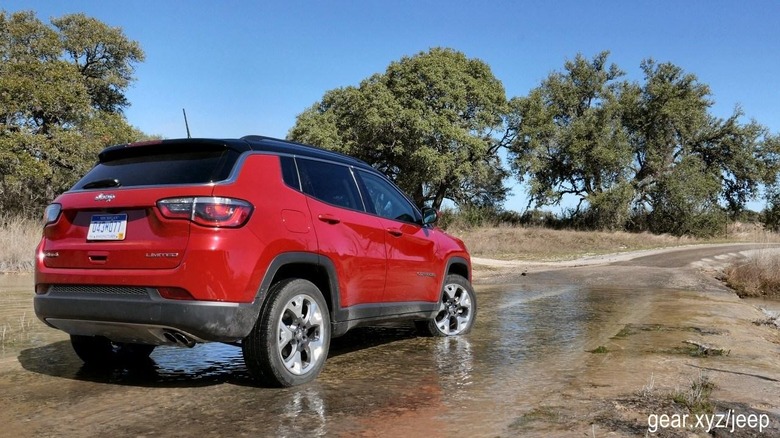 When paying Grand Cherokee money for a Compass, you find yourself pushing with the range-topping nine-speed transmission as standard equipment. While cruising at 65-mph the multi-cog setup proved to be relatively transparent, but forget trying to accelerate out of slow corner after applying the binders on a more twisty stretch of pavement. Unless your foot seeks the floor and taps into all 175 lb-ft of torque on tap from the 2.4-liter motor, there's confusion and ultimately disappointment from the nine-speed as it displays its reluctance to take you down a ratio or three.
Not that there's really any reason to drive the Jeep Compass in anger. At no point did I feel the pull to hammer the throttle and hold on, as the methodical power delivery and tall ride height of the SUV ensured that I kept things calm, cool, and collected. A smooth ride and competent, if not responsive handling define the Compass experience, and even engine noise isn't all that intrusive when trying to overtake traffic ahead of you. This is a commuter first and foremost – and if your daily drive includes mud bogs and boulders, well, the Compass has a solution to that, too, in the form of the Trailhawk trim level. The familiar off-road oriented model apes the Cherokee and Renegade trucks of the same name with its enhanced 8.7 inches of ground clearance (0.7 inches more than the 4x2 Compass), tow hooks and skid plates, and rock-crawl mode for its Selec-Terrain traction management system, in addition to its low-range four-wheel drive capability.
Jeep brought us to an off-road trail that had been set up roughly an hour outside of San Antonio city limits to prove its point about the Compass Trailhawk having earned the Trail Rated badge affixed to its fender. After splashing across a number of submerged bridges that are common to Texas cattle country, I was directed to a series of ditches, elephant humps, near-vertical drops, and rocky ascents that would demonstrate the SUV's ability to tread where most other vehicles in its class – including popular options from Subaru and Hyundai – would fear to tread.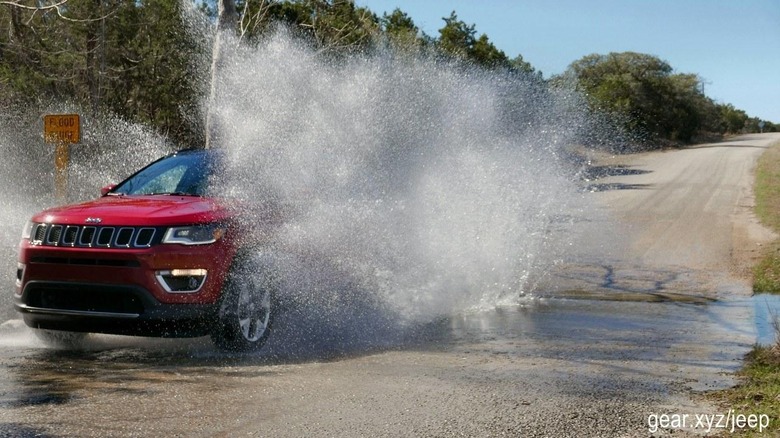 The truth is, for most buyers of the 2017 Jeep Compass it's the idea of being able to go off-road, rather than the actual act itself, that is most important when selecting this particular vehicle over any other. It might not sound like much of a distinction, but in a class loaded with strong and aggressively-priced contenders it's an important edge for Jeep to claim, and one that solidifies the brand from top to bottom. Aside from the confusion that the older-model Compass remains on sale – also as a 2017 model – for at least the next few months, Jeep is to be commended for modernizing its fleet of compact and subcompact SUVs in such a short space of time, and proving that refinement doesn't have to be achieved at the expense of adventure.